Last Updated on January 1, 2022
We've gathered up the period dramas that are newly included with your US Amazon Prime Video membership in September, October, and November 2021. 
Then, we share the historical / costume / period dramas that are coming to Prime Video Channels, are available to rent, and movies and TV series in the genre that are being released to DVD this fall.
Finally, we list some newly added non-period movies and series like British shows and romances that you may also like, that are included with your Prime Video membership.
Check this list throughout the fall; we'll update all the sections (alphabetically) as more titles become available. If some of these titles look familiar, it's because they were previously available with Prime, were pulled off, and now they are back.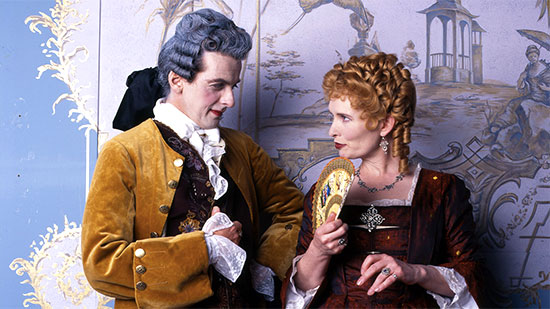 ---
To help keep this site running: Willow and Thatch may receive a commission when you click on any of the links on our site and make a purchase after doing so.
---
It's easy to watch the trailers for the films on this list, or add the movies and TV series to your watchlist: just click. This is a US-based list, but if you live in Canada or the UK, you can also use our "Add to your WATCHLIST" links to check availability in your country. 
From British costume dramas to sweeping romantic epics, there's a lot here by the end of the season, so to help you keep track: the blue TVs next to the title mean the film is included with your membership, the orange TVs mean it is available to rent or is available with a Prime Video Channel subscription.
Also see the list of Period Dramas New on Prime Summer 2021, and Period Dramas New on Prime Winter 2022. 

Period Dramas Added in September
This section contains newly available historical, costume and period dramas (movies and TV series) that are included with your Prime Video membership.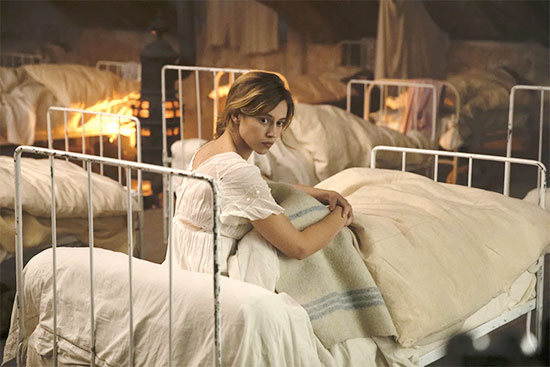 ---
---

Cinderella (2021)
Join an all-star cast for a period-inspired romantic fantasy. From Kay Cannon (Pitch Perfect), "Cinderella" is a modern movie musical with a bold take on the classic fairytale. Our ambitious heroine has big dreams and with the help of her Fab Godmother, she perseveres to make them come true.
Starring Camila Cabello, Idina Menzel, Minnie Driver, James Corden, Nicholas Galitzine, Billy Porter and Pierce Brosnan.
Rated PG
Available September 3
---

Crime and Punishment (2002)
This 2-episode BBC period drama adaptation is the ultimate psychological thriller, steeped in powerful themes of guilt and retribution, set in St. Petersburg in the second half of the 19th century. Raskolnikov is a highly intelligent and striking young student who decides to test his courage and integrity by killing a mean old woman whom he is sure nobody will miss. A faithful telling of Dostoevsky's classic.
Starring John Simm, Ian Thompson, Geraldine James, Kate Ashfield.
Rated 18+
Available September 3
---

David Copperfield (1999)
The tale of David Copperfield from his birth and idyllic upbringing through hardship and adventure leading to his eventual discovery of his vocation as a novelist. On his journey David encounters a gallery of Dickens' most memorable characters, including Mr. Micawber, Uriah Heep, Steerforth and others. 4 episodes of the adaptation of Charles Dickens's 1850 novel of the same name, from the BBC.
Starring Bob Hoskins, Daniel Radcliffe, Pauline Quirke, Trevor Eve, Nicholas Lyndhurst, Amanda Ryan.
Rated TV-PG
Available September 3
---

Disraeli: Portrait of a Romantic (1978)
This lavish political drama 4-episode TV series is a penetrating look at one of British history's most enigmatic and controversial figures, Benjamin Disraeli – a dandy, a womaniser and a Jew. Taking his seat in Parliament at the age of 32, Disraeli (Ian McShane) is nearly laughed out of the House by his rival Gladstone, and thus begins an animosity spanning over 50 years.
Starring Ian McShane, Rosemary Leach, Mary Peach, Brett Usher, John Carlisle.
Rated 13+
Available September 22
---

The History of Tom Jones, a Foundling (1997)
While you wait for the new adaptation to premiere in the US, watch BBC's "The History of Tom Jones, a Foundling," a 6-episode ribald and rowdy romp through the mansions and taverns of Georgian England. Henry Fielding's fallen hero bed-hops his way out of a good home and almost into a hangman's noose, via a series of misadventures and misunderstandings.
This lavish costume drama in the grand old traditions of the BBC is a fresh and vivid dramatisation of Henry Fielding's ribald and rowdy tale. It follows the life of young Tom, who, as a new-born child, is taken in by the kindly Squire Allworthy. Reaching adulthood, Tom (Max Beesley) discovers a penchant for the ladies and he is thrown from his home after a dalliance with a local girl. However, his real love Sophia (Samantha Morton) marries Tom's loathsome cousin, and so he sets out on a series of adventures (and misadventures) to win her back.
Starring Max Beesley, Samantha Morton, Benjamin Whitlow, Brian Blessed, James D'Arcy, John Sessions, Michelle Fairley, Kelly Reilly, Peter Capaldi, Lindsay Duncan.
Rated 16+
Available September 11
---

Into the Darkness (2020)
Denmark, April 9th, 1940. Danish industrialist (portrayed by Jesper Christensen of James Bond fame), cooperates and profits from the German occupation of Denmark. However this collaboration with the Germans, causes friction with in his son, who reacts against the increasing oppression and persecution of jews and communists by joining the rising resistance movement.
Starring Jesper Christensen, Bodil Jørgensen, Mads Reuther, Gustav Dyekjær, Sara Viktoria Bjerregaard, Lue Dittmann Støvelbæk.
Rated 18+
Available September 10
---

The Last of the Mohicans (1992)
An epic adventure and passionate romance unfold against the panorama of a frontier wilderness ravaged by war.
The last members of a dying Native American tribe, the Mohicans — Uncas, his father Chingachgook, and his adopted half-white brother Hawkeye — live in peace alongside British colonists. But when the daughters of a British colonel are kidnapped by a traitorous scout, Hawkeye and Uncas must rescue them in the crossfire of a gruesome military conflict of which they wanted no part: the French and Indian War.
Starring Daniel Day-Lewis, Madeleine Stowe, Russell Means, Eric Schweig, Jodhi May, Steven Waddington.
Rated R for violence
Available September 1
---

The Mad Women's Ball (2021)
"The Mad Women's Ball" follows Eugénie, a young woman living during the close of the 19th century, who discovers that she has the special power to hear the dead. After her family discovers her secret, she is taken to a neurology clinic in Paris without any way of escaping her fate.
The clinic, held by professor Charcot, is where women diagnosed with hysteria, "craziness", epilepsy and other types of mental or physical diseases are committed. Eugénie's destiny will soon become entwined with that of Geneviève, a nurse, and their encounter will change both their futures. Based on the novel by Victoria Mas, and also known as "Le bal des folles."
Starring Lou de Laâge, Mélanie Laurent, Emmanuelle Bercot, Benjamin Voisin, Cédric Kahn, Lomane de Dietrich.
Rated 18+
Available September 17
---

Murder on the Orient Express (1974)
Famous detective Hercule Poirot is on the Orient Express, but the train is caught in the snow. When one of the passengers is discovered murdered, Poirot immediately starts investigating. This is elegant, escapist entertainment at its stylishly European best.
This Agatha Christie whodunit boasts an incredible international cast as some of the most wonderfully eccentric characters ever created. Ingrid Bergman won an Oscar for her slightly dim-witted, Bible-quoting Swedish missionary. Albert Finney is the dapper detective Hercule Poirot, for whom murder-solving is a precise, intellectual exercise. Poirot agrees to interview all aboard the famous train's Calais coach, hoping to find the killer of an American millionaire before the local police arrive. Packed with sparkling dialogue and visually rich in texture, this incomparable thriller received six Academy Award nominations. Read our Movie vs. Book review. 
Starring Albert Finney, Lauren Bacall, Martin Balsam, Ingrid Bergman, Jacqueline Bisset, Jean-Pierre Cassel, Sean Connery.
Rated PG
Available September 1
---

The Peacock Spring (1996)
Post-war India has provided fertile soil for films and TV dramas: witness the success of "The Jewel in the Crown" and all those Merchant/Ivory movies; one you may have missed from the BBC is an two-part adaptation of novelist Rumer Godden's The Peacock Spring.
It's set in 1959 in New Delhi, where diplomat Sir Edward Gwithian has engaged a new governess for his teenage daughters. When Una and her sister Hal arrive from England, they're hostile to their arrogant new "mother" and drawn to romance with "unsuitable" young men. Naveen Andrews fits the bill as under-gardener Ravi.
Starring Peter Egan, Naveen Andrews, Jennifer Hall, Hattie Morahan, Madhur Jaffrey.
Rated 16+
Available September 4
---

The Secret Agent (1992)
Starring David Suchet and David Capaldi, this powerful BBC adaptation of Joseph Conrad's famous 1907 novel tells of an attempt by a triple agent to blow up the Greenwich Observatory in 1894, a time of unrest and anarchist violence throughout Europe.
However it is the far-reaching effect this infamous conspiracy has upon the domestic life of the anti-hero, Adolf Verloc, that takes this compelling and complex tale beyond political intrigue to reveal a psychological drama of probing depth and vivid detail, in its incisive portrayal of human frailty.
Starring David Suchet, Peter Capaldi, David Capaldi, Cheryl Campbell, Warren Clarke.
Rated 16+
Available September 16
---

Solomon & Gaenor (1999)
As timeless as young love and as tragic as Romeo & Juliet, "Solomon & Gaenor" is a lush Oscar(r)-nominated romance featuring star-crossed lovers caught in a cultural crossfire. Wales in 1911 is a beautiful world, but fraught with racial and economic unrest.
Solomon is young, handsome and Jewish, selling linens door-to-door in a nearby mining village. There he falls for Gaenor, the daughter of a strict chapel-going family, and decides to conceal his heritage in order to win her heart. Passion blossoms, with hope and happiness achingly near, until Solomon's secret is revealed. Now the lovers are forced to separate forever by their families, their faiths and a tragic twist of fate.
Starring Ioan Gruffudd, Nia Roberts, Sue Jones-Davies, William Thomas.
Rated R for sexuality and a scene of violence
Available September 17
---

Strathblair (Seasons 1 & 2)
This prime-time BBC saga, set in the 1950s, finds two inexperienced newlyweds struggling to make a go of a rundown hill farm. It's the best thing to come out of Scotland since malt whisky.
Starring Francesca Hunt, David Robb, Andrew Kier, Ian Carmichael, Derek Riddell.
Rated 16+
Available September 30
---

Take a Girl Like You (2000)
In this star-studded British period drama from the BBC, when gorgeous Jenny Bunn meets the predatory womanizer Patrick Standish, a battle of lust versus wits begins. His tactics to maneuver her into the bedroom only harden her resolve to keep him at arm's length. Adapted from Kingsley Amis's classic novel by award-winning screenwriter Andrew Davies, this story recalls a provincial England as well as the jazz and strip clubs of late 1950s Soho.
Starring Sienna Guillory, Rupert Graves, Robert Daws, Emma Chamber, Hugh Bonneville, Deborah Cornelius.
Rated 18+
Available September 17
---

The Turn of the Screw (2009)
The perfect period drama for Halloween! A hauntingly atmospheric and star-studded adaptation of Henry James' classic gothic horror story starring two of "Downton Abbey's" finest. A young, inexperienced governess is hired to look after two small children abandoned by their uncle, following the death of their parents. Unsettled by glimpses of ghostly figures that only she can see, she quickly believes that something malevolent is stalking the children in her care. Also known as "Ghost Story."
Starring Michelle Dockery, Sue Johnston, Dan Stevens, Mark Umbers, Nicola Walker, Josef Lindsay, Eva Sayer.
Rated 16+
Available September 1
---

The following period-set movies and series (and period-inspired titles) are also newly available and included with your Prime membership in September 2021. Click on the titles for more information, to watch trailers where available, and to start streaming full movies or episodes:
September 1: The Alamo (2004), The Legend of Bagger Vance (2000), Vivandière (2021), Young Frankenstein (1974). September 4: Loving (1996), The Preacher and the Gun (2013). September 7: Broken Glass (1997) BBC, The Entertainer (1993) BBC, The Widowing of Mrs Holroyd (1995) BBC. September 8: The Angel of Auschwitz (2019). September 9: After Miss Julie (1995) BBC. September 11: Janosik (2009). September 15: Outlander (2009), Outpost (2008), The Pagan King (2018). Summer Day's Dream (1994). September 18: American Traitor: The Trial of Axis Sally (2021). September 23: Voices From a Locked Room (1995). September 25: A Thousand Years of Good Prayers (2007). September 27: Lucy (2003).
---
---

Period Dramas Added in October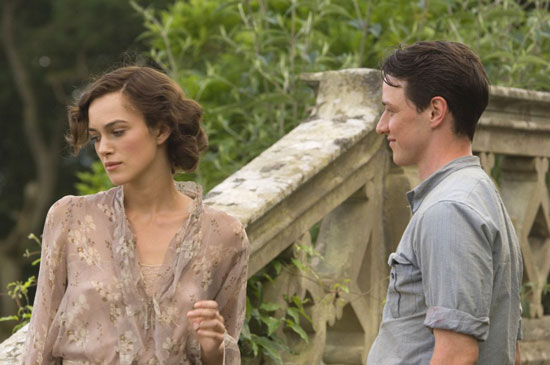 ---
---

Atonement (2007)
Nominated for 7 Academy Awards, including Best Picture, this stunning epic love story based on the novel by Ian McEwan stars Keira Knightley and James McAvoy and is hailed by critics as "a ravishing romance." From Joe Wright, the award-winning director of "Pride and Prejudice" comes a stunning, critically acclaimed epic story of love. When a young girl catches her sister in a passionate embrace with a childhood friend, her jealousy drives her to tell a lie that will irrevocably change the course of all their lives forever.
Starring Julia West, James McAvoy, Harriet Walter, Keira Knightley, Saoirse Ronan, Ailidh Mackay, Brenda Blethyn.
Rated R for disturbing war images, language and some sexuality
Available October 1
---

Byron (2003)
Byron revolutionized English poetry and died a hero. He became famous overnight when the poetic record of his adventures abroad was received with rapture. This rich historical drama explores the true identity of the wild poetic genius who broke every taboo in the book. Byron's affairs and his unconventionality, however, were always destined to bring him down. From BBC, 2 episodes.
Starring Jonny Lee Miller, Vanessa Redgrave, Natasha Little, Julie Cox, Philip Glenister, Stephen Campbell Moore.
Rated 18+
Available October 25
---

The Courier (2020) 4K UHD
In this true-life Cold War spy thriller, unassuming British businessman Greville Wynne becomes entangled in one of the greatest international conflicts in history. Recruited by MI6 and a CIA operative, Wynne forms a covert partnership with Soviet officer Oleg Penkovsky, and both men risk everything in a danger-fraught race against time to provide the intelligence needed to prevent nuclear confrontation and end the Cuban Missile Crisis.
Starring Benedict Cumberbatch, Merab Ninidze, Rachel Brosnahan, Jessie Buckley, Angus Wright.
Rated PG-13
Available October 29
---

The Duchess of Duke Street (Season 1)
A beloved, classic BBC British period drama set at the turn of the 20th century, based on the life of Rosa Lewis of the Cavendish Hotel. Louisa Trotter begins as an assistant cook, becomes Edward VII's mistress and then owner of a fashionable London hotel.
Starring Gemma Jones, Christopher Cazenove, Donald Burton, Byran Coleman.
Rated TV-14
Available October 19
---

Fairytale: A True Story (1997)
Two children in 1917 take a photograph, believed by some to be the first scientific evidence of the existence of fairies. Based on a true story.
After enduring family tragedies, young cousins Elsie and Frances spend time in rural Yorkshire, England, where they see fairies in a nearby meadow. They then snap pictures of the fairies, which suddenly gain international notoriety. Author Sir Arthur Conan Doyle announces he's a believer. Magician Harry Houdini, however, is a skeptic. Both join a media circus to see if the pictures indeed are genuine and if fairies are real.
Starring Harvey Keitel, Jason Salkey, Peter O'Toole, Anna Chancellor, Florence Hoath, Elizabeth Earl.
Rated PG
Available October 19
---

Germinal (1993)
During the Second Napoleonic Empire in mid-nineteenth-century northern France, a coal mining town's workers are exploited by the mine's owner. One day, they decide to go on strike, and the authorities repress them.
When this French epic film based on the 1885 novel by Émile Zola was made, it was the most expensive movie ever produced in France. The sets are elaborate and realistic, and the film will transport you into the difficult lives of the members of one family living in a cottage near the coal mines they labor in.
Starring Gérard Depardieu, Judith Henry, Miou-Miou, Jean Carmet, Renaud, Jean-Roger Milo.
Rated 18+
Available October 22
---

The Great Train Robbery (1978)
England, 1850s. Edward Pierce is a master thief of the Victorian Era who's never found a heist he couldn't pull off. For his next criminal operation, he plans something that has never been done before: to rob a moving train. Working with a master safecracker and a seductive woman, Pierce devises an incredibly complex plan to break into the train's safe and steal the thousands of dollars' worth of gold that are contained within.
Starring Sean Connery, Donald Sutherland, Lesley-Anne Down, Alan Webb, Malcolm Terris.
Rated PG
Available October 1
---

Love Field (1992)
On November 22, 1963, America lost a president and a generation lost its innocence. Michelle Pfeiffer and Dennis Haybert turn in stellar performances as two strangers whose lives become irrevocably intertwined as they travel to Washington to attend President John F. Kennedy's funeral.
This film is about an interracial friendship set against the back drop of a nation both divided by prejudice and united by sorrow. Dallas housewife Lurene Hallett feels such a strong personal connection to her idol, Jackie Kennedy, that when JFK is assassinated, she defies her husband and takes an eastbound bus, determined to be there for Jackie at the funeral. On board she meets a mysterious black man traveling with a sad, silent little girl. But when Lurene realizes that he's given her a false name, she fears she's uncovered a kidnapping plot. As a result of her well-intentioned meddling, the trio end up on the run from the police and, ultimately, on the road to a deep friendship that defies racial boundaries and changes each of them forever.
Starring Michelle Pfeiffer, Dennis Haybert, Stephanie McFadden, Brian Kerwin.
Rated PG-13
Available October 1
---

Tales of Para Handy (Seasons 1 & 2)
This BBC comedic drama television series is set in the 1930s Scotland, and is based on the books by Neil Munro about the most unreliable puffer ever to have sailed round the Mull of Kintyre. The series follows the adventures of the crew of the Vital Spark, as it puffs around the coastal waters of West Scotland and follows the various schemes that Para Handy gets himself and his crew involved in.
Starring Gregor Fisher, Rikki Fulton, Sean Scanlan, David Tennant, Tony Curran.
Rated 16+
Available October 1
---

Tell It to the Bees (2018)
In 1952 Dr. Jean Markham returns to her Scottish hometown to take over her late father's medical practice. She soon becomes ostracized by the community when she begins a passionate romance with a woman who has a young son. Based on the best-selling novel by Fiona Shaw.
Starring Anna Paquin, Holliday Grainger, Gregor Selkirk, Lauren Lyle, Kate Dickie, Emun Elliott.
Rated 16+
Available October 4
---

The Village (Seasons 1 & 2)
Pictured as the feature image on our home page. BBC's superb coming-of-age story doesn't shy away from emotionally poignant moments. Set in a remote Derbyshire village, you'll share the villagers' joys and crises as Bert Middleton takes a nostalgic look back at his youth, between 1914 and 1929. Season 1 takes place between 1914-1919: When a bus drives into the village for the first time, the rest of the world seems suddenly closer. Bert feels frustrated at being too young to fight in the Great War. How will the village react when women go to work in the nearby factory and conscientious objectors and shell-shocked soldiers come home? Season 2, The 1920s: The local aristocrats plan to resume their pre-war lifestyle, but times have changed. Bert falls madly in love, while others fall out.
Starring: David Ryall, Maxine Peake, John Simm, Rupert Evans, Emily Beecham, Maxine Peake, Juliet Stevenson.
Rated TV-14
Available October 1
---

When Hope Calls (Season 1)
For fans of "When Calls the Heart." In the early 1900s, sisters Lillian and Grace open an orphanage in a northwestern town which is on the cusp of change; the sisters strive to find happiness and romance while meeting the challenges of taking care of the children in their care.
Starring Morgan Kohan, Jocelyn Hudon, Ryan-James Hatanaka, Greg Hovanessian, Hanneke Talbot, Jefferson Brown.
Rated TV-G
Available October 1
---

The following period-set movies and series (and period-inspired titles) are also newly available and included with your Prime membership in October 2021. Click on the titles for more information, to watch trailers where available, and to start streaming full movies or episodes:
October 1: Butch Cassidy and the Sundance Kid (1969), Carrington (1995), The Charge of the Light Brigade (1968), Fiddler on the Roof (1971), The Hound of The Baskervilles (1959), Sayonara (1957). October 2: Swallows and Amazons (2017). October 3: New France (2005), The Human Solution (2021). October 6: Ivanhoe (1997), Nicholas Nickleby (2002). October 7: The Trench (2021). October 9: Hidalgo (2004). October 13: The Ghost and the Darkness (1996), Young Sherlock Holmes (1985). October 19: Gallipoli (1981). October 20: To Catch a King (1984). October 24: Sherlock Holmes and the Leading Lady (1991). October 25: The Little Foxes (1941), The Gospel Of John (2015). October 26: Soraya (2015), Black Adder (Seasons 1-4), The Dawns Here Are Quiet (2015), Detective De Luca (2008), Ekaterina: The Rise of Catherine the Great (Season 1). October 28: Legend of Two Sisters In the Chaos (2020). October 30: The Education of Little Tree (1997). October 31: Dances with Wolves (1991). 
You can now also watch episode 1 of Chapelwaite (Season 1) for free on the EPIX Prime Channel: Set in the 1850s, the series follows Captain Charles Boone (Adrien Brody) who relocates his family of three children to his ancestral home in the small, seemingly sleepy town of Preacher's Corners, Maine after his wife dies at sea. However, Charles will soon have to confront the secrets of his family's sordid history, and fight to end the darkness that has plagued the Boones for generations. Starring Adrien Brody, Emily Hampshire, Jennifer Ens, Sirena Gulamgaus, Ian Ho. Rated TV-MA
For free with ads on IMDb October 1: Brokeback Mountain (2005), Julie & Julia (2009), Little Women (1994), Magic in the Moonlight (2014).
Leaving: October 11: Enchanted April (1992).
---
---

Period Dramas Added in November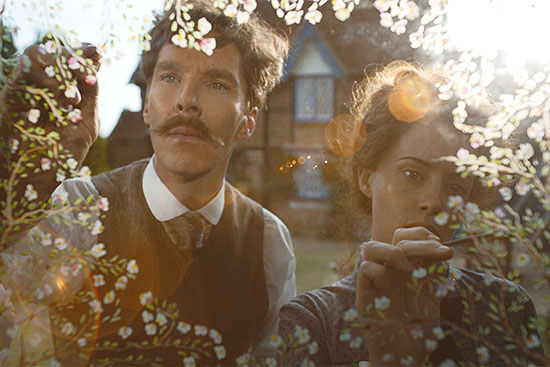 ---
---

All Creatures Great and Small (Season 1)
"All Creatures Great and Small," the new, hit PBS Masterpiece series, chronicles the true and exciting adventures of veterinarian James Herriot in Yorkshire, England during the 1930s. Fresh out of Glasgow Veterinary College, Herriot follows his dream to become a vet and soon discovers that the job is as much about treating the owners as it is about treating the animals themselves.
At Skeldale House, new veterinarian James Herriot gets to know his newly formed dysfunctional family; his chaotic and erratic boss Siegfried Farnon, his wayward brother Tristan and the shrewd housekeeper Mrs. Hall who is endlessly steering the ship. When local farmer's daughter Helen Alderson attracts James' attention, he finds another, more enduring reason to stay in the Dales.
Starring Nicholas Ralph, Samuel West, Anna Madeley, Callum Woodhouse, Rachel Shenton, Matthew Lewis, Diana Rigg.
Rated TV-PG
Available November 30
---

The Artist (2011)
Hollywood 1927. George Valentin is a silent movie superstar. The advent of the talkies will sound the death knell for his career and see him fall into oblivion. For young extra Peppy Miller, it seems the sky's the limit – major movie stardom awaits. "The Artist" tells the story of their interlinked destinies.
Starring Jean Dujardin, Berenice Bejo, John Goodman, James Cromwell, Penelope Ann Miller.
Rated PG-13
Available November 2
---

The Electrical Life of Louis Wain (2021)
The extraordinary true story of eccentric British artist Louis Wain, whose playful, sometimes even psychedelic pictures helped to transform the public's perception of cats forever. Moving from the late 1800s through to the 1930s, we follow the incredible adventures of this inspiring, unsung hero, as he seeks to unlock the "electrical" mysteries of the world and, in so doing, to better understand his own life and the profound love he shared with his wife Emily Richardson.
Starring Benedict Cumberbatch, Claire Foy, Andrea Riseborough, Toby Jones, Sharon Rooney, Aimee Lou Wood, Hayley Squires.
Rated PG-13
Available November 5
---

Jane Eyre (2011)
When orphaned governess Jane Eyre arrives at imposing Thornfield Hall, she's intrigued by her brooding wealthy employer, Rochester. His dark moods and the strange occurrences in the house lead her to discover a terrible secret that he had hoped to hide from her forever.
Read Jane Eyre (2011): From Book to Movie
Read Ranking 5 Jane Eyre Adaptations
Starring Mia Wasikowska, Michael Fassbender, Jamie Bell, Judi Dench, Sally Hawkins, Tamzin Merchant, Imogen Poots.
Rated PG-13
Available November 1
---

The Lady Vanishes (2013)
From the BBC comes an adaptation of the classic 1930s thriller. Iris Carr is traveling across Europe by train when she befriends Miss Froy, an elderly English woman. But when she wakes up from a few hours' sleep, Miss Froy has vanished. As fellow passengers claim the lady never existed, Iris fights to discover the fate of Miss Froy – and prove that she's not going mad.
Starring Tuppence Middleton, Tom Hughes, Selina Cadell, Keeley Hawes, Julian Rhind-Tutt, Benedikte Hansen.
Rated TV-PG
Available November 17
---

Last Princess (2016)
The last remaining princess of the Joseon Dynasty leaves her home for Japan, under Japanese colonial rule. Her childhood friend makes a vow to retrieve her and help her make her way back to Korea. Political intrigue, betrayal, peril and forbidden romance play out in this lavish, critically acclaimed historical drama.
Starring Son Ye-Jin, Park Hae-Il, Ra Mi-Ran, Jung Sang-hoon.
Rated 13+
Available November 16
---

The Portrait of a Lady (1997)
The story of a young American woman who is taken to Europe by her aunt after the death of her family and challenges the confines of her destiny on the hermetically closed American expatriate circuit in late 19th century Europe. Based on Henry James' great novel of freedom and seduction, Isabel Archer is a young woman of daring independence and equally fierce desires. Her head-strong innocence is no match, however, for the manipulations of her duplicitous friend Madame Merle and the devious Gilbert Osmond. 
Starring Nicole Kidman, John Malkovich, Barbara Hershey, Mary-Loiuse Parker, Martin Donovan, Shelley Winters, Richard E. Grant.
Rated PG-13
Available November 16
---

The Restaurant (Season 1)
*Available for a limited time. Monday 7 May 1945 – the Second World War finally comes to an end and a new, brighter future beckons. In the midst of central Stockholm celebrations, two strangers come together with a quick kiss, parting company immediately after. Upper-class girl Nina and kitchen hand Calle don't yet know that their brief encounter will come to have tumultuous consequences. Witness the series described as the next "Downton Abbey" that immediately became one of the most successful Swedish shows ever.
Starring Suzanne Reuter, Mattias Nordkvist, Adam Lundgren, Hedda Stiernstedt.
Rated 13+
Available November 2
---

Sophie's Choice (1982)
Screen favorite Meryl Streep received an Academy Award for her portrayal of Sophie Zawistowska in this penetrating drama set in post-World War II Brooklyn. Kevin Kline plays her all-consuming lover, Nathan. The story revolves around Sophie's struggle as a Polish-Catholic immigrant in the United States who had survived a Nazi concentration camp.
Starring Meryl Streep, Kevin Kline, Peter MacNicol, John Rothman, Robin Bartlett.
Rated R for sex, violence, and strong language.
Available November 1
---

Vanity Fair (2004)
Reese Witherspoon gives a vibrant, captivating performance as one of the greatest female characters of all time, Becky Sharp, in the sumptuous and sexy epic from acclaimed director Mira Nair (Monsoon Wedding). It's a dazzling ascent up the social ladder as vivacious Becky schemes and seduces her way to the top – until love and romance threaten to get in the way! Join her daring adventures that prove all is fair in love and war.
Starring Reese Witherspoon, Gabriel Byrne, Angelica Mandy, Roger Lloyd-Pack, Ruth Sheen, Kate Fleetwood.
Rated PG-13
Available November 1
---

Vienna Blood (2019)
A student of Sigmund Freud and an Austrian detective team up to solve some of the most mysterious and deadly cases in early 1900s Vienna. Shown on PBS. 
Starring Matthew Beard, Juergen Maurer, Amelia Bullmore, Conleth Hill, Jessica de Gouw, Luise von Finckh.
Rated TV-MA
Available November 30
---

When Calls the Heart (Season 7)
In the Hallmark family-friendly frontier drama inspired by Janette Oke's bestselling book series about the Canadian West, the town of Hope Valley adjusts to the changing times– while still maintaining the small-town bonds that connect them. Elizabeth's friendships with Nathan and Lucas continue to deepen, Faith and Carson must make choices about their future, and the whole town joins in the excitement as Jesse and Clara plan their wedding. In the Christmas special, residents of Hope Valley prepare to celebrate Christmas, and intertwined stories explore the emotions and magic that connect them during the holiday season. 
Starring Erin Krakow, Jack Wagner, Pascale Hutton, Kavan Smith.
Rated TV-G
Available November 30
---

The following period-set movies and series (and period-inspired titles) are also newly available and included with your Prime membership in November 2021. Click on the titles for more information, to watch trailers where available, and to start streaming full movies or episodes:
November 1: 17 Miracles (2011), The Black Dahlia (2006), King Lear (2008), The Merchant Of Venice (2001), Parkland (2013), Rodgers and Hammerstein's Flower Drum Song (1961), Rodgers and Hammerstein's Oklahoma! (1999), Seabiscuit (2003), Union Bound (2019), Dead Poets Society (1989), Casanova, Last Love (2021). November 8: The War Bride (2002). November 10: The Symphony of Love (2015). November 11: A Single Man (2009). November 15: Henry IV Parts I and II (1995), Wynne and Penkovsky (1985) BBC. November 16: Jesus of Nazareth (1977). November 17: Liz: The Elizabeth Taylor Story (1995). November 20: Hans Christian Andersen (1953). November 27: Zoo (2018).
Also see the period-inspired The March Sisters at Christmas (2012). 
And available November 1 for free with ads on IMDb TV: 12 Years a Slave: In the antebellum United States, Solomon Northup, a free black man from upstate New York, is abducted and sold into slavery. 
---
---

Period Dramas New to Prime Video Channels
This section contains period dramas added in September, October, and November 2021 (movies and TV series) that are included with add-on Prime Video Channels. If you don't already subscribe to the channel, follow the link below the film description that says "Available …" to sign up for a free trial.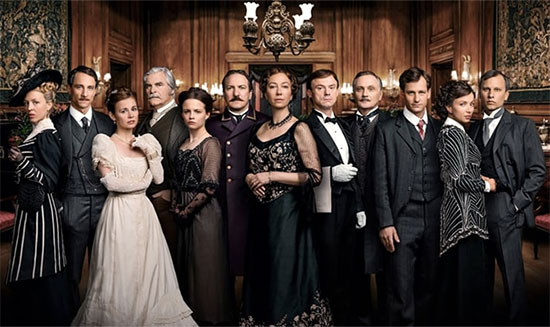 ---
---

Dark Angel (2017)
This is the story of a troubled woman drawn ever deeper into a career of casual murder, while her loved ones and friends, who were also her victims, never suspected a thing. Golden Globe-winner Joanne Froggatt (Downton Abbey) portrays the notorious Victorian poisoner Mary Ann Cotton, a child of the northeast England coal fields who dreamed of escaping the hard life of a miner's family.
Starring Joanne Froggatt, Jonas Armstrong, Laura Morgan, Emma Fielding, Sam Hoare, Alun Armstrong.
Rated TV-14
Available November 21 with PBS Masterpiece Prime Video Channel
---

Frankie Drake Mysteries (Season 4)
Season Four opens with our intrepid detectives Frankie Drake and Trudy Clarke alongside their best gal pals, Mary Shaw and Flo Chakowitz, traipsing through the woods on a scavenger hunt that quickly turns deadly. From the wilderness to the world of high society, from an underground cabaret to a candy factory, Frankie and Trudy investigate murders, kidnappings, heists and poisonings. Using her position as a morality officer, Mary is able to snoop through police files and be privy to non-civilian discussions, while Flo lends a hand with autopsy reports, science experiments and her newly acquired medical skills.
As always, amid high-stakes danger, excitement, intrigue and friendship, the women find their balance in their lives outside of work. Frankie has a European race car-driving beau; Trudy's dreams of home-sweet-home are closer than ever; Mary falls for the wrong fella; and Flo starts a family.
Starring Lauren Lee Smith, Chantel Riley, Rebecca Liddiard, Sharron Matthews.
Rated TV-PG
Available September 3 with PBS Masterpiece Prime Video Channel
---

Home Fires (Seasons 1 & 2)
Critically acclaimed and based on the novel Jambusters, "Home Fires" opens in August 1939. War with Germany is all but certain, and the citizens of the isolated village of Great Paxford are each facing it in their own way. Men of fighting age are mostly enlisting or waiting to be called. Some of the women are joining the female military services; others already have essential jobs, such as farming; and still others are planning to "dig for victory," planting gardens to reduce the need for food imports. Since German submarines will be attacking merchant ships, any task that adds to the nation's self-sufficiency is vital.
Frances (Samantha Bond, Downton Abbey), whose husband owns a local factory, believes that the Women's Institute has an important role to play. Joyce (Francesca Annis, Reckless), the longtime president of the institute, vehemently disagrees and proposes suspending activities until the war is over. So begins a quarrel that mirrors the fragmentation affecting the wider world. In Great Paxford, this crisis ends up cementing the friendships of a group of women who have their own personal troubles, but who now have a shared mission that will lead them to their finest hour.
Starring Samantha Bond, Francesca Annis, Daisy Badger, Claire Calbraith, Claire Rushbrook.
Rated TV-14
Available November 7 with PBS Masterpiece Prime Video Channel
---

Hotel Sacher (2016)
Based on true events, "Hotel Sacher" explores the renowned owner and hotel's reputation and the tales they kept behind closed doors. From Walter Presents, this 2-part period drama also known as "Das Scaher" is in German with English subtitles.
The imperial era is about to end; but what will come in its place? Two couples living on the edge, the independent Martha and her unsuccessful husband Max; the romance author Konstanze and her husband Georg; become intertwined as they conduct passionate but doomed affairs.
Starring Josefine Preuss, Laurence Rupp, Julia Koschitz, Florian Stetter, Robert Palfrader, Ursula Strauss.
Rated TV-MA
Available September 10 with PBS Masterpiece Prime Video Channel
---

Jamaica Inn (Season 1)
Following the death of her mother, Mary Yellen arrives at Jamaica Inn, where she must resist being drawn into the dangerous world of smuggling. When she falls for Jem Merlyn, Joss's roughly handsome younger brother, her morals and loyalties become deeply conflicted and she is uncertain of who she can trust.
Starring Jessica Brown Findlay, Matthew McNulty, Sean Harris, Joanne Whalley, Ben Daniels, Shirley Henderson.
Rated TV-14
Available September 5 with PBS Masterpiece Prime Video Channel
---

The Ladies Paradise (2015)
Based on the Emile Zola novel that inspired the hit series "The Paradise," set in the 1950s, the program follows Teresa Iorio, a young woman who leaves her rural Sicilian hometown for Milan. Teresa find works – and much more – at a newly opened department store: The Ladies' Paradise. In Italian with English Subtitles.
Starring Giuseppe Zeno, Giusy Buscemi, Alessandro Tersigni, Christiane Filangieri, Lorena Cacciatore.
Available November 9 with PBS Masterpiece Prime Video Channel
---

The Making of a Lady (2014)
Based on the novel by Frances Hodgson Burnett, this is the story of the educated but penniless Emily who accepts a practical if unromantic marriage proposal from Lord James Walderhurst. Left alone with Lord James' nephew and his wife on an isolated country estate, she increasingly comes under their control. She begins to fear for her life. Will Walderhurst return in time to save her?
Starring James D'Arcy, Lydia Wilson, Joanna Lumley, Linus Roache, Hasina Haque.
Available September 9 with PBS Masterpiece Prime Video Channel
---

Madame K (2018)
Based on a bestselling book and considered by many to be the most successful Estonian produced television series of all time, "Madame K" is a 10-part, historically-rooted, romantic war drama which takes place in Estonia during the tumultuous year of 1939, with WWII ramping up in the background.
This series gives a glimpse into the fate of Estonia during the world-shattering years of the World War II as told through the eyes of the people working at and frequenting a small elite brothel in Tallinn. From Walter Presents.
Starring Merle Palmiste, Andres Dvinjaninov, Mirjam Aimla, Gerda Johnson.
Rated 18+
Add to your WATCHLIST (coming soon)
Available November 16 with PBS Masterpiece Prime Video Channel
---

MASTERPIECE MYSTERY!: Grantchester (Season 6)
It's 1958 and trouble is brewing in the Cambridgeshire village of Grantchester. Reverend Will Davenport relishes his role as a firebrand vicar, willing to rock the boat and challenge conventions to help people. But the very role he loves puts him at odds with his own ideals when his kind-hearted curate, Leonard Finch is caught up in a scandal. Will's best friend, Detective Inspector Geordie Keating, finds his principles shaken, housekeeper Mrs. Chapman is distraught, and Geordie's wife Cathy is defiant. With new crimes around every corner, and morality and legality at loggerheads, it's going to take all of Will's skill and empathy to navigate these choppy waters and help the ones he loves.
Starring Tom Brittney, Al Weaver, Robson Green, Tessa Peake-Jones, Kacey Ainsworth.
Rated TV-14
Available October 17 with PBS Masterpiece Prime Video Channel
---

The Mayor of Casterbridge (2003)
A lavish period drama based on Thomas Hardy's classic tale of a man who sells his wife and child at a market and begins a new life of wealth and respect as the Mayor of Casterbridge. However, his past returns to haunt him when he is reunited with his family, with unexpected consequences.
Starring Ciaran Hinds, Jodhi May, Polly Walker, Juliet Aubrey, James Purefoy.
Rated TV-14
Available September 17 with PBS Masterpiece Prime Video Channel
---

The Rivals of Sherlock Holmes Season (1 & 2)
Victorian London was a boon for crooks–and a bane for Scotland Yard, whose job it was to thwart crime. In the pages of fiction, the citizens of the capital often turned to private sleuths for redress. But Sherlock Holmes was not the only detective in town.
Starring Derek Jacobi, Judy Geeson, Jean Marsh, Judy Geeson, Robin Ellis, John Thaw.
Rated 13+
Add to your WATCHLIST (coming soon)
Available November 5 with PBS Masterpiece Prime Video Channel
---

Seaside Hotel (Season 8)
Fondly known as Danish Downton-by-the-sea, the series is a whimsical and delightfully charming international program that follows the drama of the guests and employees of the seaside hotel. Scandal, laughs and respite from everyday life have audiences immersed in mystery and intrigue as the regular guests of the hotel go on holiday each summer.
At Andersen's Seaside Hotel by the North Sea dunes, meet the chambermaid Fie, the merchant's daughter Amanda, and the local fisherman Morten, whose fates are intertwined, as they seek to emancipate themselves from the plans other people have made on their behalf. In Season 8, the regulars return hoping for a summer of bliss, but when the neighboring hotel is seized by German occupiers, it looks as if there is no escape from reality.
Seasons one through five each follow a summer hotel season in the years 1928 though 1932. Seasons six through eight each follow a summer season in the years 1939 through 1941. From Walter Presents, in Danish with English subtitles.
Starring Amalie Dollerup, Bodil Jorgensen, Jens Jacob Tychsen, Cecilie Stenspil, Lars Ranthe, Anne Louise Hassing.
Rated TV-MA
Available September 17 with PBS Masterpiece Prime Video Channel
---

Sisters 1968 (2018)
In this Swedish 3-episode mini-series, Karin, a young journalist in the politically charged time of 1968, gets a job at a local paper. Little does she know the true extent of her connections to the community. From Walter Presents.
Starring Mikaela Knapp, Maja Rung, Anna Åström, Hannes Fohlin, Jens Hultén.
Add to your WATCHLIST (coming soon)
Available November 30 with PBS Masterpiece Prime Video Channel
---

To Walk Invisible: The Bronte Sisters (2017)
Learn the extraordinary story of how, against all odds, the famous literary trio had their genius for writing romantic novels recognized in a male-dominated 19th-century world. Charlotte, Emily and Anne Brontë live with their aging father and troubled brother Branwell. To halt the family's decline, the sisters try to publish their work; but in an age where talented women are overlooked, they must do it in secret.
Starring Finn Atkins, Charlie Murphy, Chloe Pirrie, Adam Nagaitis, Jonathan Pryce.
Rated TV-14
Available September 25 with PBS Masterpiece Prime Video Channel
---

Wide Sargasso Sea (2006)
The first Mrs. Rochester recalls how she met her future husband and eventually came to be imprisoned in the attic at Thornfield Hall. Adapted from Jean Rhys' award-winning novel, this is a prequel to Charlotte Bronte's Jane Eyre and paints a rather different story of Mr. Rochester's first wife. Set in lush 19th century Jamaica, this is the story of the relationship between a passionate Creole heiress, Antoinette, and a brooding Englishman, Edward Rochester.
Starring Rafe Spall, Rebecca Hall, Victoria Hamilton, Nina Sosanya, Fraser Ayres, Lorraine Burroughs.
Rated 18+
Available October 17 with PBS Masterpiece Prime Video Channel
---
And if you enjoy international series and have the PBS Masterpiece Prime Video Channel, you'll also want to see the recently added period dramas:
Bauhaus (Season 1): Inspired by the life of designer Alma Siedhoff-Buscher, "Bauhaus" takes place in 1920s Weimar, Germany, a few years after the First World War and after the German Revolution ended. Against the will of her parents, the rebellious and artistically gifted Lotte Brendel decides to join the new art school, Bauhaus. Led by the visionary architect Walter Gropius, Bauhaus and its eccentric instructors attempt to expand their students' creativity and their concept of what art is and what it can be. While at the school, Lotte becomes part of a movement that sets out to end the stagnant, outdated rule of the German Empire, to usher in a new era. From Walter Presents, in German with English Subtitles. Available HERE
Tunnel of Dreams (2021): In 1873 men from all over Europe flock to the tiny village of Goschenen in Switzerland to work on the biggest and most spectacular construction site of modern times, the tunnel through Gotthard. "Tunnel of Dreams" follows the lives of three young people in the years of rapid industrial expansion: the German engineer, Max, the innkeeper's daughter Anna, and the hot-headed Italian, Tommaso. In the bustle and confusion of the expanding city and the building of the tunnel, the three young people forge a friendship that defies the differences of social class and tackles internal and external dramas; including the growing tension between Tommaso, who becomes the spokesman of the miners, and Max, who struggles to be loyal to his employer and his friends. From Walter Presents, in Swiss and German with English Subtitles. Available HERE
Our Miracle Years (2020): Follow 3 sisters of an industrialist family in post-war Germany. In a politically, morally and economically destroyed country, these young women reinvent themselves and set the course for their future. From Walter Presents, in German with English subtitles. Available HERE
Also see Period Dramas on Acorn TV in 2021 if you have Acorn TV as an Add-on Channel.
---
---

New Period Dramas to Rent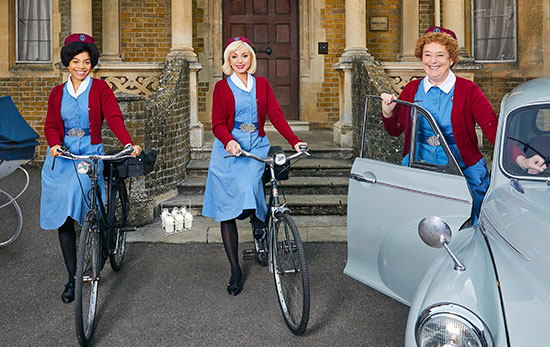 This section contains historical, costume and period dramas (movies and TV series) that are newly available to rent on Amazon this season.
---
---

Call the Midwife (Season 10)
The midwives of London's Nonnatus House deliver more babies and drama in this long running British series based on the best-selling memoirs of Jennifer Worth. In the new season, it's 1966, and it's a testing time for the midwives. But there's excitement, too, as the women's rights movement intensifies. With Trixie's help, Sister Julienne is determined to steer Nonnatus House out of its financial quandary.
Starring Jenny Agutter, Linda Bassett, Judy Parftt, Fenella Woolgar, Ella Bruccoleri, Helen George, Laura Main.
Rated TV-PG
---

Hester Street (1975)
Steven Keats plays a Russian emigre who prides himself on the way he's molded himself into a real Yankee in the USA, though the world he lives in, New York's Lower East Side in the late 19th century, is almost exclusively populated by other Jewish immigrants. When his wife finally arrives in the New World, however, she has a lot of assimilating to do.
Starring Carol Kane, Steven Keats, Doris Roberts, Mel Howard, Dorie Kavanaugh.
Rated PG
---
---

New Period Drama DVD Releases
This section contains a selection of historical, costume, and period dramas and other titles of interest that are being released this season to DVD and Blu-ray.
---
---
Blithe Spirit (2021): Best-selling crime novelist Charles (Dan Stevens) is struggling with catastrophic writer's block and a stressful deadline for his first screenplay. His picture perfect second wife Ruth (Isla Fisher) is doing her best to keep him focussed in the hope of fulfilling her dream of heading to Hollywood. Charles' desperate search for inspiration leads him to invite Madame Arcati (Judi Dench), a medium recently exposed as a fraud, to perform a séance in their home. They all get more than they bargained for when Arcati accidentally summons the spirit of his deceased first wife: the fiery and jealous Elvira (Leslie Mann) who embarks on a mission to kill Charles so she can spend eternity with him which leads to an increasingly comical and deadly love triangle. Available HERE
Frankie Drake Mysteries: The Complete Fourth Season: Season Four opens with our intrepid detectives Frankie Drake (Lauren Lee Smith) and Trudy Clarke (Chantel Riley) and their best gal pals, Mary Shaw (Rebecca Liddiard) and Flo Chakowitz (Sharron Matthews), traipsing through the woods on a scavenger hunt that quickly turns deadly. Available HERE
Lucy Worsley's Royal Myths and Secrets, Vol. 2: Join Lucy Worsley on a journey across Europe to visit the incredible locations where royal history was made. From the rule of Henry VIII to the Russian Revolution, learn how royal history is a mixture of facts, exaggeration, manipulation and mythology. Available HERE
MASTERPIECE MYSTERY!: Grantchester (Season 6): 1958: Rev. Will Davenport is at odds with his own ideals when Leonard Finch is caught up in a scandal. It will take all of Will's skill and empathy to navigate the choppy waters and help the ones he loves. Available HERE
Ms. Fisher's Modern Murder Mysteries: Series 2: In 1960s Melbourne, private eye Peregrine Fisher tackles her biggest mysteries yet, but her courtship with noble detective James Steed faces a crossroads. Read more about it. Available HERE
---
---

Other Shows You May Also Like 
This section contains a curated list of movies and TV series newly included on Prime, that are NOT period dramas. We think fans of historical and costume dramas will enjoy them just the same. Follow the links to watch the trailers. You may also like:
September 1: (500) Days Of Summer (2009), The Kids Are All Right (2010). September 16: The Song of Lunch (2010) BBC, The Student Prince (1997) BBC. September 17: Man and Boy (2002) BBC. The Sleeper (2000) BBC.
October 1: A Chorus Line (1985), The Best Exotic Marigold Hotel (2012), City of Joy (1992), Fools Rush In (1997), Garden State (2004), The Graduate (1967), Little Man Tate (1991), On Golden Pond (1981), Raising Arizona (1987), The Squid And The Whale (2005), Things You Can Tell Just By Looking At Her (2001), Topkapi (1964), The Trouble with Maggie Cole (Season 1), Untamed Heart (1993). October 4: Manhunt (Series 1). October 21: Children of a Lesser God (1986). October 26: A Bit of Fry & Laurie (Seasons 1 – 4), Horrible Histories (several seasons).
November 1: Wimbledon (2004), Mrs. Doubtfire (1993), Baptiste (Season 1), Family Business (Season 1), Magellan (Season 1), A Fall City Christmas (2018), Bigger than the Sky (2005), Cast Away (2000), The Constant Gardener (2005), Crazy, Stupid, Love (2011), The Cutting Edge (1992), Dan in Real Life (2007). November 2: From Prada to Nada (2011), A Royal Christmas Engagement (2020). November 16: Dear Santa (2011). November 19: The Wheel of Time (2021). November 26: Lost at Christmas (2020), A Match Made at Christmas (2021).
---
If you enjoyed this post, be sure to see The Period Films List, with the best British period dramas, historical and costume movies and TV series sorted by era.