Last Updated on July 23, 2022
This November, the newest adaptation of one of Britain's finest literary investigators, "Dalgliesh," makes its worldwide premiere.

---
To help keep this site running: Willow and Thatch may receive a commission when you click on any of the links on our site and make a purchase after doing so.
---
The award-winning screenwriter and playwright Helen Edmundson (An Inspector Calls, The Suspicions of Mr Whicher) is lead writer for the new series. "Dalgliesh" (2021) is available on Acorn TV, the streaming service specializing in British and International television.
Read on for plot details, cast info, premiere date, trailer, and more.  
---
---
Adapted from celebrated author P.D. James' bestselling Adam Dalgliesh Mystery murder novels, this intriguing new crime drama stars Bertie Carvel as the titular, enigmatic detective and poet in three, two-part mysteries – each featuring its own unique setting and extraordinary cast.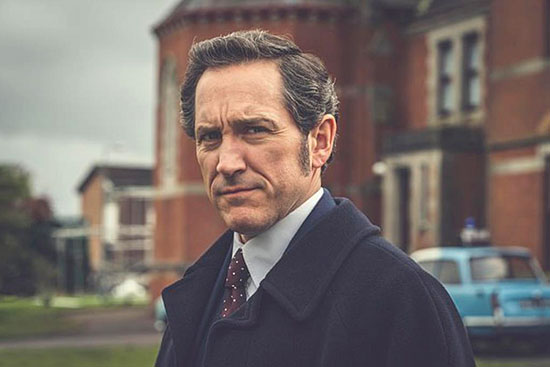 In addition to his role as Jonathan Strange in Jonathan Strange & Mr Norrell, period drama fans will also recognize Bertie Carvel from The Crimson Petal and the White as Ashwell, as Bamatabois in Les Miserables, and as Zachariah Osborne in The Pale Horse.
Akin to other distinguished detectives, like Holmes and Poirot, Adam Dalgliesh takes us through 1970s England as he solves unusual murders ranging from a nursing student poisoned during a training demonstration, to a homeless man and recently resigned Tory MP whose throats were slashed in a London church to suspicious deaths at a mysterious home for the disabled.
Guest stars in the series include Jeremy Irvine (War Horse), and Natasha Little (Wolf Hall). Lead director Jill Robertson (Harlots, Grantchester) is joined by Andy and Ryan Tohill (The Dig), and Lisa Clarke (Sanditon). The character driven period drama is adapted from the novels Shroud For A Nightingale, The Black Tower, and A Taste For Death.
In the first two-part installment of the new television adaptation, "Shroud for a Nightingale," DCI Adam Dalgliesh is sent to a nursing school to investigate the death of Heather Pearce, a student poisoned during a demonstration. But as he uncovers the secrets that infect the school, can Dalgliesh identify the killer before they strike again? Then, After the death of another student nurse at Nightingale House, Dalgliesh's hunt for the murderer intensifies. A private patient who died at the on-site hospital might hold the answer, but Dalgliesh's curiosity puts his own life in danger.
The previous long-running ITV adaptation of the detective series – from Death of an Expert Witness (1983) to A Certain Justice (1998) star Roy Marsden (Goodbye Mr. Chips) as Adam Dalgliesh. In 2003 and 2004, BBC adapted books 11 and 12 in the series, Death in Holy Orders and The Murder Room, starring Martin Shaw. 
Dalgliesh (2021) series premieres on Acorn TV in North America on November 1, 2021. 
The second two-parter of the series, "The Black Tower," releases November 8, and the third, "A Taste for Death," on November 15.
The award-winning author P. D. James  was born in Oxford in 1920. She worked in the National Health Service and the Home Office From 1949 to 1968, in both the Police Department and Criminal Policy Department. All that experience was used in her novels. 
Watch the trailer below.
---
If you enjoyed this post, be sure to see The Period Films List, with British, historical and costume dramas sorted by era. Also see the list of Period Dramas on Acorn TV in 2021.