Last Updated on November 3, 2021
It's a spy story practically made for the screen: at the height of the Cold War, high-ranking Soviet officer Oleg Penkovsky makes overtures to American and British intelligence, offering to share military and technical secrets to prevent the world from collapsing into war.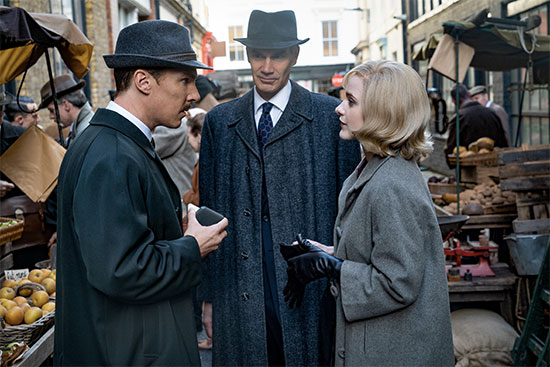 ---
To help keep this site running: Willow and Thatch may receive a commission when you click on any of the links on our site and make a purchase after doing so. 
---
But the Soviet state has eyes everywhere, so MI6 offers him the only contact they can: Greville Wynne, an aging British businessman.
Starring Benedict Cumberbatch as Wynne, this real-life story serves as the premise for The Courier: Between 1960 and 1962, Penkovsky smuggled thousands of sensitive documents out of the Soviet Union by pretending to pursue business interests with Wynne, who in turn transmitted the documents to American and British intelligence.
Both men were eventually captured by the KGB, but the information Penkovsky provided regarding Soviet missile capabilities was crucial in helping JFK negotiate the Cuban Missile Crisis in 1962.
---
---
"The Courier" (2020) is a Cold War spy film with all the tradecraft details you might expect, but at its heart lies the unlikely alliance forged between the two men.
Penkovsky (Merab Ninidze, Freud) is a well-respected member of the GRU (Soviet intelligence), and he puts up a good front of obedience in front of Soviet politician Khrushchev and other high-ranking officers. But he's terrified of Khrushchev's aggressive plans, so he offers to share military secrets with American and British intelligence to help prevent another world war.
CIA operative Emily Donovan (Rachel Brosnahan, The Marvelous Mrs. Maisel) and MI6 official Dickie Franks (Angus Wright, The Crown) find they have no agents who could make contact with such a high-ranking Soviet officer, so they're forced to turn to Wynne (Benedict Cumberbatch, The Power of the Dog), who travels often for business and could reasonably seek out opportunities in Moscow.
Cumberbatch portrays Wynne as a middle-class family man with no greater ambition than to provide his wife (Jessie Buckley, The Woman in White) and son with a comfortable home. When Donovan and Franks first approach him, he's understandably astonished, then dismissive of their proposal. What experience does he have with military secrets? Yet, as Franks points out, Wynne excels at putting on a show to please his clients, and making contact with Penkovsky will be no different.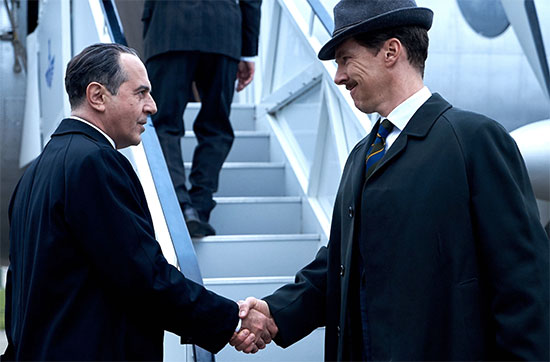 As Wynne is drawn further into the world of intelligence, he finds he enjoys aspects of the "show" he and Penkovsky are performing: drinking and dancing at London nightclubs to entertain the Soviet team; visiting the ballet in Moscow; and meeting one another's families.
The men find they have the mutual hope that their children will grow up in a more peaceful world. Penkovsky, by nature of his work, understands his unique position to help shape this future, but it takes Wynne a bit longer to realize that he plays just as significant a role. He may have stumbled into the role of courier by accident, but once he's established his cover, he feels duty-bound to see it through, for the sake of both his family and Penkovsky.
Cumberbatch and Ninidze share a remarkable chemistry that may help viewers understand why Wynne continued to serve as a courier for so long. In life, Wynne continued to travel to the Soviet Union even after both men knew that the KGB was watching them; it's a dangerous choice that's completely understandable given the relationship we see on screen.
After the men are captured, they meet one last time in a deeply moving scene that resonates through the end of the film.
"The Courier's" indulgence in some of the hallmarks of spy cinema heightens the fun. There's the chalk mark left casually on a lamppost, the covert meetings in city tunnels and subway stops, the information smuggled in a pack of cigarettes. When he's first recruited, Wynne even jokes around, asking if the tie clip Donovan gives him shoots poison darts. But the tradecraft elements here feel much more quotidian and plausible, and that keeps the film firmly rooted in reality.
"The Courier" is a home run for fans of Cold War films based on true events; it's a sobering reminder of just how many moving pieces—and how many unlikely people—were involved in preventing the Cuban Missile Crisis from exploding into an all-out war.
The Courier (2020) is AVAILABLE to STREAM
Rated PG-13
Watch the TRAILER
---
Abby Murphy writes young adult books about girls discovering their strengths. A member of SCBWI and The Historical Novel Society, she is represented by Laura Crockett of Triada US Literary Agency. You can visit her blog here, where she writes about reading, writing, history, and her incurable Anglophilia.
If you enjoyed this post, wander over to The Period Films List. You'll also like our review of BBC's British spy thriller Restless.