Last Updated on October 8, 2021
We've gathered up the period dramas that are newly included with your US Amazon Prime Video membership in June, July, and August 2021. 
Then, we share the historical / costume / period dramas that are coming to Prime Video Channels, are available to rent, and movies and TV series in the genre that are being released to DVD this summer.
Finally, we list some newly added non-period movies and series like British shows and romances that you may also like, that are included with your Prime Video membership.
Check this list throughout the summer; we'll update all the sections (alphabetically) as more titles become available. If some of these titles look familiar, it's because they were previously available with Prime, were pulled off, and now they are back.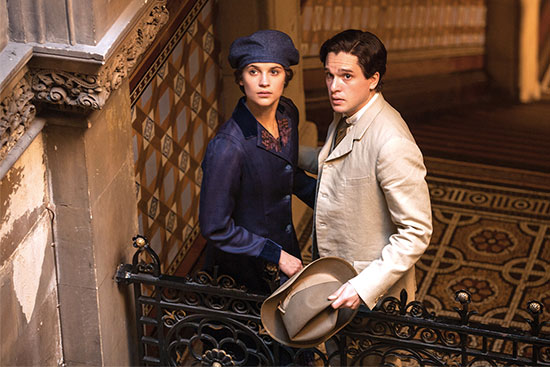 ---
To help keep this site running: Willow and Thatch may receive a commission when you click on any of the links on our site and make a purchase after doing so.
---
It's easy to watch the trailers for the films on this list, or add the movies and TV series to your watchlist: just click. This is a US-based list, but if you live in Canada or the UK, you can also use our "Add to your WATCHLIST" links to check availability in your country. 
From British costume dramas to sweeping romantic epics, there's a lot here by the end of the season, so to help you keep track: the blue TVs next to the title mean the film is included with your membership, the orange TVs mean it is available to rent or is available with a Prime Video Channel subscription.
Also see the list of Period Dramas New on Prime Spring 2021.

Period Dramas Added in June
This section contains newly available historical, costume and period dramas (movies and TV series) that are included with your Prime Video membership.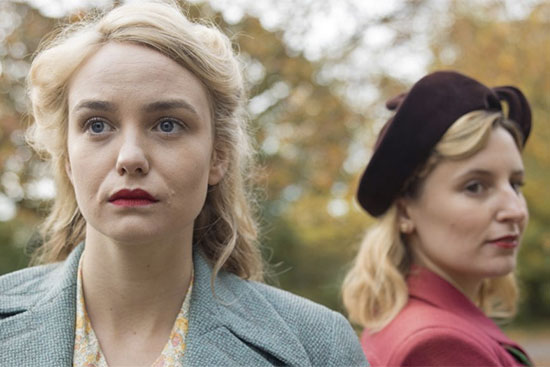 ---
---

Carrie's War (2004)
From PBS Masterpiece and BBC. At the start of World War II, 14-year-old Carrie and her younger brother Nick are separated from their mother and evacuated from war-torn London to a rural village in Wales. Upon their arrival, they are assigned to live with a troubled family, the puritanical shopkeeper Mr. Evans, a widower, and his spinster sister, a timid woman named Lou.
While Lou is thrilled to lavish attention on the children, Mr. Evans remains cold and distant. But Carrie and Nick's fortunes take a turn for the better when they're sent to fetch a Christmas goose from mysterious Druid's Bottom, a manor house occupied by a self-professed witch named Hepzibah and Mr. Evans's ethereal, estranged sister, Mrs. Gotobed. Filled with magical adventures and first love, this is a heartfelt and faithful adaptation of Nina Bawden's beloved novel for the whole family.
Starring Keeley Fawcett, Jack Stanley, Karen Meagher, Eddie Cooper, Alun Armstrong, Lesley Sharp. 
Rated 7+
Available June 23
---

Domina (2021)
The story of Livia Drusilla in ancient Rome, from her early life as a naive young girl in the wake of Julius Caesar's assassination, through her rise to become the emperor Augustus' wife, becoming Rome's most powerful and influential empress. As of June 14, the first two episodes are included with Prime Video; more episodes expected. 
Starring Kasia Smutniak, Isabella Rossellini, Matthew McNulty, Ben Batt, Liam Cunningham.
Rated TV-MA
Available June 12
---

Genius (2016)
Nicole Kidman and Colin Firth star in this stirring drama about the friendship between Thomas Wolfe and editor Maxwell Perkins. When, one day in 1929, writer Thomas Wolfe decided to keep the appointment made by Max Perkins, editor at Scribner's, he had no illusions: his manuscript would be turned down as had invariably been the case. But, to his happy amazement, his novel, which was to become "Look Homeward, Angel," was accepted for publication. The only trouble was that it was overlong (by 300 pages) and had to be reduced. Although reluctant to see his poetic prose trimmed, Wolfe agreed and was helped by Perkins, who had become a true friend, with the result that it instantly became a favorite with the critics and a best seller.
Starring Nicole Kidman, Colin Firth, Jude Law, Guy Pearce.
Rated PG-13
Available June 16
---

Gracie! (2009)
From BBC. Singer and comedienne Gracie Fields from Rochdale was the nation's darling. Beginning on the cusp of World War II and at the phenomenal peak of her career, this heart-breaking love story tells of Gracie's relationship with Italian-born Hollywood director Monty Banks and its staggering repercussions. Produced as part of a trio of BBC films on 'Women We Loved' (the other two being Enid Blyton and Margot Fonteyn).
Starring Jane Horrocks, Tom Hollander, David Dawson, Tony Haygarth, Ellie Haddington.
Rated 13+
Available June 23
---

Loving Miss Hatto (2012)
From the BBC comes the story of one of Britain's most famous pianists, Joyce Hatto, and her husband William, from their meeting in post-war London to her death in 2006 – after which her recordings were discovered to be one of the biggest hoaxes in classical music history. Written by Victoria Wood and based on a true story.
After years of frustration and broken dreams, classical pianist Joyce Hatto finally found international fame in her 70s. Dubbed 'the greatest living pianist no one has ever heard of', she had critics raving about her sublime recordings. Yet six months after her death, many of these recordings were discovered to be by other pianists – the greatest hoax in classical music had been orchestrated from the small town of Royston, Hertfordshire.
Starring Alfred Molina, Francesca Annis, Rory Kinnear, Maimie McCoy.
Rated 13+
Available June 24
---

Man in an Orange Shirt (2017)
From novelist Patrick Gale, this is a tender film sure to spark conversation about outdated attitudes and equal rights. Two love stories set 60 years apart are linked by a secret that echoes through generations, from a forbidden relationship impossible during WWII, contrasted with a present-day romance that is nearly derailed by the 1940s tale with which it is deeply intertwined. Shown on PBS Masterpiece.
Starring Julian Morris, James McArdle, Vanessa Redgrave, Oliver Jackson-Cohen, Laura Carmichael, Flaminia Cinque, Joanna Vanderham, David Gyasi.
Rated TV-14
Available June 1 for a limited time
---

Pinocchio (2019)
Period-set fantasy. Geppetto's puppet creation, Pinocchio, magically comes to life with dreams of becoming a real boy. Easily led astray, Pinocchio tumbles from one misadventure to another as he is tricked, kidnapped and chased by bandits through a wonderful world full of imaginative creatures – from the belly of a giant fish, to the Land of Toys and the Field of Miracles.
Starring Roberto Benigni, Federico Ielapi, Rocco Papaleo, Massimo Ceccherini.
Rated PG-13
Available June 11
---

The Secret Diaries of Miss Anne Lister (2010)
Do you like "Gentleman Jack'? Try this BBC movie. The story of Anne Lister, a 19th-century Yorkshire landowner, industrialist and lesbian. Anne kept a detailed account of her life in a fascinating and painfully honest 4,000,000-word journal. A sizeable portion was written in code, and the recent deciphering of the diaries provides an astonishing insight into the life of the woman who has been called Britain's first modern lesbian.
Starring Maxine Peake, Anna Madeley, Christine Bottomley, Susan Lynch, Gemma Jones.
Rated 16+
Available June 10
---

Sunstroke (2014)
Pictured on our home page. An epic romantic Russian period drama also known as "Solnechnyy udar," loosely based on the story Sunstroke and the book Cursed Days by Nobel Prize-winning Russian writer Ivan Bunin. The story is set in a prisoner-of-war camp in November 1920, in the Crimea, after the evacuation of the White Army, with several thousand White officers left behind on the peninsula. The officers are unaware of their impending doom, waiting for their fate to be decided by the Red Army officials. One of them — an unnamed poruchik — is haunted by the memories of a dramatic and brief love affair occurred in 1907, clinging to this memory of an opulent Russia during the glory days before its fall.
Starring Martinsh Kalita, Viktoriya Solovyova, Aleksandr Ustyugov, Anastasiya Imamova, Vitaliy Kishchenko.
Rated 16+
Available June 1
---

Testament Of Youth (2015)
During World War I, Oxford University student Vera Brittain postpones her studies to serve as a nurse while her suitor, her brother, and a secret admirer face death in the trenches. "Testament of Youth" is a searing story of love, war and remembrance, based on the First World War memoir by Vera Brittain which became the classic testimony of that war from a woman's point of view. A powerful and passionate journey from youthful hopes and dreams to the edge of despair and back again; a film about young love, the futility of war and how to make sense of the darkest times.
Starring Alicia Vikander, Kit Harington, Taron Egerton, Colin Morgan, Emily Watson, Dominic West, Hayley Atwell, Miranda Richardson.
Rated PG-13
Available June 1
---

Walter's War (2008)
A BBC historical drama inspired by the life of Walter Tull who, after years in an orphanage, went on to become a professional footballer and then the first black commissioned officer to lead British troops during the First World War. The action concerns Tull's turbulent passage from ordinary soldier to extraordinary officer at officer training camp, where he had to face his own demons as well as fight the prejudice that surrounded him.
Starring O.T. Fagbenie, Ewan Stewart, Dugald Bruce-Lockhart, Michael Wildman, Samara MacLaren, Kwame Kwei-Armah.
Rated 16+
Available June 23
---

Wodehouse in Exile (2013)
An intimate BBC film featuring an all-star cast about how the author PG Wodehouse came to face a charge of treason during the Second World War and how this quintessential Englishman, creator of Jeeves and Wooster, became an exile from his own country and never set foot on English soil again.
Starring Tim Pigott-Smith, Zoë Wanamaker, Curran McKay, Simon Coury, Julian Rhind-Smith. 
Rated 16+
Available June 23
---

The following period-set movies and series (and period-inspired titles) are also newly available and included with your Prime membership in June 2021. Click on the titles for more information, to watch trailers where available, and to start streaming full movies or episodes:
June 1: Ali (2001), Goya's Ghosts (2007), The Last Tycoon (1976), Of Mice and Men (1992). June 3: Macbeth (2020). June 7: Wings of The Wind (2015). June 9: Big Jake (1971), The Great Waves (2021), Through The Shadow (2015). June 10: Manifest Destiny: The Lewis & Clark Musical Adventure (2016), Son of the South (2021). June 11: Chinatown (1974). June 12: Warsaw 44 (2014), Life With Father (1947). June 16: Snowy River: The McGregor Saga (1994). June 22: Tesla (2016). June 26: Salt of the Earth (1954), Molokai: The Story Of Father Damien (1999). June 29: Dorian Gray (2009), Zoo (2018).
Also now free with ads on IMDb TV: Miss Potter (2006), My Week With Marilyn (2011), Orlando (1992), Water For Elephants (2011).
Available for free with ads June 11 on IMDb TV: Timewasters is a half-hour comedy series about a struggling four-piece jazz band from South London who travels back in time. Transported via a "time machine" they discover in a rundown apartment building elevator, the foursome finds itself exploring and navigating the complexities and nuances of the Jazz Age in 1920s London in season one and jumps back to the 1950s during the dawn of rock 'n' roll in season two.

---
---

Period Dramas Added in July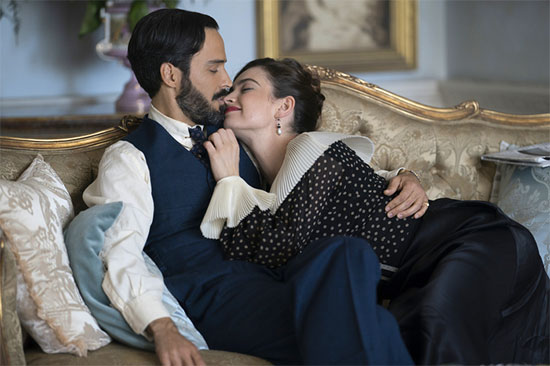 ---
---

An Education (2009)
Three time Academy Award® Nominated Film adapted for the screen from the memoirs of journalist Lynn Barber. A coming-of-age story about a teenage girl in 1960s suburban London, and how her life changes with the arrival of a playboy nearly twice her age.
Jenny is an intelligent young woman on the brink of her 17th birthday, living in the post-war, pre-Beatles London suburbs, who is destined for a promising if somewhat narrow future at Oxford University and beyond. Longing for romance and sophistication to inject some excitement into her humdrum schoolgirl existence, Jenny finds herself caught in a whirlwind romance with the mysterious and much older playboy David, which leaves her torn between studying for a place at Oxford, and the more exciting alternative offered to her by a charismatic older man.
Starring Carey Mulligan, Peter Sarsgaard, Alfred Molina, Rosamund Pike, Dominic Cooper, Olivia Williams, Emma Thompson, Sally Hawkins.
Rated PG-13
Available July 1
---

The Children's Hour (1961)
Longtime friends Martha and Karen run a boarding school for girls. When an unruly child, Mary, is punished for lying, she concocts a story that Karen and Martha are having a lesbian relationship. When the story spreads, parents withdraw their children from the school. The women's lawsuit for libel hits many snags when they lack witnesses to speak for them. All the stress adversely affects Karen's engagement to Joe Cardin.
Starring Shirley MacLaine, Audrey Hepburn, Karen Balkin, James Garner.
Not rated
Available July 1
---

El Cid (Season 2)
The Spanish historical action drama about an 11th-century Castilian knight and warlord returns for a second season, picking up after the death of King Fernando. His sons, Sancho, Alfonso and García, rule the kingdoms of Castilla, León and Galicia, respectively. Ruy is now a knight – a step before becoming a true hero – but he will have to make some very difficult decisions along the way. Will it be Amina or Jimena? Sancho or Alfonso? Loyalty or glory?
Peace or war? Battles, love, politics, intrigue, treason, death, and power struggles provide a rich backdrop for the second season of "The Legend of El Cid," which chronicles the real-life odyssey of Rodrigo Diaz de Vivar: a hero and legend, who was accused of being a traitor by his enemies.
Starring Jaime Lorente, Alicia Sanz, Elia Galera, Lucía Guerrero, Jaime Olías, Adrián Salzedo, Daniel Albaladejo.
Rated TV-14
Available July 15
---

The French Lieutenant's Woman (1981)
Two intertwining and related love stories… In the first story (set in 1867 England), a strange young woman is dishonored by her affair with a French officer, and loved by a proper young Victorian gentleman who falls hopelessly in love with her. The second story (set in the present) chronicles the similar relationships of the actors who are portraying the protagonists of the first story in a film. In both stories, the lovers are affectingly played by Meryl Streep and Jeremy Irons. John Fowles' novel was adapted for the screen by Harold Pinter and directed by Karel Reisz. Cinematographer Freddie Francis has been praised for his painterly re-creation of 19th-century Dorset, as well as his complementary 20th-century mise-en-scene. A must-watch!
Starring Meryl Streep, Jeremy Irons, Hilton McRae, Emily Morgan, Charlotte Mitchell, Lynsey Baxter.
Rated R for some sexuality
Available July 1
---

Indian Summers (Season 1)
Included with Prime for a limited time. Set in a subtropical paradise during the twilight era of the British Empire, "Indian Summers" explores the collision of the ruling class English with their Indian subjects, and the intricate game of power, politics, and passion that ensues.
In Season 1 of the PBS Masterpiece miniseries, it's 1932 and the Indian Civil Service begin the annual move to Simla, India's Little England and the exclusive white British Club is prepared for the summer season. But while the British cling to power, India dreams of independence.
Starring Julie Walters, Henry Lloyd-Hughes, Amber Rose Revah, Jemima West, Nikesh Patel, Roshan Seth, Lillete Dubey.
Rated TV-14
Available July 1
---

Miss Pettigrew Lives For A Day (2008)
It's 1939 and governess Guinevere Pettigrew finds herself out of work and on the bread line. Middle-aged and running out of options,Miss Pettigrew takes an uncharacteristic gamble when, after being refused work at an employment agency, she pinches the details of a juicy assignment and pursues the job herself.
Academy Award nominee Amy Adams and Academy Award winner Frances McDormand star in this charming comedy about finding a new life and a new love, all in one day. When Miss Pettigrew stumbles upon the chance to become the new "social secretary" to glamorous high-society singer and actress Delysia Lafosse, she seizes the opportunity despite being totally out of her element. Swept up into the glamorous whirl of high society, it's all Miss Pettigrew can do to keep up with Delysia as she juggles her lovelife and career in this "delightful champagne cocktail of a comedy!" (Leah Rozen, People).
Starring Frances McDormand, Amy Adams, Lee Pace, Ciaran Hinds, Shirley Henderson, Tim Potter.
Rated PG-13
Available July 16
---

The Pursuit of Love (Season 1)
Written for the screen and directed by Emily Mortimer, "The Pursuit of Love" follows the friendship between cousins Linda and Fanny, which will be put to the test as Fanny settles for a steady life and Linda decides to follow her heart. Based on the novel by Nancy Mitford. "The Pursuit of Love" is a romantic comedy-drama set in Europe between the two World Wars, and examines the women's bond on their journey of self-discovery that takes them on a gorgeous, sexy and edgy ride through life.
Starring Lily James, Emily Beecham, Dominic West, Emily Mortimer, Dolly Wells, John Heffernan, Shazad Latif, Annabel Mullion, Andrew Scott.
Rated TV-PG
Available July 30
---

Swallows & Amazons (2017)
Four children (The Swallows) go on a sailing adventure to an island where they encounter a rival group of kids (The Amazons). Rivalry quickly turns to camaraderie when pirates threaten all they hold dear.
A wonderful family adventure adapted from Arthur Ransome's classic novel set in the 1920s. While on holiday in the Lake District with their mother Mrs. Walker four siblings – John, Susan, Tatty and Roger – set sail on a boat named Swallow and discover an island. As they begin to explore they realise the island has already been claimed by sisters Nancy and Peggy Blackett, who have their own vessel called the Amazon. Meanwhile, the sisters' mysterious uncle Jim Turner, who lives in a houseboat and is thought of as a pirate by the Walker children, has become the target of secret agent Lazlow. When Jim is taken captive the Walkers and the Blacketts put aside their rivalry and band together on a mission to discover what happened to him. 
Starring Rafe Spall, Andrew Scott, Kelly Macdonald, Orla Hill, Dane Hughes, Bobby McCullock.
Rated 7+
Available July 1
---

The following period-set movies and series (and period-inspired titles) are also newly available and included with your Prime membership in July 2021. Click on the titles for more information, to watch trailers where available, and to start streaming full movies or episodes:
July 1: Across The Universe (2007), Julie & Julia (2009), Marie Antoinette (2006), The Mask Of Zorro (1998), Your Highness (2011), Patton (1970), Agatha Christie's Ten Little Indians (1989), The Black Stallion (1979), The Bounty (1984), Boxcar Bertha (1972), Braveheart (1995), Britannia (Seasons 1 & 2), Comes a Horseman (1978), Doc (1971), Evelyn (2002), The Story of Adele H (1975), Great Expectations (1947), Ned Kelly (1970). July 2: Centurion (2010), Savannah (2014), Small Faces (1998) BBC. July 3: Sherlock Holmes – Dressed to Kill (1946), When We Last Spoke (2020). July 15: Coming Through the Rye (2016). July 16: Romeo and Juliet (2013). July 18: Snowy River: The McGregor Saga (Seasons 1 – 4). July 20: Brotherhood (2019), The Sign of the Beaver (1997). July 21: Angela (2019), Serena (2015). July 22: Black Book (2007), The German Doctor (2014), The King's Choice (2017), The Legend of Lizzie Borden (1975), The Passion of The Christ (2004), The White Countess (2005). July 26: Legend of Two Sisters In the Chaos (2020). 
Also available for free with ads on IMDb TV: July 1: A Beautiful Mind (2001) – After John Nash, a brilliant but asocial mathematician, accepts secret work in cryptography, his life takes a turn for the nightmarish. Sense and Sensibility (1995): Emma Thompson stars in the captivating romance based on Jane Austen's classic novel of two sisters' search for love in strict Regency society. Also once again available for stream for free is Renoir (2013): Set on the French Riviera in the summer of 1915, Jean Renoir — son of the Impressionist painter, Pierre-Auguste — returns home to convalesce after being wounded in World War I. At his side is Andrée, a young woman who rejuvenates, enchants, and inspires both father and son.
And please note that Girl With a Pearl Earring (2003) is leaving at the end of July.
---
---

Period Dramas Added in August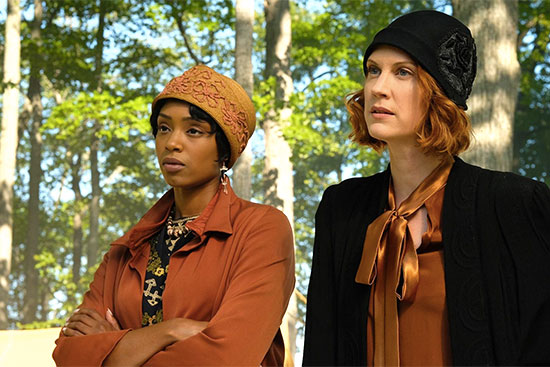 ---
---

A Royal Night Out (2015)
It's back! As Europe celebrates V-E Day in 1945, teenage princesses Elizabeth and Margaret spend an unforgettable evening out in London. Directed by acclaimed UK director Julian Jarrold (Becoming Jane, Brideshead Revisited), "A Royal Night Out" is an affectionate 'what-if' story about the adventures Elizabeth and Margaret might have had on the joyous night that brought the whole of London together.
"A Royal Night Out" is a film about one perfect, glorious evening in the lives of two real-life princesses. They are Elizabeth and Margaret Windsor and the night is 8 May 1945, V-E Night. The whole of London is on the streets to celebrate the official end of World War II in Europe. It is known the young princesses, aged 19 and 14, slipped out of the palace to join the communal euphoria and went dancing at the Ritz. 
Starring Sarah Gadon, Bel Powley, Jack Reynor, Rupert Everett, Emily Watson.
Rated PG-13
Available August 23
---


Alice in Wonderland (1986)
A mini-series from the BBC. One of the most fantastic stories ever told begins on the river one golden summer afternoon. Alice spots a White Rabbit with a pocket-watch, falls down a hole and into a strange and wonderful land… Based on the classic tale by Lewis Carroll, produced by Terrance Dicks and dramatized and directed by Barry Letts.
Starring Kate Dorning, Ian Wallace, Jonathan Cecil, Ysanne Churchman, Claire Davenport.
Rated 7+
Available August 20
---

All Things Bright and Beautiful (1994)
County Tyrone. idyllic rural Northern Ireland. 1954 is the year of special devotion to Our Lady. When Barry's prayers to her are mistaken for a two-way conversation, the result is a wave of religious hysteria. Barry's father must rescue him from the worship of the village folk and the ambitions of Father McAteer. From BBC.
Starring Tom Wilkinson, Ciaran Fitzgerald, Gabriel Byrne, Kevin McNally, Karl O'Neill, Marie Ward.
Rated 13+
Available August 21
---

The American (1998)
Matthew Modine and Diana Rigg star this adaptation of Henry James' novel. Modine plays Christopher Newman, 19th-century "new man" who amasses a fortune in California and heads to Europe to learn its ways and find a wife. His overtures to a young French woman, a member of an aristocratic but impecunious family, meet with icy condescension in this classic collision between the old world and the new. This BBC period drama is set in Paris, in the 1870s. 
Starring Matthew Modine, Diana Rigg, Aisling O'Sullivan, Paul Hickey, Brenda Fricker.
Rated 16+
Available August 28
---

Amundsen: The Greatest Expedition (2021)
Set in the early 1900s and exquisitely shot with authentic period detail. Roald Amundsen's dream of reaching the North Pole haunts him throughout his life. He is obsessed with the idea of discovering the last unchartered lands of the world. While he wins the race against Robert Scott to becomes the first man ever to conquer the South Pole, Amundsen will sacrifice everything to be the first to explore the icy wastelands of the North Pole.
Starring Pål Sverre Hagen, Katherine Waterston, Christan Rubeck, Trond Espen Seim, Glenn André Kaada, Ida-Ursin Holm.
Rated 16+
Available August 1
---

Anna Karenina – Vronsky's Story (2017)
During Russian-Japanese War, the head of the hospital Sergey Karenin learns that the wounded officer Count Vronsky is the person who ruined his mother Anna Karenina. This Russian period drama is a loose adaptation of Leo Tolstoy's 1877 novel of the same name which also combines "During the Japanese War" and the literary cycle "Stories about the Japanese War" by Vikenty Veresaev.
Starring Elizaveta Boyarskaya, Yelizaveta Boyarskaya, Maxim Matveyev, Kirill Grebenschikov.
Rated 16+
Available August 9
---

Bookmark: Selected Exits (1993)
Oscar-winning actor Anthony Hopkins gives another outstanding performance as colorful wit and raconteur Gwyn Thomas in Alan Plater's adaptation of Thomas's autobiography for the BBC. From his humble origins in the Welsh Valleys of the 1920s, he wins a scholarship to Oxford, where he doesn't really fit in. After a spell as a teacher, he finds success as a playwright, novelist and TV personality.
Starring Anthony Hopkins, Robert Pugh, James Arlon, Gavin Ashcroft, John Grillo, Abigail Hopkins.
Rated 13+
Available August 21
---

Byron (2003)
From the BBC, Jonny Lee Miller is Byron, the aristocratic poet who lived fast and died young. Byron revolutionized English poetry and died a hero. He became famous overnight when the poetic record of his adventures abroad was received with rapture. This rich historical drama explores the true identity of the wild poetic genius who broke every taboo in the book. Byron's affairs and his unconventionality, however, were always destined to bring him down.
Starring Jonny Lee Miller, Vanessa Redgrave, Natasha Little, Camilla Power, Julie Cox.
Rated 18+
Available August 26
---

Céleste (1980)
Eccentric French author Marcel Proust is remembered by Celeste Albaret, the woman who spent nine years of her youth attending to his practical and his neurotic needs. In 1914, with men gone to war, Marcel Proust hired Céleste  Albaret as his attendant. More than eight years later, she was at his side when he died. During this entire time, she only entered his room when he rang for her, sleeping from 9 AM to 3 PM to wait during the night while he wrote.
Starring Eva Mattes, Jürgen Arndt, Norbert Wartha, Wolf Euba, Joseph Manoth.
Rated 16+
Available August 1
---

Century (1996)
BBC's period drama is set in London, 1899. An elite group of doctors work under the leadership of the eminent Professor Mandry. Paul, Mandry's confidant and the team's star researcher, is madly in love with strong-willed, uninhibited lab assistant Clara. But his world is shattered when he makes a startling discovery about the Professor.
Starring Charles Dance, Clive Owen, Miranda Richardson, Joan Hickson, Robert Stephens.
Rated 16+
Available August 26
---

Copenhagen (2002)
From the BBC. Based on the acclaimed stage play by Michael Frayn. Long after their deaths, Neils Bohr and Werner Heisenberg look back on their 1941 meeting in occupied Copenhagen. Old friends, Bohr and Heisenberg revolutionized physics in the 1920s but by 1941 were on opposing sides in the Second World War. The meeting was awkward and fraught with danger so why did Heisenberg return?
The Guardian's Gareth McLean describing it as "a case study of how to transfer a stage play to the small screen with aplomb and dignity, giving proper writing and proper acting the care and attention they deserve."
Starring Stephen Rea, Daniel Craig, Francesca Annis.
Rated 13+
Available August 22
---

The Courier (2021)
Benedict Cumberbatch and Rachel Brosnahan star in this true-life Cold War spy thriller about British businessman Greville Wynne, who must form an alliance with a Soviet spy to prevent a nuclear confrontation.
Starring Benedict Cumberbatch, Merab Ninidze, Rachel Brosnahan, James Schofield, Anton Lesser.
Rated PG-13
Available August 25
---

Frankie Drake Mysteries (Season 1)
*Included with Prime for a limited time. Set in 1920s Toronto, the series follows the adventures of Frankie Drake (Lauren Lee Smith) and her partner Trudy Clarke (Chantel Riley) at Drake Private Detectives, the city's only all-female detective agency, as they find themselves fighting crime in the age of flyboys, gangsters, rum-runners, and speakeasies.
Starring  Lauren Lee Smith, Chantel Riley, Rebecca Liddiard, Sharron Matthews.
Rated TV-14
Available August 1
---

Great Moments in Aviation (1994)
BBC's sumptuous film is set aboard a luxury liner in the 1950s. Rakie Ayola is an adventurous young West Indian bound for England. Forced to share a cabin with a mysterious Scotsman (Jonathan Pryce), she embarks upon a shipboard romance. But is her lover really who he says he is? Also known as "Shades of Fear."
Starring Vanessa Redgrave, John Hurt, Dorothy Tutin, Jonathan Pryce.
Rated 16+
Available August 26
---

The Maitlands (1993)
A previously unavailable film with a star-studded cast, from the BBC. Ronald Mackenzie's 'lost masterpiece' takes place in early summer of 1932 in the secluded seaside village of Betworthy. There is strained atmosphere in the once-prosperous Maitland household, as impossible love triangles and hard times begin to take their toll. The first production for 60 years of this witty and tragic family drama. 
Starring Eileen Atkins, Jennifer Ehle, Emma Fielding, Bill Nighy, Edward Fox, Harriet Walter. 
Rated 16+
Available August 24
---

The Prisoner of Zenda (1984)
An oldie but fun! In this BBC period series, an Englishman on a Ruritarian holiday must impersonate the king when the rightful monarch, a distant cousin, is drugged and kidnapped. Anthony Hope's fast-moving story of royal romance and political intrigue has been a much-loved bestseller from the day it was first published. Malcolm Sinclair is the Englishman posing as Ruritania's new monarch when the real King is abducted. Victoria Wicks plays his unsuspecting Queen.
Starring Malcolm Sinclair, Nicholas Gecks, Pauline Moran, Jonathon Morris, Victoria Wicks.
Rated 13+
Available August 21
---

Queen Marie (2021)
Devastated by the First World War and plunged into political controversy, Romania's every hope accompanies its queen on her mission to Paris to lobby for international recognition of its great unification at the 1919 peace talks. Based on a true story.
Starring Roxana Lupu, Daniel Plier, Richard Elfyn, Patrick Drury, Caroline Loncq, Robert Cavanah.
Rated 16+
Available August 29
---

The Spanish Princess (Season 1)
"The Spanish Princess" returns viewers to the world of Tudor royal court intrigue, continuing the story from the Starz miniseries "The White Queen" and the Starz limited series "The White Princess." It's told uniquely from the perspective of the women, but it also sheds light on the lives of people of color who were living and working in 16th-century London. Teenage Catherine of Aragon, the strong-willed Princess of Spain, is promised in marriage to the English Prince Arthur. When he dies suddenly, the throne seems lost until she sets her sights on the new heir, the charismatic and headstrong Prince Harry.
Starring Alicia Borrachero, Laura Carmichael, Daniel Cerqueira, Aaron Cobham, Charlotte Hope.
Rated TV-MA
Available August 31
---

Stage Beauty (2004)
Highly recommended! Ned's performance of Desdemona in Shakespeare's "Othello" brings the house down nightly. Ned is the "most beautiful woman on the London stage." That is, until the King renounces the royal edict that only men can play women's roles.
Starring Billy Crudup, Claire Danes, Hugh Bonneville, Tom Wilkinson, Rupert Everett.
Rated R for language and sexual content.
Available August 9
---

The Swing (1983)
The life of 3 sisters in Munich before the First World War. Based on the book by Annette Kolb. "It's not merely the colourful sequence of events – parties, theatre visits, hesitant romantic trysts, country outings – that hold the interest, but also the generally playful tone and the energetic, even eccentric direction, which manages to invest the most mundane of domestic occurrences with a bright, breathless vitality. The film effortlessly avoids the dull conventions of TV costume drama by means of its breezy way with narrative and its eye-catching style." – Time Out
Starring Anja Jaenicke, Lena Stolze, Joachim Bernhard, Susanne Herlet, Christine Kaufmann, Rolf Illig.
Rated 16+
Available August 1
---

Water For Elephants (2011)
An old man recalls his unforgettable experience working in a Depression-era circus in this stirring adaptation of the bestseller. A visually stunning and epic romantic period drama, which tells the powerfully emotional story of two people who pursue their love against all odds, rules and conventions, set in the alluring and enigmatic world of a travelling circus.
Starring Reese Witherspoon, Robert Pattinson, Christoph Waltz, Paul Schneider, Hal Holbrook, Jim Norton.
Rated PG-13
Available August 1
---

The following period-set movies and series (and period-inspired titles) are also newly available and included with your Prime membership in August 2021. Click on the titles for more information, to watch trailers where available, and to start streaming full movies or episodes:
Available August 1: Hook (1991), The Iron Lady (2011), The Legend of Zorro (2005), The Natural (1984), Pearl Harbor (2001), Road To Perdition (2002), Seabiscuit (2003), Tombstone (1993), Valley of Fire (1951), Willow (1987). August 2: Cross Creek (1983). August 3: Esther and the King (1960). August 9: Guinevere (1994). August 12: Copperhead (2013). August 17: The Key to Rebecca (1985), Sweet Country (2018). August 20: An Artist of the Floating World (2019). August 21: Bel Ami (2012), Burton and Taylor (2013), Daphne (2007), King Lear (1998), The Private Life of Samuel Pepys (2003). August 22: Cruel Train (1996), Count Dracula (1977). August 24: Gentleman Thief (2001), The Adventures of Robert Louis Stevenson (2005). August 25: The Clothes in the Wardrobe (1993), Babs (2017), Beauty and the Beast (2010). August 26: Genghis Cohn (1994), Measure for Measure (1994). August 27: Hattie (2011). August 28: In the Cold Light of Day (1994), The Perfect Husband (1993). 
Period dramas for free with ads on IMDb added in August include: August 1: Sisters of War (2010), Walk the Line (2005), and Dr. Quinn, Medicine Woman (Seasons 1-6). 
---
---

Period Dramas New to Prime Video Channels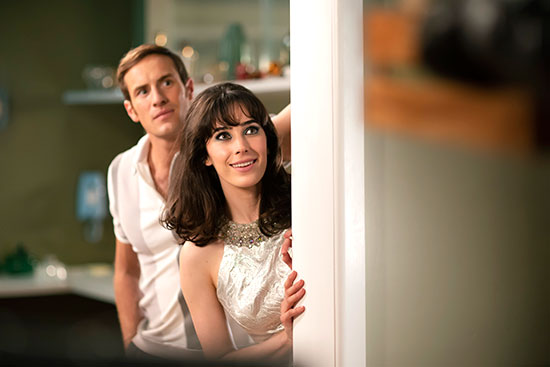 This section contains period dramas added in June, July, and August 2021 (movies and TV series) that are included with add-on Prime Video Channels. If you don't already subscribe to the channel, follow the link below the film description that says "Available …" to sign up for a free trial.
---
---

Land Girls (Seasons 1 – 3)
Created by Roland Moore, "Land Girls" follows the lives and loves of four women, Nancy, Joyce, Bea and Annie, away from home, doing their bit for Britain in the Women's Land Army during World War II. Set on the Hoxley Manor estate against the backdrop of war-weary Britain in the 1940s, the series depicts how the women balance their working lives at the run-down pasture farm with the opulent living conditions at the estate. As they adapt to their new surroundings, and knuckle down to some hard work and play, they realize very quickly that their lives will never be the same again.
Available June 18 with PBS Masterpiece Channel
---

Ms. Fisher's Modern Murder Mysteries (Season 2)
This swinging 1960's series "Ms. Fisher's Modern Murder Mysteries," a spinoff of the Australian sensation "Miss Fisher's Murder Mysteries," follows the fearless and spirited Peregrine Fisher (Logie Award-nominated Geraldine Hakewill), the niece of world-class adventuress and private detective Phryne Fisher, as she inherits a windfall from her famous aunt and sets to become an exceptional sleuth in her own right.
Available June – July with Acorn TV Channel (Episode 1 and 2 premiere on June 7, with weekly
premieres every Monday through July 19)
---

The Prime of Miss Jean Brodie (1978)
Over 7 episodes, Geraldine McEwan (Agatha Christie's Marple) stars as imperious, unorthodox teacher Jean Brodie, who endeavors to fill her students, all impressionable young girls, with a love of art and as much self confidence as she possesses. Set in Edinburgh in the 1930s, this seven-part series is adapted from the novel by Muriel Spark, who considered McEwan's performance the best portrayal of her iconic
character.
Available June 14 with Acorn TV Channel
---

Walter Presents: King of the Skies (2021)
Based on true characters and events, "King of the Skies" is set during the early days of civil aviation and follows the battle between two men, Albert Plesman and Anthony Fokker from the end of the First World War in 1919 up until the beginning of World War II in 1939.
The men were completely different but needed each other to succeed. The director of the newly created Dutch airline KLM, Plesman was a straightforward, physically imposing, Calvinistic family man of simple descent who was happily married all his life to his wife Suze. An aircraft manufacturer and famous pilot, Fokker came from a wealthy family, was small in stature, and was a notorious playboy and womanizer who wasn't a fan of rules. Although the men didn't like each other they could not ignore one another: Plesman needed planes to keep KLM alive and Fokker needed a big customer to sell his planes to.
Over the years their battles were fought in several countries, during exciting, historic air races, and with an extensive cast of larger-than-life characters on both sides of the feud. At a crossroads in their lives the men are brought back together at the dawn of a new war, with one big question present: can they work together to stop the war?
In Dutch with English Subtitles
Available June 11 with PBS Masterpiece Channel
---
Also available with channels: The Trials of Oscar Wilde (1960) is included with Paramount+
Also see BritBox Adds 75 Period Dramas in December if you have BritBox as an Add-on Channel, and Period Dramas on Acorn TV in 2021 if you have Acorn TV as an Add-on Channel.
---
---

New Period Dramas to Rent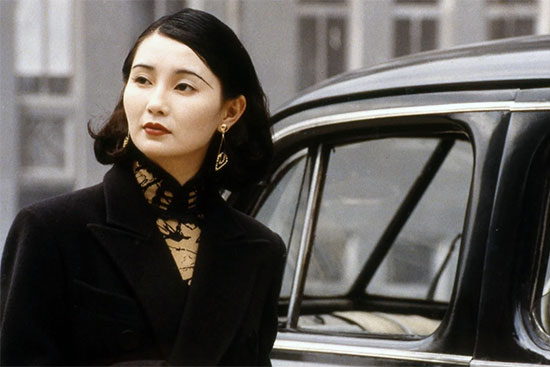 This section contains historical, costume and period dramas (movies and TV series) that are newly available to rent on Amazon this season.
---
---

Center Stage (1991)
International superstar Maggie Cheung (In the Mood for Love) embodies tragic 1930s screen siren Ruan Lingyu, known as the "Greta Garbo of China," in this unconventional biopic by Hong Kong New Wave master Stanley Kwan (Rouge). Praised for her moving and emotive onscreen presence, Ruan's private life, which was frequent fodder for the vicious Shanghai tabloids, began to mirror the melodramas which brought her fame, culminating in her suicide at age 24. Kwan and Cheung paint a kaleidoscopic yet intimate portrait of the ill-fated actress, deftly blending lush period drama, archival footage, and metatextual documentary sequences of Cheung reflecting on Ruan's legacy. The result is, much like the films of Ruan Lingyu themselves, "tender, vivid and almost overwhelmingly moving" (Time Out).
Starring Maggie Cheung, Han Chin, Tony Ka Fai Leung.
Rated 16+
---
---

New Period Drama DVD Releases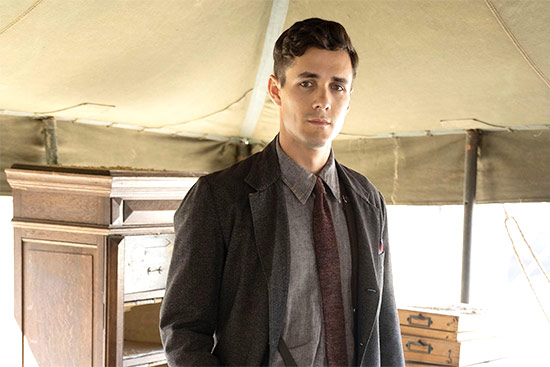 This section contains a selection of historical, costume, and period dramas and other titles of interest that are being released this season to DVD and Blu-ray.
---
Agatha And The Truth Of Murder/Agatha And The Curse Of Ishtar/Agatha And The Midnight Murders: These three films imagine what might have happened to the author Agatha Christie. Recently shown on PBS. Available HERE June 1, 2021.
Drunk History: The Complete Series: A toast: To the complete series of Drunk History! For six buzzworthy seasons, host Derek Waters heard from actors and comedians about history's most riveting chapters, and produced star-studded reenactments of these events. Some of the stories are silly; others are sobering. Some have been taught far and wide, and others highlight the history of marginalized communities that many textbooks omit. All were worth talking about over a few drinks. (OK, sometimes it was more than a few drinks.) Available HERE June 29, 2021.
Pennyworth: The Complete 2nd Season: A year after the explosive events of last season, England finds itself embroiled in a devastating civil war, with the powerful, neo-fascist Raven Union, led by Lord Harwood (Jason Flemyng) threatening to control the entire country. North London remains one of the few resistance holdouts remaining. It's here in the West End Neutral Zone, that we find Alfred Pennyworth (Jack Bannon). After years in the British Army, his training with the SAS has taught him to be a cynical optimist – expecting the worst, but knowing that he can handle it. Now running The Delaney, a black-market Soho club that welcomes everyone, regardless of their politics, Alfred, with his SAS mates, "Bazza" (Hainsley Lloyd Bennett) and "Daveboy" (Ryan Fletcher), is now in search of a way out – before London, and his country, burns itself to the ground. And he's got his eye on America. Available HERE July 13, 2021.
The Railway Children [Blu-ray]: In turn-of-the-century London, Roberta "Bobbie" Waterbury (Jenny Agutter) lives a perfect upper-class life with her parents, sister and brother until one fateful night when her father is mysteriously arrested. Suddenly impoverished, the children and their mother are forced to move to a dusty cottage far away in the country perched on the edge of a railroad. But along these magical tracks, in the nearby station and on the mighty trains themselves, Bobbie and her siblings will discover adventure, face danger and forge friendships that will change their young lives forever. Dinah Sheridan and Bernard Cribbins co-star in this heartwarming hit based on the beloved novel by E. Nesbit (The Enchanted Castle) and filmed on location in the breathtaking Yorkshire countryside. Nominated for three British Academy Awards, The Railway Children remains one of the best-loved family classics of our time and was recently named one of the top 100 British films of the 20th century by the British Film Institute. Acting great Lionel Jeffries wrote the screenplay and directed this extraordinary film for the whole family. Available HERE on June 15, 2021.
Tous Les Matins Du Monde [Blu-ray]: In the dazzling tradition of "Amadeus," "Tous les Matins du Monde" (All the Mornings in the World) is a seductive tale of music and passion set in 17th century France. The phenomenal Gérard Depardieu (Cyrano de Bergerac) stars in a fascinating story filled with romance, lust, desire, devotion, revenge and intrigue. Monsieur de Sainte Colombe (Jean-Pierre Marielle, The Da Vinci Code) is reclusive composer who lives with his two beautiful daughters (Anne Brochet and Carole Richert). Their lives are forever changed by the flamboyant young student Marin Marais (Depardieu) who fascinates Colombe and entrances his daughters. See for yourself why critics and audiences alike applauded this magnificent film and celebrated winner of seven César Awards including Best Picture. Available HERE on June 15, 2021.
When Calls The Heart: Pre-Wedding Jitters & Changing Times: Elizabeth is distraught over the reveal of Nathan's secret; everyone helps a couple prepare for their wedding. Landis, the school inspector, arrives in town and causes trouble for Elizabeth; Rosemary finds her calling; a search is called when one of Hope Valley's residents is lost. Available HERE August 10, 2021.
When Calls the Heart: What the Heart Wants & Before My Very Eyes: Lucas and Elizabeth take their relationship to the next level, but Elizabeth worries she isn't ready for commitment. Rosemary and Lee adjust to life with their niece with them while Rosemary ponders her life's purpose. A health scare has everyone in Hope Valley worried about one of their own and they band together to help with the recovery. Nathan works to finalize his adoption of Allie and a new stranger comes to town with secrets of his own. Available HERE June 22, 2021.
When Hitler Stole Pink Rabbit: From Academy Award®-winning director Caroline Link (Nowhere in Africa) comes an adaptation of acclaimed British author Judith Kerr's classic novel based on her childhood memories. The story of a Jewish family's escape from 1933 Berlin to Europe tackles prejudice, exile, displacement and adaptation, as told from the perspective of the author's alter ego, nine year-old Anna Kemper (Riva Krymalowski in her feature film debut). Anna is too busy with schoolwork and friends to notice Hitler's face glaring from posters plastered all over 1933 Berlin. But when her father (Oliver Masucci)—based on the prominent theater critic Alfred Kerr—suddenly vanishes, the family is secretly hurried out of Germany. Anna begins to understand life will never be the same as she and her family navigate unfamiliar lands and cope with the challenges of being refugees. Available HERE July 6, 2021.
The World To Come: In this powerful 19th century romance set in the American Northeast, Abigail (Katherine Waterston), a farmer's wife, and her new neighbor Tallie (Academy Award Nominee Vanessa Kirby) find themselves irrevocably drawn to each other. A grieving Abigail tends to her withdrawn husband Dyer (Casey Affleck) as free spirit Tallie bristles at the jealous control of her husband Finney (Christopher Abbott). Together, their intimacy begins to fill a void in each other's lives they never knew existed. Available HERE June 1, 2021.
---
---

Other Shows You May Also Like 
This section contains a curated list of movies and TV series new and are included on Prime, that are NOT period dramas. We think fans of historical and costume dramas will enjoy them just the same. Follow the links to watch the trailers. You may also like:
Available June 1: Adaptation (2002), Almost Famous (2000), Dear John (2010), The Haunted Hotel (2021), Lemony Snicket's A Series of Unfortunate Events (2004), Me Without You (2002), Mia And The White Lion (2019), Seeking A Friend For The End Of The World (2012), Seven Pounds (2008), The Terminal (2004), Ulee's Gold (1997), The Wrestler (2009). June 2: Hideous Kinky (1998), Broken English (2007). June 9: Personally Yours (2000), The Green Promise (1949). June 11: 8 Out of 10 Cats (2011). June 20: The Romance of Tiger and Rose (2020). June 23: The Last Days of Lehman Brothers (2009). June 26: Royal Wedding (1951).
Available July 1: Awakenings (1990), Big Fish (2003), Guess Who's Coming To Dinner (1967), Midnight In Paris (2011), Philadelphia (1993), Rear Window (1954), Riding In Cars With Boys (1988), The Girl With The Dragon Tattoo (2011), The Lady In The Van (2006), Vertigo (1958), The Apartment (1960), At First Sight (1999), My Beautiful Laundrette (1986), Moonlight & Valentino (1995), Lilies of the Field (1963). July 2: About a Boy (2002), E.T., The Extra-Terrestrial (1982). July 22: Japanese Story (2003), Priceless (2008). July 29: I Am Love (2010).
Available August 1: For Pete's Sake (1974), In Her Shoes (2005), Made of Honor (2008), Mud (2013), My Best Friend's Wedding (1997), Something's Gotta Give (2003). August 2: The Discreet Charm of the Bourgeoisie (1972). August 3: Rain Shadow (2007), Rare Birds (2002). August 5: In Search of Mozart (2016). August 9: Crimes of the Heart (1987). August 11: This Beautiful Fantastic (2017). August 18: The Secret of Crickley Hall (2012). August 20: Annette (2021).
---
If you enjoyed this post, be sure to see The Period Films List, with the best British period dramas, historical and costume movies and TV series sorted by era.