Last Updated on February 9, 2023
While some of the following titles may be still be available, for an updated list of period dramas on Netflix, please head to the dropdown menu at the top of the screen that says "New to Streaming" and choose "New on Netflix."
---
We have your period drama line-up for what's new to streaming on Netflix Instant in the US this Spring – and also what's leaving.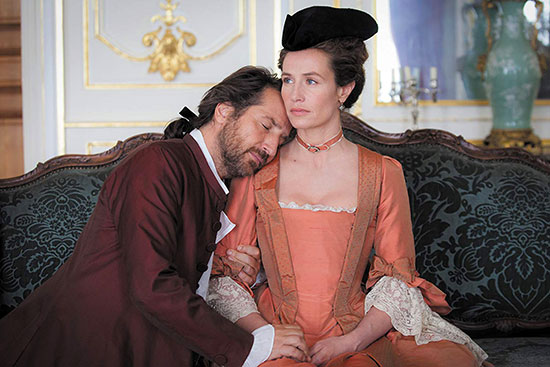 ---
To help keep this site running: Willow and Thatch may receive a commission when you click on any of the links on our site and make a purchase after doing so.
---
This list will be updated all spring: it will house all the period dramas new on Netflix in February, March, April, and May 2019, that we think you'll enjoy. New titles will be added alphabetically to the appropriate areas all throughout the months, as soon as we learn of them. 
Be sure to click through to watch the trailers – they may save you from watching something you'll wish you hadn't (or help you find something you nearly skipped over).
We've also curated some other non-period feel-good movies and TV series including comedies and romances, that are coming to Netflix that you might like. See the "You May Also Like" section for these additional suggestions of what to watch.
When you are done here, see the Summer 2019 list. The list of period dramas added to Netflix US in Fall 2019 is here. Spring 2020 is here. 

Period Dramas Added in May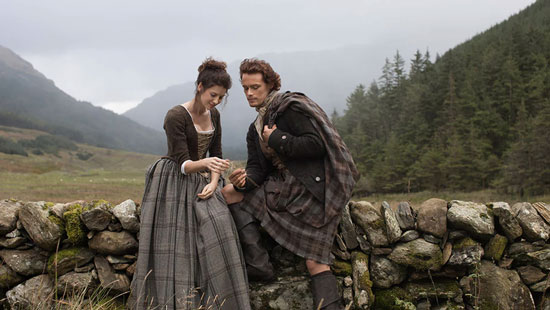 The line-up for period dramas in May is strong but a bit sparse. In addition to the suggested titles below, "The Great Magician (2011)" is also newly available this month. 
---
---

Alta Mar / High Seas (2019)
Who's up from a new, melodramatic Spanish soapy period series? Up next is "Alta Mar," produced by the same people who brought us "Cable Girls" and "Velvet," and penned by "Gran Hotel's" writer Ramón Campos. The glamorous setting of the transatlantic ship in the 1940s are the perfect backdrop for a murder mystery on the high seas. Expect love, intrigues and many lies on a ship that hides a story in each one of its cabins, and a dark secret deep inside. And also cliffhangers.
A woman, who no one remembers and who isn't listed on the ship's manifesto, is killed, and only one thing is clear: being on the high seas, the killer will not be able to leave the ship. As the luxurious liner travels from Spain to Rio de Janeiro, secrets surrounding two sisters, Carolina and Eva, who are as different as they are inseparable, are revealed.
Other passengers include people from the lower classes, traveling from Europe to Latin America in search of a better life, and handsome officer Nicolás, a man who fate has put in the wrong place.
Starring Alejandra Onieva, Ivana Baquero, Jon Kortajarena, José Sacristán, Eloy Azorín, Félix Gómez, Tamar Novas.
8 episodes
In Spanish with English subtitles.
Available May 24
---

Call the Midwife (Season 8) BBC
It is now 1964 and it's evident how the times are changing: from the beacon of the contraceptive pill and the shadow of the 1967 Abortion Act, to the introduction of a new cancer-screening program. The nuns and nurses continue to face a variety of challenging issues including interracial adoption, cleft palate, sickle cell and cot death. And for one of the team, romance could be on the horizon.
Starring  Bryony Hannah, Charlotte Ritchie, Emerald Fennell, Jenny Agutter, Judy Parfitt, Linda Bassett.
Rated TV-14
The 2018 Christmas Special is Available May 5, 8 episodes to follow. 
---

Gosford Park (2001)
Every "Downton Abbey" fan who likes murder mysteries needs to watch this period drama – it was written by Julian Fellowes and stars Maggie Smith. Set in 1932 in a country house, "Gosford Park" brings the elite together for a weekend of relaxation at a hunting resort. But when a murder occurs, the lives of upstairs guests and downstairs servants intertwine as they investigate a murder involving one of them. Read more about it here.
Starring Maggie Smith, Ryan Phillippe, Michael Gambon, Charles Dance, Tom Hollander, Laurence Fox.
Rated R for some language and brief sexuality
Available May 1
---

My Week with Marilyn (2011)
In 1956 England, Colin Clark lands a job as a production assistant on the set of "The Prince and the Showgirl," starring Marilyn Monroe. Marilyn is also honeymooning with her new husband, playwright Arthur Miller, but the combined pressure of work and the demands of the Hollywood hangers-on is driving her to exhaustion. When Miller departs for Paris, Colin seizes the opportunity, to give Marilyn respite during a week in the idyllic British countryside.
Starring Michelle Williams, Eddie Redmayne, Kenneth Branagh, Michael Kitchen.
Rated R for some language
Available May 30
---

The Nutcracker and the Four Realms (2018)
A fantasy, period-set movie from Disney with a cast filled with familiar faces from historical and costume dramas. Young Clara needs a magical, one-of-a-kind key to unlock a box that contains a priceless gift. A golden thread leads her to the coveted key, but it soon disappears into a strange and mysterious parallel world. In that world, she meets a soldier named Phillip, a group of mice and the regents who preside over three realms. Clara and Phillip must now enter a fourth realm to retrieve the key and restore harmony to the unstable land.
Starring Mackenzie Foy, Keira Knightley, Morgan Freeman, Matthew Macfadyen, Helen Mirren.
Rated PG
Available May 28
---

Outlander: Seasons 1-2
Oh happy day! At long last, "Outlander," at least the first two seasons, have made it to Netflix. If this is your first time watching this excellent romantic period drama about an English combat nurse from 1945 who is swept back in time to 1743, a word of caution: the final two episodes in Season 1, volume 2 have scenes that are really hard to watch, and sensitive viewers should avoid them.
After serving as a British Army nurse in World War II, Claire Randall is enjoying a second honeymoon in Scotland with husband Frank, an MI6 officer looking forward to a new career as an Oxford historian. Suddenly, Claire is transported to 1743 and into a mysterious world where her freedom and life are threatened. To survive, she marries Jamie Fraser, a strapping Scots warrior with a complicated past and a disarming sense of humor. A passionate relationship ensues, and Claire is caught between two vastly different men in two inharmonious lives. "Outlander" is adapted from the best-selling books by Diana Gabaldon.
Starring Caitriona Balfe, Sam Heughan, Duncan Lacroix, Tobias Menzies, Graham McTavish.
Rated TV-MA for language, sexual content/nudity, and violence
Available May 27
---

The Princess Weiyoung – Season 1 (2016)
When her kingdom is obliterated, a young princess assumes the identity of a tutor's daughter to teach her conquerors an important lesson in revenge.
Rated TV-14
In Chinese with English subtitles. 
Available May 9 
---

Revolutionary Road (2008)
This can be intense, but should please DiCaprio and Winslet fans. Frank and April Wheeler always see themselves as far-removed from the conventionality of suburbia. Yet that is exactly what creeps up on them when they buy a house in Connecticut. He toils 10 hours a day in a job he hates, while she, as a 1950s homemaker, yearns for fulfillment and passion. Rebelling against the torpor of their lives, the couple plan an escape that may push them to their limits. Based on the 1961 novel of the same name by Richard Yates.
Starring Leonardo DiCaprio, Kate Winslet, Christopher Fitzgerald, David Harbour.
Rated R for language and some sexual content/nudity
Available May 1
---

War Horse (2011)
Albert and his beloved horse, Joey, live on a farm in the British countryside. At the outbreak of World War I, Albert and Joey are forcibly parted when Albert's father sells the horse to the British cavalry. Against the backdrop of the Great War, Joey begins an odyssey full of danger, joy and sorrow, and he transforms everyone he meets along the way. Meanwhile Albert, unable to forget his equine friend, searches the battlefields of France to find Joey and bring him home.
Starring Jeremy Irvine, Emily Watson, David Thewlis, Benedict Cumberbatch.
Rated PG-13
Available May 4
---
Leaving Netflix in May: Chocolat, Dances with Wolves, The English Patient, The Other Boleyn Girl and The Notebook are leaving May 1.
---
---
Period Dramas Added in April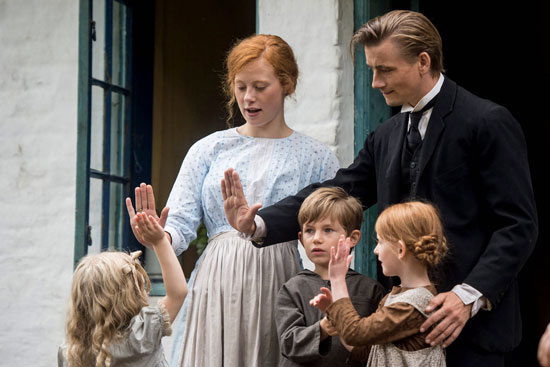 Of particular interest: Bille August's epic late 19th century-set love story, based on the book A Fortunate Man by Noble prize winning Henrik Pontoppidan, should provide a new — and fulfilling – to watch for most readers here. Also be sure to check the March list below – it's been updated.
ICYMI: all of Season 3 of "Versailles" has been added to Netflix, and those of you watching "Resurrection: Ertuğrul" about the 13th-century Turkish warrior, will be pleased to know that Season 4 has just been added. So has the 14th century set Season of the Witch (2011), though it got really poor reviews.

---
---

A Fortunate Man (2018)
A gifted but self-destructive young man leaves his suffocating Lutheran upbringing in the country for the metropolitan Copenhagen of the 1880s. An engineer with progressive ideas, he is welcomed by a wealthy Jewish family and insinuates himself into their opulent milieu, embarking on a journey of personal and professional ambition that teeters on the razor's edge between triumph and catastrophe.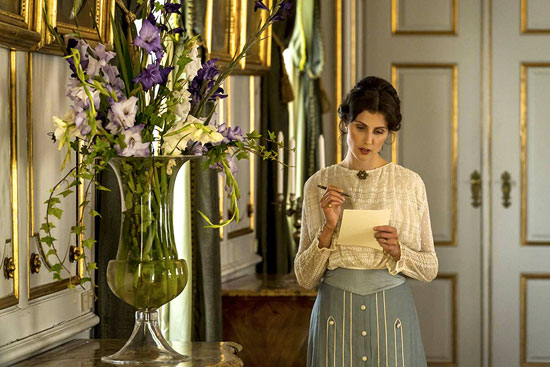 A sprawling story of grand scope and high romance from the Academy Award–winning director of "Pelle the Conqueror," "A Fortunate Man" is a rare kind of film—beautifully realized, full of exceptional performances, and with a dramatic sweep on par with the great classics of cinema. Also known as "Lykke-Per."
Starring Esben Smed, Benjamin Kitter, Julie Christiansen, Tammi Øst.
Not rated.
In Danish with English subtitles
Available April 19
---

A Little Chaos (2014)
A female landscape gardener is awarded the esteemed assignment to construct the grand gardens at Versailles, a gilt-edged position which puts her in the centre of the court of King Louis XIV, where secrets and sadness are buried beneath the glamour.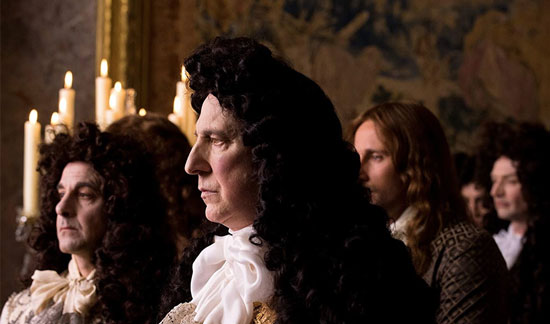 Starring Kate Winslet, Alan Rickman, Stanley Tucci, Isabella Steinbarth.
Rated R
Available April 16
---

Bonnie and Clyde (1967)
Small-time crook Clyde Barrow tries to steal a car and winds up with its owner's daughter, dissatisfied small-town girl Bonnie Parker. Their crimes quickly spiral from petty theft to bank robbery, but tensions between the couple and the other members of their gang–hapless driver C.W., Clyde's suave older brother Buck and Buck's flibbertigibbet wife, Blanche –could destroy them all.
Set during the Depression era.
Starring Warren Beatty, Faye Dunaway, Gene Hackman, Estelle Parsons, Michael J. Pollard.
Rated R
Available April 1
---

The Great Battle (2018)
Kingdom of Goguryeo, ancient Korea, 645. The ruthless Emperor Taizong of Tang invades the country and leads his armies towards the capital, achieving one victory after another, but on his way is the stronghold of Ansi, protected by General Yang Man-chu, who will do everything possible to stop the invasion, even if his troops are outnumbered by thousands of enemies.
Starring Zo In-Sung, Nam Joo-Hyuk, Park Sung-Woong.
Rated TV-MA
In Korean and Mandarin with English subtitles.
Available April 8
---

The Hateful Eight: Extended Version (2015)
While racing toward the town of Red Rock in post-Civil War Wyoming, bounty hunter John "The Hangman" Ruth and his fugitive prisoner encounter another bounty hunter and a man who claims to be a sheriff. Hoping to find shelter from a blizzard, the group travels to a stagecoach stopover located on a mountain pass. Greeted there by four strangers, the eight travelers soon learn that they may not make it to their destination after all.
Starring Samuel L. Jackson, Kurt Russell, Jennifer Jason Leigh, Tim Roth.
Rated R
Available April 25
---

The Imitation Game (2014)
In 1939 during the Second World War, newly created British intelligence agency MI6 recruits Cambridge mathematics alumnus Alan Turing to crack Nazi codes, including Enigma — which cryptanalysts had thought unbreakable. Turing's team, including Joan Clarke, analyze Enigma messages while he builds a machine to decipher them.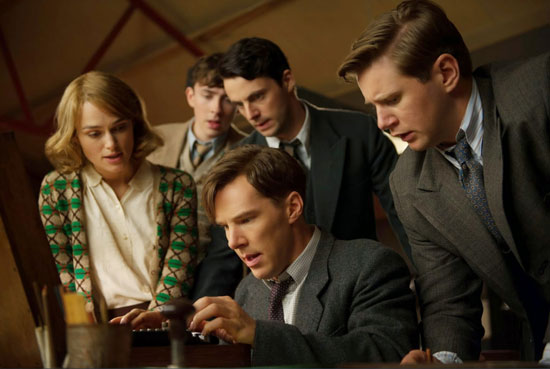 "One of the more rousingly entertaining crowd-pleasers coming… also happens to be one of the most devastatingly sad."
Starring Benedict Cumberbatch, Keira Knightley, Matthew Goode, Allen Leech.
Rated PG-13
Available April 29
---

King Kong (2005)
In 1933 New York, an overly ambitious movie producer coerces his cast and hired ship crew to travel to mysterious Skull Island, where they encounter Kong, a giant ape who is immediately smitten with the leading lady.
Starring Naomi Watts, Jack Black, Adrien Brody, Thomas Kretschmann.
Rated PG-13
Available April 1
---

Kon-Tiki (2012)
The true story about legendary explorer Thor Heyerdahl and his epic crossing of the Pacific on a balsa wood raft in 1947, in an effort to prove it was possible for South Americans to settle in Polynesia in pre-Columbian times.
Starring Pal Sverre Hagen, Odd Magnus Williamson, Tobias Santelmann.
Rated PG-13
Available April 28
---

Roman Empire: Caligula: The Mad Emperor (2019)
The third Netflix Original Roman Empire docu-drama series, following "Commodus: Reign of Blood" (Season 1) and "Ceasar: Master of Rome" (Season 2). A stylish mix of documentary and lavish historical epic chronicles the turbulent, violent reigns of Commodus, Julius Ceasar, and Caligula.
"Caligula: The Mad Emperor": In 39AD, Caligula is one of the most powerful men in the world, but he will come to be known as Rome's Mad Emperor. Once beloved by the troops and people alike, Caligula shocks Rome by ruling with the cruel depravity and debauchery that make him infamous.
Narrated by Game of Thrones' Sean Bean.
Rated TV-MA
Available April 5
---

The Sapphires (2012)
In 1968, four young, talented Australian Aboriginal girls learn about love, friendship and war as their all-girl group The Sapphires travels to Vietnam to entertain the US troops. Set beginning in 1958.
"What if the Supremes had been born Down Under? A very conventional story of a '60s Australian girl group gains extra power from its context and setting in this fact-based story set to the beat of Motown soul." – Nell Minow
Starring Miranda Tapsell, Chris O'Dowd, Deborah Mailman, Jessica Mauboy.
Rated PG-13
Available April 26
---

Sherlock Holmes (2009)
Eccentric consulting detective, Sherlock Holmes and Doctor John Watson battle to bring down a new nemesis and unravel a deadly plot that could destroy England. Set in 1890.
Starring Robert Downey Jr., Jude Law, Rachel McAdams, Mark Strong, Eddie Marsan, Kelly Reilly.
Rated PG-13
Available April 1
---

Valkyrie (2008)
At the height of WWII, a group of German officers hatched a plot to assassinate Hitler and seize control of the military command in order to end the war.
Starring Tom Cruise, Kenneth Branagh, Bill Nighy, Tom Wilkinson, Carice van Houten, Thomas Kretschmann.
Rated PG-13
Available April 1
---
---
Period Dramas Added in March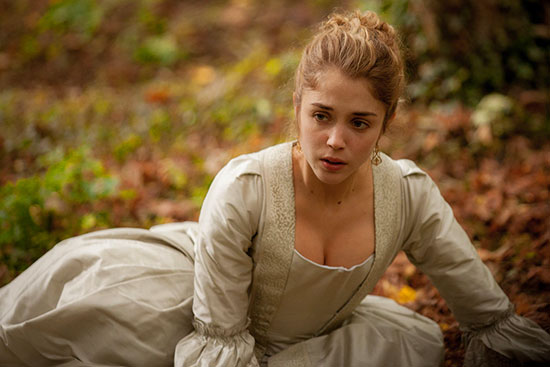 March Highlights: Fans of "Dangerous Liaisons" will be excited to see "Lady J" on this list. The lavish costume drama set during the regency of Louis XV centers on a wealthy widow who is tossed aside by her lover; expect a beautifully filmed movie filled with scheming, revenge, and its share of plot twists.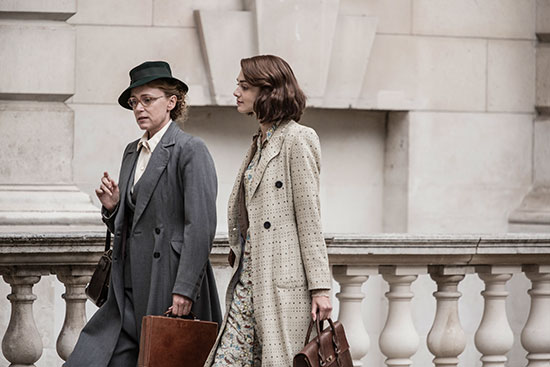 Keeley Hawes (The Durrells) and Emma Appleton (Grantchester) star in the new period spy thriller series "Traitors." It's set in 1945, and while the war may be over, there's still danger at home, because Russian spies have been planted in the British government. While the circumstances that the characters come from "are absolutely based on history and fact," screenwriter Bash Doran says that the series "actually goes out of its way to not dramatise specific figures from history. That's why you won't find Churchill or Attlee or Bevan being characters because I wanted the freedom to improvise around the moment — so ground it in truth but also be able to go on a really creative journey." Who's in?
---
---

Christopher Robin (2018)
Christopher Robin — now a family man living in London — receives a surprise visit from his old childhood pal, Winnie-the-Pooh. With Christopher's help, Pooh embarks on a journey to find his friends — Tigger, Eeyore, Owl, Piglet, Rabbit, Kanga and Roo. Once reunited, the lovable bear and the gang travel to the big city to help Christopher rediscover the joy of life.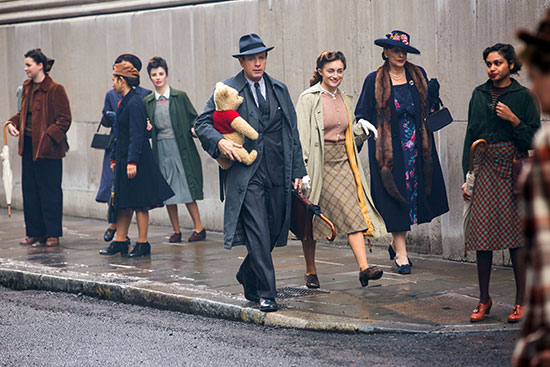 Set before, during, and after the Second world War.
Starring Ewan McGregor, Hayley Atwell and the voices of Jim Cummings, Brad Garrett, Nick Mohammed, Peter Capaldi, Sophie Okonedo, Sara Sheen, and Toby Jones.
Rated PG
Available March 5
---

Crouching Tiger, Hidden Dragon (2000)
In 19th century Qing Dynasty China, a young warrior steals a sword from a famed swordsman and then escapes into a world of romantic adventure with a mysterious man in the frontier of the nation.
An epic set against the breathtaking landscapes of ancient China, the period drama combines the exhilarating martial arts choreography by Yuen Wo-Ping with the sensitivity and classical storytelling of an Ang Lee film. The result is something truly unexpected: romantic, emotionally powerful entertainment.
Starring Yun-Fat Chow, Michelle Yeoh, Ziyi Zhang, Chen Chang.
Rated PG-13
Available March 1
---

Doubt (2008)
In 1964 the winds of change are sweeping through Sister Aloysius' St. Nicholas school. Father Flynn, a charismatic priest, is advocating reform of the school's strict customs, and the first black student has just been accepted. When a fellow nun tells Sister Aloysius that Father Flynn may be paying too much personal attention to the student, Sister Aloysius begins a personal crusade against the priest — despite her lack of evidence.
Starring Meryl Streep, Philip Seymour Hoffman, Amy Adams, Viola Davis.
Rated PG-13
Available March 7
---

Emma (1996)
While matchmaking for friends and neighbors, a young 19th Century Englishwoman nearly misses her own chance at love.
This delightfully fun and lighthearted comedy is based on Jane Austen's classic novel. Emma is a mischievous young beauty who sets up her single friends. Funny thing is…she's not very good at it! So when Emma tries to find a man for Harriet, she makes a hilariously tangled mess of everyone's lives.
Starring Gwyneth Paltrow, James Cosmo, Greta Scacchi, Alan Cumming, Ewan McGregor, Denys Hawthorne.
Rated PG
Available March 1
---

Eugenie Nights: Season 1 (2018)
In 1940s Port Said, Kariman finds comfort and solace in the arms of an unhappily married man, who also happens to be her abusive husband's brother. He's everything her brutal husband wasn't, but he's a married man. The more she fights her feelings, the stronger they grow.
Starring Ameena Khalil, Zafer Abdeen, Injy El Mokkaddem, Khaled Kamal, Cherif Hafez.
Rated TV-14
Available March 11
---

The Highwaymen (2019)
The outlaws made headlines. The lawmen made history. "The Highwaymen" follows the untold true story of the legendary detectives who brought down Bonnie and Clyde. When the full force of the FBI and the latest forensic technology aren't enough to capture the nation's most notorious criminals, two former Texas Rangers must rely on their gut instincts and old school skills to get the job done. Set in 1934.
Starring Kevin Costner, Woody Harrelson, Kathy Bates.
Rated R
Available March 29
---

Lady J (2018)
When a romance between a widow and a notorious libertine takes an unexpected turn in the 18th-century, Mademoiselle de Joncquières becomes instrumental to one lover's plans for revenge. Also known as "Mademoiselle de Joncquières," and inspired by a character in Denis Diderot's "Jacques the Fatalist and His Master."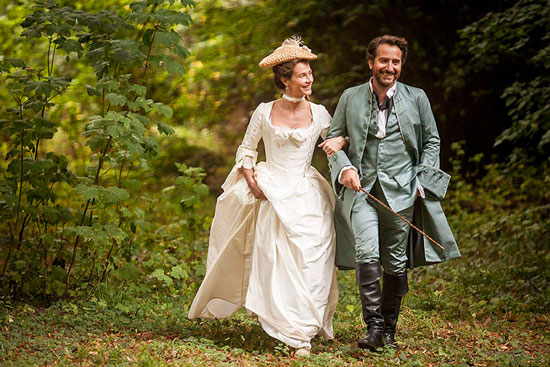 According to the Toronto international Film Festival, where the film premiered in 2018, "French writer-director-actor Emmanuel Mouret's elegant film of courtly manners plays like an even more wicked variation on "Dangerous Liaisons." Beautifully shot, brilliantly written, and exquisitely acted, it delivers delightfully its witty insights into male and female folly as if engaged in an afternoon session of decorous fencing. Thrusts are made and parried, while the technique of the participants is admirable; their footwork is nimble and their ripostes artful.
Shot in the French countryside, where the aristocracy lives and plays in manicured mansions, Mademoiselle de Joncquières strips away the layers of artifice beneath the play of manners to tell an age-old story about a libertine pursuing a beautiful woman of virtue. Madame de La Pommeraye has retired into virtual seclusion following the death of her husband, only to find herself being wooed by the dashing Marquis de Arcis. Events develop in the most surprising ways, and Madame seizes an opportunity provided by a new acquaintance, the young mademoiselle of the title.
Everything in this film is in its tidy place, except the emotions that threaten to disrupt the regulated order of society. Mouret does a superb job of setting up his film, and then gently draws blood with a series of deft jabs, precisely delivered."
Starring Cécile de France, Edouard Baer, Alice Isaaz, Natalia Dontcheva.
Not rated, but contains mature themes.
In French with English subtitles.
Available March 8
---

Most Beautiful Thing (2019)
The year is 1959, the first Bossa Nova chords are being played, and Rio de Janeiro is the place where everyone wants to be.
But as soon as meek Malu arrives in the city, she discovers that she was abandoned and robbed by her husband. Everything seems lost, but circumstances lead her to encounter new friends, new rhythms and a new version of herself, with the courage to fulfill her dream of opening a music club, and becoming an independent woman.
This TV series is also known as "Coisa Mais Linda."
Starring Maria Casadevall, Pathy Dejesus, Fernanda Vasconcellos.
Not rated, but Netflix is calling it "sentimental, heartfelt, inspiring."
In Portuguese with English subtitles.
Available March 22
---

The Notebook (2004)
In 1940s South Carolina, mill worker Noah Calhoun and rich girl Allie are desperately in love. But her parents don't approve. When Noah goes off to serve in World War II, it seems to mark the end of their love affair. In the interim, Allie becomes involved with another man. But when Noah returns to their small town years later, on the cusp of Allie's marriage, it soon becomes clear that their romance is anything but over.
Starring Ryan Gosling, Gena Rowlands, James Garner, Rachel McAdams, James Marsden.
Rated PG-13
Available March 1
---

Resurrection: Ertugrul (Season 3)
The heroic story of Ertugrul Ghazi, the father of Osman (Uthman) who founded the Ottoman Caliphate. A 13th-century Turkish warrior agrees to fight the enemies of a sultan in exchange for land when a good deed endangers his clan. Also known as Diriliş: Ertuğrul.
Starring Engin Altan Düzyatan, Serdar Gökhan, Hülya Darcan.
45 episodes.
Rated TV-14
In Turkish with English subtitles.
Available March 1
---

Saving Mr. Banks (2013)
When Walt Disney's daughters begged him to make a movie of their favorite book, P.L. Travers' "Mary Poppins," he made them a promise—one that he didn't realize would take 20 years to keep. In his quest to obtain the rights, Walt comes up against a curmudgeonly, uncompromising writer who has absolutely no intention of letting her beloved magical nanny get mauled by the Hollywood machine. But, as the books stop selling and money grows short, Travers reluctantly agrees to go to Los Angeles to hear Disney's plans for the adaptation.
For those two short weeks in 1961, Walt Disney pulls out all the stops, but the prickly author doesn't budge. It is only when he reaches into his own childhood that Walt discovers the truth about the ghosts that haunt her, and together they set Mary Poppins free to ultimately make one of the most endearing films in cinematic history.
Starring Emma Thompson, Tom Hanks, Paul Giamatti, Annie Rose Buckley, Ruth Wilson.
Rated PG-13
Available March 1
---

Sweeney Todd: The Demon Barber of Fleet Street (2007)
In the Victorian London, the barber Benjamin Barker is married to the gorgeous Lucy and they have a lovely child, Johanna. The beauty of Lucy attracts the attention of the corrupt Judge Turpin, who falsely accuses the barber of a crime that he did not commit. After fifteen years in exile, Benjamin returns to London under the new identity of Sweeney Todd, seeking revenge against Turpin. He meets the widow Mrs. Lovett who is the owner of a meat pie shop, and he opens a barber shop above her store, initiating a crime rampage against those who made him suffer and lose his beloved family.
Starring Johnny Depp, Helena Bonham Carter, Alan Rickman, Timothy Spall, Sacha Baron Cohen.
Rated R
Available March 1
---

Traitors (2019)
As World War II ends, a young English woman agrees to help an enigmatic American agent root out Russian infiltration of the British government.
She's young, she's bold and civil servant Feef Symonds is way out of her depth. It is 1945, the Second World War has come to an end and though Britain has come out triumphant, the nation is still at risk of threats from a burgeoning new world order. Having now been assigned to a desk in an office, when Feef is approached by a US agent to spy on her own country, she sees an opportunity to live the adventure she has longed for. Unaware of the risks involved, Feef is thrust into uncharted territory full of danger, lies and seduction that is a far cry from the unremarkable life she has left behind.
6 episodes
Starring Emma Appleton, Michael Stuhlbarg, Keeley Hawes.
Not rated.
Available March 29
---

Versailles – Season 3 (BBC)
It's 1667 and 28-year-old King Louis XIV has finally taken over sole command of France. When he commissions Versailles, Europe's most beautiful palace, the nobles seek entry into the lavish residence, which they do not realize is meant to imprison and control them. Among the ruler's prime targets is his younger brother, Monsieur. There's also romance in King Louis' life, as his queen, Marie Theresa, tries to tame his wandering eyes and win his heart back from his mistress, the English king's sister. Love, power, betrayal and war are all part of daily life in Versailles.
Starring George Blagden, Alexander Vlahos, Elisa Lasowski, Evan Williams, Rory Keenan.
10 episodes
Rated TV-MA
Available March 28
---
Leaving Netflix in March: A Little Princess, King Kong and The Cider House Rules are leaving March 1. Houdini is leaving March 2. Pirates of the Caribbean: At World's End is leaving March 4. Newsies: The Broadway Musical is leaving March 5. Disney's Beauty and the Beast is leaving March 18, and the BBC period series Spies of Warsaw and The Doctor Blake Mysteries are leaving March 31.
---
---
---
---
Period Dramas Added in February

Alone in Berlin (2016)
Berlin in June of 1940. While Nazi propaganda celebrates the regime's victory over France, a kitchen-cum-living room in Prenzlauer Berg is filled with grief. Anna and Otto Quangel's son has been killed at the front. This working class couple had long believed in the 'Führer' and followed him willingly, but now they realize that his promises are nothing but lies and deceit. They begin writing postcards as a form of resistance and in a bid to raise awareness. Putting their lives at risk, they distribute these cards in the entrances of tenement buildings and in stairwells. But the SS and the Gestapo are soon onto them, and even their neighbors pose a threat.
Starring Mikael Persbrandt, Emma Thompson, Daniel Brühl, Brendan Gleeson.
Rated R
Available February 15
---
---

Babylon Berlin (Season 2)
Colognian commissioner Gereon Rath moves to Berlin, the epicenter of political and social changes in the Golden Twenties.
Starring Volker Bruch, Liv Lisa Fries, Peter Kurth, Matthias Brandt.
8 episodes
Rated TV-MA
Available February 23
---

Dances with Wolves (1990)
Wounded Civil War soldier, John Dunbar tries to commit suicide—and becomes a hero instead. As a reward, he's assigned to his dream post, a remote junction on the Western frontier, and soon makes unlikely friends with the local Sioux tribe.
Starring Kevin Costner, Mary McDonnell, Graham Greene, Rodney A. Grant.
Rated PG-13
Available February 1
---

Little Women (1994)
With her husband off at war, Marmee is left alone to raise their four daughters, her Little Women. There is the spirited Jo, conservative Meg, fragile Beth, and romantic Amy. As the years pass, the sisters share some of the most cherished and painful memories of self-discovery, as Marmee and Aunt March guide them through issues of independence, romance and virtue. A beautiful version of Louisa May Alcott's novel.
Starring Winona Ryder, Susan Sarandon, Gabriel Byrne, Kirsten Dunst, Claire Danes, Christian Bale, Mary Wickes, Eric Stoltz.
Rated PG
Available February 11
---

The Magnificent Ambersons (1942)
The Ambersons are by far the wealthiest family in the midwestern city of Indianapolis, Indiana at the beginning of the 20th century. The spoiled young heir to the decaying Amberson fortune comes between his widowed mother and the man she has always loved.
The film was nominated for four Academy Awards, including Best Picture, and it was added to the National Film Registry of the Library of Congress in 1991.
Based on Booth Tarkington's Pulitzer Prize–winning 1918 novel, about the declining fortunes of a wealthy Midwestern family and the social changes brought by the automobile age.
Starring Orson Welles, Joseph Cotten, Dolores Costello, Anne Baxter, Tim Holt.
Rated TV-G
Available February 1
---

The Man in the Iron Mask (1998)
When the selfish excesses of France's arrogant King Louis XIV begin to threaten his subjects' very lives, the legendary Musketeers – Athos, Porthos, Aramis, and d'Artagnan – must reunite to save their country once more. The key to their plan? A mysterious masked prisoner, who may be France's only true hope.
Starring Leonardo DiCaprio, Jeremy Irons, John Malkovich, Gérard Depardieu, Gabriel Byrne, Anne Parillaud.
Rated PG-13
Available February 1
---

The Master (2012)
Freddie, a volatile, heavy-drinking veteran who suffers from post-traumatic stress disorder, finds some semblance of a family when he stumbles onto the ship of Lancaster Dodd, the charismatic leader of a new "religion" he forms after World War II.
Starring Philip Seymour Hoffman, Joaquin Phoenix, Amy Adams, Laura Dern.
Rated R
Available February 1
---

The Photographer of Mauthausen (2018)
Imprisoned at the concentration camp of Mauthausen during WWII, Catalan photographer Francesc Boix struggles to survive while saving other people and hiding film negatives that will later help incriminate Nazis. Also known as "El fotógrafo de Mauthausen." Based on real events, and set in 1943.
Starring Mario Casas, Richard van Weyden, Alain Hernández.
Rated TV-MA Contains graphic scenes that may be disturbing. 
In Spanish with English subtitles.
Available February 22
---

Rebellion – Season 2
The historical drama about the birth of modern Ireland, in which three young women play vital and conflicting roles in the fight for Ireland's independence, returns. The story is told from the perspectives of a group of fictional characters who live through the political events of the 1916 Easter Rising.
In season 2, as the conflict between the British government and the revolutionary Dáil rages, personal connections cloud allegiances for participants on both sides.
Starring Ruth Bradley, Charlie Murphy, Paul Reid, Brian McCardie, Tom Turner, Michelle Fairley, Sarah Greene.
Rated TV-MA
Available February 22
---

The Red Violin (1998)
A story spanning 300 years in the life of one famed musical instrument that winds up in present-day Montreal on the auction block. Crafted by the Italian master Bussotti in 1681, the red violin derives its unusual color from the human blood mixed into the finish. With this legacy, the violin travels to Austria, England, China, and Canada, leaving both beauty and tragedy in its wake.
Starring Samuel L. Jackson, Carlo Cecchi, Irene Grazioli, Jean-Luc Bideau, Greta Scacchi.
Rated R
Available February 1
---

The Velvet Collection – Season 2
Barcelona 1967. Ana Rivera returns from New York to launch her last dream: to make the leap from the exclusive business of haute couture in Madrid to a boutique in Barcelona with aspirations to become a global franchise. Also known as "Velvet Colección."
Starring Marta Hazas, Asier Etxeandia, Adrián Lastra.
Rated TV-14
In Spanish with English subtitles.
Available February 14
---

Viking Destiny (2018)
A Viking Princess is forced to flee her kingdom after being framed for the murder of her father, the King. Under the guidance of the God Odin, she travels the world gaining wisdom and building the army she needs to win back her throne.
Starring Terence Stamp, Anna Demetriou, Martyn Ford.
Rated R
Available February 2
---
---
---
---
Other Movies You May Also Like
This section contains a curated list of movies and TV series new on Netflix, that are NOT period dramas. We think fans of historical and costume dramas will enjoy them just the same.
A new-in-May series that you may also like is:
Historical Roasts (2019): Renowned "Roastmaster General" Jeff Ross's new half-hour comedy series Historical Roasts brings together A-list comedians in period-appropriate garb to celebrate prominent historical figures of the past, from Presidents (Abe Lincoln) to Rockstars (Freddie Mercury) and everything in between. Based on the Los Angeles live show of the same name, the six-episode series is "teaching history a lesson" and honoring some of the most important voices of our time the only way they know how — with a searing roast. "Historical Roasts" features a stellar lineup of comedian guest stars including Bob Saget, John Stamos, Natasha Leggero, Jaleel White, Fred Willard, Nikki Glaser, Rachel Feinstein, Ryan Phillippe, Ken Marino, Gilbert Gottfried, Seth Green, Yamaneika Saunders, and Neal Brennan. Available May 27
Also see: Available May 1: Hairspray (1988), Who's Afraid Of Virginia Woolf? (1966). Available May 16: Good Sam — NETFLIX FILM. Available May 30: The One I Love.
For non-period, new-in-April movies that you may also like, see the following: Available April 1: Divine Secrets of the Ya-Ya Sisterhood (2002), Penelope (2006), P.S. I Love You (2007), The Golden Compass (2007), The Sisterhood of the Traveling Pants (2005). Available April 16: About Time (2013). Available April 18: My First First Love (Netflix Original). Available April 19: Someone Great (Netflix Original). Available April 20: Bridget Jones' Baby (2016). Available April 22: Selection Day (Netflix Original).
New-in-March titles that you may also like are:
Always a Witch (2019): The story follows 18 year old Carmen, a Colombian slave and witch from the 17th century who, in a desperate attempt to save her loved one, travels in time to present day Cartagena. Navigating the waters of this exciting new world, Carmen will soon discover that once a witch, always a witch. In Spanish with English subtitles. The TV series is also known as "Siempre bruja." Starring Lenard Vanderaa, Carlos Quintero, Sebastian Eslava. Rated TV-14 Available February 1
Annie Hall (1977): Neurotic New York comedian Alvy Singer falls in love with the ditzy Annie Hall. Starring Woody Allen, Diane Keaton, Tony Roberts. Rated PG Available February 1
Billy Elliot (2000): Set against the background of the 1984 Miner's Strike, Billy Elliot is an 11 year old boy who stumbles out of the boxing ring and onto the ballet floor. He faces many trials and triumphs as he strives to conquer his family's set ways, inner conflict, and standing on his toes! Starring Jamie Bell, Julie Walters, Jean Heywood. Rated R Available February 1
Get Low (2009): A dark comedy spun out of equal parts folk tale, fable and real-life legend about the mysterious, 1930s Tennessee hermit who famously threw his own rollicking funeral party… while he was still alive.Starring Robert Duvall, Sissy Spacek, Bill Murray, Lucas Black, Gerald McRaney. Rated PG-13
Hairspray (2007): In 1962 Baltimore, chunky Tracy Turnblad dreams big: land a gig on the see-and-be-seen TV teen-scene hit The Corny Collins Show, win the heart of the nicest and cutest boy in school, and strike a blow for civil rights. And whaddaya know – it all comes true! Boppin' with all the joy of the long-running, award-winning Broadway musical smash and blazing with sublime star power. Starring Nikki Blonsky, John Travolta, Zac Efron, Michelle Pfeiffer, Christopher Walken, Amanda Bynes, James Marsden, Queen Latifah.Rated PG Available February 1
Pretty in Pink (1986): Andie is an outcast, hanging out either with her older boss, who owns the record store where she works, or her quirky high school classmate Duckie, who has a crush on her. When one of the rich and popular kids at school, Blane, asks Andie out, it seems too good to be true. As Andie starts falling for Blane, she begins to realize that dating someone from a different social sphere is not easy. Starring Molly Ringwald, Jon Cryer, Harry Dean Stanton. Rated PG-13 Available February 1
West Side Story (1961): In the slums of the upper West Side of Manhattan, New York, a gang of Polish-American teenagers called the Jets compete with a rival gang of recently immigrated Puerto Ricans, the Sharks, to "own" the neighborhood streets. Tensions are high between the gangs but two kids, one from each rival gang, fall in love leading to tragedy. Starring Natalie Wood, George Chakiris, Richard Beymer, Russ Tamblyn. Available February 1
Apollo 13 (1995): A "routine" space flight becomes a desperate battle to survive in this breathtaking adventure of courage and faith. Set in 1970. Starring Tom Hanks, Bill Paxton, Kevin Bacon. Rated PG Available March 1
If I Hadn't Met You (2019): Eduard, a husband and father who loses his family in a tragic accident, travels to parallel universes to seek a better fate for his beloved wife. Also known as "Si no te hubiese conocido." Netflix thinks this drama is "emotional, romantic." Starring Pablo Derqui, Mercedes Sampietro, Andrea Ros. Rated TV-MA In Spanish with English subtitles. Available March 15
Immortals (2018): The story of this sci-fi Turkish TV series will begin in Istanbul in the 1800s and movie into the present day. Driven by revenge, human-turned-vampire Mia sets out to vanquish Dmitry, a ruthless vampire leader who seeks an artifact that grants immortality. Also known as "Yasamayanlar." Starring Elçin Sangu, Kerem Bürsin, Birkan Sokullu. Not rated, but violent. In Turkish with English subtitles. Available March 8
The Jane Austen Book Club (2007): Six Californians start a club to discuss the works of Jane Austen, only to find their relationships — both old and new — begin to resemble 21st century versions of her novels.Starring Kathy Baker, Hugh Dancy, Amy Brenneman, Maria Bello, Emily Blunt. Rated PG-13 Available March 8
The Lives of Others (2006): In 1984 East Berlin, an agent of the secret police, conducting surveillance on a writer and his lover, finds himself becoming increasingly absorbed by their lives.In 1984 East Berlin, an agent of the secret police, conducting surveillance on a writer and his lover, finds himself becoming increasingly absorbed by their lives. Starring Ulrich Mühe, Martina Gedeck, Sebastian Koch. Rated R Available March 15
Northern Rescue (2019): In this Canadian drama television, after the sudden death of his wife, search and rescue commander John West relocates with his three kids to his rural hometown of Turtle Island Bay. Starring William Baldwin, Kathleen Robertson, Amalia Williamson. 10 episodes Not rated. Available March 1
Stuart Little (1999): When the Littles go to an orphanage to adopt a new family member, a charming young mouse named Stuart is chosen. While George is initially unwelcoming to his new brother, the family cat, Snowbell, is even less enthusiastic about having a mouse as his "master" and plots to get rid of him. Against these difficulties, Stuart resolves to face them with as much pluck, love and courage as he can muster. In doing so, he shows his beloved new family that great things can truly come in small packages. Starring Michael J. Fox, Geena Davis, Hugh Laurie, Jonathan Lipnicki. Rated PG Available March 1

Willow and Thatch exists because of you: You can shop our Jane Austen Period Drama Adaptations merchandise, click on our links (like these that take you to Etsy and Amazon) and make purchases on those sites, and buy period-inspired products from the Lovely Things Shop. You can also continue to share our articles, or make a financial contribution. All these things allow us to write feature articles, update The Period Films List, mail out our newsletter, maintain the website and much more. Thank you!
If you enjoyed this post, be sure to see The Period Films List,with the best British, historical and costume dramas sorted by era. Also see the list of BBC Period Dramas added to Prime in 2018.