Last Updated on June 8, 2019
We've gathered up the new-in-May period dramas that are included with your US Amazon Prime Video membership. 
Then, we share the period dramas that are newly available to rent, coming to Prime Video Channels, and some historical / costume / period movies that are being released to DVD in May. Finally, we list some newly added non-period movies and series that you may also like, that are included with your Prime Video membership.
Check this list throughout the month; we'll update all the sections (alphabetically) as more titles become available.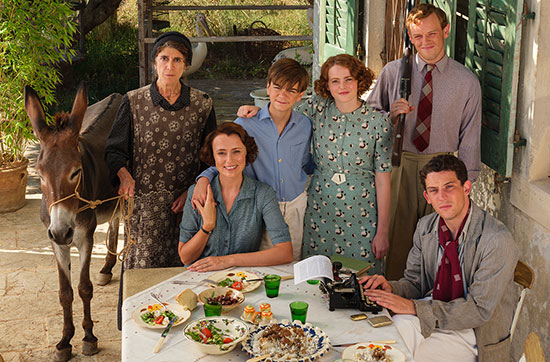 ---
To help keep this site running: Willow and Thatch may receive a commission when you click on any of the links on our site and make a purchase after doing so.
---
It's easy to watch the trailers for the films on this list, or add the movies and TV series to your watchlist: just click.
There's a lot here by the end of the month, so to help you keep track: the blue TVs next to the title mean the film is included with your membership, the orange TVs mean it is available to rent or is available with a Prime Video Channel subscription. 

Period Dramas New on Prime Video in May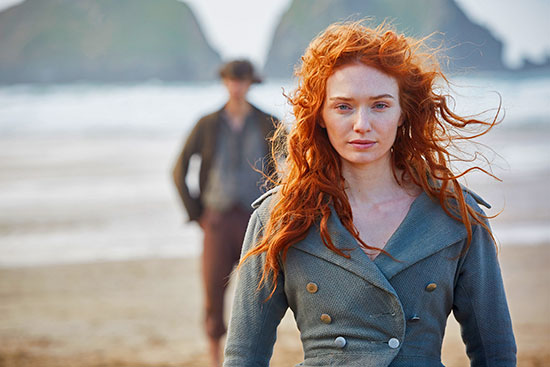 This section contains newly added historical, costume and period dramas (movies and TV series) that are included with your Prime Video membership. In addition to the following titles, Mulholland Falls (1996), War of the Buttons (2011), The African Queen (1952), The Greatest Story Ever Told (1965), The Unforgiven (1960), Hour of the Gun (1967), The Scarlet and the Black (1983), Hoodlum (1997), Brimstone (2016), Alexander the Great (1956), American Experience: Tesla (2016), Prisoner of Honor (1991), The Legend Of Ben Hall (2017), The Hunchback of Notre Dame (1956), and Wild Bill (1995) are also available this month.
---
---

A French Village: Season 1
This acclaimed period drama is about the German occupation of France during World War II and its effects on the inhabitants of a small village in Jura. In June 1940, the village of Villeneuve awakes to the arrival of the German army, and the next four years of occupation have a shattering effect on the lives of all its inhabitants.
Starring Audrey Fleurot, Thierry Godard, Richard Sammel.
Not rated but suggested for 18+
In French with English subtitles.
Available May 9
---

Ashes in the Snow (2018)
During World War II, a 16 year-old aspiring artist and her family are deported to Siberia amidst Stalin's brutal dismantling of the Baltic region. One girl's passion for art and her never-ending hope will break the silence of history. Adapted from Ruta Sepetys's novel "Between Shades of Gray." 
Starring Bel Powley, Sophia Cookson, Lisa Loven Kongsli, James Cosmo.
Not rated but suggested for 18+
Available May 11
---

The Dead (1987)
The final film of legendary director John Huston, based on the closing story of James Joyce's Dubliners. An all-Irish cast lends authenticity and gravitas to the elegiac take on the short story by James Joyce. After a convivial holiday dinner party (circa 1904), things begin to unravel when a husband and wife address some prickly issues concerning their marriage. The movie stars Huston's daughter, Anjelica, and was scripted by his son, Tony.
Starring Anjelica Huston, Donal McCann, Rachael Dowling, Colm Meaney.
Rated PG
Available May 11
---

The Durrells: Season 3 (PBS)
The story follows an English family in the 1930s. Louisa, a young widow with four children, struggles with life as a single parent living in Bournemouth. The Durrell children are 21-year-old Larry, an estate agent with dreams of becoming a novelist; 18-year-old Leslie; 17-year-old Margo; and the youngest, 11-year-old Gerry, an animal enthusiast who constantly gets into trouble at school. Taking a drastic risk, Louisa decides to move the family to Corfu to try to improve their lives.Based on Gerald Durrell's classic trilogy of Corfu memoirs, and shown on PBS Masterpiece.
In Season 3, the beautiful island of Corfu continues to work its magic on the eccentric Durrell family. Even a visit from Aunt Hermione isn't the usual dreaded experience as the formerly formidable matriarch has embraced the laid-back Greek attitude and found romance. As for Louisa, after a brush with bohemian London artists, she realizes her heart lies in her island paradise.
Read our review of Season 3 here.
Starring Keeley Hawes, Josh O'Connor, Milo Parker, Daisy Waterstone, Callum Woodhouse.
Rated TV-14
Available May 17
---

Evelyn (2002)
Desmond Doyle is devastated when his wife abandons their family on the day after Christmas. His unemployment and the fact that there is no woman in the house to care for the children, Evelyn, Dermot and Maurice, make it clear to the authorities that his is an untenable situation. The Catholic Church and the Irish courts decide to put the Doyle children into Church-run orphanages, and Doyle wages an unlikely legal battle to regain custody.
Starring Pierce Brosnan, Aidan Quinn, Alan Bates, Sophie Vavasseur, Stephen Rea.
Rated PG
Available May 2
---

Four Feathers (2002)
The story, set in 1875, follows a British officer who resigns his post when he learns of his regiment's plan to ship out to the Sudan for the conflict with the Mahdi. His friends and fiancée send him four white feathers which symbolize cowardice. To redeem his honor he disguises himself as an Arab and secretly saves the lives of those who branded him a coward.
Starring Heath Ledger, Wes Bentley, Kate Hudson, Rupert Penry-Jones, Alex Jennings.
Rated PG-13
Available May 1
---

Julie & Julia (2009)
Set in 2002 and the 1950s. Frustrated with a soul-killing job, New Yorker Julie Powell embarks on a daring project: she vows to prepare all 524 recipes in Julia Childs' landmark cookbook, "Mastering the Art of French Cooking." Intertwined with Julie's story is the period-set true tale of how Julia Child herself conquered French cuisine with passion, fearlessness, and plenty of butter.
Starring Meryl Streep, Amy Adams, Stanley Tucci, Chris Messina, Linda Emond.
Rated PG-13
Available May 1
---

The Legend of Bagger Vance (2000)
During the Great Depression, Georgia socialite Adele announces a publicity-garnering high-stakes match at her struggling family golf course, featuring the greatest golfers of the era. Once-promising local golfer Rannulph Junuh, whose career and life were derailed by World War I, is brought in to play alongside the stars, but his game is weak — until the enigmatic Bagger Vance offers to coach him back into the great golfer he once was.
Starring Will Smith, Matt Damon, Charlize Theron.
Rated PG-13
Available May 8
---

Little Boy (2015)
In a heartwarming tale of faith, hope and love, a little boy tries with all his might to achieve the impossible – to end WWII in order to bring his father home.
Starring Emily Watson, Kevin James, Jakob Salvati, Michael Rapaport.
Rated PG-13
Available May 17
---

The Man in the Moon (1991)
The heartwarming coming-of-age film set in the 1950s about a 14-year-old girl who gets her first difficult lesson in love.
A beautiful tearjerker! Maureen Trant and her younger sibling Dani share a strong connection, but local boy Court Foster threatens to throw their bond off balance. Dani and Court meet first and have a flirtatious rapport — but when he meets Maureen, he falls hard and they begin a passionate affair. The new couple try to keep their love hidden from Dani, but she soon learns the truth, disavowing her sister. But a heartbreaking accident later reunites the girls.
Starring Reese Witherspoon, Emily Warfield, Jason London,  Sam Waterston, Tess Harper.
Rated PG-13
Available May 1
---


Poldark: Season 4 (PBS)
Ross Poldark returns home after American Revolutionary War and rebuilds his life with a new business venture, making new enemies and finding a new love where he least expects it. Based on the series of historical novels by Winston Graham, and shown on PBS Masterpiece. In Season 4, it's 1796: To defend Cornwall and those he loves from an empowered George, Ross must play the political game on a journey that takes him to the nation's capital and into new perils.

Read our review of Season 4 here.
Starring Aidan Turner, Eleanor Tomlinson, Jack Farthing, Heida Reed, Beatie Edney.
Rated TV-14
Available May 17
---

The Private Life of Sherlock Holmes (1970)
When a bored Holmes eagerly takes the case of Gabrielle Valladon after an attempt on her life, the search for her missing husband leads to Loch Ness and the legendary monster.
Director Billy Wilder adds a new and intriguing twist to the personality of intrepid detective Sherlock Holmes. One thing hasn't changed however: Holmes' crime-solving talents. Holmes and Dr. Watson take on the case of a beautiful woman whose husband has vanished.
Starring Colin Blakely, Robert Stephens, Christopher Lee, Geneviève Page.
Rated PG-13
Available May 1
---

Shanghai (2010)
A noir-like tale of espionage and double-dealing set in 1940s Shanghai. Paul Soames is a US Naval Intelligence agent who travels to Shanghai to investigate the death of his friend, Connor. Posing as a journalist with pro-Nazi sentiments, he uses his charm and know-how to infiltrate the upper echelons of German society in the city, and also to get close to Germany's new ally, Japan. But Paul finds himself in over his head when he becomes involved with local triad leader Anthony Lan-Ting and his beautiful wife, Anna.
Starring John Cusack, Li Gong, Yun-Fat Chow, David Morse, Jeffrey Dean Morgan.
Rated R for strong violence, some drug use and brief language
Available May 1
---

Titanic Blood and Steel (2012)
The Harland and Wolff shipyard has been handed the biggest project in its history. It will build a great, unsinkable ship. Titanic: Blood & Steel is the untold story of the building of a legend, and the many lives it affected during its three-year construction. Set beginning in 1909 in Belfast against the background of union riots, political and religious conflicts, and a romance between a young ambitious engineer and an Italian immigrant.
Starring Derek Jacobi, Chris Noth, Alessandra Mastronardi, Kevin Zegers.
12 episode mini-series
Rated 13+
Available May 4
---

1900 (1977)
Set in the countryside of the Province of Emilia in Italy, the story of two men, one a bastard born into a family of farm workers, the other an heir to a wealthy family of landowners.
Starring Robert De Niro, Gerard Depardieu, Burt Lancaster.
Rated R
Available May 9
---
Also see the list of period dramas added to Amazon in April.
---
---

Period Dramas Added to Prime Video Channels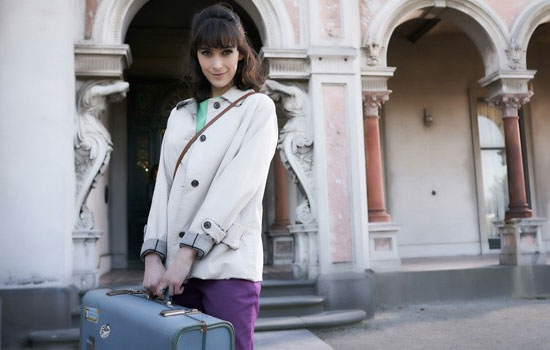 This section contains newly added period dramas (movies and TV series) that are included with add-on Prime Video Channels. If you don't already subscribe to the channel, follow the link below the film to sign up for a free trial. 
---
---

Ms. Fisher's Modern Murder Mysteries (2019)
In this spin-off to the wildly popular Australian mystery series, Phryne Fisher's long-lost niece, Peregrine decides to follow in her stylish footsteps as a lady detective for a new era. With the help of the handsome, straitlaced Detective James Steed and a group of accomplished women, Peregrine investigates murders in 1960s Melbourne.
Read more about it and watch the trailer here.
Starring Geraldine Hakewill, Joel Jackson, Catherine McClements.
4 episodes
Available April 29 on Acorn TV Prime Video Channel
---

The Spanish Princess (2019)
The beautiful Spanish princess, Catherine of Aragon, navigates the royal lineage of England with an eye on the throne. "The Spanish Princess" is the vivid and captivating reclaiming of Catherine of Aragon's story, which has historically been overshadowed by her infamous marriage to King Henry VIII.
Starring Charlotte Hope, Aaron Cobham, Elliot Cowan, Ruairi O'Connor, Harriet Walter.
8 episodes
Rated TV-MA
Available May 5 on STARZ Prime Video Channel
---
---

Period Dramas Newly Available to Rent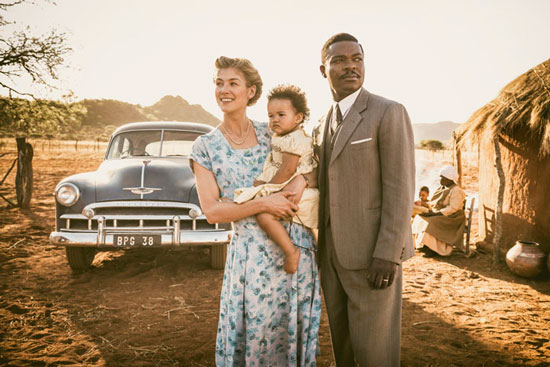 This section contains historical, costume and period dramas (movies and TV series) that are newly available to rent on Amazon this month. In addition to the following titles, Pascali's Island (1988), Allied (2016), Fences (2016), Silence (2016), They Shall Not Grow Old (2018), The Hunchback of Notre Dame (1956), Jackie (2016), The Professor and the Madman (2019), and Private Lives of the Monarchs are also available to rent. 

---
---

A United Kingdom (2016)
The inspiring true story of Seretse Khama, the King of Bechuanaland (modern Botswana), and Ruth Williams, the London office worker he married in 1948 in the face of fierce opposition from their families and the British and South African governments. Seretse and Ruth defied family, Apartheid and empire – their love triumphed over every obstacle flung in their path and in so doing they transformed their nation and inspired the world.
Starring David Oyelowo, Rosamund Pike, Jack Davenport.
Rated PG-13
Available May 1
---

Ladies In Black (2018)
Adapted from the bestselling novel by Madeleine St John, Ladies in Black is an alluring and tender-hearted comedy drama about the lives of a group of department store employees in 1959 Sydney..
Set in the summer of 1959, when the impact of European migration and the rise of women's liberation is about to change Australia forever, Lisa, aged sixteen, takes a holiday job at the prestigious Sydney department store, Goodes. There she meets the "ladies in black," when she is assigned to assist sales ladies Patty and Fay. For fans of "The Paradise," and "A Place to Call Home."
Starring Rachael Taylor, Julia Ormond, Vincent Perez.
Rated PG
Available May 21
---
---

New Period Drama DVD Releases in May 2019
This section contains historical, costume, and period dramas that are being released this month to DVD and Blu-ray.
---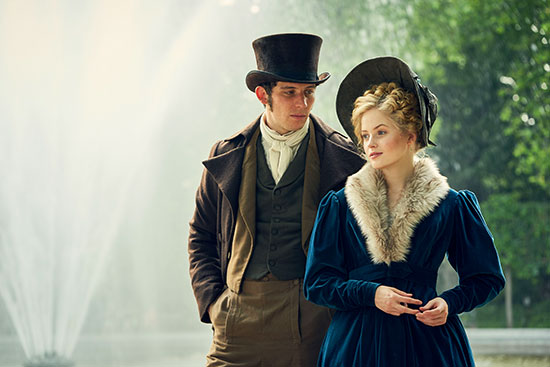 Ashes In The Snow (2019): During World War II, a 16 year-old aspiring artist and her family are deported to Siberia amidst Stalin's brutal dismantling of the Baltic region. One girl's passion for art and her never-ending hope will break the silence of history. Available HERE May 14, 2019.
The Bostonians (1984): Cohen Film Collection is proud to present a new restoration of this Merchant Ivory classic. Academy Award-winning actresses Jessica Tandy, Vanessa Redgrave and Linda Hunt headline an all-star cast alongside Christopher Reeve in this Merchant Ivory adaptation of Henry James's novel of political intrigue and forbidden romance in post-Civil War Boston. Olive Chancellor (Redgrave) finds her infatuation with young activist Verena Tarrant (Madeleine Potter) challenged by a Southern lawyer (Reeve) who also loves her. An intricately drawn study of the impact of women's suffrage on society, The Bostonians is also a lush evocation of the late 19th century, with dazzling cinematography by Walter Lassally and a memorable score by Richard Robbins. Available HERE May 21, 2019

Call the Midwife – Season 8: The eighth season continues to explore complex medical and personal stories on the midwifery and district nursing rounds. It is now 1964 and times are changing, from the introduction of the contraceptive pill and the availability of a new cancer-screening program, to the new construction of high-rise buildings. The nuns and nurses continue to face a variety of challenging issues including cleft palate, sickle cell and illegal abortion. And for one on the team, romance could be on the horizon. Available HERE May 21, 2019.
The Heiress (1949) The Criterion Collection: Directed with a keen sense of ambiguity by William Wyler, this film based on a hit stage adaptation of Henry James's Washington Square pivots on a question of motive. When shy, emotionally fragile Catherine Sloper (Olivia de Havilland, in a heartbreaking, Oscar-winning turn), the daughter of a wealthy New York doctor, begins to receive calls from the handsome spendthrift Morris Townsend (Montgomery Clift), she becomes possessed by the promise of romance. Are his smoldering professions of love sincere, as she believes they are? Or is Catherine's calculating father (Ralph Richardson) correct in judging Morris a venal fortune seeker? A graceful drawing-room drama boasting Academy Award–winning costume design by Edith Head, The Heiress is also a piercing character study riven by emotional uncertainty and lacerating cruelty, in a triumph of classic Hollywood filmmaking at its most psychologically nuanced. Available HERE May 7, 2019.
Masterpiece: Les Miserables (2018): Against the backdrop of France at a time of civil unrest, this is the story of Jean Valjean, a former convict unable to escape his past life. His future is threatened by his nemesis, the chilling prison guard Javert, who is determined to bring him to justice. As revolution ignites on the streets of Paris, Jean Valjean begins an epic journey towards self-acceptance, redemption and love. Available HERE May 21, 2019.
Outlander – Season 4: Season four of "Outlander" continues the story of Claire and Jamie Fraser as they try to make a home for themselves in colonial America. We find the Frasers in North Carolina at yet another turning point in history – the cusp of the American Revolution – where they must negotiate a tenuous loyalty to the current British ruling class, despite Claire's knowledge of the bloody rebellion to come. Along the way, the Frasers cross paths with notorious pirate and smuggler Stephen Bonnet in a fateful meeting that will come back to haunt the Fraser family. Meanwhile, Brianna Randall and Roger Wakefield grow closer in the 20th century but make a shocking discovery that makes them consider following in Claire's footsteps. Available HERE May 28, 2019.
Return Of The Hero (2018): France, 1809: The charming Captain Neuville (Jean Dujardin) is set to marry the naïve Pauline (Noémie Merlant) when the war breaks out, forcing Neuville to depart for the battlefield. After not hearing from the captain for months, Pauline grows sick with worry, and her sister Elizabeth (Mélanie Laurent) decides to write letters on Neuville's behalf to cheer her up. Unexpectedly, Neuville returns home in glory and is welcomed as a hero, but unbeknownst to everyone, he is a coward and a war deserter. A suspicious Elizabeth is determined to expose the real Neuville, and the two impostors find themselves in a ruthless fight! Director Laurent Tirard delivers a delightful screwball farce with surprising depth. Available HERE May 14, 2019
When Calls The Heart – The Queen Of Hearts (2019): Many changes are afoot in town! Abigail ushers in a new era by bringing the latest technology to Hope Valley. Elizabeth finds it difficult to juggle her devotion to her students and the responsibilities of her home life. Meanwhile, the saloon is in dire need of new ownership, and Rosemary appoints herself matchmaker for Carson and Faith. Available HERE May 7, 2019.
---
---

Other Shows You May Also Like 
This section contains a curated list of movies and TV series new and are included on Prime, that are NOT period dramas. We think fans of historical and costume dramas will enjoy them just the same. In addition to the following titles, you may also like This Beautiful Fantastic (2016), The Yellow Handkerchief (2008), Little Man Tate (1991), Charlotte's Web (2006), Things You Can tell Just by Looking at Her (1999),  Sixteen Candles (1984), Children of a Lesser God (1986), Funny Face (1957), Sabrina (1995), and Nutcracker: The Motion Picture (1986). You may also like the PBS documentaries The Amish: Shunned (2014), and Escape from a Nazi Death Camp (2014), and the BBC series The Story of India (2009).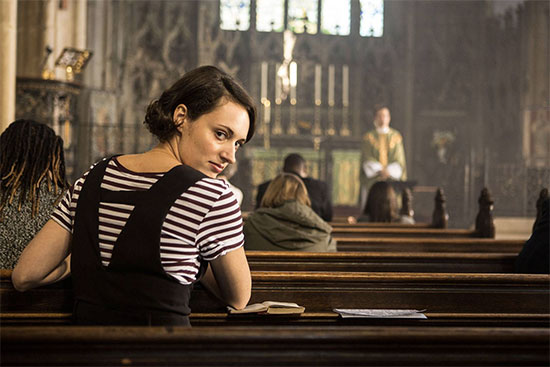 Fleabag – Season 2 (BBC)
A hilarious and poignant window into the mind of a dry-witted, sexual, angry, grief-riddled woman, as she hurls herself at modern living in London. Award-winning playwright Phoebe Waller-Bridge writes and stars as Fleabag, an unfiltered woman trying to heal, while rejecting anyone who tries to help her and keeping up her bravado all along.
Starring Phoebe Waller-Bridge, Sian Clifford, Olivia Colman.
Rated TV-MA
Available May 17

If you enjoyed this post, be sure to see The Period Films List,with the best British, historical and costume dramas sorted by era. Also see the list of BBC Period Dramas added to Prime in 2018.