Last Updated on September 3, 2019
We have your period drama line-up for what's new to streaming on Netflix Instant in the US this Summer – and also what's leaving.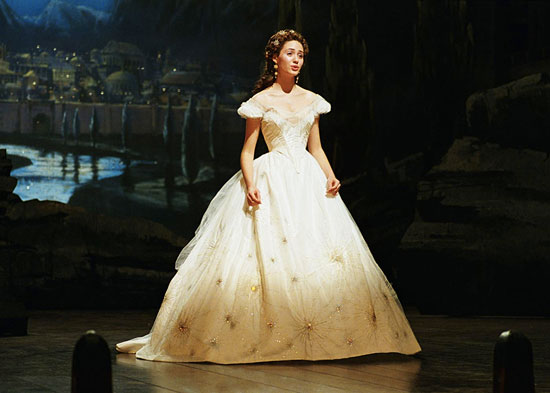 ---
To help keep this site running: Willow and Thatch may receive a commission when you click on any of the links on our site and make a purchase after doing so.
---
This list will be updated all summer: it will house all the period dramas new on Netflix in June, July, and August 2019, that we think you'll enjoy. New titles will be added alphabetically to the appropriate areas all throughout the months, as soon as we learn of them. 
Be sure to click through to watch the trailers – they may save you from watching something you'll wish you hadn't (or help you find something you nearly skipped over).
We've also curated some other non-period feel-good movies and TV series including comedies and romances, that are coming to Netflix that you might like. See the "You May Also Like" section for these additional suggestions of what to watch.
---
---

Period Dramas Added in August
---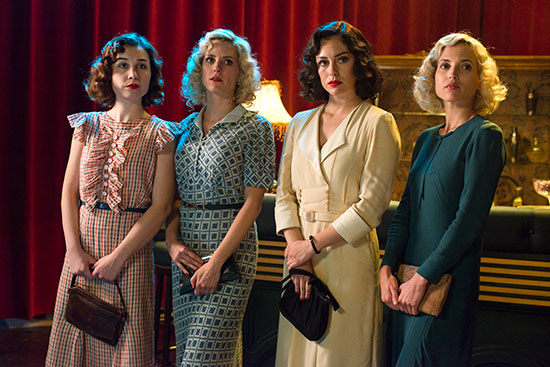 ---

Cable Girls (Season 4)
This excellent Spanish television series follows the story of four women (through romance, friendship, intrigue) from different backgrounds newly hired as operators for a phone company. In season 4, amid social changes in 1931, the friends get tangled in a murder mystery and must work together to solve it before one of them is sentenced to death.
"Sometimes you just want to zone out and watch something that's soapy, a little ridiculous, and a lot of fun. If that's what you're in the mood for, Netflix's latest international original needs to be your next binge." – Kayla Cobb
Starring Blanca Suárez, Yon González, Ana Fernández, Nadia de Santiago.
In Spanish with English subtitles.
Rated TV-MA
Available August 9
---

Gangs of New York (2002)
Amsterdam Vallon is a young Irish immigrant released from prison. He returns to the Five Points seeking revenge against his father's killer, William Cutting, a powerful anti-immigrant gang leader. He knows that revenge can only be attained by infiltrating Cutting's inner circle. Amsterdam's journey becomes a fight for personal survival and to find a place for the Irish people in 1860s New York.
"… a considerable achievement, a revisionist history linking the birth of American democracy and American crime. It brings us astonishing sights, as in a scene that shows us the inside of a tenement, with families stacked on top of one another in rooms like shelves… It is very good but not great." – Roger Ebert
Starring Leonardo DiCaprio, Cameron Diaz, Daniel Day-Lewis, Jim Broadbent.
Rated R for intense strong violence, sexuality/nudity and language.
Available August 20
---

Kardec (2019)
Need some Victorian era mysticism? Based on the trailer, this appears to be a well-crafted period drama, though some present-day followers of Spiritism have taken issue with the representation of Kardec's relationship to catholicism.
The biopic, from director Wagner de Assis, tells the story of Allan Kardec (1804 – 1869), from his days as an educator, through the investigation of phenomena, to his founding of Spiritism.
Allan Kardec was born in France as Hypolite Leon Denizard Rivail, and later took on the pen name, writing five books that make up the Codification of the Spiritist Doctrine, among them "The Gospel According to Spiritism" and "The Spirits' Book."
Starring Leonardo Medeiros, Sandra Corveloni, Genézio de Barros, Christian Baltauss, Letícia Braga.
In Portuguese with English subtitles.
Suggested for ages 12 and over, contains some violence.
Watch the TRAILER (No subs, but you'll get the idea)
Available August 29
---

Knightfall (Season 2)
The History Channel series goes deep into the secret world of the Knights Templar, the most powerful, wealthy and mysterious military order of the Middle Ages who were entrusted with protecting Christianity's most precious relics. From their battles in the Holy Land to their complex relationship with the King of France, the story of the Knights Templar has never been fully told…until now.
With the historical and ruthless downfall of the Templar Order on the horizon, season two focuses on themes such as power, redemption, revenge, betrayal, family, and ultimately an epic war between church and state. Hamill joins the cast as new character Talus, a battle-hardened Knight Templar veteran and initiate master who is tasked with preparing the next generation of men to proudly wear the iconic red cross on their chests and become "God's Executioners."
Starring Ed Stoppard, Pádraic Delaney, Simon Merrells, Julian Ovenden, Jim Carter.
Rated TV-MA
Available August 13
---

Now and Then (1995)
We normally don't include anything set after 1969 on this list, but thought we'd make an exception for this much-loved coming-of-age tale of four 12-year-old girls growing up together during an eventful small-town summer in 1970.
Three strong women — Roberta Martin, Samantha Albertson and Tina "Teeny" Tercell — return home to reunite with their childhood friend Chrissy DeWitt Williams and see her through the end of her first pregnancy. The four lifelong friends share their memories of the unforgettable summer of 1970, the summer their innocent younger selves (Christina Ricci, Gaby Hoffmann, Thora Birch, Ashleigh Aston Moore) grew up.
Starring Demi Moore, Rita Wilson, Rosie O'Donnell, Melanie Griffith.
Rated PG-13
Available August 1
---

45 RPM (2019)
In this new Spanish television series, three characters with ties to the music industry set out to create a new record label and live a rock-and-roll lifestyle in the conservative political environment of 1960s Spain.
In Spanish with English subtitles.
Starring Carlos Cuevas, Guiomar Puerta, Iván Marcos.
Contains adult subject matter.
Available August 16
---
Period Dramas Leaving Netflix in August: August 1: Gosford Park (2001), The Master (2012), Secretariat (2010).
---
---
Period Dramas Added in July
---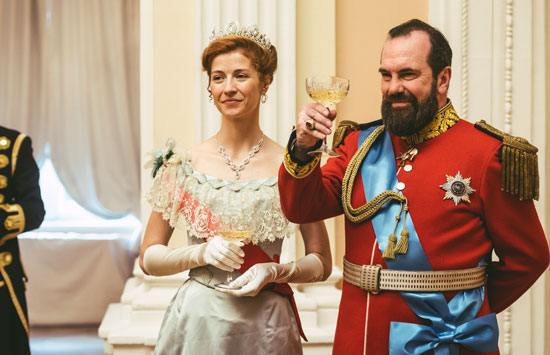 ---
In addition to the suggested titles below, the following period-set films are also new this month: Available July 22: Inglourious Basterds (2009). Available July 31: For Greater Glory (2012).
---

The Brothers Grimm (2005)
Will and Jake Grimm are traveling con-artists who encounter a genuine fairy-tale curse which requires true courage. A fantasy period comedy set in 1811.
Starring Matt Damon, Heath Ledger, Monica Bellucci, Peter Stormare.
Rated PG-13
Available July 1
---

The Exception (2016)
Nothing is as it seems in this riveting World War 2 thriller as a wary soldier goes to investigate a mysterious German monarch at his secluded mansion, leading him into a web of deceit and a dangerous love affair with a local Jewish woman.
Starring Lily James, Jai Courtney, Christopher Plummer.
Rated R
Available July 26
---

The Last Czars (2019)
When social upheaval sweeps Russia in the early 20th century, Czar Nicholas II resists change, sparking a revolution and ending a dynasty. Dramatic mini-series with a documentary element.
6 episodes
Starring Robert Jack, Susanna Herbert, Ben Cartwright.
Available July 3
---

Mary Poppins Returns (2018)
The magic returns in Disney's reimagined classic as Mary Poppins helps the Banks family remember the joy of what it's like to be a child. Together with her friend Jack the lamplighter, fun is brought back to the streets of London in celebration that everything is possible… even the impossible!
Starring Emily Blunt, Lin-Manuel Miranda, Ben Whishaw.
Rated PG
Available July 9
---
Period Dramas Leaving Netflix in July: July 1: Doctor Zhivago (1965), East of Eden (1955), Valkyrie (2008). Leaving July 2: Disney's Pirates of the Caribbean: Dead Men Tell No Tales. Leaving July 14: The Immigrant (2013)
---
---
Period Dramas Added in June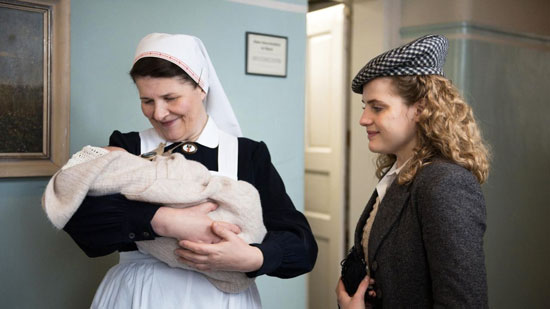 ---
In addition to the suggested titles below, the historical drama Good Night, and Good Luck (2005), 10,000 BC (2008),  and The Woman in Black 2: Angel of Death (2014) are also new this month.
---

Bolívar (2019)
This dramatization depicts the life — and loves — of Venezuelan leader Simón Bolívar, who helped several countries gain independence from Spain.
The story of the hero before he became a legend. His name became a symbol of leadership, justice and passion that led him to form an army of soldiers and common people that believed in the ideal of a free land. A fervent man, in the battlefield and in his personal life: the series portrays the details of his stormy love life; his mother's death when he was a child; the death of his first wife a few months after they married; his multiple lovers, when he stopped believing in love; and finally, his passionate love affair with Manuelita Saenz, who played a major role in his revolutionary contend.
Bolivar gave his life for his people, crossing borders and leaving an indelible legacy in the hearts of all those who believe in union, fraternity and freedom.
60 episodes
Starring Daniel Díaz Cadavid, Guillermo Blanco, Luis Gerónimo Abreu, José Ramón Barreto.
In Spanish with English subtitles.
Rated TV-MA
Available June 21
---

Cabaret (1972)
In Berlin in 1931, American cabaret singer Sally Bowles meets British academic Brian Roberts, who is finishing his university studies. Despite Brian's confusion over his sexuality, the pair become lovers, but the arrival of the wealthy and decadent playboy Maximilian von Heune complicates matters for them both. This love triangle plays out against the rise of the Nazi party and the collapse of the Weimar Republic.
Starring Liza Minnelli, Michael York, Helmut Griem, Joel Grey.
Rated PG
Available June 1
---

Charité at War (2019)
The historical series describes the accomplishments of several famous German physicians and scientists at the prestigious Charité hospital in Berlin. Charité Season 2: During World War II, the patients and staff at Berlin's Charité hospital grapple with Nazis, eugenics and euthanasia. The hospital is still considered a focal point for medicine, but the staff is divided since some members do not support the regime while others are staunch followers of the government. The first season of the German period drama (currently on Netflix) was set in 1888, and the new season takes place between 1943 to 1945, with a new cast. 6 episodes.
Starring Mala Emde, Jannik Schümann, Ulrich Northen, Laura de Boer, Ernst Stötzner.
In German with English subtitles.
Rated TV-MA
Available June 14
---

Elisa & Marcela (2019)
In 1901 in Galicia, Spain, Elisa Sánchez Loriga adopts a male identity in order to marry another woman, Marcela Gracia Ibeas. Based on true events, of the first same-sex marriage in Spain to take place after the Roman Imperial era.
Starring Tamar Novas, Natalia de Molina, Greta Fernández, Lluís Homar, María Pujalte.

Not rated but contains mature themes.
Available June 7
---

The Phantom of the Opera (2004)
From his hideout beneath a 19th century Paris opera house, the brooding Phantom schemes to get closer to vocalist Christine Daae. The Phantom, wearing a mask to hide a congenital disfigurement, strong-arms management into giving the budding starlet key roles, but Christine instead falls for arts benefactor Raoul. Terrified at the notion of her absence, the Phantom enacts a plan to keep Christine by his side, while Raoul tries to foil the scheme.
Starring Gerard Butler, Emmy Rossum, Patrick Wilson, Miranda Richardson, Ciarán Hinds.
Rated PG-13
Available June 1
---

Running for Grace (2018)
An orphan boy of mixed race finds family with the newly arrived white village doctor in Hawaii. The boy can run like the wind, and begins bringing Doc's medicine to coffee pickers throughout the mountainous region. On an errand, the medicine runner meets the daughter of the plantation owner and young love blossoms like the white "Kona Snow" of the surrounding coffee trees.
The timeless tale takes place against the backdrop of the segregated coffee fields in 1920s Hawaii. It's a coming-of-age journey about a young man who transcends the boundaries of race and class in pursuit of true love. Fighting for his place in society and yearning to belong, Jo discovers his identity through the grace of adoption and the power of family.
Starring Ryan Potter, Matt Dillon, Jim Caviezel, Olivia Ritchie.
Rated TV-14 (Not sure why this is TV-14 – there's no nudity or sexual scenes, and it's targeted as an uplifting family movie. From Dove: "Through sweeping, majestic vistas and powerful scenes, Running for Grace delivers a sweet and beautiful story, rich with drama that gives us another chance for important, timely conversations. We award the movie our Dove Approved 12+ Seal. ")
Available June 19 
---
Period Dramas Leaving Netflix in June: June 1: The Turkish period series Lovebird. June 15: The Pianist (2002).
---
Also see the list of period dramas added to Netflix Spring 2019.
---
---
Other Movies You May Also Like
This section contains a curated list of movies and TV series new on Netflix, that are NOT period dramas. We think fans of historical and costume dramas will enjoy them just the same.
For non-period, new-in-August movies that you may also like, see the following: Available August 1: Four Weddings and a Funeral, Groundhog Day, Rocky I – V, Sex and the City: The Movie, Something's Gotta Give. Available August 2: Derry Girls (Season 2), Otherhood – A Netflix Original. Available August 8: Jane The Virgin (Season 5). Available August 9: Glow (Season 3). Available August 22: Love Alarm – A romantic Netflix Original. Available August 29: Falling Inn Love – A romantic Netflix Original. Available August 30: La Grande Classe – A comedic Netflix Original.
For non-period, new-in-July movies that you may also like, see the following: Available July 1: Alice Doesn't Live Here Anymore (1974), Charlie and the Chocolate Factory (2005), Inkheart (2008), Philadelphia (1993), Rain Man (1988), Nights in Rodanthe (2008). Available July 2: Good Witch: Season 4. Available July 6: The Iron Lady (2011).
For non-period, new-in-June movies that you may also like, see the following: Available June 1: Cat on a Hot Tin Roof (1958), What a Girl Wants (2003), Love is a Story (2015). Available June 8: Rock my Heart (2017). Available June 28: 20th Century Women (2016).
Other titles leaving Netflix in June, that may be of interest to period drama fans and Anglophiles: The British TV house improvement shows I Own Britain's Best Home, and House Doctor, are leaving June 14.
---
If you enjoyed this post, be sure to see The Period Films List,with the best British, historical and costume dramas sorted by era. Also see the list of Period Dramas added to Prime in June.