Last Updated on September 18, 2020
Are you looking for the right film to introduce your kids or grandchildren to period dramas? It can be challenging to find a movie that's both appropriate for young viewers and fun to watch.
---
To help keep this site running: Willow and Thatch may receive a commission when you click on any of the links on our site and make a purchase after doing so.
---
In this roundup, we take a look at two adaptations of Frances Hodgson Burnett's classic 1911 novel The Secret Garden, in preparation for the August release of a new adaptation directed by Marc Munden and starring Dixie Egerickx, Colin Firth, and Julie Walters.
Below, we discuss the book, and then look at the BBC adaptation and the 1993 film, flag sensitive themes, and suggest talking points for further discussion with your family.
The Secret Garden has been adapted several times for film and television; the two versions reviewed here are available to stream. See the end of the article for additional family-friendly adaptations of the book. 
---
---
The Book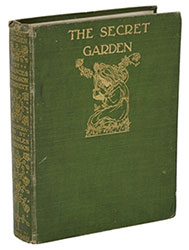 Frances Hodgson Burnett was already well-known for her children's novels when she published The Secret Garden in 1911, but the book failed to develop an audience until after her death. Today it's considered a classic of children's literature, reflecting the power of nature to heal and renew.
Ten-year-old Mary Lennox has spent her entire life in British-occupied India in the early 1900s, neglected by her wealthy parents and raised by native servants. She's spoiled and disagreeable, accustomed to her ayahs giving in to her every demand and dressing her each morning. Her world is upended when a cholera epidemic kills her parents, and she's sent to live with her reclusive uncle Archibald Craven at his estate in Yorkshire.
At first Mary takes pleasure in hating everything about her new life: Misselthwaite Manor is cold and empty, her uncle is hardly ever there, and the housekeeper, Mrs. Medlock, refuses to give into Mary's demands.
Only Martha, a kind servant, shows her any kindness. Martha tells Mary about her uncle's tragic background: ten years ago, Archibald's wife Lilias died after an accident in her beloved private garden. Devastated, Archibald locked the garden and buried the key. Mary's interest is piqued for the first time in her life, and she sets out to explore the wintry grounds and find the secret garden.
A friendly robin shows her the way, and with the help of Martha's brother Dickon, Mary begins to bring the garden back to life. Then she discovers the other secret of Misselthwaite Manor: she has a cousin, Colin Craven, who's been confined to his bed since birth. Convinced his son will develop a hunchback, Archibald has abandoned him, and, tended by Mrs. Medlock and the other servants, he's grown into a cross hypochondriac.
Only stubborn Mary can force him to see sense. The magic of the garden finds Colin, too, and he hatches a plan to overcome his weaknesses and learn to walk. Together with Dickon, the two cousins rebuild the garden just as they work to rebuild their family.
---
The Secret Garden (1975) BBC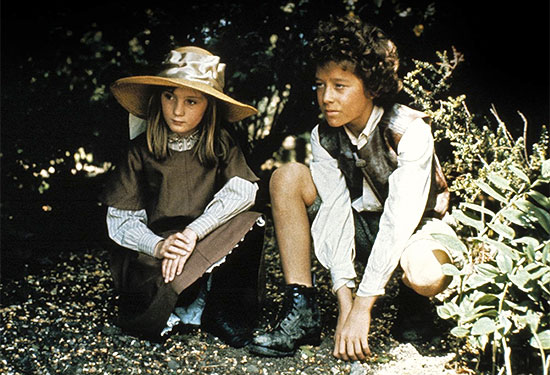 Dorothea Brooking's 1975 adaptation for the BBC was first broadcast in seven episodes, and stars Sarah Hollis Andrews as Mary, with Hope Johnstone (Mrs. Medlock), John Woodnutt (Archibald Craven), David Patterson (Colin), and Andrew Harrison (Dickon).
This version feels very much like a classic children's film. Despite the story's dark themes, the soundtrack remains gentle and sweet, and establishing shots of the gardens and wildlife lend it a pastoral feel. The cinematography contrasts the ornate, overstuffed house with the open airiness of the gardens, and it's easy to feel Mary's freedom when she's released outside.
Sarah Hollis Andrews plays Mary as a petulant, whiny girl, who slowly opens up as she befriends Dickon and learns to indulge in simple pastimes like skipping rope. David Patterson portrays Colin as a spoiled lord of the manor, unaccustomed to hearing the word "No," which nicely parallels Mary's character.
This adaptation focuses on developing the relationships between characters. Anxious to avoid conflict, the servants and doctor bow to Colin's demands, which only feeds his hypochondria. The adults in his and Mary's world repeatedly fail the children in their charge, and it's up to the children themselves to heal each other. In this vein, the series pays close attention to Mary's friendship with Dickon, tracing its growth through their shared passion for the garden.
While the BBC version may feel slow-paced and old-fashioned to some young viewers, it's a wonderful, gentle introduction to this classic children's story. Suggested for ages 8 and older.
The British period series was condensed into a feature-length production in the early 1980s that is available to stream. The original mini-series with seven 30-minute episodes is available on DVD.
Watch The Secret Garden (1983) NOW
---
The Secret Garden (1993)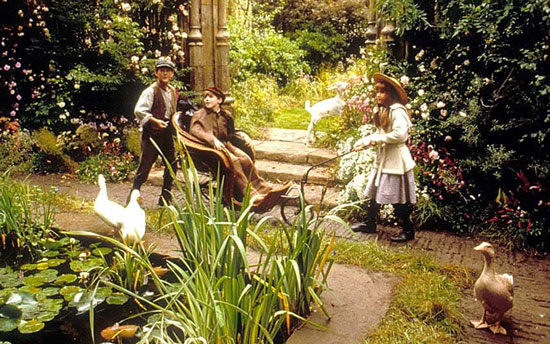 Polish filmmaker Agnieszka Holland (Washington Square, Europa Europa) adapted The Secret Garden for the screen in a beautifully shot film that focuses on the fierce emotions at the heart of the story.
The period drama was a critical and commercial success upon its release, and stars Kate Maberly as Mary, with Maggie Smith (Mrs. Medlock), John Lynch (Archibald Craven), Heydon Prowse (Colin), and Andrew Knott (Dickon).
From the beginning, Holland's version aims for an atmospheric interpretation, as Mary is orphaned in a frightening earthquake rather than a cholera epidemic. Misselthwaite Manor is filled with heavy tapestries that hide doors and passageways, highlighting the gothic secrecy of the Craven family. Mary must pass through doors, gates, and over thresholds to find the secret garden, as even the outdoor spaces are enclosed and sealed off in some way.
And the film develops the theme of lost mothers, as Mary dreams of her neglectful mother and Colin hides a secret portrait of his own mother in his bedroom.
But it's the actors who uncover a fierce heart in the story. Kate Maberly portrays Mary as an angry, lonely girl abandoned by everyone who should have cared for her. She flies into rages, throwing herself against the ornate woodwork of her bedroom. Heydon Prowse is similarly angry as Colin, a boy who hates his medical treatments yet fears developing a hunchback like his father.
In a dramatic moment, the cousins and Dickon perform a dance around a bonfire to call Archibald back to Yorkshire, making them seem almost wild.
Thought this is a G-rated period drama, this is a slightly more mature adaptation, perfect for young viewers who are ready to explore the heavier emotions of the story.
Watch The Secret Garden (1993) NOW
---
Sensitive Themes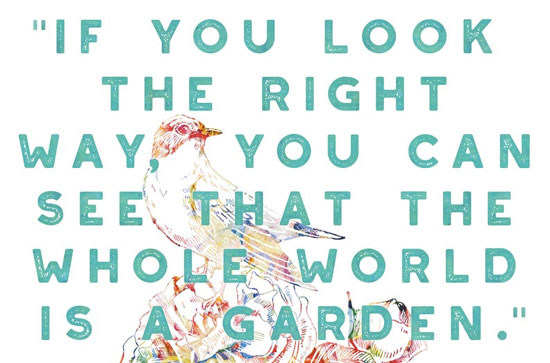 The Secret Garden is a classic for a reason: its theme of rejuvenation and growth through nature is timeless, and Mary's character growth parallels neatly with Colin's.
But it also contains some underlying themes of racism and ableism that it's wise to be aware of, especially when introducing young viewers to the story. In every version Mary takes offense at being compared to a "native" Indian, and multiple characters in the novel refer to Indians as "blacks" and "heathens."
This discriminatory language reflects the British colonialist attitude towards Indians at the time of the novel's publication, and adults should be prepared to address this with young viewers.
Additionally, the story's climax rests on Colin teaching himself to walk, to prove to himself and his father that he is a "real man" without a hunchback. The resolution—with Archibald rejoicing in his healthy son—reflects the trope of the "miracle cure," that a character with a disability must be cured to be truly happy.
---
Other Movie Versions of  The Secret Garden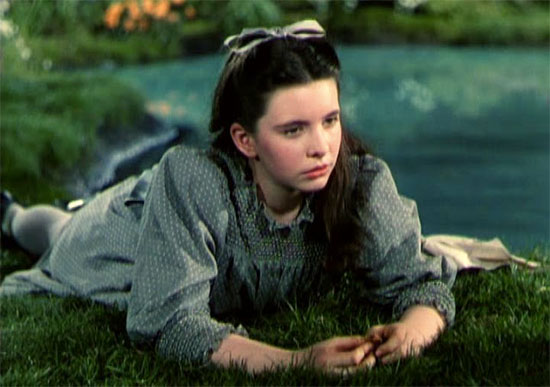 The Secret Garden (1949) starring Margaret O'Brien is available on DVD and sometimes airs on TCM. The film is mostly shot in black and white, but a technical effect derived from "The Wizard of Oz" brings the secret garden alive in a radiant color sequence. It's still very watchable; there's a clip here. 
A PG-rated Hallmark Hall of Fame 1987 movie starring Gennie James as Mary Lennox that briefly features Colin Firth as the adult Colin Craven, also suitable for children, is available on DVD. The follow up Hallmark movie "Back to the Secret Garden" (2000) is available to stream.
A G-rated steampunk-inspired update of the classic tale by Frances Hodgson Burnett was released in 2017, and starred Glennellen Anderson as Mary. It's… different, and is full of special effects. As of June 2020, it's included here with a Prime Video membership. 
"The Secret Garden" 2020 movie starring Dixie Egerickx, Colin Firth, and Julie Walters is expected in August. Read about it and watch the trailer. "The Secret Garden" (2020) is available to stream.
---
Abby Murphy writes young adult books about girls discovering their strengths. A member of SCBWI and The Historical Novel Society, she is represented by Laura Crockett of Triada US Literary Agency. You can visit her blog here, where she writes about reading, writing, history, and her incurable Anglophilia.

If you enjoyed this post, wander over to The Period Films List. You'll especially like the Best Period Dramas: Family Friendly List. Also see Family Film Roundup: American Girl Series, and our Review of Anne of Green Gables, Anne of Avonlea, and The Road to Avonlea.