Last Updated on April 15, 2021
As part of our series on period dramas that are suitable – and fun – for kids to watch, we look closely at the 1985 adaptation of "Anne of Green Gables" – what it's about, and what you'll want to know before you watch it with children.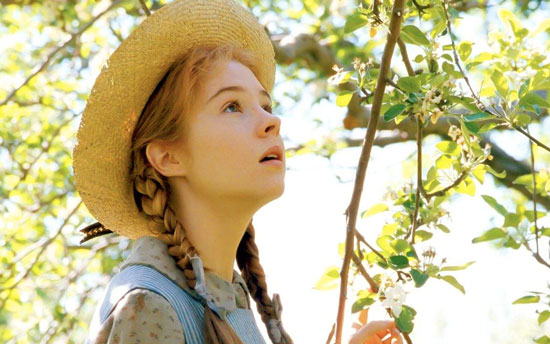 ---
To help keep this site running: Willow and Thatch may receive a commission when you click on any of the links on our site and make a purchase after doing so.
---
Through the years, there have been many adaptations of Lucy Maud Montgomery's 1908 novel Anne of Green Gables, the story of an orphan girl who finds the home she so desperately needs. For family viewing, the 1985 mini-series stands the test of time as the go-to choice for introducing young viewers to Anne.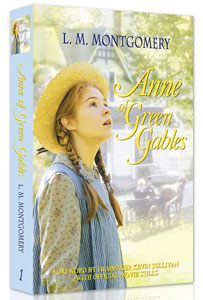 In turn-of-the-century Novia Scotia, orphaned Anne Shirley (Megan Follows) scrapes by as a hired girl with the overworked Hammond family. Dreamy Anne takes refuge in her imagination and beloved books to combat the drudgery of caring for the Hammond children, and she hopes one day for a family to call her own.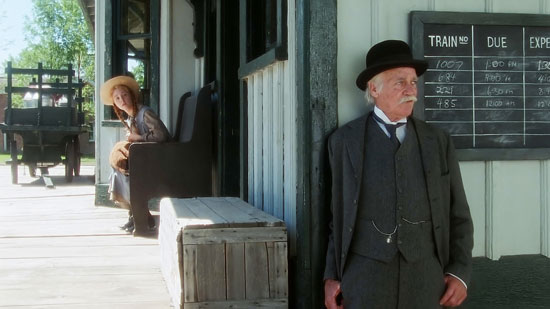 When Mr. Hammond dies and Anne is sent to an orphanage, she's overjoyed to discover that she's to be adopted by an older couple living in rural Avonlea, Prince Edward Island (P.E.I.). But Anne's hopes are dashed almost as soon as she arrives, for strict Marilla Cuthbert (Colleen Dewhurst) and her taciturn brother Matthew (Richard Farnsworth) thought they were adopting a boy to help with farm chores.
---
---
The Cuthberts agree to keep Anne on a trial basis, and Anne's irrepressible spirit and good nature eventually earn her a permanent home on their farm, Green Gables. The film follows Anne through late childhood and adolescence, as she develops a deep "bosom friendship" with Diana Barry (Schuyler Grant), struggles with her feelings for Gilbert Blythe (Jonathan Crombie), and distinguishes herself in school.
Anne's imagination and quick temper get her into a lot of trouble on P.E.I., as she's quick to retaliate when she feels insulted, and regularly neglects her chores. Marilla, constantly surprised by Anne's antics, often disagrees with Matthew about discipline, as she prefers a firm hand while Matthew is more forgiving. Just as Anne must learn to make amends, so must Marilla ease up on some of her restrictions, and together the three of them evolve into a steadfast, supportive family. The Cuthberts' love and Anne's firm friendships ensure that no matter how many opportunities Anne finds beyond Avonlea, she will always have a home at Green Gables.
While the mini-series is long (195 minutes), you'd be hard-pressed to find a period drama that's better suited to introducing young viewers to the pleasures of a bygone era. Megan Follows was just sixteen when cast as Anne, and she perfectly embodies Montgomery's headstrong, red-haired girl who can't help getting into trouble. Follows is breathless and energetic, and you get the sense that she talks so quickly because her head is bursting with ideas. Yet she also conveys Anne's deep hope for a family and a home through quiet moments in Green Gables.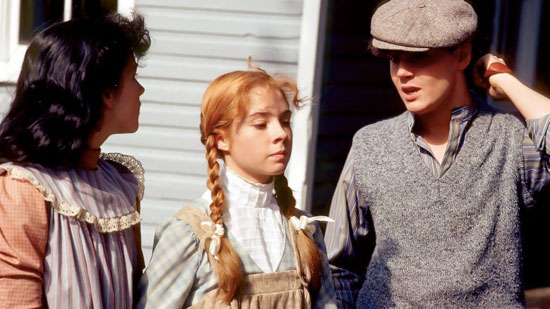 Schuyler Grant is ideal as her best friend Diana, happy to go along with Anne's plans but reluctant to get into too much trouble. And there couldn't be a better Gilbert Blythe than Jonathan Crombie. His headstrong teasing and sensitive inner life match Follows' portrayal of Anne. (When Crombie passed away unexpectedly in 2015, women of a certain age, who first watched the period drama when it was released in 1985, collectively mourned his death with online memes and images idealizing Anne's friendship-turned-romance with Gilbert.)
The perennial concerns of adolescence ring true here, too. While the specific details of Anne's adventures definitely hail from an earlier time—in one instance, she forgets to cover a sauce with cheesecloth while it rests overnight in a pantry, and a mouse drowns in it—her struggles and dramas remain relatable no matter the era.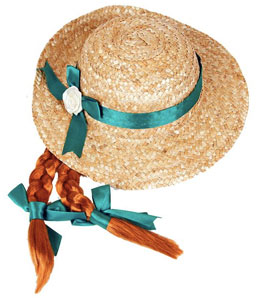 Constantly dreaming and reciting poetry in her head, she frequently forgets life's mundane details and must suffer the consequences when Marilla finds out. She hates her red hair almost as much as she hates being teased for it, and she even resorts to trying a suspicious dye sold by a passing peddler. She struggles to define her feelings for Gilbert, who evolves from a schoolroom tormentor to an academic equal and friend. She mourns the loss of Diana when they're forbidden to see each other, and delights in their special confidences when they're reunited.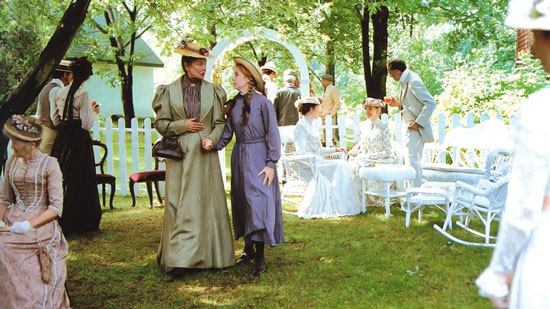 It's the brilliant way director Kevin Sullivan interprets adolescence through the turn-of-the-century setting that makes "Anne of Green Gables" such a wonderful film for younger viewers. Sullivan captures the slower rhythms of a vanished rural life—the water pump in the kitchen, the one-room schoolhouse, the logging and fieldwork—while making sure Anne and her friends come across as vividly as characters in any contemporary setting. Adults will find plenty to enjoy here, as well; the gorgeous P.E.I. scenery alone is well worth watching.
Whether you're new to Green Gables, or a longtime fan hoping to introduce Anne to the younger viewers in your life, there's so much to enjoy in this production.
Sensitive Themes
"Anne of Green Gables" aired on PBS and The Disney Channel on its 1985 release, and continues to warm hearts of children and adults alike, but here's what you'll want to know before watching it with sensitive or very young children. 
The film features a few episodes of mild peril, such as a child with a serious illness and a fall from the roof of a one-story building. Diana also gets drunk through an honest mistake, and both she and Anne face consequences. Most significantly, Matthew dies in Anne's arms at the end of the film in a truly heartbreaking scene that reflects how deeply they've come to care for each other.
"Anne of Green Gables" should be suitable for most kids aged seven and up – it's rated G. (For even younger kids, Sullivan Entertainment created Anne: The Animated Series.) The 1985 period drama is a perfect way to introduce Anne to children; you may discover that in practically no time, they've decided to pull the book off the library shelf, and bring her into their lives once more.
How can I watch Anne of Green Gables? 
Anne of Green Gables (1985) is AVAILABLE to STREAM
Use the code WILLOWTHATCH for $10 off the Anne of Green Gables Trilogy on Gazebo TV.
Anne of Green Gables (1985) is AVAILABLE on DVD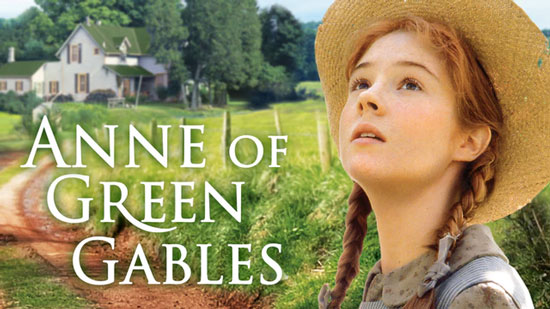 How do I enter to win a digital copy of Anne of Green Gables? 
The GIVEAWAY is now closed. The three winners are Jeanie F, Carlee R, and Rachel F.
You'll get two chances to win a digital copy you can watch time and time again, when you publicly share any of our articles (including this one) from the Willow and Thatch website to any of your social networks. You can also share The Period Films List. Then leave a comment here saying what you shared, and where (just the platform – Facebook, Pinterest, Instagram, Twitter – and your account name are fine). 
If you want just one chance to win, leave a comment below saying why you'd like to win. (But why not share? Not only will you have another chance at winning, but you will help spread the word about Willow and Thatch. Thank you.) Please note: comments are approved manually, so if you don't see yours right away, that's why.
Please scroll down to the last comment to leave yours, instead of leaving it as a reply to someone else's.
The 3 (three) winners will be chosen randomly. Open to residents of the United States and Canada only, aged 18 and older. Canadians must state that they are from Canada at the time of entry.
See the Official Rules. Contest closes Friday, May 17, 2019 at 9:59 PM EST and the winners will be announced here that weekend. Good luck!
---
Abby Murphy writes young adult books about girls discovering their strengths. A member of SCBWI and The Historical Novel Society, she is represented by Laura Crockett of Triada US Literary Agency. You can visit her blog here, where she writes about reading, writing, history, and her incurable Anglophilia.

If you enjoyed this post, wander over to The Period Films List. You'll especially like the Best Period Dramas: Family Friendly List. Also see the Family Film Roundup: American Girl Series. If you are wondering about the Netflix series, see 10 Reasons to Love Anne with an E.