Last Updated on October 8, 2020
Teenagers are wearing tweed and vintage cardigans, toting leather bound books of poetry. These handsome outward displays are reflections of their genuine thirst for knowledge and all things scholarly.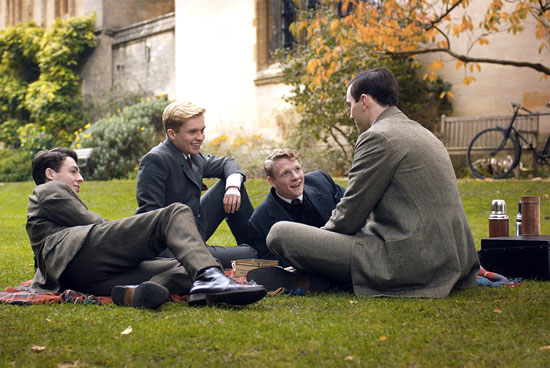 ---
To help keep this site running: Willow and Thatch may receive a commission when you click on any of the links on our site and make a purchase after doing so. 
---
Below, we fill you in on the new trend known as Dark Academia, and then look at some period dramas that best embody its aesthetic and principles.
---
---
School may not be meeting in person, but thanks to social media platforms like Instagram and TikTok, teens and young adults have found a way to express their love for learning: a subculture known as Dark Academia has spread around the world.
While the ideas behind Dark Academia — a romanticization of the humanities and arts that fuel the inner workings of the human soul — may be new to circa 2020 teens, its themes have long been the subject of literature and film, especially period dramas. 
On screen and in books, the ideas reflected in the Dark Academia narrative embody the desperate yearning of an Emily Bronte poem, frequently focusing on themes of existentialism and death. With its emphasis on Classics, literature and history, the subculture is a visual aesthetic, a lifestyle, and an online community where like-minded individuals connect over their common interests.
Dark Academia followers read and watch adaptations of classics novels, but period dramas set at boarding schools, in dimly lit libraries, and featuring waistcoats and youthful rebellion are also fodder.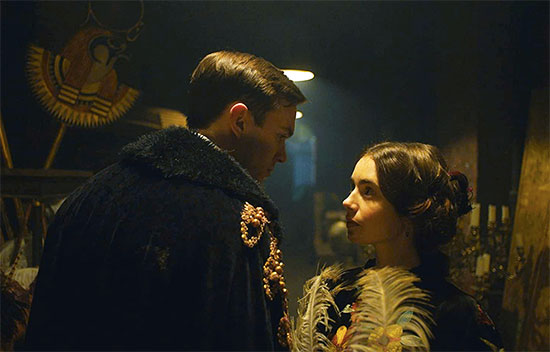 Like in the movies, the brooding aesthetic involves neutral but rich color palettes of deep browns, stone grays and blood red scarlets. Battered books with scribblings in the margins, flowers pressed into the pages of a journal, and grand college campuses shape the atmosphere. Leather satchels, wire-rimmed glasses, and the aforementioned, often thrifted, vintage tweed jackets are staples in the Dark Academia wardrobe. The gender-neutral look often mimics men's fashion from the 30s and 40s, or the wardrobe of a 1950s college professor.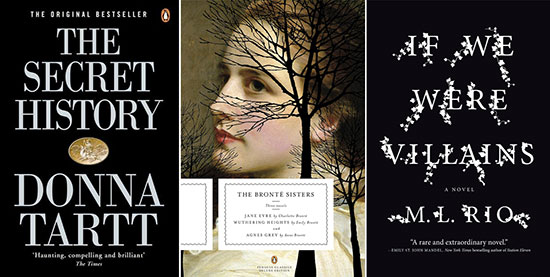 Adherents are typically nostalgic for a time free from modern-day "mind forged manacles," as Romantic poet William Blake would say. While the subculture sometimes mirrors the extremism of Greek tragedies, it's born from a longing for simpler pleasures. The teens might be found writing letters by hand, reading Emily Bronte's Wuthering Heights, M.L. Rio's If We Were Villains, Donna Tartt's murder mystery The Secret History, and sketching their surrounds. They appreciate and respect things from the past, and their motivation isn't so different from that of someone who chooses to listen to music on vinyl in the digital era.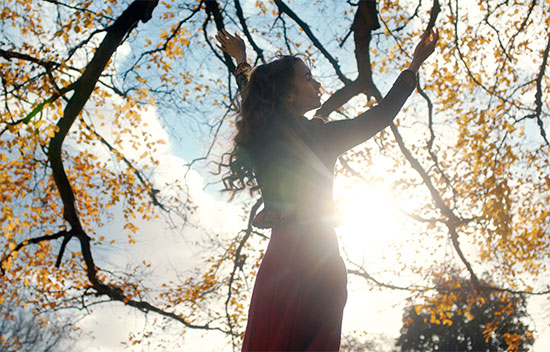 Elite boarding schools from the 19th and early 20th century feature heavily in Dark Academia, as do humanities and arts from the 18th century. But Dark Academia isn't just for the privileged: appealing to teens and young adults who are desperate for change, at its core, the inclusive subculture is about letting go of societal standards. Think throwing oneself into the pursuit of knowledge and the creation of art, to wholeheartedly pursue one's passion, whatever it may be, and whatever the cost. Self expression, in the most melodramatic way, is intrinsic to Dark Academia.
---
---
Here are 7 period dramas that perfectly (if unintentionally!) embrace the tenets and look of Dark Academia:
Dead Poets Society (1989)
"Dead Poets Society" is perhaps the pinnacle of dark academia represented in film. Set in 1959 at a prestigious all-boys boarding school, the period drama centers around a group of adolescents who learn to see the world, and what they value, in a new light. when their unorthodox English teacher uses literature to teach them about not conforming to the crowd.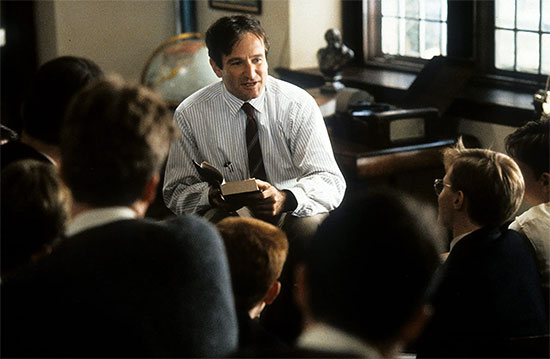 Poetry, beauty, love and passion are major themes of this film with the overarching message being "carpe diem!" Heartwarming and heartbreaking, the film showcases the importance of self-expression and standing up for what is right.
Starring Robin Williams, Robert Sean Leonard, Ethan Hawke, Josh Charles, Dylan Kussman.
Rated PG
---
Desperate Romantics (2009)
This engaging (and steamy) BBC television series starring "Poldark's" Aidan Turner is based on the real lives of the Pre-Raphaelite brotherhood. Artists Dante Gabriel Rossetti, John Everett Millais and William Holman Hunt are desperate to challenge tradition, orthodoxy and authority, and gain artistic recognition and glory via new ideas and interpretations of beauty.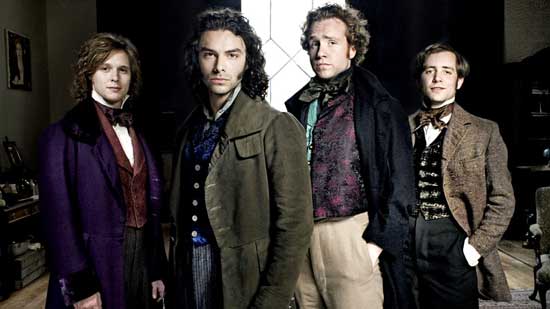 The young Romantics find themselves in some of the most unseemly areas of London as they transform the Victorian art scene. Despite being heavily fictionalized, the series provides a lush, extravagant, bawdy, and swaggering look at the private lives of the Pre-Raphaelites and the muses for their artistic revolution. Read more about it. 
Starring Aidan Turner, Rafe Spall, Samuel Barrnet, Sam Crane,Tom Hollander, Josie Farmiloe, Amy Manson, Zoë Tapper.
Rated TV-MA
---
Indignation (2016)
Based on Phillip Roth's novel of the same name, this movie follows Marcus, a working-class Jewish student from New Jersey attending a small, conservative Ohio liberal arts college in 1951. Marcus becomes an outlier and throws himself into his academics, isolating from his fellow students except for when he pursues a fervent affair with a student one year his senior.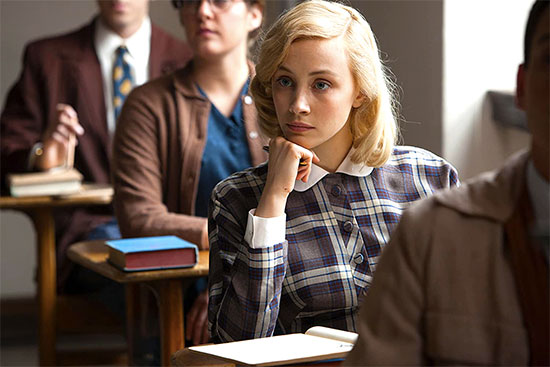 He struggles with cultural disaffection and institutional prejudice, and his academic rigor, clash with the school administration, and continuation of his passionate affair eventually end in tragedy. Mature themes of abuse and self-harm showcase the violence and damage that passion can create.
Starring Logan Lerman, Sarah Gaddon, Tracy Letts, Tijuana Ricks, Sue Dahlman, Joanne Baron, Danny Burstein.
Rated R for sexual content and some language
---
Kill Your Darlings (2013)
Set in 1944, this film is loosely based on the college years of poet Allan Ginsberg. While at Columbia University, Ginsberg develops a close relationship with the charming Lucien Carr in addition to aspiring writers William Burroughs and Jack Kerouac.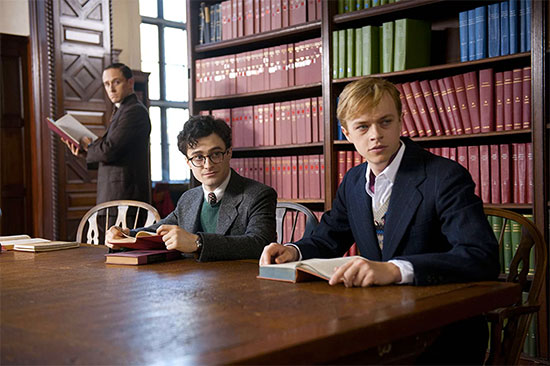 Together, the group shuns orthodoxy and lays the foundation for the Beat movement. However, jealousy and obsession seep into the group, and turn deadly. A story of friendship, love, obsession and murder, "Kill Your Darlings" reveals the untold story of the critical experience that set the stage for Ginsberg's innovative creative movement.
Starring Daniel Radcliffe, Dane DeHaan, Ben Foster, Jack Huston, Michael C. Hall, Jennifer Jason Leigh, David Cross.
Rated R for sexual content, language, drug use and brief violence
---
Mona Lisa Smile (2003)
Set during the 1950s at the all-female Wellesley College, young art history professor Katherine Watson uses art to challenge archaic societal modes. Watson encourages her students to create their own narrative, not simply follow in the footsteps of tradition.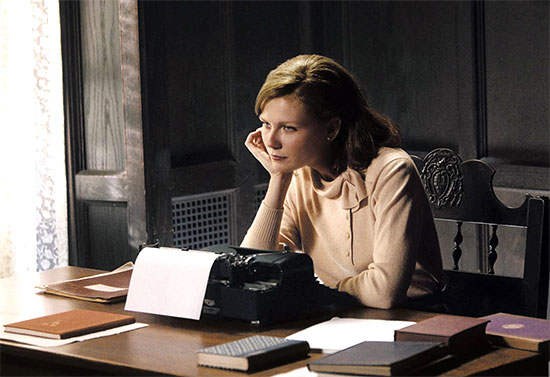 In the case of her students, that means believing that a life as a housewife is not their only option for the future. However, as she continues to instruct her students, Watson is forced to reevaluate her own goals and ideals. The main themes in this period drama include looking at things from a new vantage point, questioning the status quo, the portrayal of women throughout history, and showing that there is no "correct" way to be a woman.
Starring Julia Roberts, Julia Stiles, Maggie Gyllenhaal, Kristen Dunst, Ginnifer Goodwin, Dominic West, Juliet Stevenson.
Rated PG-13
---
School Ties (1992)
"School Ties" revolves around David who receives a football scholarship to an all-boys Catholic school during the 1950s. He quickly impresses students and faculty, becoming a star student and rising up the social ladder.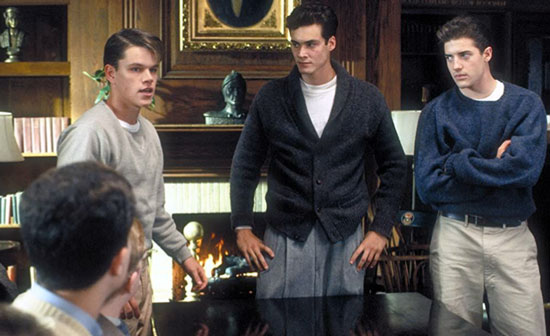 When his Jewish heritage is revealed, David suffers the full force of prejudice and finds himself unjustly accused of an offense which carries the penalty of expulsion. A highly relevant story of jealousy, the consequences of staying silent, staying true to oneself, and religious intolerance.
Starring Brenden Fraser, Ben Affleck, Matt Damon, Chris O'Donnell, Anthony Rapp, Amy Locane, Michael Higgins.
Rated PG-13
---
Tolkien (2019)
J.R.R. Tolkien's childhood was filled with the books, legends and lore that shaped him into an innovative writer. In this biopic, young Tolkien finds camaraderie in a band of fellow outcasts who dream of being musicians, poets and artists, despite their parents' more practical visions for their futures.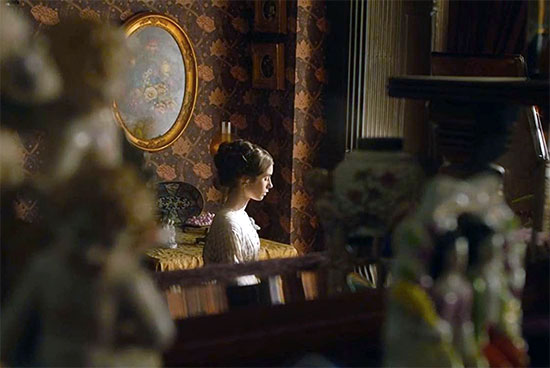 As a young adult, Tolkien loses his footing — and nearly his scholarship to Oxford University. He struggles to deal with the outbreak of World War One, in which he eventually enlists. These circumstances eventually inspire him to write his best-selling masterpiece, The Lord of the Rings.
Starring Nicholas Hoult, Lily Collins, Colm Meaney, Harry Gilby, Pam Ferris, Craig Roberts, Laura Donnelly.
Rated PG-13
---
Faith Brammer studies English Literature and History at Ohio Wesleyan University, where she devotes herself to preserving narratives of the past for future generations. When she's not reading 19th-century literature, or researching life on the Home Front during World War Two, you can find her patronizing local coffee shops, studying historical fashion, or visiting historic estates. She runs the popular Instagram account @perioddramas, where she posts about historical films and television.
---
If you enjoyed this post, wander over to The Period Films List.