Last Updated on December 18, 2021
The classic book Little Women is Louisa May Alcott's semi-autobiographical account of her life with her three sisters in Concord, Massachusetts in the 1860s. The story tells of how the sisters grow up and find their place in the world.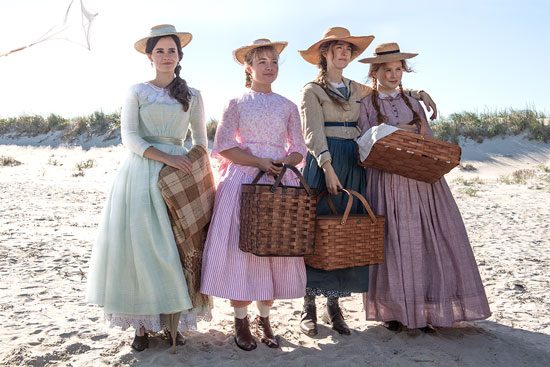 ---
To help keep this site running: Willow and Thatch may receive a commission when you click on any of the links on our site and make a purchase after doing so. 
---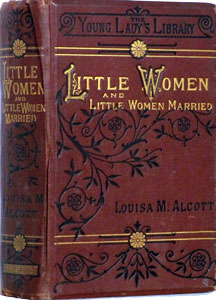 Loved by generations of women worldwide, Little Women is a truly universal coming-of-age story, as relevant and engaging today as it was on its original publication.
Set against the backdrop of the Civil War, the story follows sisters Jo, Meg, Beth and Amy March on their journey from childhood to adulthood. With the help of their mother, Marmee, and while their father is away at war, the girls navigate what it means to be a young woman: from sibling rivalry and first love, to loss and marriage.
Though Alcott was initially hesitant to write a story for girls, she was urged to do so by editor Thomas Niles. When she read the proof, she responded that "it reads better than I expected. Not a bit sensational, but simple and true, for we really lived most of it, and if it succeeds that will be the reason of it. Mr. N likes it better now, and says some girls who have read the manuscripts say it is 'splendid!' As it is for them, they are the best critics, so I should be satisfied."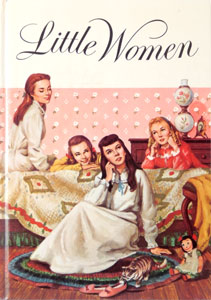 The novel, published in two volumes in 1868 and 1869, received immediate acclaim and became an instant bestseller, appealing to boys and girls, as well as to men and women.
It simultaneously offered readers a window into a family drama, a love story, and a new expression of female identity while gently (in comparison to earlier 19th century literature) extolling a life of virtue. Little Women remains one of the most widely read novels of all time; a recent Harris poll listing it as one of America's ten favorite books confirms its enduring place in the cultural landscape.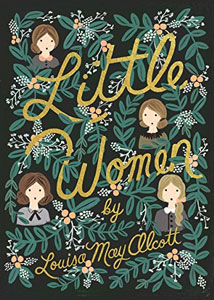 Those familiar with the story have their favorite moments from the book – like when the girls first meet Laurie, the giving up of the precious orange, or when Jo accidentally burns Meg's curls. Alcott's writing comes alive in the mind, and the girls' enthusiasm for life – despite very real challenges and hardships – is palpable.
Editions vary in text and illustration, but the interpretation of that text (empowerment, sisterliness, identity, romance, gender roles, desire) ultimately falls to the reader, and in the case of re-contextualizing the story, to the adaptor. The classic has been made into countless plays, at least fifteen musicals, an opera, anime and a ballet, and from the beginning of the film era it was clear that with all its vivid period detail, Little Women was perfectly suited for the screen. 
Since the early 1900s, there have been multiple movies and films based on the book, including a 2019 BBC movie that releases in theaters on Christmas day. 
Let's have a stroll through (pretty much) all the movie and TV versions of  "Little Women" to date.
---
---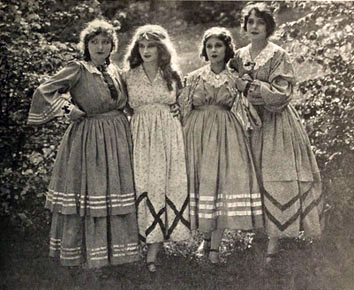 In the late 1910s, there were two silent adaptations of Little Women: one British, the other American. The 1917 version, though lost, is assumed to have been a short film.
The other, a one-hour movie starring Dorothy Bernard as Jo, and Isabel Lamon as sister Meg, was shot on location in Concord in 1918 at the author's home and had a general release the following year. The home of Ralph Waldo Emerson was also shown in the film.
The William A. Brady Picture, (Brady had produced a 1912 stage version of the novel), was praised for its "gentle atmosphere" by Frederick James in the Motion Picture Classic (February 1919). He added "Dorothy Bernard is delightful as Jo, and Conrad Nagel is a very likable Laurie." This version, which was directed by Harley Knoles and distributed by Paramount, is presumed lost. 
---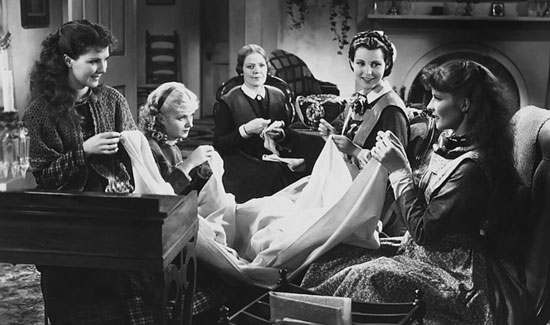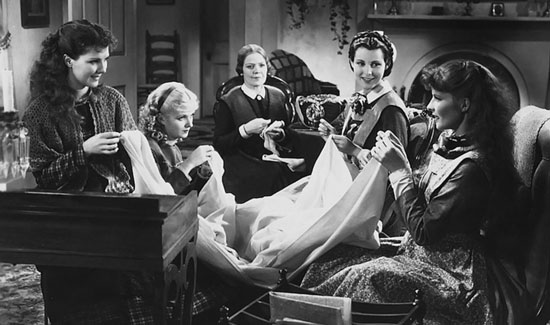 The next time Little Women was adapted for the silver screen it had sound. The leading role of Josephine 'Jo' March went to Katharine Hepburn, who was 26 years old at the time of the film's release in 1933.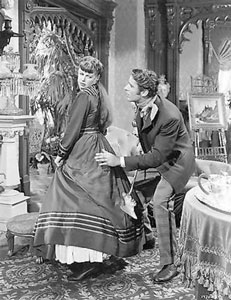 Critics and audiences alike celebrated Hepburn's portrayal of Jo and her New England pluck, which Hepburn drew from a well of stories about her own Civil War era maternal grandmother. In 5001 Nights at the Movies, Pauline Kael wrote "It's a lovely, graceful film, and surprisingly faithful to the atmosphere, the Victorian sentiments, and the Victorian strengths of the Louisa May Alcott novel." 
The March house was modeled on Louisa May Alcott's own home in Massachusetts, and the script closely followed the novel. Its success allowed for headway for other literary adaptations to follow suit.
Little Women (1933) was one of the first classic adaptations to become a hit while also staying true to its source material. Hollywood thinking at the time held that even the best-known literary sources had to be completely re-written to make them more commercial. RKO production chief David O. Selznick, however, had always contended that audiences went to film adaptations to see a faithful treatment of a favorite novel. After the picture's proven success, he was able to convince MGM brass to finance and distribute screen adaptations of David Copperfield and A Tale of Two Cities (both 1935). He would also take the same approach as an independent producer and score his greatest success with Gone with the Wind (1939). – TCM
Stream Little Women (1933) now.
---

Directed by Ed Sobol, Little Women was adapted for television in 1939 with Flora Campbell as Jo. This version was based on Brady's 1912 Broadway play. In 1946, the book was again adapted for television with Margaret Hayes as Jo, directed by Ernest Colling. The adaptor for both these versions is unknown. In 1949 a third television adaptation for CBS starred Meg Mundy as Jo. A young June Lockhart (Lost in Space's Maureen Robinson) played Amy. All three versions are considered lost. 
---

In 1949 came another big screen adaptation; the feature film took the script and music directly from the 1933 version. Starring June Allyson as Jo, with Elizabeth Taylor, Janet Leigh and Margaret O'Brien as her sisters and Mary Astor as Marmee, the remake was awarded an Oscar® for Best Art Direction.
Stream Little Women (1949) now. 
---

In 1950 the BBC broadcast a 6-part adaptation of the classic live – it was never recorded but was considered to be the most complete of adaptations to date.
In 1958, the BBC broadcast – and recorded – a 6-part black and white, also thorough, adaptation starring Andrée Melly as Jo, Kate Cameron as Meg, Diana Day as Beth, Sylvia Davies as Amy, Phyllis Calvert (The House of Eliott, Mrs Dalloway) as the mother, and David Cole as Laurie. Reportedly the episodes still exist, though they don't appear to be available to watch.
---

Between 1950 and 1979, there were four adaptations for television in the US, including a two-part version from Westinghouse Studio One (1950). The first part, "Meg's Story" is available on DVD, and the second part is available to stream. 
Called "Little Women – Jo's Story," it is set beginning in 1868. "Jo's Story" stars Mary Sinclair as the teenaged Jo, and Nancy Marchand as the adult Jo, both of whom do a respectable job in the TV show.
Stream Little Women (1950) now.
Additionally, there was also a one-hour musical 1958 adaptation for CBS. 
---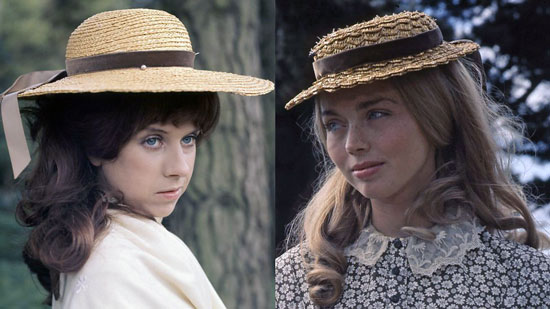 The BBC adapted Little Women for television a third time in 1970, starring Angela Down as Jo.
The 9-episode mini-series shown on the Sunday tea-time slot on BBC1 was filmed in studio and faithfully covered just about everything in the book, albeit in a low-budget British context kind of way.
The series received criticism for the actresses playing the sisters being too old, for the bad wigs they wore, and for the accents being a strange amalgam of British and Southern drawl, but if you haven't seen it, it's still worth a try. A highlight was Stephen Turner, who was praised for his portrayal of Laurie.
Little Women (1970) is available to stream.

---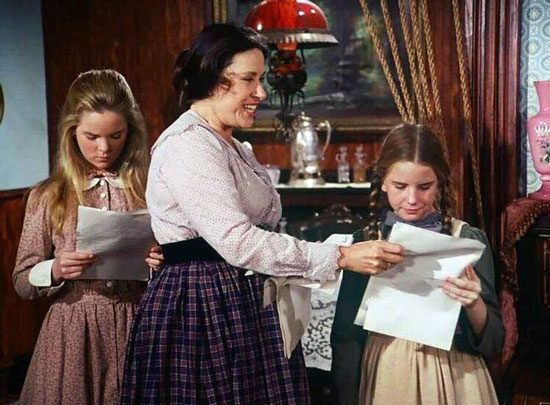 In 1977, during the third season of the television serial "Little House on the Prairie," episode 14 was dedicated to Little Women. As a special school activity, Miss Beadle allows the children to create group skits that they will later perform for their parents. Mrs. Oleson rewrites Alcott's story to ensure Nellie is the star in Walnut Grove's school. 
Shy Ginny Clark steals the show when she takes a lesson from her character, Jo, and surprises everyone by playing her part to perfection, both on and off the stage.
---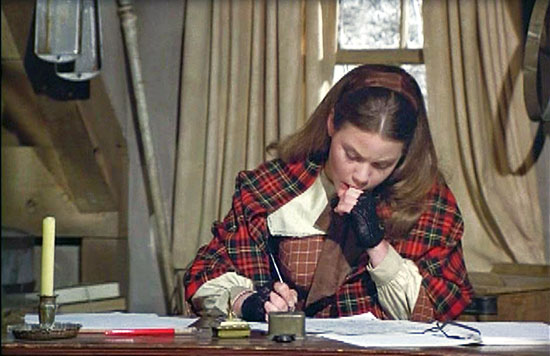 One of the four US television adaptations mentioned above is a 1978 mini-series starring Susan Dey as Jo, Meredith Baxter Birney as Meg, Eve Plumb as Beth, Ann Dusenberry as Amy, Dorothy McGuire as Marmee, Greer Garson as Aunt March, Richard Gilliland as Laurie and William Shatner as the Professor.
The three-hour miniseries won Emmy Awards for Outstanding Art Direction for a Series, and Outstanding Cinematography for a Series.
A sweet adaptation with a plot that takes a few liberties, it is nonetheless wholesome and has some strong emotional moments.
Little Women (1978) is available on DVD.  
---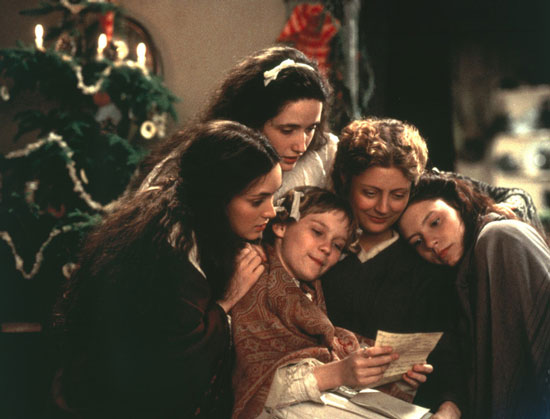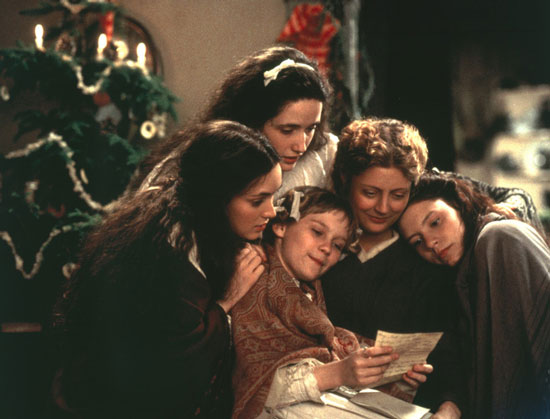 It was a full forty-five years after the last made-for-cinema version was released before viewers would have another silver screen adaptation of Little Women. Starring Winona Ryder as Jo, the movie took home Oscar® nominations for Ryder as Best Actress, the screenplay and the score. 
Also starring in the 1994 film were Susan Sarandon as Marmee, Gabriel Byrne as the Professor, Claire Danes as Beth, Kirsten Dunst as the young Amy, Christian Bale as Laurie, John Neville as Mr. Laurence, Eric Stoltz as John Brooke and Mary Wickes as Aunt March.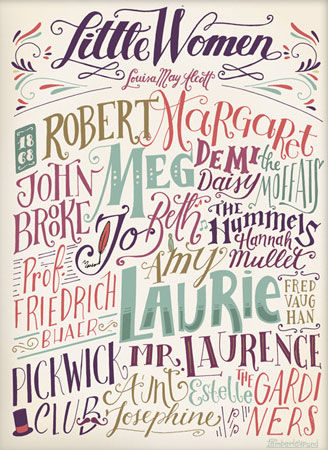 In his review of the 1994 period drama, Roger Ebert wrote that "The film is true to Alcott's story about how all of life seems to stretch ahead of us when we're young, and how, through a series of choices, we choose and narrow our destiny. The buried issues in the story are quite modern: How must a woman negotiate the right path between society's notions of marriage and household, and her own dreams of doing something really special, all on her own?"
The plot line echoes that of the book, and the costumes by Colleen Atwood are historically accurate, but it's depth can be attributed to it's reverence to Alcott's intentions, the cast, and to Gillian Armstrong, who directed the powerful period drama "My Brilliant Career" prior to "Little Women."
After, she brought us the period dramas "Oscar and Lucinda," and "Charlotte Gray." Armstrong was the first female to direct an adaptation of Little Women.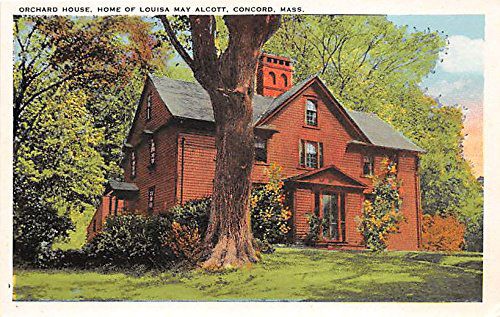 As in the 1933 version, the home in the movie was based on Orchard House, where Louisa May Alcott's wrote and set Little Women. 
Stream Little Women (1994) now. 
---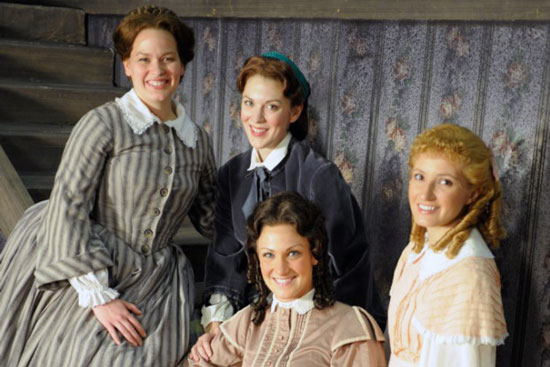 Mark Adamo's 1998 opera adaptation of Little Women, which balanced "sentiment and irony" aired on PBS in 2001 and received high praise ("brilliant, a masterpiece") from critics. Beverly Lyon Clark wrote that "Its great popular appeal is due in part to its relationship to a well-known text but also to its incorporation of lyricism in addition to atonality and of features of musical theater indebted to Sondheim and Bernstein."
Adamo removes references to the Civil War, instead using the music and Jo's personal path as the emotional backbone of his narrative. Mark Adamo's opera Little Women has been performed in more than 70 national and international engagements since its première by Houston Grand Opera and has achieved the status of an American classic.
The opera is available to stream. 
---

There's a 2012 Little Women-inspired Lifetime / Hallmark television movie set in the present day, called "The March Sisters at Christmas."
Reactions to the fluffy movie were firmly split, from Alcott fans calling it a disgrace to others who enjoyed Jo's updated character and the twists in the plot. To keep the family home from being sold, four very modern March sisters tackle home improvement on their own. But their romantic entanglements involving the boy next door, an old flame and a new acquaintance become a distraction. Starring Julie Berman as Jo.
The March Sisters at Christmas is available stream. 
---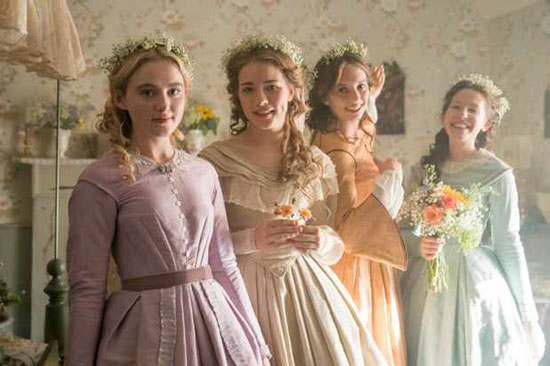 In 2017, PBS Masterpiece and BBC joined forces to bring us a three-part adaptation of Little Women, penned by Heidi Thomas (Madame Bovary, Cranford, Upstairs Downstairs, Call the Midwife).
A stellar cast combined for a pleasant watch, but overall the series failed to live up to some viewer's expectations, who felt the narrative was too modern. The series seems better fit to the appetite of contemporary audiences being introduced to the classic for the first time.
Newcomer Maya Hawke takes the role of willful and adventurous Jo, Willa Fitzgerald the eldest daughter Meg, Annes Elwy as Beth, and Kathryn Newton as the youngest sister Amy. Emily Watson (Anna Karenina, War Horse) plays Marmee, the iconic matriarch of the March family.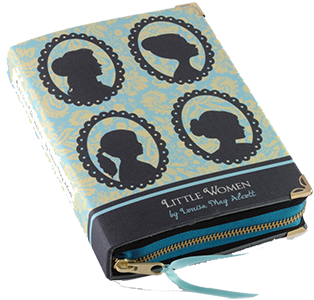 Dame Angela Lansbury (Mary Poppins Returns, Driving Miss Daisy) plays the girls' wealthy relative – the cantankerous Aunt March. Michael Gambon (Emma, Cranford, Wives and Daughters) takes the role of their benevolent neighbor Mr. Laurence, and Jonah Hauer-King (Howards End mini-series) play his grandson Laurie Laurence, the charming boy next door. Mark Stanley (Dickensian, The Collection) is our Professor Bhaer.
Little Women (2017) is available to stream.
---

The next adaptation of the Alcott's novel was an independent – and modern – version of Little Women. The movie's 2018 release was timed to coincide with the 150th anniversary of the Little Women.
In the re-telling of the classic, we follow the lives of the four sisters, detailing their passage from childhood to womanhood. Despite harsh times, they cling to optimism, and as they mature, they face blossoming ambitions and relationships, as well as tragedy, while maintaining their unbreakable bond as sisters.
The film stars Sarah Davenport as Jo, Allie Jennings as Beth, Melanie Stone as Meg, Lucas Grabeel as Laurie, Elise Jones as Amy, and Lea Thompson as Marmee.
Little Women (2018) is available to stream.
---
While some Alcott fans wonder if we need another adaptation of her novel, 2019 marked a new interpretation of the classic by Director Greta Gerwig that many found to be fabulous.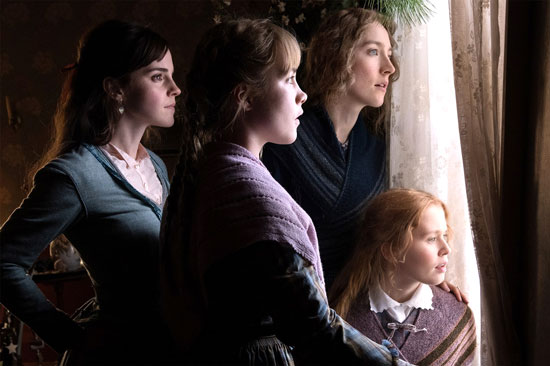 Gerwig's film is based on the classic novel and other writings by Louisa May Alcott. In her take, the beloved story of the March sisters – four young women each determined to live life on her own terms – is both timeless and timely.
Starring Saoirse Ronan, Emma Watson, Florence Pugh, Eliza Scanlen, Timothée Chalamet, Laura Dern, and Meryl Streep.
Little Women (2019) is available to stream. 
---
---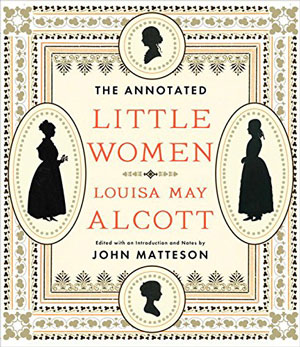 If you'd like to read the classic again and learn more about Louisa May Alcott and how it has been adapted, you may want a copy of The Annotated Little Women: Since its publication in 1868–69, Little Women, perhaps America's most beloved children's classic, has been handed down from mother to daughter for generations. This lavish, four-color edition features over 220 curated illustrations, including stills from the films, stunning art by Norman Rockwell, and iconic illustrations by children's-book illustrators Alice Barber Stevens, Frank T. Merrill, and Jessie Wilcox Smith.
Renowned Alcott scholar John Matteson brings his expertise to the book, to the March family it creates, and to the Alcott family who inspired it all. Through numerous photographs taken in the Alcott family home expressly for this edition―elder daughter Anna's wedding dress, the Alcott sisters' theater costumes, sister May's art, and Abba Alcott's recipe book―readers discover the extraordinary links between the real and the fictional family.
Matteson's annotations evoke the once-used objects and culture of a distant but still-relevant time, from the horse-drawn carriages to the art Alcott carefully placed in her story to references to persons little known today. His brilliant introductory essays examine Little Women's pivotal place in children's literature and tell the story of Alcott herself―a tale every bit as captivating as her fiction. Get it here. 
The Shop at The Orchard House has a good selection of books about Louisa May Alcott, which you can find on their website here. 
The Orchard House is open year-round for guided tours and welcomes donations in any amount to sustain Louisa May Alcott's Orchard House in its second century of educating, preserving, and inspiring. All proceeds benefit education and preservation efforts at Louisa May Alcott's Orchard House, "Home of Little Women," in Concord, Massachusetts, one of the most beloved and authentically maintained historic house museums, open to the public for over 100 years! 

If you enjoyed this post you'll want to wander over to the Period Films List – the best costume and historical period dramas, romantic period movies, all sorted by era and theme. You'll also like the review of An Old Fashioned Thanksgiving. 
SaveSave
SaveSave
SaveSave
SaveSave
SaveSaveSaveSaveSaveSaveSaveSave
SaveSave
SaveSave
SaveSave
SaveSave
SaveSave
SaveSave