Last Updated on December 28, 2020
"Anne of Green Gables – Fire and Dew" returns to PBS stations this December. "Fire and Dew" is the third installment of Canada's TV series, based on Lucy Maud Montgomery story of a free-spirited teenager living on Prince Edward Island in the Edwardian era.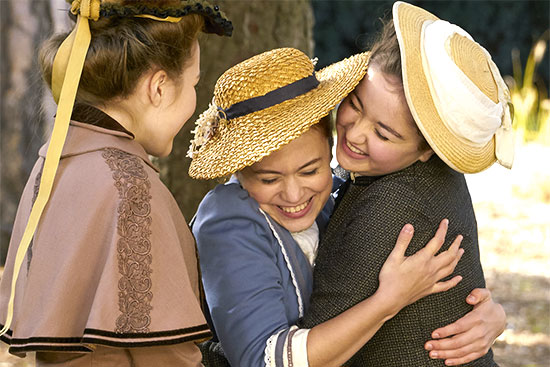 ---
To help keep this site running: Willow and Thatch may receive a commission when you click on any of the links on our site and make a purchase after doing so.
---
There's no comparing the L.M. Montgomery's "Anne of Green Gables" trilogy to the 1985 classic starring Megan Follows, or to Netflix's Anne with an E. Instead, this version of the story of the determined little girl who touches the lives of everyone she meets, is decidedly aimed at young viewers. It's on late, so you may want to set your DVR: "Anne of Green Gables – Fire and Dew" airs on PBS Tuesday, December 29, 2020 at 9:30 PM ET. (Check local listings).
---
---
Filmed in Canada, L.M. Montgomery's "Anne of Green Gables" tells the story of Anne Shirley, a precocious young girl taken from an orphanage and placed in the care of the uptight Marilla Cuthbert and her brother, Matthew.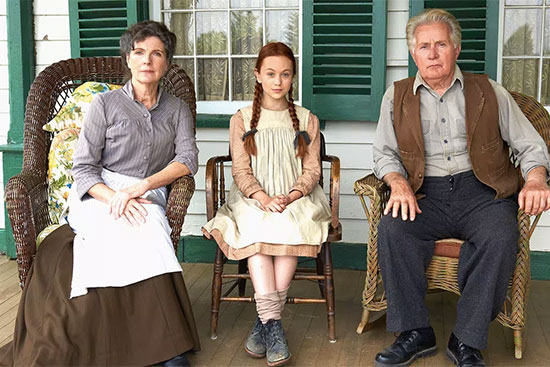 The conservative Marilla has a profound effect on the adventurous Anne, and creates a journey of learning and personal engagement that has resonated with generations since L.M. Montgomery's Anne of Green Gables was first published in 1908.
When we last saw Anne Shirley (Ella Ballentine) in "Anne of Green Gables: The Good Stars," the second of the series' made-for-television three movies, Anne was thirteen years old and found that life in Avonlea was never simple.
Torn between her free-spirited nature and her own perceived need to become sensible, Anne discovered that the journey toward her goal was fraught with confusion and more than a few unfortunate yet amusing mishaps.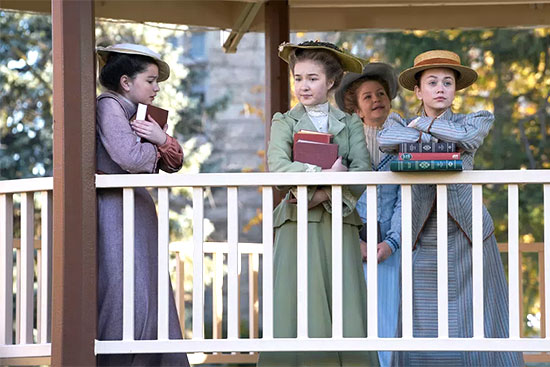 Now, in "Anne of Green Gables – Fire and Dew," Anne Shirley is growing up, and into a young woman. She moves to Charlottetown and is overwhelmed by her new surroundings, difficult classes at teacher's college and a deepening romance with Gilbert Blythe (Drew Haytaoglu).
At the same time, Matthew and Marilla deal with health and financial difficulties that jeopardize their lives at Green Gables. After Anne graduates, she must make an important decision, whether to move back home or continue on to University.
Anne then must handle the loss of someone deeply special in her life and just when all seems lost, she discovers the dark cloud over her life has a silver lining.
The third TV movie once again stars critically acclaimed actor Martin Sheen as Matthew Cuthbert, along with the return of Canadian actress Sara Botsford as Marilla Cuthbert.
"Anne of Green Gables – Fire and Dew" (2018) and "Anne of Green Gables – The Good Stars" (2017) follow the first television movie in the Canadian trilogy, titled simply "Anne of Green Gables" (2016).
The 3-part adaptation of the iconic literary classic is produced by Kate Macdonald Butler, granddaughter of Lucy Maud Montgomery. Butler is the author of The Anne of Green Gables Cookbook, a chapter in L.M. Montgomery's Rainbow Valleys: The Ontario Years, 1911–1942, and introductions to several recent trade editions of Montgomery's work.
Cast members include Julia Lalonde (Catch a Christmas Star) as Diana Barry, Kate Hennig (Bomb Girls) as Rachel Lynde, Stefani Kimber (Remember) as Josie Pye, Natalie Lisinska (Orphan Black) as Miss Stacy, Amariah Faulkner (Frankie Drake Mysteries) as Jane Andrews, and Kate Trotter (Tru Love) as Mrs. Barry.
At the time of this writing, the first two movies in the series are included with a Prime Video membership. Watch L.M. Montgomery's "Anne of Green Gables" here, and L.M. Montgomery's "Anne of Green Gables: The Good Stars" here. "Anne of Green Gables – Fire and Dew" is included with the PBS Masterpiece Add-on Channel, here.
---
If you enjoyed this post, wander over to The Period Films List. You'll especially like the Best Period Dramas: Family Friendly List. Also see Family Film Roundup: The Secret Garden, Family Film Roundup: American Girl Series, and our Review of Anne of Green Gables, Anne of Avonlea, and The Road to Avonlea.