Last Updated on August 22, 2021
Are you pining for Season 4 of "Victoria" because you need to know what happens with Prince Albert and Queen Victoria? Here's something airing on PBS to help: discover the little-known yet profound role Prince Albert played in shaping Victorian Britain.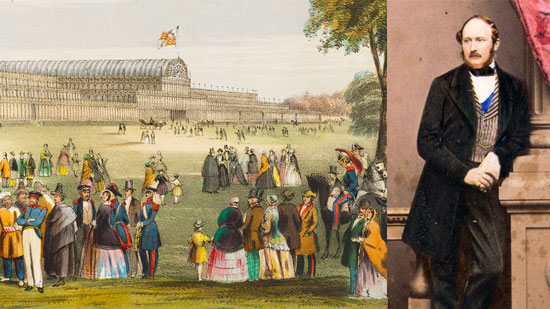 ---
To help keep this site running: Willow and Thatch may receive a commission when you click on any of the links on our site and make a purchase after doing so.
---
In the documentary "Prince Albert – Victorian Hero Revealed," professor Saul David examines Albert's influence and innovative ideas, which transformed the nation's fortunes and created a legacy that lives on today. And, "Victoria" creator Daisy Goodwin shows up too, ultimately describing Albert as "one of the great kings we never had." 
Keep reading to learn more about the PBS show, and for more suggested viewing – both period dramas and documentaries – on the royal pair.
---
---
PRINCE ALBERT – VICTORIAN HERO REVEALED (2019)
Airs Sunday, August 22, 2021, 8:00 – 9:00 p.m. ET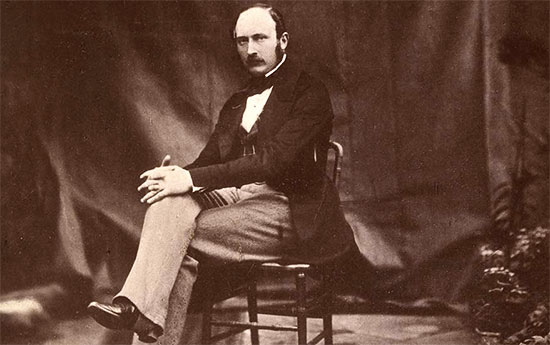 History largely remembers Prince Albert as Queen Victoria's German husband whose untimely death inspired decades of mourning. However, a wealth of new material, imminently being released into the public domain, suggests he played a profound role in shaping Victorian Britain.
Born in 1819 in the small German principality of Coburg, Albert was promised from birth to his cousin Victoria — "the biggest career opportunity he will ever have," says Daisy Goodwin, creator, writer and executive producer of the MASTERPIECE series "Victoria" on PBS.
Luckily, Victoria was smitten from the first moment she saw Albert, known as the most handsome man in Europe, and they were wed in St. James Palace in February 1840.
With access to more than 20,000 of Albert's private papers and photos currently housed in the Round Tower at Windsor Castle, Professor Saul David examines Albert's significant influence on British culture, governmental policy and even international relations.
In the documentary, David, historian Jane Ridley, Daisy Goodwin and others paint a picture of idealist Albert not unlike Tom Hughes' portrayal of him in the British costume drama. The hour-long PBS doc also delves into Albert's childhood through private family photographs, his attachment to his homeland, his love for Victoria, and their family.
Albert's attitudes about marriage and family were profoundly shaped by the fact that his mother ran away with another man when he was five years old. Determined to be the ideal husband and father, Albert poured his heart into raising his nine children.
Images from Photographs of Royal Children from 1855 to 1858 — shown for the first time on film — capture intimate moments of family life, including a photo of Queen Victoria holding an infant, surrounded by Albert and seven other children.
The image, intended originally for private use, was the first photograph of a royal family allowed to be exhibited or published. Albert embraced the relatively new art of photography and understood that it could be used to enhance the royal family's public image.
Initially viewed with suspicion and hostility by the British public and dismissed by Parliament, Albert faced an uphill struggle to carve out a leadership role and be taken seriously. Frustrated with the lack of a public role, sneered at for being German and determined to put his ideas into action, we see Prince Albert turn his attentions to running the royal household.
Shocked at the levels of corruption and inefficiency, he began to prove himself by cutting the budgets. From 1842 to 1853, he saved an estimated 55,000 pounds per year, about 4.5 million pounds in today's money. As his confidence grew, so did his accomplishments in architecture, design and engineering.
Albert began to modernize, undertaking ambitious projects. His innovations can be seen in a dairy on the Windsor estate that is a model of form and function, and Osborne, a private residence for the Queen and family, the style of which was copied around the world.

Turmoil spread across Europe in 1848, and thousands of workers gathered in London to demand the right to vote. Albert understood that the world was changing and felt deeply about the plight of laborers and the poor. The demands of the Chartists stirred Albert's social awareness, and he publicly owned responsibility for the working and living conditions of the lower classes.
For the first time, he spoke out at a public meeting, saying that the ruling class could not exercise power without giving something back. The following day, every newspaper published the Prince's speech.

He then acted to create a more fair society. "By his own industry, he really invents the idea of the hard-working royal who justifies their existence by doing good," says Goodwin. But he was also determined to have political influence, and worked tirelessly to become indispensable to Victoria, making decisions and managing her relationships with politicians.
In 1851, Albert embarked on his greatest gamble, the Great Exhibition, the world's first trade fair with over 100,000 exhibits housed in a vast palace, the largest glass structure on Earth. Parliament predicted the Exhibition would fail and that London would be overwhelmed with crowds spreading disease and raising prices. But despite predictions of disaster, the Exhibition was a great success, attracting six million visitors. The success forever changed the way Britain saw itself.
In 1857, Queen Victoria changed her husband's title to "Albert Prince Consort." Albert was finally accepted by the British establishment, but the energy he had invested in making Britain a better place was taking its toll. In the winter of 1861, he fell desperately ill and died on December 14 with Victoria at his side. He was 42 years old. The Observer captured the nation's grief: "England will not soon look upon his like again."
Such was Albert's tenacity that by the time of his premature death, Albert was widely regarded as a forward-thinking reformer whose innovative ideas transformed the fortunes of the nation and created a legacy that lives on today.
With the 200,000-pound profit from the Great Exhibition, he bought a plot of land intending to create a cultural corridor. Today on that plot — London's South Kensington — stands "the Albertopolis," which includes the Victoria & Albert Hall, the Imperial College, the Royal Albert Hall, the Natural History Museum, the Science Museum, the Royal College of Music and more. 
"I don't think people do him justice because they don't really understand what he did for us," says Goodwin. 
Victoria may have worn the crown but Albert was king in all but name.
For further reading, we suggest Prince Albert: The Man Who Saved the Monarchy by A.N. Wilson, who appears in the documentary, Daisy Goodwin's Victoria & Albert: A Royal Love Affair, as well as We Two: Victoria and Albert: Rulers, Partners, Rivals and Albert: A Life. 
Documents relating to Prince Albert can be found in the Royal Collection Trust's website on the life and achievements of Prince Albert.  
---
Need more of Queen Victoria and Prince Albert now? Try the following costume dramas and documentaries.
Prince Albert and Queen Victoria Period Dramas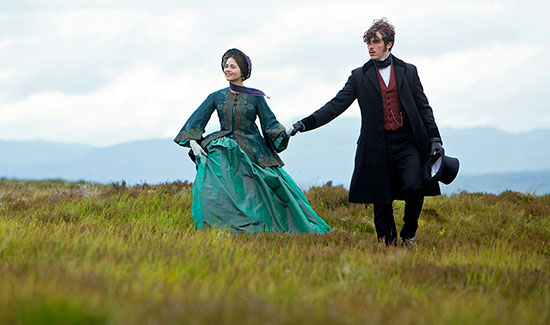 Victoria (2016): Created by Daisy Goodwin, this ambitious British drama presents the early years of one of history's greatest monarchs. Over 3 seasons, viewers have come to know Prince Albert, from his introduction to Victoria who found him enthralling but prickly, to her efforts to give him the respect and power he wants and deserves, the couples' efforts as being normal husband and wife, to his grand display of the Great Exhibition. Available to STREAM
Victoria & Albert (2001): The world remembers Queen Victoria as a staid and stately dowager in black, but Victoria and Albert shows the other side of the monarch who gave her name to an era – the emotional young queen whose reign was shaped by her passionate love for her German-born husband, Prince Albert. Available on DVD Check PBS Passport for streaming availability.
The Young Victoria (2009): Caught in a power struggle with her closest advisors, a young and inexperienced queen draws strength from the handsome prince whose love and affection has stolen her heart. Available to STREAM
Victoria & Abdul (2017): The central theme of the film centers on the queen's experience in mourning Albert, and the amazing true story of an unexpected friendship between Queen Victoria (Judi Dench) and a young clerk named Abdul Karim (Ali Fazal), who becomes a teacher, spiritual advisor, and devoted friend. Available to STREAM
Her Majesty, Mrs. Brown (1997): The film shows the story of a recently widowed Queen Victoria and her relationship with a Scottish servant, John Brown, a trusted servant of her deceased husband, and the subsequent uproar it provoked. Brown had served Victoria's Prince Consort, Prince Albert; Victoria's Household thought Brown might help the Queen who had remained in mourning since the Prince Consort's death in 1861, but politicians soon come to resent Brown's perceived influence over Victoria. Available to STREAM
And fun, if highly fictionalized, is the historical romantic film "Victoria in Dover" (1954). Young Victoria is crowned to be the queen of England. She aims to do her best in order to help her country prosper. However, the family and her trustful advisor, Lord Melbourne, plan marriage for her. She is to get married to a German prince Albert. But Victoria sees her future differently and decides to leave London for a few days. She goes to Paris. On her way to France, she stays incognito in a little tavern in Dover with a baroness. There by chance she meets a handsome man and falls in love head over heels. Later, however, in very strange circumstances, it turns out that the handsome man is prince Albert himself. Available to STREAM
Also keep your eyes out for Victoria the Great (1937), which sometimes airs on TCM and spotlights Victoria's (Anna Neagle) relationship with her beloved Prince Albert, played by Anton Walbrook, and for its sequel "Sixty Glorious Years (1938)," which chronicles Victoria's relationship with Prince Albert as well as the political and military upheavals that characterized her time as Queen. Also known as "Queen of Destiny." 
Prince Albert and Queen Victoria Documentaries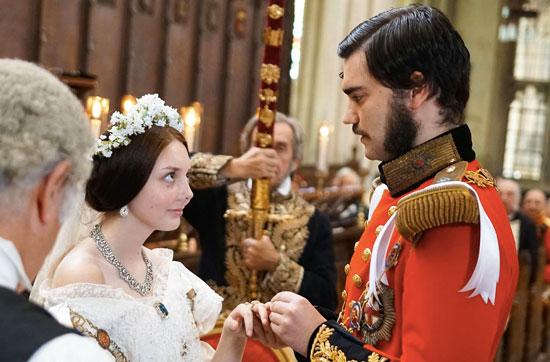 Victoria and Albert: The Wedding (2001): Lucy Worsley re-stages the wedding of Queen Victoria and Prince Albert, including the most important elements of the ceremony and the celebrations, scouring archival materials and Queen Victoria's diaries for the details. Lucy also tells the story of Victoria and Albert's courtship and engagement as she reveals how this one extraordinary event helped to invent modern marriage. Available to STREAM
Crown And Country: Kensington (2001): Site of the Palace once occupied by Diana, Princess of Wales, Kensington's development was originally funded by the enormous success of Prince Albert's Great Exhibition in 1851. Modestly, "Albertropolis" was created. The area is still home to numerous museums, colleges, the Albert Hall, and most appropriately, the recently refurbished Albert Memorial. Available to STREAM
Looking For Victoria (2003): Covering the period from her birth to her passionate love affair with Albert, Victoria's early life was full of drama. Prunella Scales delves into Victoria's married life, and comes to a touching understanding of the Queen's contradictions and passions. Available to STREAM
Queen Victoria's Letters: A Monarch Unveiled (2004): Never before or since has a monarch so openly expressed themselves through the written word. For the first time we hear Queen Victoria in her own words, as she opens a window on everything from the political turbulence of the age to her most intimate feelings. With unprecedented access and insight from leading historians, this is an exhilarating journey to heart of the woman that defined an epoch. Available to STREAM
Queen Victoria's Empire (2001): This PBS series offers an engaging portrait of the Queen who ruled over one-fifth of the world's population for 64 years, as well as influential figures who shaped British imperialism: Gladstone, Disraeli, Livingstone, Rhodes, and Prince Albert. Personal accounts, re-enactments, and cinematography from imperial outposts recount the dramatic clash of personalities and cultures during Victoria's remarkable reign. Available on DVD
---
If you enjoyed this post, wander over to The Period Films List. You'll also want to see our series of posts about the period dramas that have aired on PBS Masterpiece, and period dramas about Life After Loss.