Last Updated on April 27, 2019
Are you looking for the right film to introduce your kids or grandchildren to period dramas? It can be challenging to find a movie that's both appropriate for young viewers and fun to watch. In this roundup, we'll be discussing the "American Girl" series, which introduces strong young heroines living through key historical moments.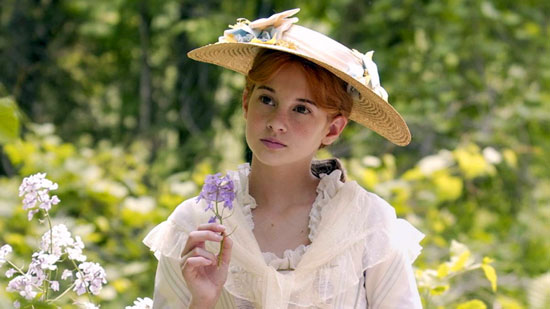 ---
To help keep this site running: Willow and Thatch may receive a commission when you click on any of the links on our site and make a purchase after doing so.
---
Below, we give you an overview of the series, and then discuss the plots, flag sensitive themes, and suggest talking points for further discussion with your family. There's no better time to start watching and get caught up on all the movies on this list; it was announced in February of 2019 that Metro Goldwyn Mayer Pictures (MGM) and Mattel, Inc. have partnered to develop a "cross-generational" live action motion picture based on the classic line of books and dolls.
Overview of "An American Girl" Series
---
---
The Inspiration: For many girls, the popular American Girl dolls are their first introduction to American history. Starting in 1986, Pleasant Company (now a subsidiary of Mattel) offered keepsake-quality dolls and accompanying books about girls living through key historical time periods, like the Revolutionary War, the Progressive Era, and World War II. The company has since expanded to contemporary characters and a variety of media tie-ins, including a series of historical films and web specials appropriate for kids seven and up. All the films introduce a fascinating historical period through the eyes of an independent, relatable young heroine, making for engaging, family friendly viewing.

The Girls: The feature-length films focus on four of the company's most popular historical characters: Felicity (1775), Samantha (1904), Kit (1934), and Molly (1943). They're spunky and independent girls who try to solve injustices in their communities: horse-crazy Felicity tries to rescue a mistreated horse, while Samantha befriends orphaned girls who are forced to work in a factory. Still, they don't always make the right decisions. Along the way they struggle to accept big changes in their lives, as historical events shake the stability of their families: Molly's father enlists in World War II, and Felicity must welcome a new baby into the family. But with the help of their friends and understanding adults, the girls come to terms with their new realities, while solving injustices along the way.
---
---
The Plotlines: Aside from Kit's story, the films follow a year in the life of each girl, ending with a joyful Christmas celebration. Plot arcs are gentle, focusing on introducing the young viewer to the politics and cultural norms of the period. At times. adults might grow frustrated with the lack of a strong narrative, but kids are sure to relate to the heroines' everyday struggles. Kit Kittredge, the only film released in theaters, has the best chance of appealing to both audiences, as it features a strong central plotline where Kit must solve a string of mysterious thefts.
The Specials: The Amazon web specials feature newer historical characters: Maryellen (1955), Melody (1963), and Ivy and Julie (1976). The girls must make tough decisions about staying true to themselves and their families, all while grappling with cultural milestones of their eras. The films pack a lot into each hour-long episode, using music, clothing, and news to build a solid historical background and an engaging story. The short, tightly edited format makes the web episodes stronger than most of the feature-length films, and will leave you wanting to see another. As of this writing, all three movies in the series are included with Prime here.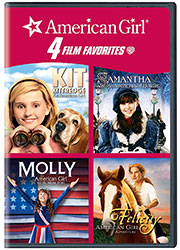 The DVDs: Kids who want to know more about history will especially enjoy the DVD editions of the four feature-length films (see links under each movie below), which include special features on topics like women's suffrage, WWII female aviators, and life in colonial Williamsburg. A DVD set that includes "Kit Kittredge: An American Girl," "Samantha: An American Girl Holiday," "Felicity: An American Girl Adventure," and "Molly: An American Girl on the Home Front," is available, without the special features.
The Ratings: While some of the movies are rated TV-Y or G, and others are not rated by the Motion Picture Association, Common Sense Media has rated all films suitable for kids seven and up. There's no swearing, but the films do include some themes that may upset sensitive viewers. These are noted below in individual reviews.
Movie Reviews of "An American Girl" Series
---
---
Samantha: An American Girl Holiday (2004)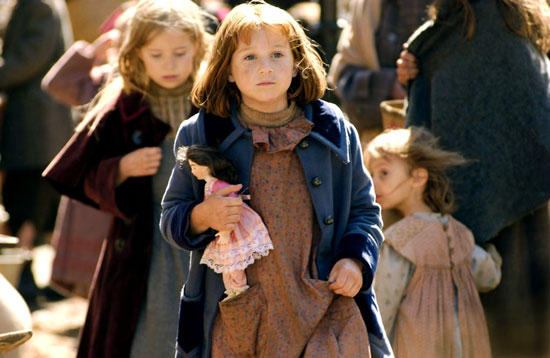 In 1904, wealthy orphan Samantha Parkington befriends Nellie O'Malley, one of the new servants working for her neighbor in Mt. Bedford, NY. Although her family discourages the friendship, Samantha perseveres, finding it more fun to help Nellie with chores and teach her to read than to practice piano. When Samantha's beloved Uncle Gard and his fiancée Cornelia invite her to stay with them in New York City, she quickly dives into the bustle of city life, but she can't forget Nellie. Unexpectedly, Nellie's father dies, and she and her sisters are sent to an orphanage in the city. When Samantha discovers that the girls are poorly treated, she decides to take matters into her own hands, but she may be taking on more than she can handle.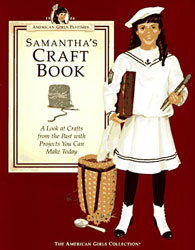 Talking Points: Samantha's story will spark conversations about women's suffrage and Progressive Era reform efforts to improve factory and orphanage conditions.
Sensitive Themes: The loss of parents looms large in this film. Samantha is an orphan being raised by her loving grandmother (Mia Farrow). Her friend Nellie loses her father halfway through the film, and she and her sisters are forced into a crowded orphanage. Samantha visits a clothing sweatshop, where a child's finger is caught in a sewing machine, but there is no visual depiction of the injury.
Watch the TRAILER
Add to your WATCHLIST
Buy the DVD
Get the book Samantha: An American Girl
---
Felicity: An American Girl Adventure (2005)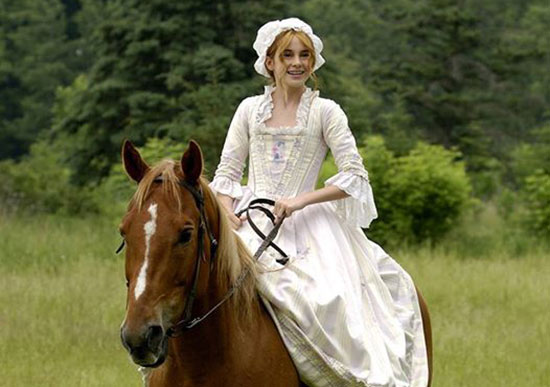 Felicity Merriman, the daughter of a merchant in Williamsburg, VA, chafes against her dancing lessons and wants nothing more than the freedom she feels riding horses. So when she discovers Penny, a beautiful horse being mistreated by neighbor Jiggy Nye, she can't help but sneak out of the house to visit her. But it's 1775, and the brewing issues of the American Revolution aren't far away. Just as Felicity tries to free Penny, she must also decide where she stands on freedom from the British.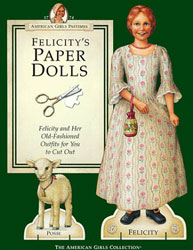 Talking Points: Felicity's story provides a great starting point for conversations about revolutionary-era politics as the colonies began to separate from British rule. Note that black slaves appear as background characters, but slavery is never mentioned in the film.
Sensitive Themes: Felicity is concerned when she hears Jiggy Nye has beaten a horse to death when he's drunk. There's a scene depicting Jiggy Nye being dragged behind a horse after attempting to beat her, but he is not injured. Felicity's beloved grandfather dies, and her mother falls ill after giving birth, though she recovers by the end of the film.
Watch the TRAILER
Add to your WATCHLIST
Buy the DVD
Get the book Felicity: An American Girl
---
Molly: An American Girl on the Home Front (2006)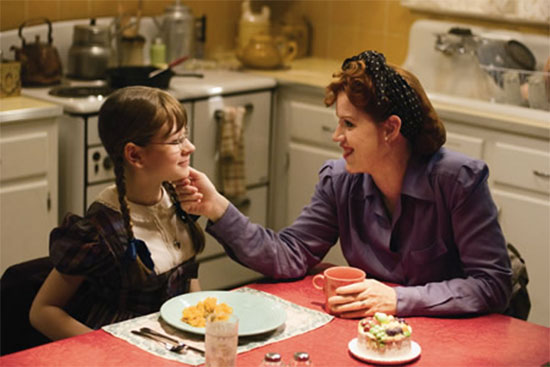 World War II is only a distant thought for Molly McIntire, who wants nothing more than to take the lead in her school's USO-themed tap dance performance. But big changes in her life bring the war much closer to home. Her father decides to join the Army Medical Corps to help wounded soldiers, forcing her mother to take a job to earn money for the family. And Molly has to share her bedroom with Emily Bennett, an English refugee escaping the London bombings. Molly struggles to make sense of all these changes, but through it all her pluck and determination help her stay strong.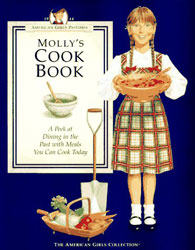 Talking Points: Molly's story will spark conversations about the impact of war on everyday life, including rationing, scrap metal drives, and new job opportunities for women. 
Sensitive Themes: The wartime setting means that death is ever-present. The McIntires' neighbor loses her son, a friend's older brother dies, and, most notably, Molly's beloved teacher Miss Campbell learns of her fiancé's death in a dramatic fashion. Molly's father is listed as missing for the last half of the movie, but he does return home at the end. Refugee Emily describes the London bombings, and she still has nightmares of her mother dying and her apartment collapsing.
Watch the TRAILER
Add to your WATCHLIST
Buy the DVD
Get the book Molly: An American Girl
---
Kit Kittredge: An American Girl (2008)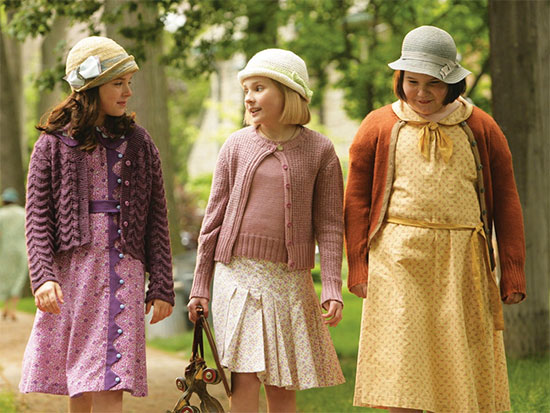 Stubbornly independent Kit Kittredge thinks her family's managed to survive the Great Depression, until she discovers her father standing in line for free food at a local soup kitchen. He's lost his job, and he must travel to Chicago to find work. Meanwhile, Kit's mother takes in an intriguing collection of boarders so they won't lose their house. But the boarders' money and valuables begin to go missing, and all fingers point to Will, a teenage hobo Kit's befriended. She's determined to clear his name and make her own name as a budding newspaper reporter in the process, so she sets out to discover the truth behind the thefts.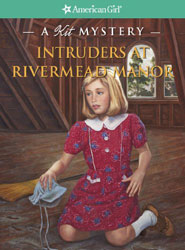 Talking Points: Kit's story is a great starting place for conversations about the economic effects of the Great Depression and the New Deal.
Sensitive Themes: The Depression hits Kit and her neighbors hard. Kit's father must leave to find work, and her friend Sterling reveals that his father abandoned them when he could not longer hold a job, making Kit worry that her own father won't return. Her neighbors are evicted from their home. There's no threat of violence when Kit and her friends confront the thieves at the end of the film, but there is some mild peril.
Watch the TRAILER
Add to your WATCHLIST
Buy the DVD
Get the book Kit: An American Girl
---
An American Girl Story – Melody 1963: Love Has to Win (2016)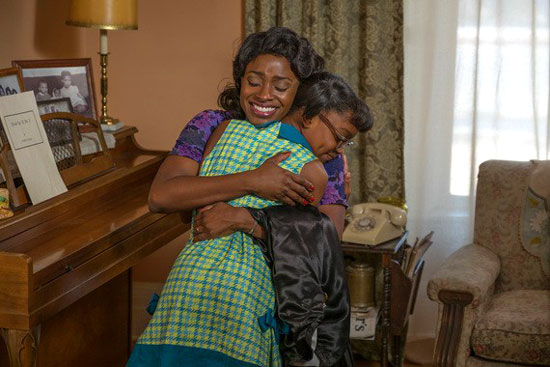 Creative, outspoken Melody Ellison thinks the civil rights movement is only needed in the deep south: she attends an integrated school in Detroit, and Motown singers dominate the airwaves. But she soon faces subtler forms of discrimination, when she's accused of stealing from a department store and a white classmate bullies her for the color of her skin. The 16th Street Baptist Church bombing in Birmingham forces her to question her safety and her own place in the community, and she must decide how far she's willing to go to stand up for her rights.
Talking Points: Melody's story is a powerful starting point for conversations about the civil rights movement and racism, both past and present. "Melody 1963: Love Has to Win" also includes a bonus Amazon special highlighting the civil rights movement.
Sensitive themes: Melody lives with her mother and grandfather, as her military father passed away when she was young. Her grandfather doesn't shy away from sharing news of civil rights protests, and the family discusses police attacking peaceful marchers. The Birmingham church bombing, in which four girls were killed, plays a crucial role in Melody's story. Characters discuss it at length, and Melody watches TV footage that features medics carrying a stretcher.
Add to your WATCHLIST
Get the book Melody: An American Girl
---
An American Girl Story – Maryellen 1955: Extraordinary Christmas (2016)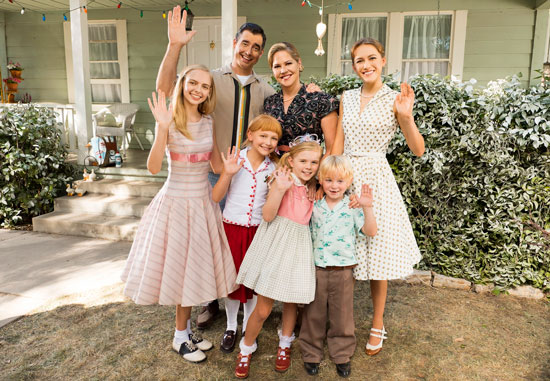 Ambitious, artistic Maryellen Larkin is desperate to stand out in her big family, but her ideas don't always work out the way she hopes. Then family friend Benji comes to stay over the Christmas holidays. Benji, a polio survivor, must walk with a leg brace, and he's hoping a new operation at the nearby hospital will improve his legs. Maryellen, who had polio herself, sympathizes with Benji and decides to stage a Christmas talent show for all the kids in his hospital ward. But the strict doctors won't allow a party, and Maryellen's friends and family accuse her of wanting to show off rather than do something nice for the patients. Maryellen must figure out how to make an impact by thinking of others rather than herself.
Talking Points: Marryellen's story will provoke good conversations about polio, vaccines, and women's roles during and after World War II.
Sensitive themes: Several characters call polio victims "cripples," a term that's immediately criticized by Maryellen and her family. There are several scenes of kids wearing leg braces and undergoing physical therapy at the hospital. Benji only lives with his mother, as his father was killed in the Korean War. Maryellen's oldest sister, Joan, talks of getting engaged straight out of high school.
Add to your WATCHLIST
Get the book Maryellen: An American Girl
---
An American Girl Story- Ivy and Julie 1976: A Happy Balance (2017)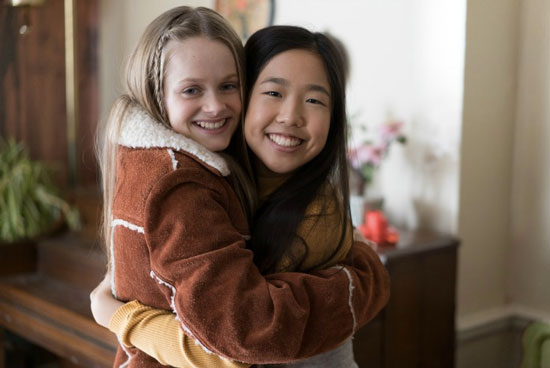 Growing up in San Francisco, Ivy Ling is struggling to find a balance between the expectations of her tight-knit immigrant family and her own desires to be a normal American kid, like her best friend Julie Albright. She has to spend her Saturdays at Chinese school, instead of hanging out with Julie or practicing for the upcoming tournament with her gymnastics team. And when Ivy realizes the big tournament is the same night as her family's Chinese New Year dinner, she's forced to decide between her own ambitions and her duty to her family.
Talking Points: Ivy's story thoughtfully depicts the cultural and linguistic tensions between first- and second-generation immigrants. It's a great starting point for conversations about assimilation, Chinese immigration to California, and the Chinese Cultural Revolution.
Sensitive themes: Ivy feels disconnected from American culture when she realizes no one in her favorite teen magazines looks like her. Julie's parents have recently divorced, and she and her sister are struggling to figure out their loyalties to each parent.
Add to your WATCHLIST
Get the Ivy & Julie book 
---

---
Abby Murphy writes young adult books about girls discovering their strengths. A member of SCBWI and The Historical Novel Society, she is represented by Laura Crockett of Triada US Literary Agency. You can visit her blog here, where she writes about reading, writing, history, and her incurable Anglophilia. 
---
If you enjoyed this post, wander over to The Period Films List. You'll especially like the Best Period Dramas: Family Friendly List.