Last Updated on April 14, 2021
As part of our series on period dramas that are suitable – and fun – for kids to watch, we look closely at "Anne of Avonlea," Kevin Sullivan's sequel to the acclaimed 1985 "Anne of Green Gables" miniseries.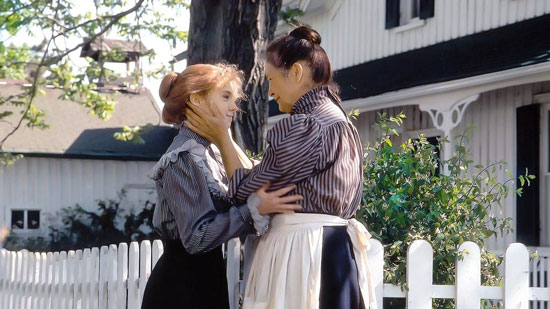 ---
To help keep this site running: Willow and Thatch may receive a commission when you click on any of the links on our site and make a purchase after doing so.
---
We'll dive into what the 4-episode Canadian family period drama is about, including sensitive themes you'll want to be aware of before you watch "Anne of Avonlea" (also known as Anne of Green Gables: The Sequel) with young children. Some spoilers ahead. 
If they haven't watched "Anne of Green Gables" yet, see our article about Introducing Anne of Green Gables to young viewers.
*The "Anne of Avonlea" GIVEAWAY is now closed. See end of the article for the winner. 
---
---
The Storyline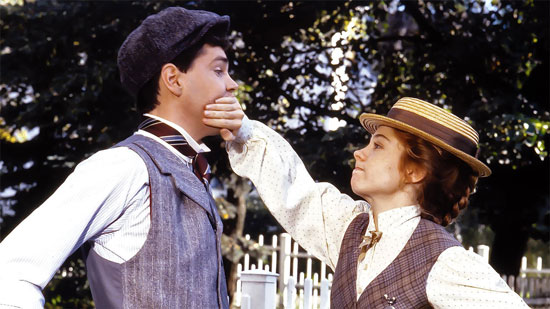 It's 1906 and eighteen-year-old Anne Shirley (Megan Follows) may have agreed to stay on Prince Edward Island at Green Gables to help aging Marilla Cuthbert (Colleen Dewhurst) with the family farm, but that hasn't stopped her from pursuing her dreams. She's a firm but fair teacher at the local Avonlea School, and she's secretly submitting her fiction to magazines in hopes of someday being published.
But the world doesn't line up with Anne's romantic ideals: the magazines aren't interested in her purple prose, and her best friend Diana Barry (Schuyler Grant) has abandoned her for marriage and a dull domestic life. On top of that, everyone in Avonlea keeps encouraging Anne to marry Gilbert Blythe (Jonathan Crombie), her former academic rival who gave up his teaching position at the Avonlea school so Anne could remain at home.
When Gilbert finally proposes, Anne rejects him, feeling that she could never love him as more than a friend. Confused and upset, Anne realizes she needs to escape the stifling atmosphere of Avonlea, so she accepts a teaching position at the fashionable Kingsport Ladies' College.
At first, Anne struggles to settle in. Headmistress Katherine Brooke (Rosemary Dunsmore) runs the school with a strict hand, while the wealthy students have no respect for their new teacher. But with some creativity and the support of her beloved Miss Stacey (Marilyn Lightstone), Anne wins over the tightknit Kingsport community.
Tutoring bright young Emmeline (Genevieve Appleton) leads her to befriend the girl's grandmother (Wendy Hiller), who once reigned as town matriarch. And Emmeline's widowed father (Frank Converse) may turn out to be the melancholy romantic hero Anne's always dreamed of. Still, she can't forget Gilbert, and the longer she stays in Kingsport the more she misses Green Gables. As Avonlea calls her home, Anne must decide where her future lies.
The Themes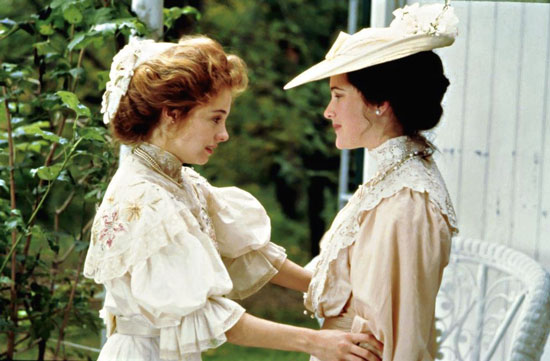 While the original miniseries focused on Anne's search for a home and family, "Anne of Avonlea" deals more in the struggles of growing up and accepting change. Diana's engagement to "boring" Fred Wright takes Anne by surprise, and she has a hard time accepting the idea that her bosom friend wants a quiet domestic life rather than to share in her adventures beyond Avonlea.
Similarly, she struggles to look beyond her unrealistic childhood ideals. She's so determined to hold out for a dark, brooding romantic hero that she dismisses her feelings for Gilbert, despite their crackling chemistry. Gilbert encourages her to push her writing, too; rather than churning out chivalric romances, he tells her to write "real people who use regular English." But stubborn Anne takes her stories too seriously to consider changing. It's not until she leaves Avonlea and confronts her ideals head-on that she realizes how unfulfilling she finds them.
Despite its sweeping themes, "Anne of Avonlea" offers the same sense of rural adventure and comfort of the first miniseries. Megan Follows is delightful as a matured, effervescent Anne who (still) can't help getting into scrapes.
When her cow ruins neighbor Rachel Lynde's fields, Anne impulsively races through the muddy pasture to catch and sell the cow before Rachel finds out, only to face-plant in the muck right in front of Gilbert's father. And at Kingsport Ladies' College, Anne sets aside her authority as a teacher to help Emmeline and a friend sneak out of the dorms at night. Using a knotted bed sheet, Anne lowers the girls onto the shed roof to rescue a confiscated bicycle. But the rotten roof gives way, sending Anne and her students crashing through in a decidedly unprofessional manner.
Director Kevin Sullivan strikes the perfect tone here, balancing the energy of Anne's continual mishaps with her good intentions to help others. It's a portrayal that will resonate with young viewers.
Is it important to watch Anne of Green Gables first?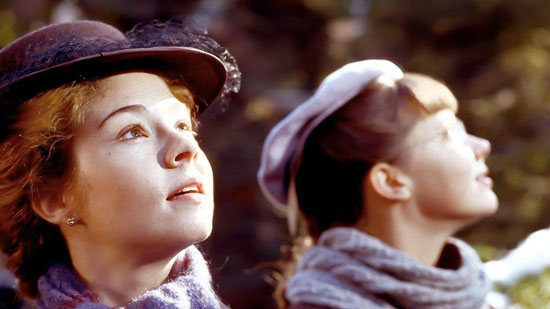 It's helpful but not essential to begin with Anne of Green Gables before diving into this adaptation; Sullivan does an admirable job reviewing events of the previous miniseries.
However, while his adaptation of "Anne of Green Gables" remained relatively faithful to Lucy Maud Montgomery's original novel, he took more creative liberties with the sequel. Here Sullivan has cobbled together the plots and characters of several Anne books, and while the result is a cohesive, compelling narrative, purists may balk at the way the miniseries diverges from the novels. But it's a beautiful film in its own right, continuing Anne's story with the same gorgeous cinematography and timeless themes.
Sensitive Themes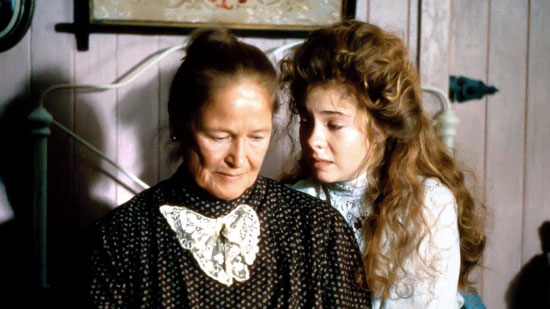 "Anne of Avonlea" is rated G and is likely suitable for children eight and older, but you know your child best. Romance plays a larger role in this film than in the first, but it never goes beyond a few embraces.
Scenes which may upset very sensitive viewers include a mention of cannibalism, the death of a minor character onscreen, and a scene of corporal punishment in the classroom. Most significantly, Gilbert falls seriously ill, and Anne fears he may die in a scene where she finally realizes her true feelings for him.
How can I watch Anne of Avonlea?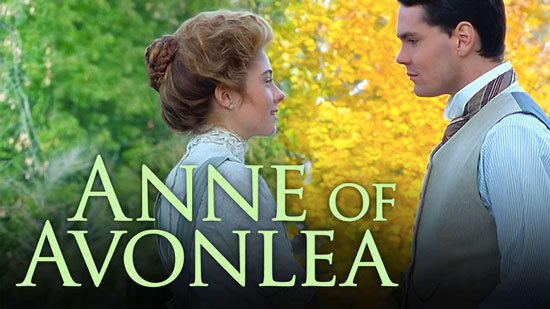 Anne of Avonlea (1987) is AVAILABLE to STREAM
Use the code WILLOWTHATCH for $10 off the Anne of Green Gables Trilogy on Gazebo TV.
Anne of Avonlea (1987) is AVAILABLE on DVD
---
How do I enter to win the Anne of Avonlea Giveaway?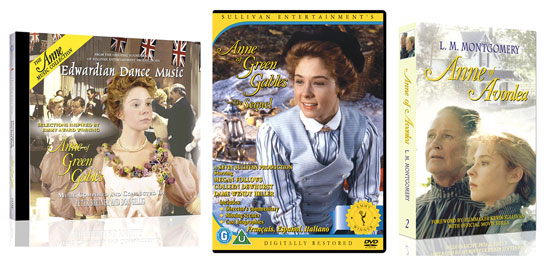 The giveaway is now closed. Rebekah Glasheen is our winner. Congrats and thanks to everyone who entered and shared your love of Anne. 
You'll get two chances to win an "Anne of Avonlea" bundle of a DVD, book, and CD (the Anne of Green Gables: The Sequel (Anne of Avonlea) Standard Fullscreen DVD, Anne of Avonlea Official Sullivan Edition of L.M. Montgomery's Novel, and Edwardian Dance Music: The Anne Music Collection CD) when you publicly share any of our articles (including this one) from the Willow and Thatch website to any of your social networks. You can also share The Period Films List.
Then leave a comment here saying what you shared, and where (just the platform – Facebook, Pinterest, Instagram, Twitter – and your account name are fine). 
If you want just one chance to win, leave a comment below saying why you'd like to win. (But why not share? Not only will you have another chance at winning, but you will help spread the word about Willow and Thatch. Thank you.) Please note: comments are approved manually, so if you don't see yours right away, that's why.
Please scroll down to the last comment to leave yours, instead of leaving it as a reply to someone else's.
One (1) winner will be chosen randomly. Open to residents of the United States and Canada only, aged 18 and older. Canadians must state that they are from Canada at the time of entry.
See the Official Rules. Contest closes Friday, November 8, 2019 at 9:59 PM EST and the winner will be announced here that weekend.
Everyone can feel like a winner: use coupon code Willow&Thatch for 10% off Anne-related products (and more) at ShopatSullivan and code WILLOWTHATCH for $10 off the Anne of Green Gables Trilogy at GazeboTV, the streaming home of "Anne of Green Gables," the sequel, and other quality family movies and TV series. 
---
Abby Murphy writes young adult books about girls discovering their strengths. A member of SCBWI and The Historical Novel Society, she is represented by Laura Crockett of Triada US Literary Agency. You can visit her blog here, where she writes about reading, writing, history, and her incurable Anglophilia.

If you enjoyed this post, wander over to The Period Films List. You'll especially like the Best Period Dramas: Family Friendly List. Also see Introducing Anne of Green Gables, and the Family Film Roundup: American Girl Series. If you are wondering about the Netflix series, see 10 Reasons to Love Anne with an E.