Last Updated on May 17, 2019
What does life after the loss of a loved one look like in the period drama? The narrative of the widow can be as striking as the mourning costume she wears, but explored through the role of emotion in history, life after the loss of any loved one, is an engaging subject.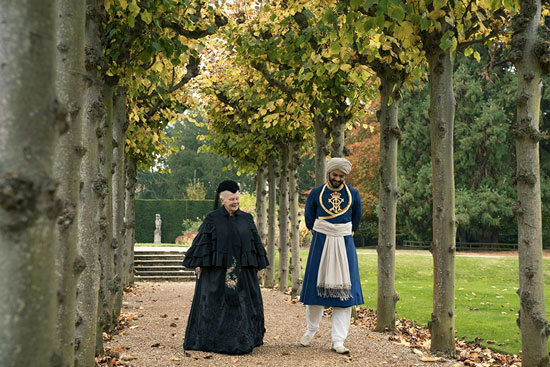 ---
To help keep this site running: Willow and Thatch may receive a commission when you click on any of the links on our site and make a purchase after doing so.
---
In 1861, the early death of Prince Albert put the spotlight on grief for the whole country. Queen Victoria gave widowhood new meaning and importance: now, death was private, and mourning was public: a change from customs of the previous centuries, where death was public and mourning private. After Albert's passing, the "Widow of Windsor" continued to demonstrate her love towards husband (her counsellor, advisor, guide) in such a passionate way that House of Commons feared she was neglecting her role as regent, but it inspired her subjects.
Victoria shaped the idea of the virtuous widow, becoming the prototype for the nation, and setting a new standard for mourning etiquette, which trickled down through all classes. For the common 19th century woman, social position would always be tied to the loss of her spouse until she was to remarry. Beyond losing a partner, and possibly status, widowhood also meant an outward change in her life, through demeanor, lifestyle, mourning dress and jewelry, often containing a lock of hair of the deceased.
These new societal expectations about right behavior during mourning extended to the loss of any loved one. Mourning wear, black like the spiritual darkness of the the person in mourning, was aligned with fashion in general. It protected the wearer's feelings, as people would recognise that "this person" was in mourning. Manuals advised on customs like the appropriate duration to mourn a distant relative, how long to stay away from public amusements, and on the stages of mourning, so a person would know when to wear the veil on the back of the bonnet, instead of covering the face. Though some chose to outwardly display their grief for life, most transitioned out of mourning in the period deemed appropriate by society.
Period dramas about loss of a loved one don't begin or end with the Victorian era, but elements of the 19th century image of widowhood reverberate through many of them. The subject has long been a popular one, and not just the story of the courageous but heart-broken woman who forges ahead into a new life, or quietly holds vigil to the memory of her husband. Franz Lehár's 1905 operetta "The Merry Widow," the story of a widow sought after for her riches, has been adapted five times; "Imitation of Life," the emotionally-charged drama about two 1940s-era widows and their troubled daughters, twice, and "Gone with the Wind's" Scarlett O'Hara captured the world's imagination as an unfeeling two-time widow. Filmmakers continue to explore the topic with a wide range of perspectives: tenderness, honesty, humor, and even through themes of intrigue. 
---
---
Below, we've listed chronologically, some period dramas portraying what comes after the loss of a loved one, for queen and commoner, throughout the different eras.
We decided to start our selections at the close of the 18th century and conclude in the 1960s. Then, we look at a few titles that focus on men (as widowers or suffering loss), and finally have a special section in case you are looking for something more "Hallmark-y."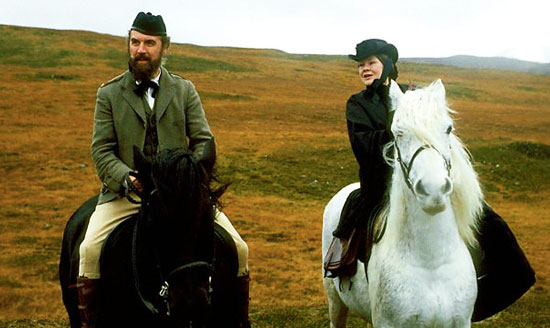 Widows & Women Suffering Loss in Period Dramas
---
---
Love & Friendship (2016): Set in 1790s London, this adaptation of the Jane Austen novella "Lady Susan" centers on the recently widowed Lady Susan Vernon (Kate Beckinsale), who seeks refuge with her in-laws to escape the scandalous rumors surrounding her private life. While at their estate the scheming Lady Susan decides it's time to secure a husband for herself and for her somewhat reluctant and awkward daughter.
Starring Kate Beckinsale, Chloe Sevigny, Xavier Samuel, Emma Greenwell, Justin Edwards, Tom Bennett.
Rated PG
Watch the TRAILER
Add to your WATCHLIST 
Also worth noting: the premise of Jane Austen's Sense and Sensibility is that the Dashwood sisters, members of a wealthy English family of landed gentry, must deal with circumstances of sudden destitution, when their mother becomes a widow.
---
Vanity Fair (2018): Though the cunning, social ladder climbing, Becky Sharp becomes a widow during the course of this lavish seven-episode series, "Vanity Fair" is listed here because of her childhood friend Amelia. At turns, the circa 1810 – 1820 paths of Becky and Amelia run parallel, diverge, zig-zag and re-converge, but they couldn't be more different in character. Innocent Amelia marries George, a man utterly unworthy of her unfaltering blind devotion; he is killed at war. Ameila, now a widow, refuses to see her George for the selfish man he was, and her ardent protection of his memory could rob her of real love, if she doesn't face the truth.
William Makepeace Thackeray wrote "Vanity Fair" a decade into the Victorian era, before Victoria had forever impacted perceptions of widowhood, but managed to infuse it with plenty of Victorian morality. 
Starring Michael Palin, Olivia Cooke, Tom Bateman, Johnny Flynn, Claudia Jessie.
Rated TV-14
Watch the TRAILER
Add to your WATCHLIST
---
The Tenant Of Wildfell Hall (1996) BBC: This three-part adaptation of Anne Bronte's novel tells the story of a young woman with a mysterious past, who moves to a small Yorkshire community with her five year old son. Set in the early 19th century, Mrs. Helen Graham arrives as a widow but shares no more details about her life. She and her child live in an old mansion, and she takes up work as a landscape artist. Two men are attracted to Mrs. Graham, and because she keeps to herself, earns a living, and is outside of society, the town's people start gossiping about her impropriety. Though the drama begins in the late Georgian era in 1827, Bronte infused the narrative with Victorian era notions about what a wife, and widow, should be, but did so from a feminist perspective.
Starring Toby Stephens, Rupert Graves, James Purefoy, Tara Fitzgerald.
Rated TV-14
---
Middlemarch (1994) BBC: After his takes on "Les Misérables," "Pride and Prejudice" and "Bleak House" (among others), we've come to expect Andrew Davies to be the man to adapt the classics, but "Middlemarch" was his first. Davies' faithful adaptation of George Eliot's Victorian masterpiece, with it's interiors designed to look like Dutch paintings, is a handsome mini-series that follows Dorothea Brooke from 1829 – 1832, a woman soon widowed after the marriage of her significantly older husband. Eliot puts the spotlight on the consequences of choosing the wrong partner, and in the case of our protagonist, on its lasting, unhappy implications for the early 19th-century widow.
Starring Caroline Harker, Rufus Sewell, Clive Russell,  Colum Convey, Douglas Hodge, Elizabeth Spriggs.
Rated TV-PG
---
Confession of a Child of the Century (2012): After the end of the Napoleonic Wars, in the 1830s French countryside, a decadent Parisian libertine (betrayed by his mistress, and in the wake of the loss of his father) falls in love with Brigitte, a gentle, older widow. His cynicism about love in the new century compete with his ideals about love. 
This adaptation of French Romantic Alfred de Musset's 1836 novel of the same name, is based on his own affair with female novelist George Sand. The period drama's many negative reviews come largely from criticism of Pete Doherty's (a musician, not a professional actor) performance as the dandy a la Beau Brummell, but the story of the relationship between his character, and the provincial widow (an excellent Charlotte Gainsbourg), may warrant a watch for those interested in the topic.
Starring Charlotte Gainsbourg, Pete Doherty, August Diehl, Lily Coyle.
Rated TV-MA
Watch the TRAILER
Add to your WATCHLIST
---
My Cousin Rachel (2017): Daphne Du Maurier's "Rebecca" gets a lot of attention, but she authored another suspenseful story about widowhood that made it to screen. "My Cousin Rachel" was first adapted in 1952, again as a TV mini-series in 1983 by the BBC, and more recently in 2017. The mid-19th century set title engages the mood and themes of the romantic Gothic novel that fascinated the Victorians. Philip, a twenty-something Englishman who learns that his wealthy guardian Abrose is dead, and that he has inherited Ambrose's farm in Cornwall, narrates. Even though they've never met, Philip is convinced that Abrose's new wife, Rachel, must be responsible for the death. 
When Philip and Rachel do meet, Philip isn't so sure she is a murderess, despite the soporific tea she serves him, and her mysterious past. The sexually innocent Philip becomes captivated by the unconventional widow, and here the real ambiguity begins: is Rachel actually evil, or just a woman trying to live on her own terms?
Starring Sam Claflin, Rachel Weisz, Holliday Grainger, Iain Glen.
Rated PG-13
Watch the TRAILER
Add to your WATCHLIST
---
Mrs Brown (1997): "Mrs Brown" lays powerful emphasis on the social implications of Queen Victoria as a widow, a broken recluse. Set in 1861, the queen (Judi Dench) is inconsolable after Prince Albert's death, and the court is at a loss as to how to handle the brokenhearted, but headstrong, ruler. They wish to console her, but fear that her dedication to Albert is increasing her popularity with the public.
Scotsman John Brown (Billy Connolly), a former servant of the beloved Prince Albert, is summoned to the court. His duty is to help Victoria resume a public life – and this works better than expected.
Brown's empathy is a salve to the queen, and he uses unconventional means (even addressing the Queen as "woman") to shake her from her grief. As their friendship deepens, servants and other members of the household, including the Prince of Wales (David Westhead) begin to question whether this is still all "proper" and right. Even for Victoria, widowhood was a walk on the tightrope, and every close relationship to a man could be construed as a betrayal of the lost love.
Look for elaborate examples of 19th century mourning dress, and expect a your heart to be warmed as you watch the queen regain her lust for life.
Starring Judi Dench, Billy Connolly, Geoffrey Palmer, David Westhead.
Rated PG
Watch the TRAILER
Add to your WATCHLIST
---
Affinity (2008): In this 1870s-set gothic drama based on the novel by Sarah Waters and adapted by Andrew Davies, protagonist Margaret (Anna Madelay) is in mourning not for a husband, but for her father. She is consumed by grief, unable to enjoy her life of privilege and wealth. Margaret decides to take the focus off her own concerns by becoming a "Lady Visitor" at the Millbank Prison for women. There, she meets the young Selina (Zoe Tapper), one of the inmates. Selina was a celebrated London medium, and soon we – and Margaret – learn that things aren't always as they appear.
"Affinity" develops into a suspenseful thriller with forbidden romance, obsession, and the supernatural at its core. The film's carefully crafted period settings and costumes make for a believable foray into the Victorian era, while its plot creates an engaging look at how blinding grief and desperation can be. "Affinity" should appeal to readers who enjoy the works of Henry James and Wilkie Collins, and to fans of costume dramas like "Fingersmith" and "The Woman in White."
Starring Zoë Tapper, Amanda Plummer, Anna Madeley, Anna Massey, Anne Reid.

Rated 16+
---
Conagher (1991): Based on the novel by Louis L'Amour, sometime around the 1870s Evie Teale (Katharine Ross) travels with her husband and children to the remote, isolated West to homestead a ranch, but her husband soon dies in an accident far from home. Evie and the children are left to fend for themselves far from civilization, not knowing if her husband is dead or alive. The strong but lonely widow runs a stagecoach way station, and her life intertwines with a cowboy named Conagher (Sam Elliot). Their growing affection for each other and Conagher's need to travel the wide-open spaces mean they need to tread cautiously toward love. A slow-burn frontier romance and Western wrapped into one.
Starring Sam Elliott, Katharine Ross, Barry Corbin, Ken Curtis, Paul Koslo.
Rated PG
Watch the TRAILER
Add to your WATCHLIST
---
Woman Walks Ahead (2018): This is the story of Catherine Weldon, a headstrong widowed artist from New York who, in the 1880s, traveled alone to North Dakota to paint a portrait of Chief Sitting Bull. Her arrival at Standing Rock is met with open hostility by a US Army officer, who has stationed troops around the Lakota reservation to undermine Native American claims to the land. As Catherine and Sitting Bull grow closer, and as their friendship—and his life—are threatened by government forces, Catherine must stand up and fight for what is most important to her.
Starring Jessica Chastain, Michael Greyeyes, Chaske Spencer, Sam Rockwell.
Rated R for brief violence and language
Watch the TRAILER
Add to your WATCHLIST
---
Victoria & Abdul (2017): This biographical screen adaption of Queen Victoria sees Dame Judi Dench in the role of her majesty for a second time. Released, and set, twenty years after "Mrs Brown," the historical drama might be regarded as its sequel.
It's 1887 – the year of Queen Victoria's Golden Jubilee. Young prison clerk Abdul Karim (Ali Fazal) is instructed to travel to England to present her a token, which has been minted for the occasion of the jubilee. The queen, still in sorrow after the loss of her husband, develops an interest in Karim which blooms into friendship, while her curiosity about India and its culture grows.
The Prime Minister, and the Prince of Wales try to dissolve the bond, but Abdul's loyalty toward Victoria is unshakeable. "Victoria & Abdul" is a vigorously entertaining imagining of the queen's controversial insistence of living, as a widow, on her own terms.
"Victoria & Abdul" provides the audience with a detailed selection of mourning dresses, and is a visual feast all around, as recognized by its Academy Awards® for "Best Costume Design" and "Best Make-Up and Hairstyling."
Starring Judi Dench, Ali Fazal, Eddie Izzard,  Adeel Akhtar, Michael Gambon.

Rated PG-13
Watch the TRAILER
Add to your WATCHLIST
---
Picnic at Hanging Rock (2018): In the final decade of the 19th century, a mysterious woman who says she is a widow, Hester Appleyard, arrives in Australia, haunted by a secret past. Here, in the new world, she establishes a successful school for young ladies. But six years later, on Valentine's Day, 1900, the enigmatic headmistress allows her pupils to picnic at Hanging Rock. And there, in the strange brooding landscape, something unthinkable happens.
Through six episodes chock-a-block with classic Victorian themes, the reimagining of the iconic Australian novel plunges us into the mysterious disappearances of three schoolgirls and their governess. Exploring the event's far-reaching impact on the students and staff of Appleyard College, their enigmatic headmistress and the nearby township, theories soon abound, paranoia sets in, long-held secrets surface, and the mystery deepens.
Starring Natalie Dormer, Lily Sullivan, Lola Bessis, Irma Leopold.
Rated TV-14
Watch the TRAILER
Add to your WATCHLIST
---
The Ghost And Mrs. Muir (1947): Defying her conventional in-laws, young widow Lucy Muir (Gene Tierney) leaves turn-of-the-century London with her young daughter and moves away for a quieter, more independent, life in a secluded seaside cottage. Lucy discovers the ghost of the deceased former owner, handsome sea captain Daniel Gregg (Rex Harrison), is haunting the house, but manages to speak to him.
Faced with dwindling finances, Lucy agrees to the Captain's challenge to write his colorful life story, and they develop a close bond. So close, that things get complicated: "Is Lucy Muir's lover really a ghost? Or is it a man of flesh and blood she yearns for?" Lucy has a second-chance at love when she meets a dashing author, but her happily ever after may have to wait. 
Starring Gene Tierney, Rex Harrison, George Sanders, Edna Best, Vanessa Brown.
Rated 7+
Watch the TRAILER
Add to your WATCHLIST
---
Where Angels Fear to Tread (1991): Recently widowed and anxious to escape the clutches of her oppressively meddlesome in-laws, the wealthy and free-spirited Lilia (Helen Mirren), visits Tuscany with her friend Caroline (Helena Bonham Carter). Lilia falls in love with handsome, young, and poor Italian man, "tasting passion and love for the first time" (Roger Ebert). Her mother-in-law Irma doesn't think the match is a suitable one, but she can't convince Lilia to return to England. Irma sends her son, Philip and his priggish spinster sister Harriet, to take matters in hand, but they encounter multiple obstacles.
Based on E. M. Forster first novel (1905), the book and costume drama critique Edwardian English society and morals, providing an insightful, funny, and tragic look at the the expectations of the the turn-of-the-century upper-class British widow, and the collision of two different cultures. 
Starring Helena Bonham Carter, Judy Davis, Rupert Graves, Giovanni Guidelli, Barbara Jefford, Helen Mirren.
Rated PG
Watch the TRAILER
Add to your WATCHLIST
---
Winchester (2018): Set in 1906, "Winchester" is a gothic-style thriller about most haunted house in the world, built by Sarah Winchester (Helen Mirren), heiress to the Winchester fortune. Seven stories tall, with hundreds of rooms, it looks like a monstrous monument to a disturbed woman's madness. But Sarah's actually building a prison, an asylum for hundreds of vengeful ghosts – and the most terrifying among them have a score to settle with the Winchesters.
Starring Helen Mirren, Jason Clarke, Sarah Snook, Angus Sampson, Finn Scicluna-O'Prey.

Rated PG-13
Watch the TRAILER
Add to your WATCHLIST
---
Heartland (1979): In 1910, plucky widow Elinore Randall (Conchata Ferrell) and her young daughter, Jerrine (Megan Folson), travel to Montana so that Elinore can take a job running the household of gruff, undemonstrative rancher Clyde Stewart (Rip Torn). Though the Wild West days have faded into the recent past, life in the mountainous area remains difficult. Still, Elinore and Clyde form a quiet but loving bond in the face of backbreaking labor and unexpected adversity. Excellent, highly recommended! Read more about it here. 
Starring Rip Torn, Conchata Ferrell, Barry Primus, Lilia Skala, Megan Folsom, Amy Wright.
Rated PG
Watch the TRAILER
Add to your WATCHLIST
---
Frantz (2016): In the aftermath of WWI, Anna (Paula Beer), a young German woman grieving the death of her fiancé, meets a mysterious Frenchman (Pierre Niney) who visits the fiancé's grave to lay flowers. Anna welcomes him into her life and their shared connection to Frantz propels a haunting tale. With mystery and suspense, through remorse and forgiveness, "Frantz" explores personal loss and the tragedies of World War I. Set in a small town in Germany in 1919. 
Starring Pierre Niney, Paula Beer, Ernst Stötzner, Anton von Lucke.
Rated PG-13
Watch the TRAILER
Add to your WATCHLIST
---
Widow's Peak (1994): This lighthearted period drama about widowhood stars Mia Farrow, Joan Plowright and Natasha Richardson. Set in Kilshannon, Ireland in 1920 – shortly after World War I, a tightly knit community of widows live together in small cottages on a hill outside of the town – Widow's Peak. The First World War has left deep traces in society and this community of widows is one of them: grief became an ingrained part of society during the war. A new (young, attractive) widow – Edwina Broome (Richardson) – joins the community and stirs things up – she's not acting like a widow should. Unexpected events (along with comedic moments, well-written dialogues and moments of witty banter) ensue.
Starring Adrian Dunbar, Jim Broadbent, Mia Farrow, Natasha Richardson, Joan Plowright.

Rated PG
Watch the TRAILER
Add to your WATCHLIST
---
Downton Abbey: Our favorite upstairs-downstairs drama gives a compelling look at how mourning played out in early 1920s England, for one very unhappy aristocrat. In the first series, Lord Grantham's distant cousin once removed, becomes heir to the family estate. Grantham's daughter Mary (Michelle Dockery), and the heir Matthew Crawley (Dan Stevens), develop a friendship. After an unaccepted marriage proposal, other relationships and a war, Matthew would go down on bended knee in the falling snow, to ask again for Mary's hand. In series three, Matthew and Mary wed, honeymoon in France, and Mary conceives a child.
When Mary gives birth to a healthy baby boy, Matthew is overjoyed, and professes his everlasting love for Mary. Moments later, their fates would change, and by the end of the season, Mary is a widow. She enters mourning, saddened both by losing Matthew and the person she was with him. Before she remarries, she visits Matthew's grave to ask his permission for her to move on.
Starring Michelle Dockery, Dan Stevens, Hugh Bonneville, Laura Carmichael, Jim Carter.

Rated TV-14
---
Enchanted April (1992): Two proper 1920s Englishwomen are determined to get away from their drab lives and inattentive husbands, and find paradise in the serene countryside of the Italian Riviera in this enchanting adventure. When the pair rent a magnificent villa for a month, they share expenses with two unlikely companions – an austere widow and a bored socialite. At first, personalities clash, but the hideaway holds a special magic that soon sparks friendships and reminds the women of ways to live and love that have long eluded them. Stellar performances and breathtaking scenery make the Academy Award nominated "Enchanted April" a captivating delight for everyone who's ever dreamed of taking the perfect holiday.
Starring Josie Lawrence, Miranda Richardson, Polly Walker, Joan Plowright, Alfred Molina.
Rated PG
Watch the TRAILER
Add to your WATCHLIST
---
Places In The Heart (1984): A widow struggles to save her farm during the Great Depression. Sally Field won an Academy Award for her role in this stirring period drama, which pushes back against the societal expectations for a widow. 
Starring Sally Field John Malkovich, Danny Glover, Ed Harris, Amy Madigan.
Rated PG
Watch the TRAILER
Add to your WATCHLIST
You may also like Mildred Pierce: Midred isn't a widow, but it is an excellent study of a Depression-era woman desperately trying to create a new life for herself and her daughter, after she suffers the loss of her marriage. 
---
Tea with Mussolini (1999): An orphaned Italian boy is raised among a circle of British and American women living in Mussolini's Italy before and during the Second World War. The group of women, called the "Scorpioni" by the Italians, include Lady Hester Random (Maggie Smith), widow of the former British ambassador to Italy, and Elsa Morganthal (Cher), a brash rich young American widow, whom Scorpioni matron Lady Hester barely tolerates.
Starring Maggie Smith, Judi Dench, Joan Plowright, Cher, Lily Tomlin.

Rated PG
Watch the TRAILER
Available on DVD
---
Comes a Horseman (1978): Action, adventure and romance on the American frontier in the 1940s. When a lovely widow (Jane Fonda) is pressured to sell her failing cattle ranch to her unscrupulous and powerful ex-lover (Jason Robards), she enlists the aid of an antagonistic neighbor (James Caan) in a desperate attempt to restore the ranch's fortunes. With great skill and determination, the duo struggle to rope enough cattle to pay off their debts…but their problems are just beginning. Driven by a deep-felt rage against their adversary and a growing affection for each other, they stand tall against stampedes, betrayal and sabotage.
Starring Jason Robards, James Caan, Jane Fonda, George Grizzard.
Rated PG
Watch the TRAILER
Add to your WATCHLIST
---
The Bookshop (2018): Starring Emily Mortimer and Bill Nighy, this recent release takes place in a 1950s English seaside town. A free-spirited widow follows her lifelong dream by opening a bookshop, spurring a cultural awakening over the objections of conservative locals. Bookshop owner Florence earns the polite but ruthless opposition of a local grand dame, and the support of a reclusive, book-loving widower. As obstacles amass, she reminds herself that a town without a bookshop is no town at all. Based on Penelope Fitzgerald's acclaimed novel, "The Bookshop" is an elegant rendering of personal resolve and the battle for the soul of a community.
Starring Emily Mortimer, Bill Nighy, Patricia Clarkson.
Rated PG
Watch the TRAILER
Add to your WATCHLIST
---
A Place to Call Home (2013): Gorgeously filmed and masterfully acted, this acclaimed period drama brims with romance and intrigue – and over the course of the series, focuses on two widows and two widowers. When nurse Sarah Adams (Marta Dusseldorp) returns home to 1950s Australia after 20 years in Europe, she quickly becomes entangled in the lives of the wealthy Bligh family. Sparks fly with dashing widower George (Brett Climo), but she clashes with his formidable mother, Elizabeth, who enlists George's devious sister-in-law to disrupt their romance.
As Sarah settles into rural Inverness, she befriends a good-natured farmer and finds an unexpected ally in the local doctor, Jack, who has a complicated past with George's bohemian sister, Carolyn. Meanwhile, George's daughter, Anna, pursues her own illicit love, and his son, James, hides a painful secret from his insecure new wife, Olivia.
Tackling weighty themes of social class, sexuality, prejudice, and the loss of a loved one with insight and intelligence, this award-winning series has earned rapturous praise from critics and fans alike. Through six captivating seasons, "A Place to Call Home" explores the ties that hold families together and the betrayals that can tear them apart.
Starring Marta Dusseldorp, Brett Climo, Noni Hazlehurst, Craig Hall, Jenni Baird, Noni Hazlehurst.
Not rated, but contains mature themes. 
---
Mrs. Wilson (2019): Alison Wilson discovers in her widowhood that her marriage wasn't what she believed it to be. Her husband Alec has just died when a woman arrives claiming to be Alec's 'real wife.' Alison must try and find out who her husband really was; but it soon becomes clear that Alec died holding his secrets close to his chest. Each of the three episodes deepens the drama, and ultimately provides Alison with a way to make peace with her husband, herself, and her past. Set between the 1940s and 60s. Read more about the period drama from PBS Masterpiece here. 
Starring Ruth Wilson, Iain Glen, Calam Lynch, Fiona Shaw, Keeley Hawes.
Rated TV-14
---
Jackie (2016): After her husband's assassination in 1963, Jackie Kennedy's (Natalie Portman) world is completely shattered. Traumatized and reeling with grief, over the course of the next week she must confront the unimaginable: consoling their two young children, vacating the home she painstakingly restored, and planning her husband's funeral. Jackie quickly realizes that the next seven days will determine how history will define her husband's legacy – and how she herself will be remembered.
Starring Natalie Portman, Peter Sarsgaard, Greta Gerwig, Billy Crudup.
Rated R brief strong violence and some language
Watch the TRAILER
Add to your WATCHLIST
---
Agnes Browne (1999): Based on the book The Mammy by Brendan O'Carroll, "Agnes Browne" is an Irish romantic comedy-drama set in 1967 Dublin. The unexpected death of Agnes Browne's husband sends her family, consisting of seven children aged between two and fourteen, into emotional turmoil and financial crisis. Agnes starts selling fruits and vegetables at an open-air market, where she spends time with her best friend Marion, who proves to be a great source of encouragement in her difficulties. Still, she's forced to borrow money from a loan shark to pay the bills. Wishing to escape her troubles, if only for a short time, Agnes dreams of finding enough money to attend an upcoming Tom Jones concert, and with a little luck and a lot of love, things could work out better for Agnes than she dares to dream.  
Starring Anjelica Huston, Marion O'Dwyer, Ray Winstone, Gerard McSorley, Tom Jones.
Rated R for language
Watch the TRAILER
Add to your WATCHLIST
---
---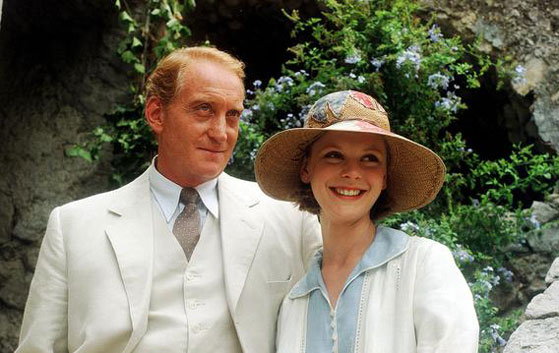 Widowers & Men Suffering Loss in Period Dramas
---
---
Wuthering Heights (2011): Though the action takes place in the late 1700s, "Wuthering Heights" was written in 1847, and is narrated from a Victorian era perspective. This daring interpretation of Emily Brontë's eponymous novel, with Kaya Scodelario as Catherine and James Howson as Heathcliff, is a study in grief. As ever, Heathcliff cannot bear the loss of Catherine, nor the loss of her love; not in life, and not in death.
As directed by Andrea Arnold, the stripped-down telling of the classic is as desolate as Heathcliff. The story of raw, wild desire fed by rejection and vengeance, unfolds on the Yorkshire moor, partly in flashback. It's a cruel tale, as bitter as the feeling of being robbed of the one true, pure thing in this world: love.
Starring Kaya Scodelario, James Howson, Solomon Glave, Shannon Beer.

Rated 14+
Watch the TRAILER
Add to your WATCHLIST
---
Jane Eyre (2006) BBC: "Jane Eyre" offers an unforgettable, tragically romantic story of a man tormented by the loss of love. It's not just that all Mr. Rochester's (Toby Stephens) hopes of happiness are dashed when discovers he's been fooled into marrying the insane Bertha Mason. Brooding Rochester suffers the loss of love most deeply when he is prevented from marrying his, and our, heroine, Jane Eyre (Ruth Wilson). He's not free to do so – and Jane isn't about to compromise herself by accepting anything less – at least not at first. By the time Rochester does become a widower, Jane has fully transitioned from an unloved orphan hoping to be loved, to a financially secure person capable of choosing her own fate. 
Charlotte Brontë's "Jane Eyre" is set in the early 1800s, but many of its social and moral themes reflect the Victorian era, when it was penned.
Starring Ruth Wilson, Toby Stephens, Lorraine Ashbourne, Tara Fitzgerald.

Rated TV-PG
Note: At the time of this writing, part of the description in the link below is wrong, but it is for the correct 2006 BBC production starring Ruth Wilson and Toby Stephens.
---
Rebecca (1997): The ultimate tale of the worst case scenario of being married to a widower, when the memory of the first refuses to die is told in this lavish adaptation of Daphne du Maurier's classic tale of romance, suspense and jealousy. Set in elegant Monte Carlo and dramatic Cornwall in the 1930s.
Maxim de Winter (Charles Dance) proposes to a young woman (Emilia Fox) a woman who is the opposite of Maxim's first wife, the beautiful Rebecca, who mysteriously died in a tragic drowning accident. After Maxim takes his new wife back to his home in Cornwall, the ancient and magnificent Manderley, it soon becomes evident that the shadow of Rebecca is all-pervasive, nurtured all the more by the sinister and gothic housekeeper, Mrs. Danvers (Diana Rigg). The new Mrs. de Winter begins to uncover the darkness of the past that taints the present and threatens to haunt her future.
Starring Charles Dance, Emilia Fox, Diana Rigg, Faye Dunaway, John Horsley, Geraldine James.

Rated TV-PG
---
Mary Poppins Returns (2018): Set in 1930s London, twenty-four years after the events of the original film, the film sees Mary Poppins, the former nanny of Jane and Michael Banks, returning one year after a family tragedy. After the death of his wife, Michael Banks lives in his childhood home with his three children, Annabel, John, Georgie, and with his sister Jane, and they could really use the help of Mary Poppins to being some magic back into their lives. 
Starring Emily Blunt, Lin-Manuel Miranda, Ben Whishaw, Emily Mortimer, Julie Walters.
Rated PG
Watch the TRAILER
Add to your WATCHLIST
---
The Sound of Music (1965): Retired naval officer Captain Georg von Trapp Captain (Christopher Plummer) has been raising his children using strict military discipline following the death of his wife. As the new governess, free-spirited Maria (Julie Andrews) breathes life, and in time, love, into the von Trapp family. Set in 1938.
Starring Julie Andrews, Christopher Plummer, Eleanor Parker,  Richard Haydn, Peggy Wood.

Rated G
Watch the TRAILER
Add to your WATCHLIST
---
Shadowlands (1993): C. S. Lewis (Anthony Hopkins), the renowned author of "The Chronicles of Narnia" series, is a bachelor and Oxford University professor who spends his free time debating with fellow academics at a pub. Although he seems entirely uninterested in love, Lewis agrees to marry Joy Gresham (Debra Winger), an American writer who is looking to secure British citizenship. Their arrangement soon becomes a romance. When Joy is diagnosed with terminal cancer, their bond grows even stronger, and Lewis must confront a terrible truth: that a heart awakened to great love is also opened to great pain.
Starring Anthony Hopkins, Debra Winger, John Wood, Edward Hardwicke, Robert Flemyng, Scott Handy.
Rated PG
Watch the TRAILER
Add to your WATCHLIST
---
And, a man loses his wife in Evelyn (2002), but a greater loss happens when his children are taken away from him because of an arcane Irish custody law that requires children to be raised in a home with two parents. Based on the true story of Desmond Doyle (Pierce Brosnan), who after losing his job and watching his wife leave the country with another man, pulls himself out of despair to wage a legal battle to regain custody in the 1950s.
---
There's also Charles Dickens' Dombey and Son, which gives another angle on Victorian era widowhood, from the perspective of a daughter seeking her father's love after the death of her mother. 
---
---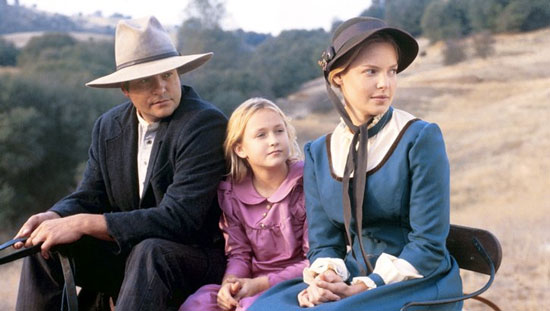 Looking for something more Hallmark-y?
---
---
Little Men is set in rural Massachusetts in the Victorian era, and is based upon Louisa May Alcott's classic 1871 sequel to "Little Women." The series chronicles the heroic struggles of Jo Bhaer (Michelle Burke) as she attempts to manage Plumfield, a boarding school for boys, after the tragic death of her husband Fritz. 
Sarah, Plain & Tall is an excellent a Hallmark Hall of Fame movie, based on the children's book by Patricia MacLachlan. Around the turn of the century, a single New England woman (Glenn Close) responds to an advertisement by a Midwestern widower (Christopher Walken) in which he asks for a bride to help him raise his two children. Followed by the sequels "Skylark," and "Winter's End."
Several of the movies in the romantic Love Comes Softly series have a widow or widower at their center. In Loves Comes Softly, a young woman's husband dies shortly after they arrive to start a new life on the frontier, and with no alternatives, Marty (Katherine Heigl) agrees to spend the winter with a widower named Clark (Dale Midkiff). Her dream of a new life on the prairie becomes a test of her pioneering spirit, her inner strength, and her undying faith.
In Love's Unending Legacy, a woman struggles to cope after the death of her husband, the local sheriff, in the line of duty. As she puts her life back together, the woman adopts a teenage orphan girl – only to become involved in a struggle to save the girl's younger brother. In Love's Everlasting Courage, the wife of a struggling homesteader unexpectedly dies, and the man searches for the strength and courage to raise his young daughter and finds it with the help of his parents. Based on the popular novels by Janette Oke set on western frontier around the turn of the century, and suitable for family viewing. 
The television series The Man From Snowy River takes place in a small town set in the mountains near Melbourne during the late 19th century. It tells the story of Matt McGregor, one of the richest and most influential men in town, and a widower father of three children.
Civil Love is a flawed but "clean" romance that will appeal to those in search of a family friendly movie set in the Victorian era: Rachel (Elise Groves) is a widow during the Civil War who holds the South responsible for her husband's death. When a wounded enemy soldier (DeMoyne Hunt) takes refuge in her barn, Rachel reluctantly helps him. As she gets to know him more, she realizes she must protect him from the dangerous men pursuing him, and discovers a courage she didn't know she had – the courage to love again.
Also try The Redemption of Henry Myers: Henry Myers (Drew Waters) lives a hard life, getting by on the frontier however he can… even if it means robbing a bank. After his latest heist goes wrong and his outlaw friends betray him and leave him for dead, Henry is surprised to find extraordinary kindness from a widow named Marilyn (Erin Bethea) and her children. 
In a similar vein, there's The Outsider: A western love story revolving around the forbidden love between a young widow (Naomi Watts) from a Mennonite-like religious group and a cold-blooded gunslinger (Tim Daly) whom she takes into her home after he is wounded. Apparently the TV-PG version available through Hallmark has been edited to make it suitable for watching with older children, but you may want to watch it alone first to verify that. 
Diane Lane stars in The Oldest Living Confederate Widow Tells All: On her 100th birthday, Lucy Marsden recalls her life as a Civil War veteran's 14-year-old bride. 
Set in the wake of the Civil War, in Legacy, wealthy widower Ned Logan struggles to raise his family alone while upholding the legacy of running a prestigious Kentucky horse farm.
Passion's Way is set in early 1900s France. Reunited under unfortunate circumstances, a widow (Sela Ward) renews an old romantic interest (Timothy Dalton), until she discovers that he had a fling with one her new employees.
Season 6 of the family frontier drama When Calls the Heart sees the community of Hope Valley supporting schoolteacher – and new mother – Elizabeth (Erin Krakow) after the death of her husband Jack Thornton (Daniel Lissing). The plot line of the series, and the original 2013 When Calls the Heart movie starring Maggie Grace also involves coal miner widows. 
In the first episode of Season 7 of "The Waltons," The Empty Nest, Grandpa Zeb (Will Greer) has died and everyone is mourning. The year is 1941, and Grandma (Ellen Corby) will live the rest of her days as a widow, surrounded by her family. 
The Valley of Light is a A Hallmark Hall of Fame original romance. Noah Locke (Chris Klein), a veteran of World War II, wanders the rural roads of North Carolina in search of a place to belong and develops a close bond with Eleanor (Gretchen Mol), a young widow, and Matthew, a mute boy. 
---
Dilara Scholz researches the material culture of death in nineteenth century England, at Royal Holloway, University of London. Her blog Lilac & Bombazine is a journey through Victorian mourning customs and the Victorian closet. Scholz contributed to the research and writing of this article. 
---
Be sure to see The Period Films List,with the best British, historical and costume dramas sorted by era. You'll especially like the list of Strong Women in Period Dramas.