Last Updated on October 24, 2021
Queen Victoria took the throne when she was just 18 years old. Fifty years later, in the summer of 1887, her Golden Jubilee marked one of the world's most lavish celebrations of all time.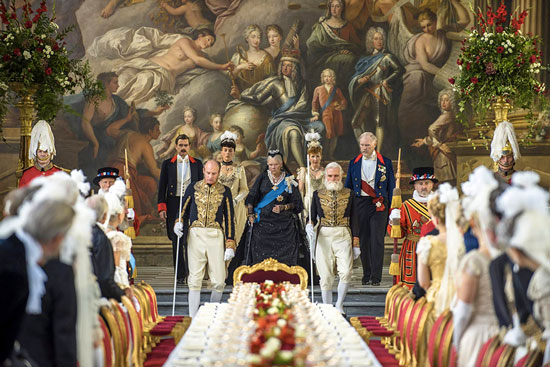 ---
To help keep this site running: Willow and Thatch may receive a commission when you click on any of the links on our site and make a purchase after doing so.
---
For weeks, England celebrated their queen with monuments, a silver coin, gifts from all over the world, and special events. Since the death of her beloved Albert in 1861, Queen Victoria rarely made public appearances. But reports of the growing popularity of Buffalo Bill's Wild West Show in her kingdom caught her attention. After her son, Edward, the Prince of Wales, and his wife, Alexandra of Denmark, attended one of the performances and raved about it, the queen requested a private performance "by royal command."
---
---
The queen was delighted, and the occasion marked the growing goodwill between England and America. But the Golden Jubilee marked the birth of another special relationship for the queen, and this one was less conventional: a friendship between Queen Victoria and Abdul Kareem, the young clerk from India participating in Queen Victoria's golden jubilee.
The endearing yet implausible relationship between these two unexpected friends is the subject of the 2017 biographical drama, "Victoria & Abdul," based upon the novel by Shrabani Basu, and directed by Stephen Frears. Starring Dame Judi Dench, and the engaging Ali Fazal, the twice Oscar-nominated period drama highlights this tender friendship that caused no end of turmoil within the royal household.
---
Victoria & Abdul (2017) is AVAILABLE to STREAM. 
Rated PG-13
---
Below, historical fiction novelist Kari Bovée looks closely at the period drama, and gives us 5 Reasons to Watch Victoria & Abdul. Bovée's latest book Peccadillo at the Palace is set during Queen Victoria's Jubilee celebration. It is part of the author's Annie Oakley Mystery series, which portrays the iconic female sharpshooter as an amateur sleuth, and follows her adventures with the Wild West Show at home and abroad.
In October 2021, "Victoria & Abdul" was made available on Netflix. 

The History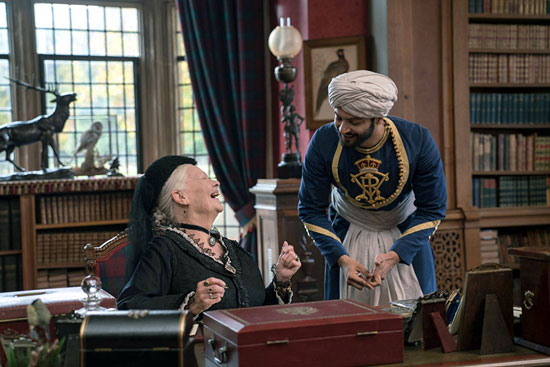 The queen, also the Empress of India, wanted to employ two Indian servants to assist with domestic tasks during the Jubilee year celebrations. Two men from Agra were selected; they arrived on English shores via Bombay. They were Abdul Kareem and Mohammed Buksh.
---
---
Immediately taken with the tall twenty-four year old Karim, Victoria at age sixty-seven, embarked on a platonic, yet nevertheless, scandalous relationship with the young, handsome servant.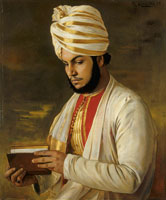 Within months, Kareem was teaching her Urdu, and the queen took to calling him "Munshi" which in Hindustani means "teacher." Over the fourteen years he served her, Karim acted as her personal secretary, was given responsibility for the other Indian servants, received a perpetual land grant, and Victoria appointed him Commander of the Order, a rank that fell between a member of the order and a knight.
She also commissioned a portrait of "the Munshi" by artist Rudolf Swaboda to add to the royal collection.
---

The Friendship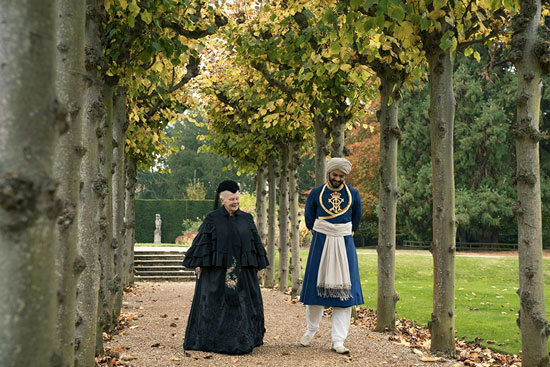 Upon his arrival, Abdul is given strict orders about how to conduct himself around the queen, specifically NOT to make eye contact with her. When he does, Victoria is nothing if not flattered to see Abdul's child-like reverence of her, and her heart is warmed. From that point on, Abdul attends the queen on a daily basis. He tells her of the wonders of India, makes her laugh, and through his warmth of spirit, shows her how important she is to him. While others at the Palace tirelessly fret and fawn over her, or treat her like an old woman who has one foot in the grave, Abdul treats her like an equal and a friend, which she finds delightfully refreshing.
Abdul appreciates the wisdom Victoria has gained from decades of being a mother, a wife, and the head of an empire. She provides Abdul with a refuge from a dull, monotonous job back in Agra, stimulating conversation, and of course, all the privileges that come with being a royal favorite. When those opposed to the friendship and Abdul's elevation in status try to upend the bond, the two cleave together in staunch loyalty, completely confident that their friendship will prevail.
---

Dame Judi Dench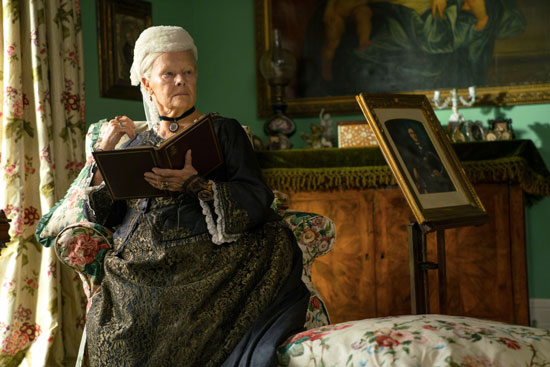 Judi Dench's emotional range is such that she convincingly takes on the persona of the characters she portrays – so much so that it it easy to believe she simply IS the character. Dench has an extra advantage in the costume drama because she revisits her role as Victoria, having first played her in the 1997 film "Mrs. Brown." Her first foray into the 19th century queen's personage in "Mrs. Brown" also highlights a deep and meaningful relationship in Victoria's life that caused an uproar with her family and her subjects. John Brown, a Scottish servant, came to the queen's personal employ shortly after Prince Albert's death, and provided comfort, companionship, amusement, and intellectual stimulation.
In "Victoria & Abdul," Dench convinces us of the queen's deep sorrow at having lost her beloved Albert, and then Mr. Brown, who passed away from illness after years of friendship. She is tired, bored, overweight, and seems to experience no joy in her life. After their first, brief encounter when Abdul presents her with a mohur, a gold coin brought from India as a gift during a royal banquet, he does the unthinkable and makes aforementioned eye contact with her Royal Majesty. With a simple amused lift of the corner of Dench's mouth, we are utterly convinced that hope has been reborn in the aging Queen Victoria.
Dench takes us into Victoria's deep disappointments in life, her exhaustion at being pandered to by those in her household (and her children) for their own advancement, to renewed joy at learning about her Indian empire, it's languages and people, and an unexpected yet much welcomed connection with someone who is far beneath her in social and financial status. The relationship, which bounces back and forth between that of monarch to servant, friend to friend, and mother to son, is deftly portrayed by the two actors, with Dench doing most of the heavy lifting, and Fazal playing to Dench's strengths.
---

The Comedic Moments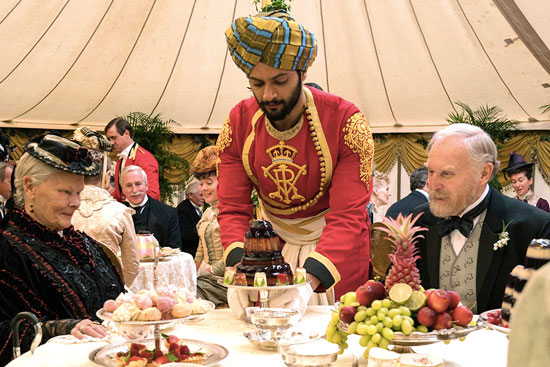 The staunch stuffiness of the English royal household in "Victoria & Abdul" lends itself to some delightfully comedic moments. Abdul serves the melancholic queen a second time at a royal meal, this time at an outdoor luncheon in the gardens. After serving her a "royal pudding" which is a wobbly molded gelatin, he drops to his hands and knees and kisses her royal shoe. Shocked, surprised, and obviously pleased, the queen simply states, "I suddenly feel a great deal better."
Abdul's friend and fellow Indian servant, Mohammed, played by Adeel Akhtar, can all but contain his dismay at his new post as a member of the royal household of "English barbarians." His patience is sorely tested by the cold weather of England and Scotland, the infamously bland British cuisine, and the stuffy, regimental, yet frantic hustle and bustle of the English court. He deftly delivers one liners that bring a chuckle to one's throat.
The courtiers, led by the queen's son, Bertie – the Prince of Wales, played by a perfectly cast Eddie Izzard—are beside themselves at the favoritism Victoria shows to her foreign servant. Led by the Prince, the troupe of malcontent lords and ladies of the household stop at nothing to try to convince the queen to give up her "ridiculous" relationship with Abdul. But the Prince is thwarted at every turn by his aging yet head-strong mother. After years of attempts to end the relationship, Bertie's antics and manipulations culminate in a near mutiny by the royal household. When that fails, he threatens to deem his mother "certifiably insane" to which she gives the most satisfying dialogue of the entire movie, rendering the spoiled, fifty-year old Bertie speechless.
---

The Beautiful Locations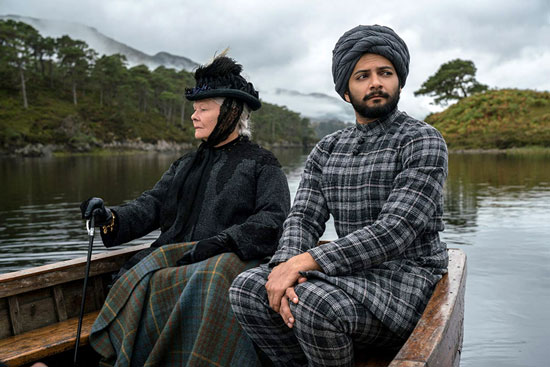 From the start of the film, the cinematography makes beautiful use of the interiors and exteriors of twelve different filming locations. From England to Scotland to India, the locales pull you into the story.
Most of the filming took place on the Isle of Wight, at Osbourn House. Victoria and Albert purchased the estate in 1845, but the rapid growth of their family made it clear they needed more room. Albert took on the task and had the home demolished and then over the next six years rebuilt the Italian-inspired palace we see in the film, and that can be visited today. Victoria once said of the estate, "it would be impossible to imagine a prettier spot." Osbourn House also plays a large role in the third season of the PBS drama, "Victoria," and beautifully illustrates the couples' love of the place.
Within Osbourn house is the Indian-inspired Durbar room which served as a banquet hall for Victoria to entertain her European guests. It is one of the few parts of Osbourn House that Victoria had built herself, several years after Albert's death. The Durbar room was built to signify the queen's growing interest in India, presumably after Abdul comes to her employ. In the period drama, after Abdul tells the queen about the customs, people, and cultures of India—which she has never visited—Victoria decides to build the exquisitely white Durbar room, with ornate carved ceilings and an abundance of potted palms, where she claims she finally really feels like the Empress of India.
The wild and sweeping landscape at the queen's Balmoral estate in Aberdeen, Scotland also pulls the viewer into Victoria's world. In a particularly amusing scene, the queen's royal household is to dine upon a pastoral windswept hill amid lush grasses and bright purple flowers. The scene is so windswept it causes much consternation of everyone participating, aside from Victoria and Abdul who seem to find the bracing winds of no consequence. Concerned about her Indian servants' comfort in the cold of Scotland, Victoria has had Indian-inspired suits and turbans fashioned from wool made for them. When she asks Abdul how he likes his "Scottish costume," he states matter-of-factly "it's scratchy," to which Victoria replies, "Everything in Scotland is scratchy."
To escape the prying eyes and ears of her son and her courtiers—who are still encouraging her to drop her friendship with Abdul—Victoria demands that she and Abdul be taken to the beautiful Galsault Shiel, a quaint lodge built by Victoria as a refuge after the death of Albert, so that they may have privacy and be alone. This is yet another command that raises eyebrows and sets tongues to wagging as the Queen also resided there alone with John Brown several times, which the family and household found immensely offensive and inappropriate.
The Shiel is nestled on the shores of a picturesque, glassy loch, set against a backdrop of misty clouds, verdant trees, and craggy hills. As the small boat rows away after depositing Victoria and Abdul on the shore, Victoria gives a satisfied sigh and states, "Oh, to be by oneself, and live a simple and rudimentary existence." In the quiet idyllic serenity of the lodge grounds, we share in Victoria's sorrow at the loss of her husband, and her "dear John Brown" who often spent time with her there. The setting adds the perfect touch of wistfulness and serenity so desired by this old woman who simply wanted love and peace in her life more than anything else.
---
Victoria & Abdul (2017) is AVAILABLE to STREAM. 
Rated PG-13
---
Kari Bovée is an award-winning writer. Empowered women in history, horses, unconventional characters, and real-life historical events fill the pages of Kari Bovée's articles and historical mystery musings and manuscripts. Her upcoming historical fiction novel, Peccadillo at the Palace: An Annie Oakley Mystery is available May 7th, 2019.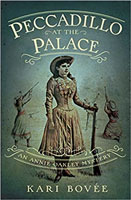 About "Peccadillo at the Palace: An Annie Oakley Mystery": It's 1887, and Annie and Buffalo Bill's Wild West Show are invited to Queen Victoria's Jubilee celebration in London, England. But their long journey across the Atlantic takes a turn for the worst when the queen's royal servant ends up dead and Annie's husband, Frank Butler, falls suspiciously ill. Annie soon discovers that the two events are connected―and may possibly be precursors to an assassination attempt on the queen.
In London, it becomes clear there is rampant unrest in the queen's kingdom―the Irish Fenian Brotherhood, as well as embittered English subjects, are teeming in the streets. But amid the chaos, even while she prepares for the show, Annie is determined to find the truth. With the help of a friend and reporter, Emma Wilson, the renowned poet Oscar Wilde, and the famous socialite Lillie Langtry, Annie sets out to hunt down the queen's enemies―and find out why they want to kill England's most beloved monarch.
Buy the book here.

If you enjoyed this post, be sure to see The Period Films List, with the best historical and costume dramas sorted by era. You'll especially like the Best Period Dramas: Victorian Era list, and want to read what the cast of Victoria had to say about Season 3.