Last Updated on February 18, 2022
Set in 1790s London, Love & Friendship centers on the recently widowed Lady Susan Vernon (Kate Beckinsale), who seeks refuge with her in-laws to escape the scandalous rumors surrounding her private life.
While at their estate the scheming Lady Susan decides it's time to secure a husband for herself and for her somewhat reluctant and awkward daughter.
Based on the early novella Lady Susan, by Jane Austen.
Starring Kate Beckinsale (Stonehearst Asylum, The Aviator, The Golden Bowl, Alice Through the Looking Glass, Emma), Chloe Sevigny, Xavier Samuel, Emma Greenwell, Justin Edwards, Tom Bennett, Morfydd Clark, Jemma Redgrave, James Fleet, Jenn Murray, Stephen Fry.
Rated PG
Available to stream on AMAZON on August 16, 2016. In theaters summer 2016.
On Blu-ray and DVD September 6, 2016.
Willow and Thatch welcomes guest writer Isa; below is her review of the new (lavish!) costume (comedy, romance!) period drama from director Whit Stillman.

Jane Austen is back with a bite in this tale of Georgian era society and the triumph and pitfalls of romance.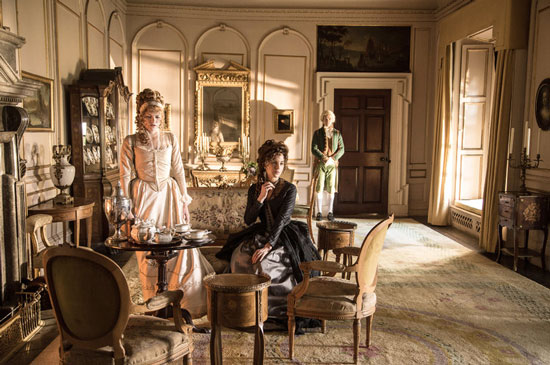 Love & Friendship was never one of the required readings in school or a fan favorite that often got spoken about in my circle of friends, but when it was announced that Kate Beckinsale would star in the film version, I immediately set my sights to watch it. If it was Austen's world, it had no chance but to be devilishly good.
My first impression of the movie was entirely based on the lead character Lady Susan Vernon, as she flees the elegant house of a friend with her daughter. As the film's main obsession, Lady Susan fills Love & Friendship with a certain perniciousness that did not escape me on my first viewing. Kate Beckinsale plays her very sharply, for Lady Susan is not the usual Austen heroine in any regard. While her reputation proceeds her (and therefore isn't spelled out as such), she's overall a pompous woman eager to dismiss her own sins while focusing on the pitfalls of others. Broke, recently widowed and reliant on the kindness of others, it is plainly obvious that as much as she is the protagonist of Austen's tale, she almost most certainly is also the villain of the piece.
Within minutes, it's openly clear that Lady Susan is one of those high-born ladies who uses her charm and beauty to beguile men and infuriate woman while she travels around looking for the hospitality of relatives and wealthy friends. Her draw, including social placement and a well-arranged marriage, tends to get her out of difficult situations where her reputation (such as her friendship with Sir Reginald, an eligible bachelor who is expected to make a prudent marriage) as well as her pocket (her underpaid ladies maid who she calls a friend but forces to work for free) is concerned. All in all, if you do not sit through the first 20 minutes of Love & Friendship in total perplexity as to why anyone would associate with Lady Susan, then you might need to do a little rewind for a second chance at the same scenes.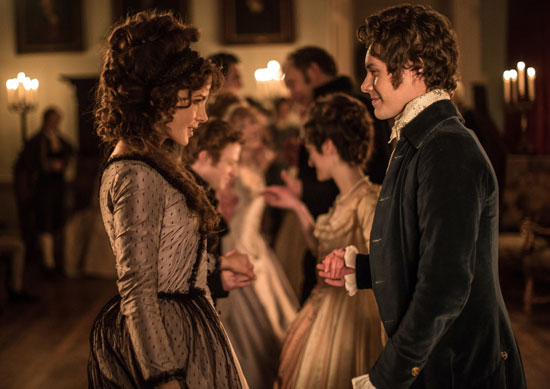 The movie opens with a dramatic and grand gesture—a scene that evokes some unspoken scandal. Susan's retreating black-clad (mourning) figure is seen loading into a carriage, which then moves away from a grand house in the countryside, as well as the houses of wealthy and well-placed inhabitants. It sets up the entire film for one that will ride between decency and gossip. Scandal follows her everywhere through letters and parlors, where some plead her innocence (beguiled men) and some accuse her of guilt (overanxious fathers and disrupted wives).
For fans of Austen, there is a smidge of Emma in Susan—when Emma is a know-it-all and a little bit haughty about her pairings—but from a personal opinion, Susan's a lot more like Caroline Bingley. When it comes to bite, Love & Friendship shows a much more aggressive, unforgiving side of Edwardian life than many of the other favorites I've read. Pride & Prejudice's main characters are charming. The Sense & Sensibility sisters are closer than close without much animosity.
The period film does have its usual slightly "off" and checked-out characters. Charles Vernon is your oblivious male figure, sitting at the head of a household with little understanding of what actually goes on in it. Sir James Martin is the comic relief by way of bumbling idiot, and Alicia Johnson (played by a wicked Chloe Sevigny) is the trusted sidekick. It provides all the elements of a good Austen story, even if it's heroine is not one that will warm your heart.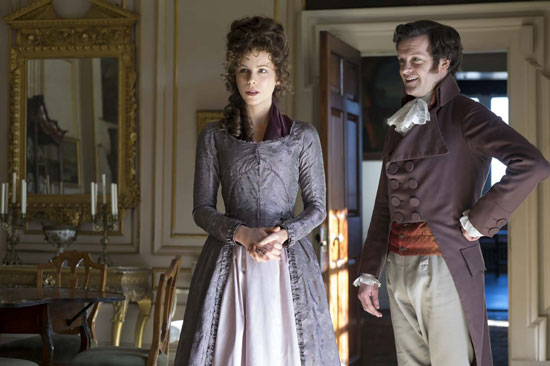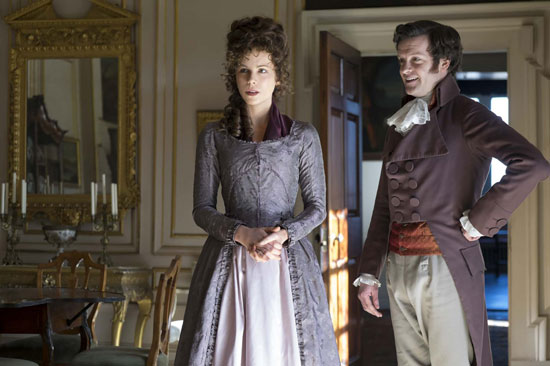 But for all Lady Susan's downfalls, she is aware of the characteristics of the society which she is a creature of and dutifully searches for a match for both herself and her daughter throughout the halls of the British elite. Whether she is successful in her plans or not, that is for the viewer to decide. Only keep in mind throughout that Austen is so very fond of the tied up story and is unlikely to leave her fans with too many questions.
Light and delightful, Austen fans will enjoy watching this farce unfold just to get one more taste of the novelist's famed, rosy world.
About the author, Isa: I've long been an Austen fan, from my first reading of Sense & Sensibility in middle school to the release of Joe Wright's perfect film adaptation of Pride & Prejudice in 2005. It's long been a tradition in my family to love the romanticism of what seems to be a simpler, more civilized time. Before me, my mother was obsessed with Mansfield Park and the 1990's BBC series Pride & Prejudice, and before her, my grandmother with Emma. From there, the obsession with Austen's world is lost in history. A cybersecurity and entertainment blogger for Culture Coverage and Secure Thoughts, I love how modern technology has enlarged the Jane Austen fan base.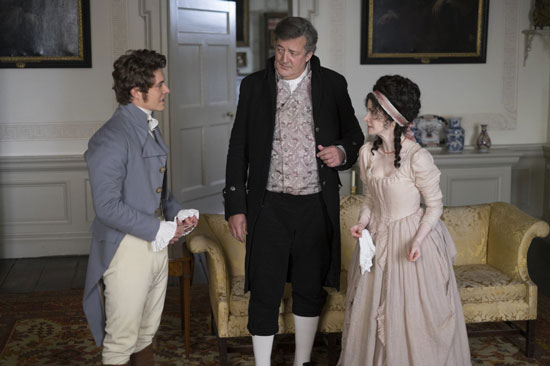 What others are saying about Love & Friendship: 
At times, most often when Mr. Bennett is onscreen, "Love & Friendship" is howlingly funny, and as a whole it feels less like a romance than like a caper, an unabashedly contrived and effortlessly inventive heist movie with a pretty good payoff. – New York Times
Though the deliciously barbed dialogue stays firmly in period, the emotions bubbling up under the film's cultivated surface have a this-just-in tartness. Stillman's Love & Friendship is far more than amiable, it's pure pleasure and one of the best movies of the year.– Rolling Stone
Call it an 18th-century romcom, if you will, a silly, sometimes winkingly salacious warm-up for the likes of "Sense & Sensibility" and "Pride & Prejudice." – Plugged in
Eimer Ní Mhaoldomhnaigh's eye-catching costumes and cinematographer Richard Van Oosterhout's well-chosen Irish locations lend visual heft, but it's the sound of the wicked laughter that Love & Friendship provokes that I will remember longest. What a treat. Well played, Mr Stillman! – The Guardian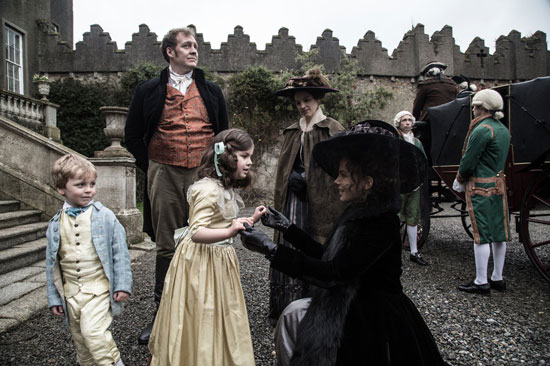 Watching "Love & Friendship" is a bit like watching a nonexistent classic sitcom that happens to be based on Jane Austen, one with impeccable timing that dresses its characters in period garb. This film is great fun. It's the sort of movie that fans will quote to each other to affirm membership in a secret club. – Matt Zoller Seitz for Roger Ebert
You'll want to be sure to check out the Q&A between Love & Friendship's Whit Stillman and Austen scholar Devoney Loose. On Austenprose.
You may also want to watch the following six-minute documentary of the making of the film. Titled Behind the Scenes, the short includes interviews with the director, and the film's leading and supporting actors.

About the novella: The inspiration for the 2016 film "Love & Friendship" starring Chloë Sevigny and Kate Beckinsale, Lady Susan is a magnificently crafted (and frequently provocative) novel of Regency customs and manners, which has become a readers' favorite among the author's shorter works. Austen enthusiasts and students of English literature will delight in its wit and elegant expression.
Beautiful, flirtatious, and recently widowed, Lady Susan Vernon seeks a new and advantageous marriage for herself, and at the same time attempts to push her daughter into marriage with a man she detests. Through a series of crafty maneuvers, she fills her calendar with invitations for extended visits with unsuspecting relatives and acquaintances in pursuit of her grand plan.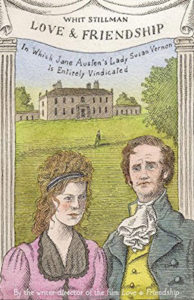 As the plot unfolds, characters are revealed and the suspense builds — all through letters exchanged among Lady Susan, her family, friends, and enemies. Described by her rivals as the "most accomplished coquette in England," amply endowed with "captivating deceit," Susan proves to be a remarkable figure, devoid of any redeeming qualities, whose intrigues and devious machinations ultimately lead to disastrous results.
The novella was written in the 1790s and published after Austen's passing in 1871 by her nephew, James Edward Austen-Leigh.
You may also be interested in Whit Stillman's companion novel to the film, Love & Friendship: In Which Jane Austen's Lady Susan Vernon Is Entirely Vindicated.
With a pitch-perfect Austenian sensibility and wry social commentary, filmmaker and writer Whit Stillman cleverly reimagines and completes one of our greatest writers' unfinished works. As much homage to its muse's perennial influence as testament to its author's brilliance, Love & Friendship is a sharp comedy of manners, and a fiendishly funny treat for Austen and Stillman fans alike.
In the novel, Mr. Stillman takes the characters and plot from Austen's fictionalized letters and narrates the tale from the perspective of Lady Susan's nephew, who hopes to counter criticism of his maligned aunt. The 41 letters from Austen's Lady Susan are included in an appendix. – The New York Times

Whit Stillman–winner of France's Prix Fitzgerald for his prior novel–is the writer-director of five films, including Metropolitan, Barcelona, The Last Days of Disco, Damsels in Distress, and Love & Friendship, a mendacious representation of this story. At university, he was an editor of the Harvard Crimson, and he later worked in book publishing and journalism. His first novel, The Last Days of Disco, With Cocktails at Petrossian Afterwards, was also derived from a film story. Love & Friendship includes the full text of Jane Austen's Lady Susan.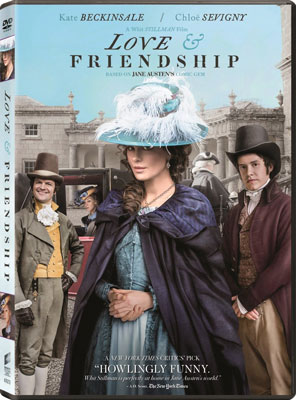 Good news! Love & Friendship will be released on Blu-ray and DVD September 6, 2016.
If you enjoyed this post, you'll want to wander over to The Period Films List, for the best costume and historical dramas. You'll particularly like the Georgian and Regency Era list.
You may also like Will & Jane: The Cult of Celebrity, Strong Women Roles in Costume Dramas, Austen's Sanditon: A New Period Drama, and Jane Austen's life as a new romantic comedy.