Last Updated on January 18, 2022
Willow and Thatch had the chance to talk with New Zealand born Sara Wiseman and Craig Hall, who play married couple Carolyn Bligh and Dr. Jack Duncan on the Australian period drama "A Place to Call Home."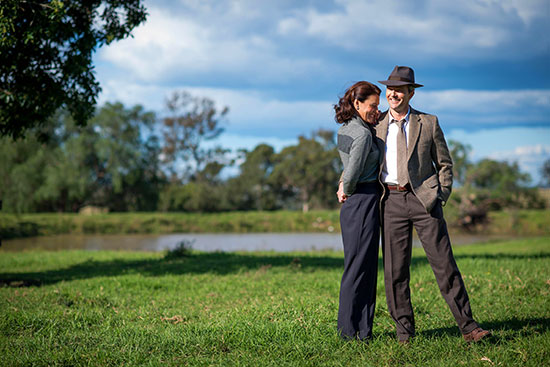 ---
To help keep this site running: Willow and Thatch may receive a commission when you click on any of the links on our site and make a purchase after doing so.
---
If you aren't familiar with the post-war era story, here are the crib notes: it's a slightly soapy saga "brimming with secrets, passion, romance, and intrigue." A pitch perfect cast, high production values, cliffhangers and serious issues combine to form an addictive series that explores the ties that hold families together, and the betrayals that can tear them apart. I've looked forward to every episode, called my sister after most of them to debrief, and will be sorry to see it go. Season 6 will be the last for "A Place to Call Home," but anytime is a good time to start watching.
The characters Carolyn and Jack have faced daunting challenges over the last five seasons, but the pair, who are married in real life (and are as kind as can be), have an on-screen chemistry that keeps viewers in their corner.
Below, Sara and Craig answer our questions, alongside a few of yours.
---
---
Willow and Thatch: "A Place to Call Home" begins in 1953 and at the start of Season 6, it's 1960. One of our readers was hoping you'd tell us if there's anything in Carolyn and Jack's 1950s lifestyle that you wish could be part of your modern lives?
Sara: I would like the cars! I don't know where they find them, but my gosh they are extraordinary.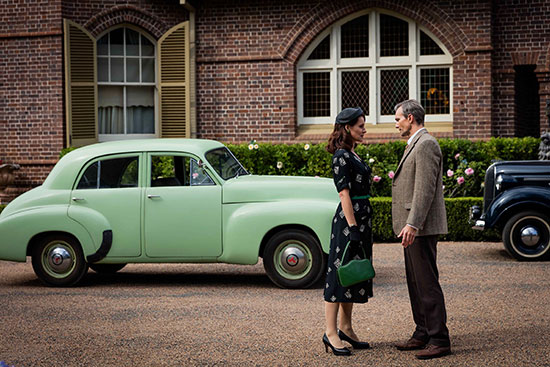 Craig: Yes, the cars, and also the way in which people communicated.
Willow and Thatch: People made more time for each other on a daily basis…
Sara: There was an art of afternoon tea, and an art of preparing for dinner, and after dinner. Despite all they were dealing with, it was a simpler time.
Willow and Thatch: Another reader would like to know if you have a favorite memory from "A Place to Call Home"?
Craig: Well, I'm standing next to my wife, so I guess I'd have to say when we got married. (laughs)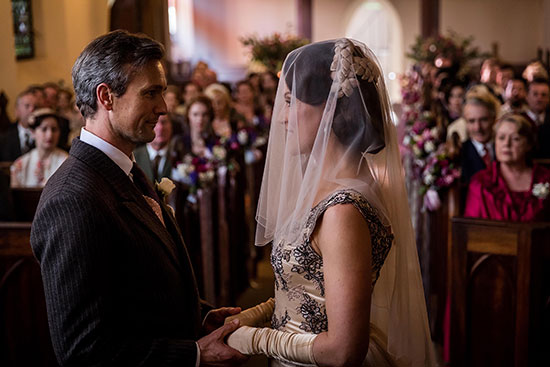 Sara: Marrying Jack is a really special memory, it was quite surreal. It was our 10 year anniversary that year, so it was almost like renewing our vows. It was an overwhelming moment, having another wedding.
Willow and Thatch: It felt like a real wedding?
Sara: Yes… When we are working it's obviously very much Carolyn looking at Jack, and Jack is very much looking at Carolyn, but having a crowd of 100 people or something watching us exchange vows made it special. It was surprising how affecting it was.
STREAM "A Place to Call Home" Now
Willow and Thatch: Sara, you won Best Performance by an Actress in another period-set show, for your portrayal of Kate Sheppard, the suffragette who gained New Zealand women the right to vote in 1893. How did you prepare?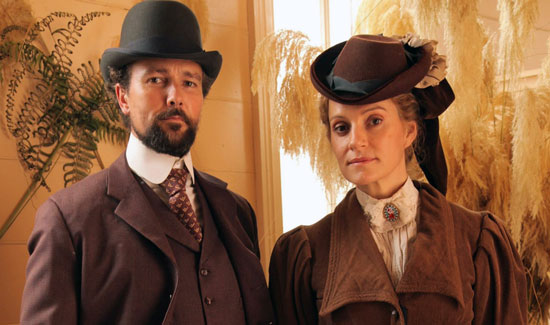 Sara: You are talking about the television movie "Votes for Women: What Really Happened." Kate Sheppard was the suffragette who was one of the primary figures, if not the primary figure, to get the votes for women. So she was a real person, but there are no recordings of her voice or footage of her, only photos. It was quite an extraordinary thing to research, and what those women went through to have a voice. I had an amazing time on that show. Craig also was in "Votes for Women," as William Lovell-Smith, so we worked together on that as well.
(Stream the full-length movie "Votes for Women: What Really Happened" starring Sara Wiseman and Craig Hall for free, at the bottom of this page.)
Willow and Thatch: What were the major differences in portraying Carolyn and Kate – two strong, independently minded and empowered women – living some 60 years apart? Was it challenging to be in a Victorian era drama?
Sara: Carolyn is obviously living in a much more progressive time, and is a lot more flamboyant and outspoken. Kate Sheppard was a conservative, and a very religious women, so she was a lot more refined and a little more well-mannered. In playing Carolyn there is bit more freedom – not only with costume, I was in full skirt with the petticoat and corset for "Votes for Women" – but in the whole environment. But their intellect and emotionality and drive and passion for what they believed in was pretty similar.
Willow and Thatch: Another reader would like to know if you watch all the episodes of "A Place to Call Home"?
Sara: Yes, we do. Obviously we aren't in all the scenes, so we watch it roll out. It's really important to keep in touch with the show, to be aware of what's happened just before.
Craig: It's quite a different thing after it's been put together, with the editing, and the music, and there's emotion that comes out from the script, so it's quite an important thing that we watch the show.
Willow and Thatch: We've had some real scares regarding Jack's well-being. The finale promises "a wave of tears, laughter and most importantly, closure." Are you pleased with how the show concludes, where Jack is concerned?
Craig: Yes, absolutely. For our part, Season 5 can be summed up by what Carolyn and Jack have to deal with in their relationship. It's been a rocky road and it's not over yet, but I think viewers will be gratified by what they see at the end, for sure.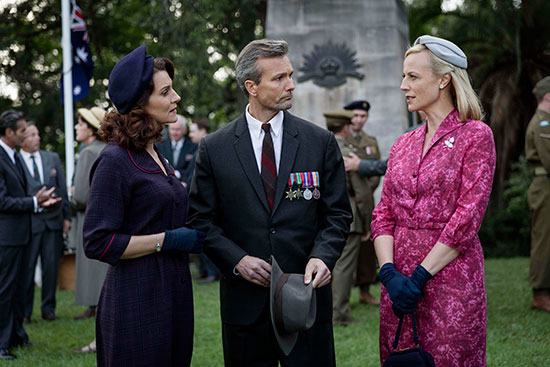 Willow and Thatch: Jack has such an important place on the series. He's a good man, sensitive, thoughtful, generally open-minded, but his painful past has burdened him through much of the show. What would you like viewers to learn from the character?
Craig: I think one of the take-outs from Jack is that with the help of the people around you, the people you love, there is a way through. We all have issues that have to be faced, and we all have coping mechanisms. As scary as it is, actually looking at things head on is when the healing starts.
Willow and Thatch: What will you miss most about working on "A Place to Call Home"?
Sara: It's kind of a tie for me, I'll miss playing Carolyn, because I've been given such a terrific role and have gone on an extraordinary journey, and I will miss the people. We have a wonderful cast and production team and crew – we just do our part and hope it will come out okay – but I can honestly say that all these people are world-class and fantastic to work with.
Craig: I'll certainly miss all the challenges of playing Jack, and the people; a lot of the crew were there from day one. We've become a family.
All six seasons of "A Place to Call Home" are available to binge-watch on Acorn TV. Not rated, but contains adult themes.
STREAM "A Place to Call Home" Now
Thank you to Sara and Craig for taking the time to talk with us. This interview has been edited for clarity.
Period drama fans may be interested to know that over the course of two years, Craig Hall played Chief William Munro on the period series "The Doctor Blake Mysteries", so he is no stranger to "A Place to Call Home's" postwar setting. Craig and Sara were both in one of its episodes in Season 3, called "This Time and This Place."
Watch the full length docudrama "Votes For Women: What Really Happened," starring Sara Wiseman and Craig Hall, below. Roll over the image below for the player controls.

If you enjoyed this post, you'll want to wander over to The Period Films List.