Last Updated on May 1, 2022
BritBox North America, the streaming service from BBC Studios and ITV, is about to premiere its biggest original commission to date: the limited series, "Why Didn't They Ask Evans?" (2022), adapted by Hugh Laurie.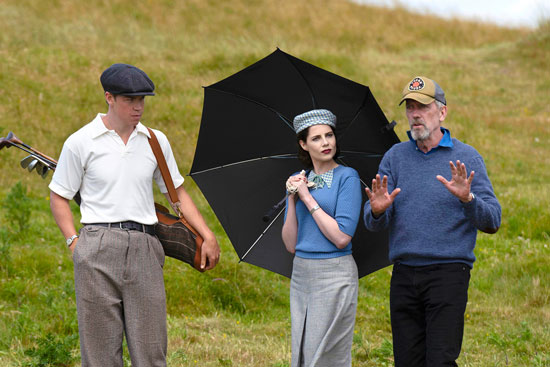 ---
To help keep this site running: Willow and Thatch may receive a commission when you click on any of the links on our site and make a purchase after doing so.
---
The mini-series, an adaptation of the compelling Agatha Christie mystery which Laurie will also direct and executive produce, will make its global debut on BritBox in the U.S. and Canada in April 2022.
The new British period drama is a perfect addition to BritBox, which is the home to the largest Agatha Christie collection.
Read on for details about the plot, cast, for the US release date, and to watch the trailer.
---
---
Hugh Laurie's three-part adaptation based on the iconic 1934 Agatha Christie novel, "Why Didn't They Ask Evans? " (2022) follows the local Vicar's son, the amiable Bobby Jones and his whip-smart friend, socialite Lady Frances "Frankie" Derwent.
On the hunt for a lost golf ball, unsuspecting Jones discovers the crumpled body of a dying man, apparently the victim of an accidental fall, who gasps the cryptic question of the series' title with his last breath. In his pocket: a photograph of a beautiful young woman.
Some people – perhaps most people – might shrug at the impenetrable oddness of the words "Why didn't they ask Evans?" and move on with their lives. But young naval officer Bobby Jones and his childhood friend, Frankie, are not most people.
Armed with only the photo found in the now dead man's pocket, these amateur sleuths resolve to honor the him by deciphering, and then answering, his final question. In so doing, they embark on a crime-solving adventure and prove surprisingly adept at unearthing clues, while hitting upon a dark conspiracy of deceit, betrayal and – perhaps unsurprisingly – murder.
The levity of the duo's wit and banter belies the danger they continuously encounter as they pursue the answer to the mysterious question.
The show stars Will Poulter (The Revenant) as Bobby Jones, the honest young man who becomes entangled in the enigmatic question of the title, and Lucy Boynton (The Ipcress File) as Frankie, a clever and unflappable young woman with a taste for adventure and good hats. Frankie is the daughter of British aristocrats Lord and Lady Marcham, played by Jim Broadbent (Moulin Rouge!) and Emma Thompson (Sense and Sensibility).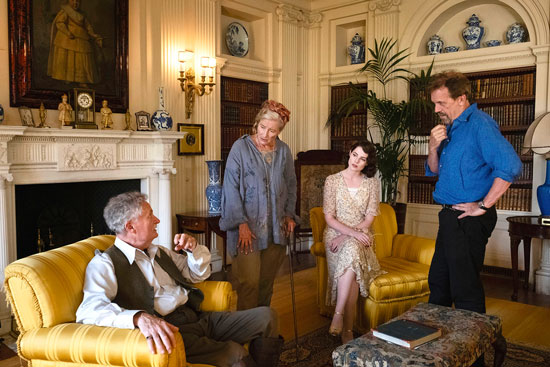 "I loved this book as a nipper and still do. The hairs on the back of my neck haven't properly settled down from the first time I grasped the beauty of the essential mystery. Since then, I have fallen deeper and deeper in love with the characters, and feel immensely honoured to have been given the chance to retell their story in this form," said Hugh Laurie.
Emily Powers, Head of BritBox North America, promises that Hugh Laurie's writing "pays homage to the brilliance of the original Agatha Christie mystery while adding fresh wit, humor, and creativity that will appeal to all audiences." In addition to directing, Hugh Laurie appears in the adaptation as Dr. James Nicholson, the Clinical Director of the sanatorium near the Bassington-ffrench estate, Merroway Court.
The cast also includes Maeve Dermody (The Secret Garden) as Moira, the troubled wife of Dr. James Nicholson, Conleth Hill (Game of Thrones) as Bobby's genial mentor, Dr. Alwyn Thomas, along with Daniel Ings (The English Game) as Roger Bassington-ffrench, and Jonathan Jules (Small Axe) as Ralph "Knocker" Beadon, Bobby's trusted friend and former shipmate.
Miles Jupp (The Durrells) plays Roger's brother Henry Bassington-ffrench with Amy Nuttall (Downton Abbey) as his wife, Sylvia Bassington-ffrench. Alistair Petrie (Victor Frankenstein) also joins the cast as Bobby's father, Rev. Richard Jones, along with Paul Whitehouse (The Personal History of David Copperfield) as the landlord of a country inn, Morwenna Banks (Skins) as Mrs. Cayman, and Joshua James (Cyrano) as Frankie's long-suffering ally, Dr. George Arbuthnot.
The series is commissioned by BritBox North America and produced by Mammoth Screen and Agatha Christie Limited, which is managed by Christie's great grandson James Prichard. Their previous collaborations include the hugely successful "The ABC Murders" starring John Malkovich, "And Then There Were None," and most recently "The Pale Horse."
Helen Ziegler, Director of Television and Executive Producer at Mammoth Screen said that Laurie's scripts are "dazzling" and "take the mischief and cleverness of the original novel to a new level. She adds, "With Hugh sitting in the director's chair, this really is going to be an authored treat for Christie fans everywhere."
"Why Didn't They Ask Evans" (2022) premieres on BritBox in North America April 12, 2022.
"Why Didn't They Ask Evans?" (2022) is AVAILABLE to STREAM
Rated TV-MA
---
Mammoth previously adapted Why Didn't They Ask Evans? for ITV in 2009. The feature-length Marple Season 4 episode starred Sean Biggerstaff, Georgia Moffett, Natalie Dormer, Rafe Spall, Richard Briers, and Samantha Bond. In 1980, James Warwick and Francesca Annis starred as amateur sleuths Bobby Jones and Lady Frankie Derwent in  "Why Didn't They Ask Evans?," a London Weekend Television production for ITV. A few years later, Warwick and Annis paired again as Christie sleuths Tommy & Tuppence in the television series "Partners in Crime."
---
---
---
If you enjoyed this post, wander over to The Period Films List. You'll also want to read about Sister Boniface Mysteries, the collection of Agatha Christie films on BritBox here and here, and see the list of the Best British Period Mysteries Adapted from Books.