BritBox, the BBC / ITV streaming service loaded with British tele for North America, has commissioned a spin-off of the long-running BBC "Father Brown" period mystery series.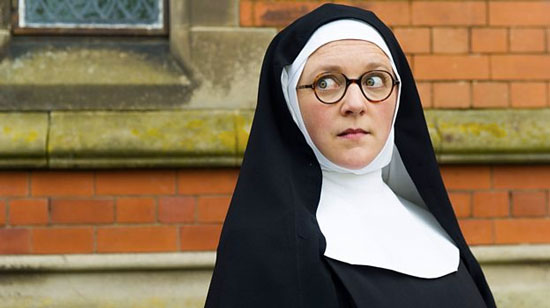 ---
To help keep this site running: Willow and Thatch may receive a commission when you click on any of the links on our site and make a purchase after doing so.
---
Here's everything we know about "The Sister Boniface Mysteries," filming in summer 2020.
---
---
In Season 1 of Father Brown, the BBC series about a local priest who often finds himself solving the town's biggest crimes, two nuns are murdered. Father Brown investigates in the convent with the help of Sister Boniface (Lorna Watson), a young nun keen on detective fiction.
Now, Bride of Christ Sister Boniface is back as the head sleuth with her own cozy mystery series.
In a 10-episode series headed to BritBox North America, "The Sister Boniface Mysteries" will serve up light-hearted murder mysteries set in rural Warwickshire, England during the 1960s.
Sister Boniface is busy indulging her addiction to popular detective fiction and making wine at St Vincent's Convent, but she's about to become a secret weapon for the Great Slaughter Constabulary.
Boniface (in a role reprisal by Watson) is made the official Police Scientific Advisor. At a time when police forensics is rudimentary, Boniface's I.Q. of 156, her PHD in forensic science and fully equipped crime laboratory make the nun a huge asset to the police.
Working alongside charming Detective Inspector Sam Gillespie, Sister Boniface uses advanced scientific techniques to track down killers.
DNA is yet to be discovered. Blood testing can take days. The notion of trace evidence is in its infancy and the preservation of crime scenes is shockingly hit and miss. But if it's a poison or the tiniest fiber or hair, Sister Boniface is on it. She's more up to speed on the latest forensic techniques than the Police.
Also by their sides: high-flying Bermudian Detective Sergeant Felix Livingstone, who is left reeling by a cast of eccentric local characters and his boss's reliance on a nun. Felix was supposed to be on secondment to the Metropolitan Police but an administrative error lands him in Great Slaughter. Although as Sam points out, that "Nun" ensures they have the highest clean-up rate in the county.
"The Sister Boniface Mysteries" has been commissioned by President and Founder, Soumya Sriraman for BritBox North America, who said that Lorna Watson caught his attention when the character Sister Boniface was first introduced in "Father Brown."
Lorna Watson said, "I can't wait to get back in the habit and fight crime in "The Sister Boniface Mysteries"! She is such a fun character to play. Quirky, funny, endearing and a total brain when it comes to forensics. In many ways she's ahead of her time and I love her for that. It's not every day you get to play a crime solving, Vespa driving nun."
The period drama is produced by BBC Studios and created by Jude Tindall, who brought us "Father Brown," based on the character created by G.K. Chesterton.
Stay tuned for the US premiere date.
The period series comes from the award-winning team behind hit series like "Father Brown" and "Shakespeare & Hathaway." BBC Studios Distribution is the global distributor for the series. As of January 2020, BBC Studios are in discussions with potential broadcasters in the U.K.
About BritBox: BritBox is a digital video subscription service offering the largest collection of British TV in the U.S. and Canada. Created by two British content powerhouses—BBC Studios, the subsidiary arm of the BBC, and ITV, the UK's biggest commercial broadcaster—the service features iconic favorites, exclusive premieres, and current series and soaps—most available within 24 hours after their UK premiere. BritBox is available as a Prime Video Add-on Channel, with a free 7-day trial. Visit the BritBox website. 
---
If you enjoyed this post, wander over to The Period Films List. You'll also want to see our list of the Best British Period Mysteries Adapted from Books, and read about Miss Scarlet and The Duke, coming to PBS.