Last Updated on March 27, 2022
"It's 1769. Britain is a colonial empire and a slave trade capital." Thus announces the opening scene of "Belle" (2013), Amma Asante's film about the real-life person Dido Elizabeth Belle, the daughter of an enslaved African woman in the West Indies, and John Lindsay, a British Royal Navy officer.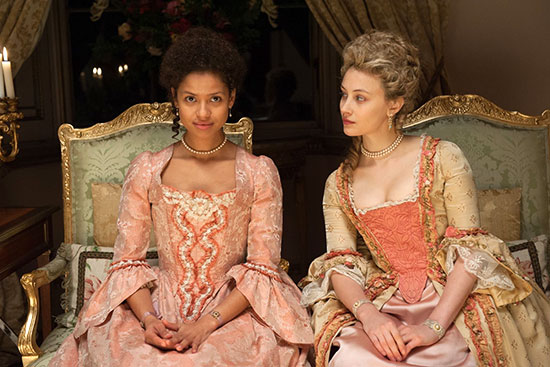 ---
To help keep this site running: Willow and Thatch may receive a commission when you click on any of the links on our site and make a purchase after doing so.
---
After Dido's mother dies, Lindsay entrusts Dido to the care of his uncle, William Murray, First Earl of Mansfield, and his wife Elizabeth Murray. The film follows Dido as she grows up in the Murray's grand state, Kenwood House, and her self-discovery as she navigates British society as an heiress of African descent.
Featuring a cast that brings together some of the most respected names in British film, "Belle" excels at engaging the viewer through its characters' private worlds, and the larger social issues that surround them. It's a rare film that straddles both so deftly while offering exquisite settings, superb performances, and romance.
Andreina Romero and Gabriela Mörken-Romero, hosts of the podcast Wigs and Candles, review classic and more recent period films, focusing in particular on the way period dramas provide a lens to explore the past and the lives of women through different historical times. In the fifth of a series for Willow and Thatch, they review "Belle" (2013).
---
---
A painting of two young ladies hangs on the walls of Scone Castle, in Perth, Scotland. The painting shows Lady Elizabeth Murray and her cousin Dido Elizabeth Belle posing in a luscious garden. Both girls look directly at the painter and wear elegant, late 18th century gowns.
While Lady Elizabeth wears a fashionable hairstyle for the period, Dido wears a turban and is carrying a basket full of tropical fruit. Dido, proudly and playfully looking at the viewer, is Black. The portrait, attributed to Scottish portraitist David Martin, is considered to be a highly unusual portrayal of its subjects at a time when people of color were generally shown as subservient figures.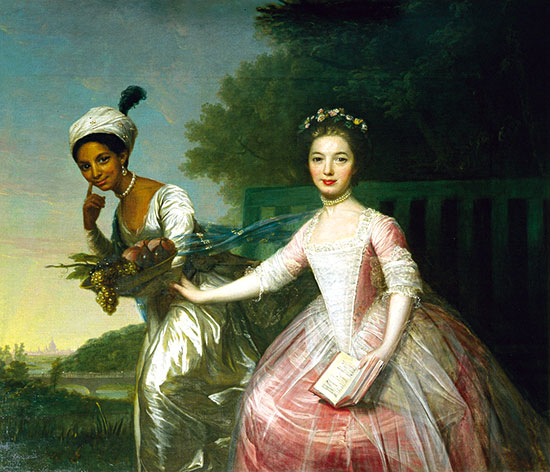 "Belle," directed by Amma Asante (A United Kingdom), a British female filmmaker, goes behind the story of the painting to imagine the relationship between the women, and shed light on their lives as members of the aristocracy in 1770s England.
Working from an original script by Misan Sagay, which was inspired after viewing the portrait at Scone Palace, Asante focuses on Dido's experiences while confronting 18th century Britain's involvement in the transatlantic slave trade. The result is a thoughtful, multi-layered narrative in which the personal, the political, and the historical are inextricably linked.
Dido Elizabeth Belle (Gugu Mbatha-Raw, Summerland) and her cousin, Elizabeth Murray (Sarah Gadon, Alias Grace) have grown up together in the splendor of Kenwood House. The cousins have been raised as sisters under the care of their uncle (Tom Wilkinson, Belgravia) and aunt (Emma Watson, Little Women), Lord and Lady Mansfield, who have sheltered the young women from the complexities of their situation.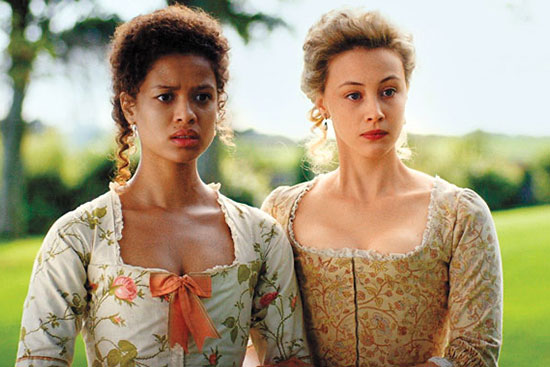 Elizabeth, who Dido and her family refer to as "Bette," has an enviable position in society under her family name. However, as her father has not provided a dowry for her, her marriage prospects are precarious. On the other hand, Dido, a young woman of African descent, is suddenly turned into a wealthy heiress after the death of her father.
Dido's new status does little to lessen the ambiguous role she has in Georgian era British society; despite being brought up as Lord and Lady Mansfield's niece and Bette's sister, Dido isn't permitted to dine with her family when they have company (she's allowed to join for coffee afterward). And her aunt and uncle fear that any man who would dare propose marriage to Dido would be of a lower, even unrespectable class.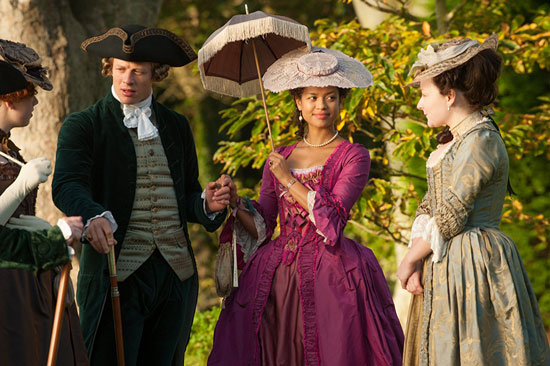 The film's already deeply compelling narrative is further nuanced when Dido meets her uncle's apprentice, John Davinier (Sam Reid, The Railway Man). Lord Mansfield is also Lord Chief Justice, the highest Justice in England and Wales, and he is hearing Gregson v. Gilbert, the horrifying case of the Zong ship massacre.
In 1781, the crew of the Zong, a British slave ship, threw 130 of the enslaved people it was carrying overboard to claim insurance for loss of "cargo." While the court originally favored the ship owners, an appeal presided by Lord Mansfield finally found a modicum of justice for the enslaved people, declaring the ship owners, captain, and crew to be at fault.
The case of the Zong ship plays a central role in Dido's awakening to her condition as a woman of African descent. In the period drama, Dido acts as a notetaker for her uncle, and through this work, she learns about the Zong case. Her role also brings her close to Davinier, and it is through their mutual interest in the case that their friendship, and romance, develops.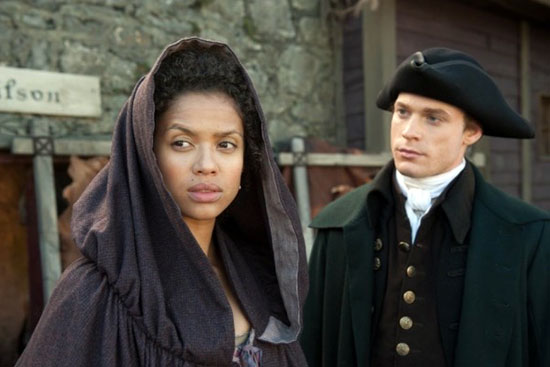 In talking about "Belle," screenwriter Sagay said "By force, one is writing a work of historical fiction. To shine a light on issues that had relevance then and have relevance today, I think that's what then determines what way you take the script."
There are very few records of Dido Elizabeth Belle's life, and while the movie portrays many of the known facts, the script takes some liberties in telling her story. In real life Dido and Bette both received an inheritance; the scripted shift of Bette at an economic disadvantage helps to highlight the complexity of the economic and social rules of aristocracy at the time. And Maria Belle, Dido's mother, did not die when Dido was small, but was likely brought to America by Dido's father. Also re-imagined: the depiction of Dido and Davinier's blossoming love story.
---
---
Historians believe that Davinier was probably a valet, not a lawyer, so he wouldn't have sought a law pupillage with Lord Mansfield. But the film's creative decision to alter Davinier's profession provides the dramatic space–and an emotionally believable backdrop–for Dido and Davinier's romance. Their mutual abhorrence of the institution of slavery, and their belief in justice for the enslaved people of the Zong, unite them.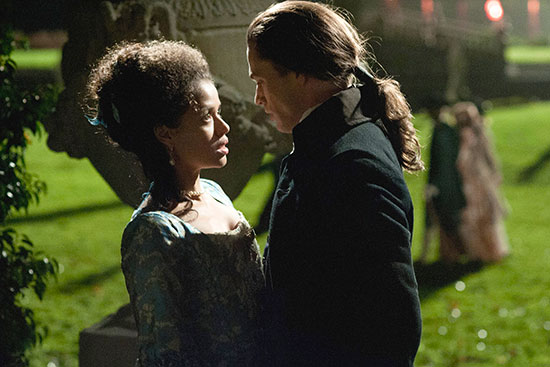 Gugu Mbatha-Raw and Sam Reid shine as the fiercely idealistic lovers, bringing an intelligence and sizzling chemistry to their shared scenes. But it is Gugu Mbatha-Raw who dazzles with her moving performance as the highly accomplished but also conflicted, Dido.
Wilkinson, Watson, and Gadon support Mbatha-Raw and Reid's performances, as do the rest of the accomplished cast, including Tom Felton (Harry Potter) as the poisonous would-be suitor to Bette, veteran actresses Miranda Richardson (Parade's End) as one of Dido's antagonists, and Penelope Wilton (Downton Abbey) as Dido and Bette's firm but loving governess.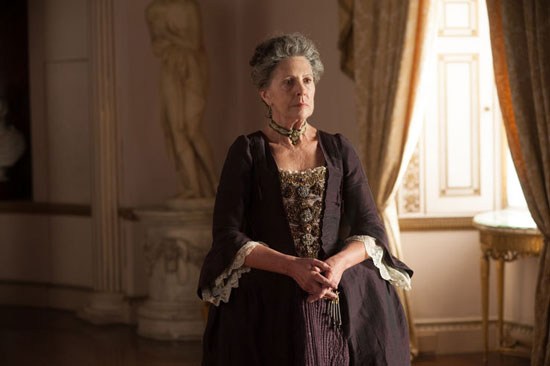 Asante's direction ensures that the complex parallel stories (Dido's self-discovery, her romance, and the impact of the Zong trial on the abolitionist movement) propel harmoniously toward an ending that feels triumphant and fully earned.
Ultimately, "Belle" is a great example of a period film that provides insight into a specific historical period while revealing the inner-life of the characters, especially the women, living through it. As a Black, female filmmaker, Asante's perspective brings both depth and a much-needed energy to the costume drama genre.
In Nigerian-born Sagay's words, "Almost none of our stories have been told. There are a million stories that are out there: love stories, war stories, Second World War, Roman stories, all through history, history's been told with a camera pointing away from us. But you know we (Black people) were there; we were there."
Thanks to Sagay's empowered script–which tackles grand historical themes while still feeling intimate–along with its elegant production and costume design, and subtle performances, "Belle" is unforgettable.
Listen to the full Wigs and Candles podcast episode on "Belle" here.
"Belle" (2013) is AVAILABLE to STREAM
Rated 13+

---
Wigs and Candles, launched in 2021, is a podcast about two sisters and their obsession with period film. Andreina Romero is a freelance writer and researcher whose work focuses on the importance of the arts in life. She also reviews books, music, and films in local publications and her personal blog. Gabriela Mörken-Romero leads people in a multinational company with a passion for art history, historical fiction, and world museums. Originally from Venezuela, Andreina and Gabriela host their podcast from Canada and Germany respectively.
---
If you enjoyed this post, wander over to The Period Films List. You'll especially like the Best Period Dramas: Georgian and Regency Era list.