Last Updated on May 19, 2022
Are you looking for the right film to introduce your kids or grandchildren to period dramas? It can be challenging to find a movie that's both appropriate for young viewers and fun to watch.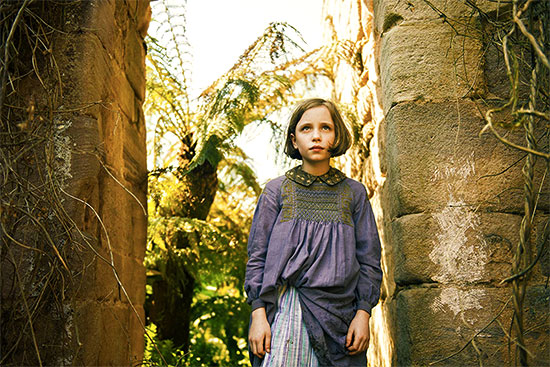 ---
To help keep this site running: Willow and Thatch may receive a commission when you click on any of the links on our site and make a purchase after doing so.
---
We can help; we recently looked at past adaptions of Frances Hodgson Burnett's classic 1911 novel The Secret Garden. Here, we review the 2020 movie release The Secret Garden.
Dixie Egerickx stars as orphaned Mary Lennox in this beautifully shot meditation on grief, along with Colin Firth, Julie Walters, Amir Wilson, and Edan Hayhurst. Jack Thorne (Harry Potter and the Cursed Child) adapted the screenplay, with Marc Munden directing.
---
---
In the chaos of Indian Partition in 1947, young Mary Lennox (Dixie Egerickx, Summerland) is orphaned when her parents die of cholera. She roams her family's abandoned compound for days until she's discovered, filthy, sullen, and desperately lonely.
Efficient British officers send her back to England along with other children orphaned during Partition, and Mary quickly learns she won't get any sympathy for losing her parents. So when she arrives at her uncle Archibald Craven's home in gloomy Yorkshire, she's defensive and prickly. The world has mistreated her, and she has adapted accordingly.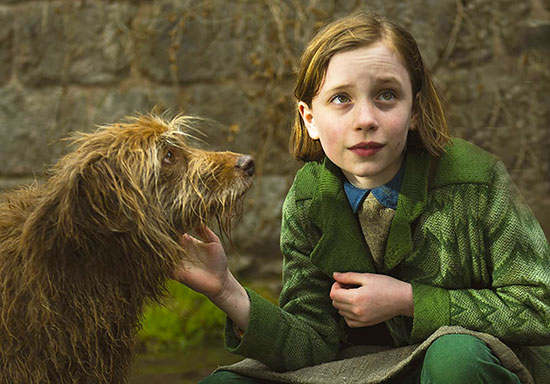 As in Burnett's original novel, Mary is spoiled. She expects Martha (Isis Davis, EastEnders), her servant at Misselthwaite Manor, to dress her each morning, and she demands bacon and eggs for breakfast instead of the porridge she's served.
Martha cheerfully knocks her down a peg, and the housekeeper, Mrs. Medlock (Julie Walters, Brooklyn), refuses to allow her to wander the enormous house. That doesn't stop Mary from exploring, of course. She peers through windows as her uncle (Colin Firth, Pride and Prejudice) rages in grief over the loss of his wife, and she stumbles upon her aunt's old dressing room.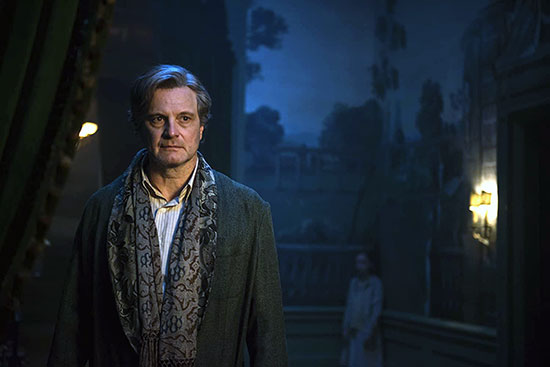 And, following the eerie cries that echo through the house at night, she discovers her cousin, Colin Craven (Edan Hayhurst, Leonardo), who's been confined to his bed since birth. Mary attempts to befriend him, but Colin is just as prickly and defensive as she is, and it will take a special kind of magic for him to open up.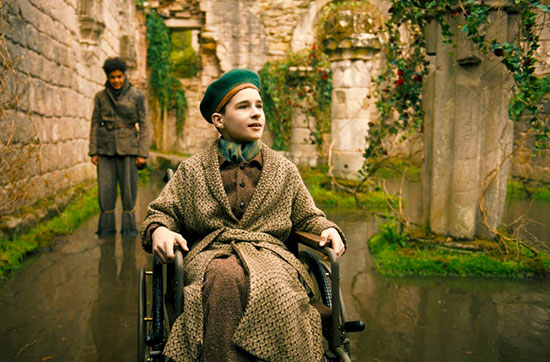 That magic comes from the titular secret garden, which takes on almost mythic qualities in this adaptation. It's enormous, more like an overgrown valley than a walled garden, and it blossoms and contracts along with Mary's emotions. As she works on the garden with Martha's brother Dickon (Amir Wilson, The Letter for the King), oversized leaves unfold, and Mary is transported back to happier times in India when her parents were still alive. Butterflies alight on her shoulder and hanging vines bloom in otherworldly color.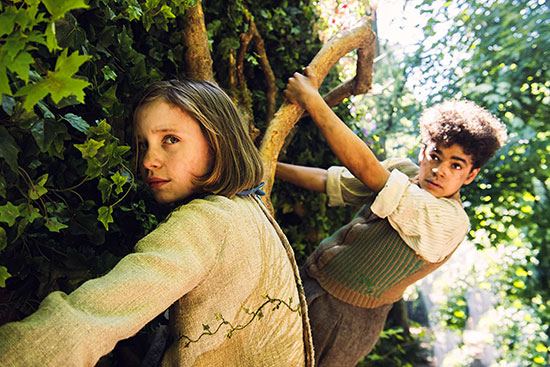 But when Dickon and Mary first contrive to sneak Colin out to the garden, he's terrified by its wild vitality, and he refuses to stay. The oversized leaves literally wilt as the children trudge back to the house. It's a surprisingly beautiful choice to make the garden's magic real, one that sets this adaptation apart from previous versions. Where the garden helped these wounded children heal through fresh air and hard work, here the garden serves more as an escape from the grief that threatens to overwhelm them.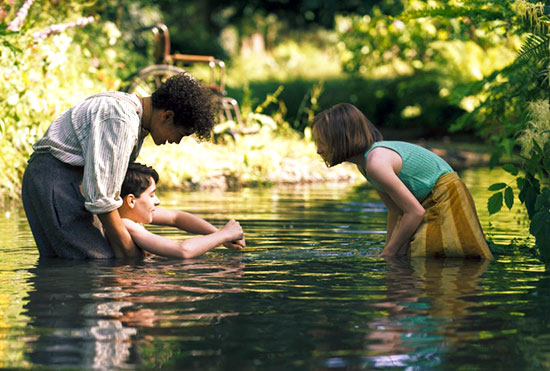 And yes, grief does hang heavy in this film. Mary seeks refuge in her memories, and some are so vivid her parents seem more like ghosts who are still with her. As her memories multiply, we learn that her mother neglected her due to depression rather than disinterest, which adds another layer of poignancy to Mary's situation. It's one thing for her to lose parents who never cared about her, and quite another for her to realize they loved her all along and were overwhelmed themselves.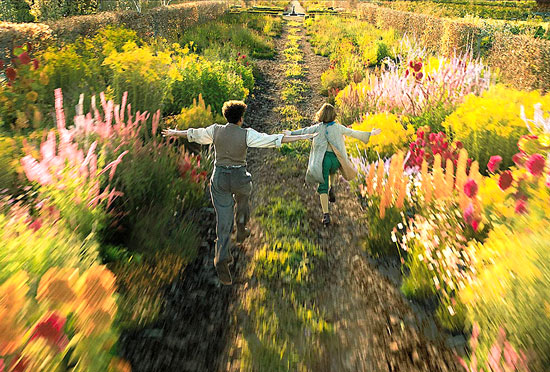 Dixie Egerickx is spectacular in conveying Mary's desperate loneliness as she slowly comes to terms with her loss. She literally forces Colin to confront the loss of his own mother, shoving an enormous portrait of her into his lap so he can't look away. Perhaps she can at least share her burden with her cousin.
"The Secret Garden" is ultimately hopeful, and together Mary, Dickon, and Colin grow and help Archibald Craven find peace in the garden. While younger viewers may do better with BBC's 1975 adaptation or the 1993 film, older children who can handle the pervasive sense of loss will find plenty to enjoy in this new adaptation.
Following its August 7 on-demand premiere, "The Secret Garden" releases on digital platforms on September 22nd, followed by a Blu-ray and DVD release on October 6th, 2020. 
Add to your WATCHLIST
Watch the TRAILER
Rated PG for thematic elements and some mild peril
---
Abby Murphy writes young adult books about girls discovering their strengths. A member of SCBWI and The Historical Novel Society, she is represented by Laura Crockett of Triada US Literary Agency. You can visit her blog here, where she writes about reading, writing, history, and her incurable Anglophilia.

If you enjoyed this post, wander over to The Period Films List. You'll especially like the Best Period Dramas: Family Friendly List. Also see Family Film Roundup: The Secret Garden, Family Film Roundup: American Girl Series, and our Review of Anne of Green Gables, Anne of Avonlea, and The Road to Avonlea.