Last Updated on March 17, 2023
"Dead Still" is a dramedy unlike any before it. Equal measures of death, murder, laughs and drama mix to make a dark — and depending on one's sense of humor — potentially intoxicating cocktail.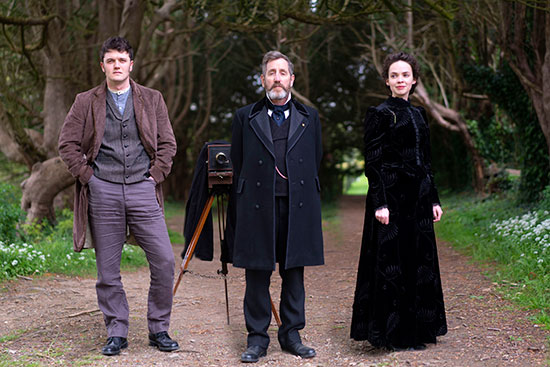 ---
To help keep this site running: Willow and Thatch may receive a commission when you click on any of the links on our site and make a purchase after doing so.
---
But be prepared, because it has a kick: to make a distinctly Irish period drama, the showrunners of this Acorn TV Original series let the saltiness come out in their characters, and the plot. "It's an Irish, weird, mystery murder, comic period drama," says "Dead Still" Director Imogen Murphy.
Some viewers watch costume dramas to sweep them back to more gracious, gentle times. "Dead Still" is not that show, and that's right upfront on its calling card, or in this case, photography cabinet card. You may love it for just that reason.
Now on a two-disc DVD set with a 63 minute behind-the-scenes featurette, "Dead Still" previously premiered on Acorn TV in May 2020. Watch the trailer at the end of the article. Watch "Dead Still" online here or through the Acorn TV website. 
---
---
Brock Blennerhasset makes a living out of photographing the dead in Victorian Ireland. When a series of murders threatens to sully Blennerhasset's reputation, a tenacious detective drags him into an investigation of Dublin's criminal underbelly. Set within the historical period of post-mortem portraiture, this darkly comic series blends murder mystery with macabre humor.
"The idea came out of the really common practice in Victorian era Ireland of photographing the loved one who has just died. Capturing their image and their presence in that way, and spending quite a lot of money to do that, even if you came from a poor family. So (we thought) 'How can we explore that?'"
While photographing people we care about after they've passed seems particularly creepy today, it wasn't always regarded as such.
---
---
Nancy West, author of Kodak and the Lens of Nostalgia, says "Post-mortem photography was a thriving business in mid to late nineteenth-century America and Britain. Providing what felt like an almost ministerial service, photographers gave bereaved families a portrait, perhaps the only portrait, of their dead loved one. Often, they posed their subjects as if asleep, sometimes as if looking out a window, sitting in a chair, holding a toy. These images bespeak a powerful desire, one long since vanished: to keep the dead with us."
Producer Suzanne McAuley echoes this: "In the 1880s, when somebody died, before the rigor mortis would set in, they called not the priest or the doctor. They called the postmortem photographer to rush over, put the makeup on… and they'd all stand smiling around with the dead body, and these photographs would get framed and put up on the family mantelpiece."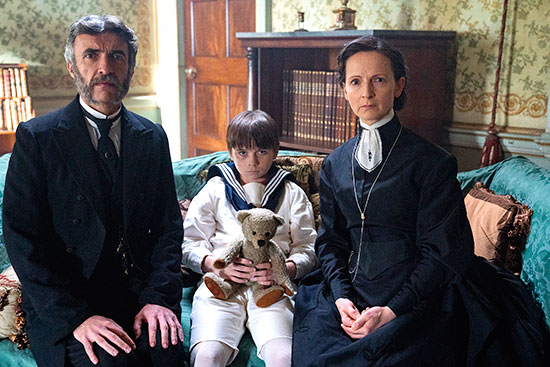 The scope for modern audiences to see absurdity in this practice fuels the wry irish humor of "Dead Still," as do narrow escapes, class disparity, and fricative familial dynamics. In keeping with its cheeky humor, the dearly departed in the series are played by living people so they never quite look dead. (See the boy in the photo above? He's the dead one.) Silliness crops up in most episodes, and there's even a touch of romance that is perfectly at home in the larger plot line.
---
---
Over "Dead Still's" six macabre episodes, we follow the strange adventures of 1880s memorial photographer Brock (Michael Smiley, The Other Boleyn Girl), and his helpers Nancy (Eileen O'Higgins, My Mother and Other Strangers), and Molloy (Kerr Logan, Alias Grace).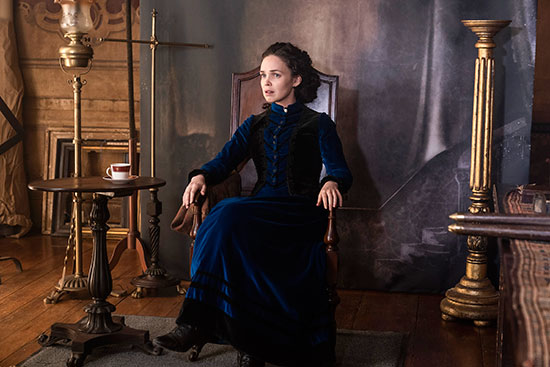 The moment the young and very much alive Miss Vickers — Nancy — steps out of her carriage, we know she is an independently-minded, vibrant sort. She's Brock's niece, thinks she wants to be an actress, and she smokes. If she stays with her uncle, she will at least be away from the tight grasp of her mother. She's fiery and playful, and devoted to her uncle, even if he did abandon her for some years without explanation.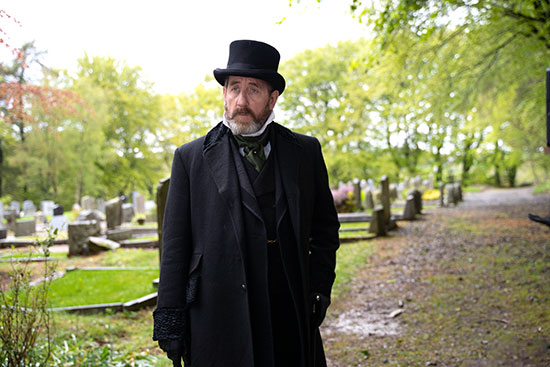 Brock is renowned; not only was he a pioneer in his field, but his artistry and care bring the dead to life. He's closed himself off in recent years, become less trusting of others and more reclusive, and is struggling to keep up with the times. Still, he's very fond of Nancy, and pleased to have her help with his work.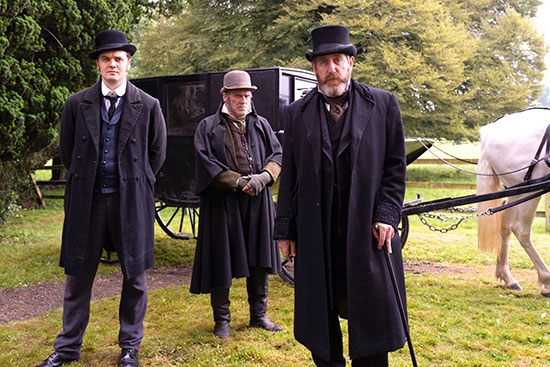 Handsome and ambitious Molloy wants to work his way up in the world, and it won't take much because when he first meets Brock he's a grave digger. His deep appreciation for Brock's photography and his earnest and trustworthy behavior soon earn him a position as Brock's assistant. What he'd really like is to be an artist / photographer in his own right.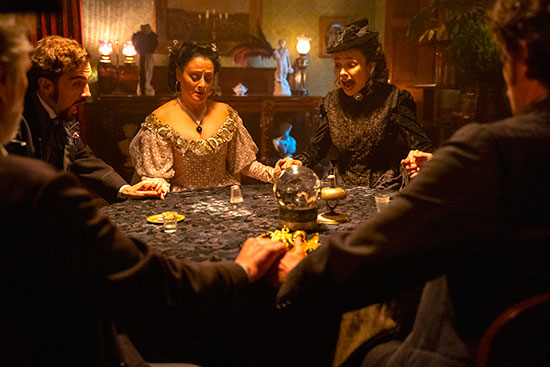 Together, Brock, Nancy, and Molloy traipse through the parlours of people mourning the loss of their loved ones, visit the underbelly of Victorian society, mix with some really bad types, and get spooky with spirits, a possible haunting, and a seance.
But the dark heart of the story is character-driven murder mystery.
While the trio are trying to get on with their memorial photography work, photos of what appear to be murders are getting in their way. These, and other obscene cabinet cards — the kind that are only taken in the seedy corners of Victorian streets — are being sold to collectors by black market traders, making it harder to discern who is behind the killings. It seems that a serial killer may be cashing in on a taste for a different type of memorial imagery — pictures of people in their throes of death. As the body count begins to escalate, Brock, Molloy and Nancy have to guard not just their business, but their lives.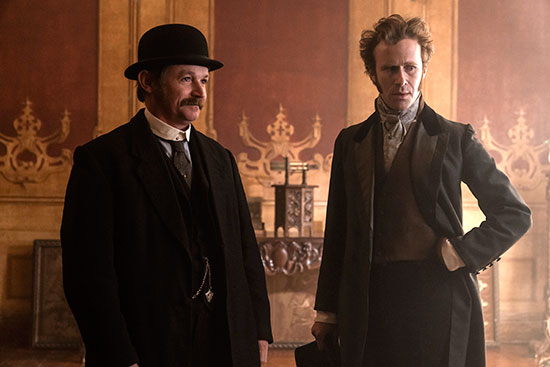 Murder and photography make for grisly bedfellows, and low man on the totem pole Detective Regan (Aidan O'Hare, Rebellion) is determined to break the case to give himself a professional boost. He spends a good deal of time around Brock, Nancy, and Molloy because he needs their insight and knowledge. Then again, maybe it's because he suspects one or more of them.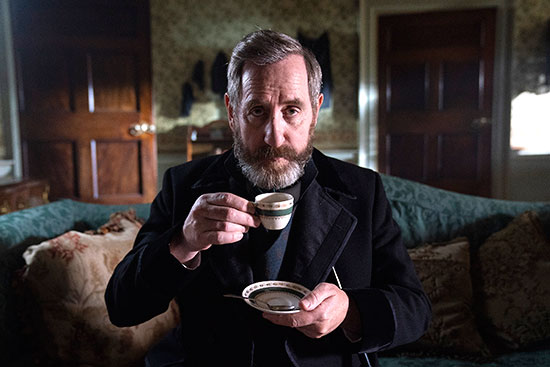 Producer Paul Donovan loves that "Dead Still" is based on the real Victorian practice of post-mortem photography, without relying on historical accuracy for it's appeal. He sees the murder mystery as both contemporary and relevant, one which just happens to be set in the past. And thankfully, these inaccuracies don't feel significant amidst the comic aspects and period-rich detail.
"Dead Still" isn't for the squeamish, those opposed to hearing foul words delivered in a working-class Dublin accent, or anyone uncomfortable watching a prolonged parody of sex. And as "Dead Still" writer John Morton tells us, some episodes in the TV mini-series are fairly grim.
But if you like your mysteries served dark without sugarcoated murder, and your sense of humor has space for the bizarre along with the lighter notes of the series, "Dead Still" is just the thing to keep you up at night.
If you enjoyed this post, be sure to see The Period Films List, with the best British, historical and costume dramas sorted by era. You'll also like our interview with the Dead Still writer, and the list of Period Dramas on Acorn TV in 2020. You may also want to read our review of BBC's Quacks, and see the Best Period Dramas: Victorian Era list, and our list of period dramas that deal with Life After Loss.