Last Updated on April 30, 2019
We've gathered up the new-in-April period dramas that are included with your US Amazon Prime Video membership. 
Then, we share the period dramas that are newly available to rent, and some historical / costume / period movies that are being released to DVD in April. Finally, we list some newly added non-period movies and series that you may also like, that are included with your Prime Video membership.
Check this list throughout the month; we'll update all the sections (alphabetically) as more titles become available.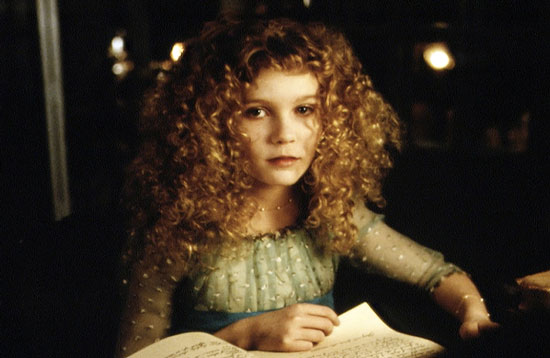 ---
To help keep this site running: Willow and Thatch may receive a commission when you click on any of the links on our site and make a purchase after doing so.
---
It's easy to watch the trailers for the films on this list, or add the movies and TV series to your watchlist: just click.
There's a lot here, so to help you keep track: the blue TV's next to the title mean the film is included with your membership, the orange TV's mean it is available to rent. 

Period Dramas New on Prime Video in April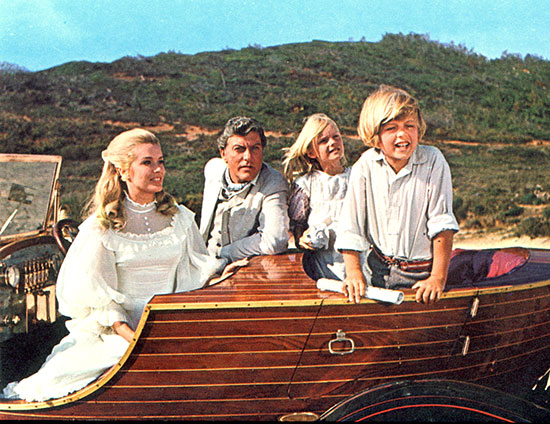 This section contains newly added historical, costume and period dramas (movies and TV series) that are included with your Prime Video membership. In addition to the following titles, Big Night (1996),  The Passion Of The Christ (2004), Hamlet (1991), Amistad (1997), Rosencrantz and Guildenstern Are Dead (1991), Ruyi's Royal Love in the Palace (2018), The Gospel of John (2013), Warsaw 44 (2014), and 6 seasons of  The Life and Legend of Wyatt Earp (1956) are also available.

---
---

Chaplin (1992)
The troubled and controversial life of the master comedy filmmaker Charlie Chaplin (1889 – 1977). Told in flashback, the film consists of Chaplin's responses to questioning by fictional publisher George Hayden, who wants to know about the parts left out of the legend's autobiographical book.
Starring Robert Downey Jr., Geraldine Chaplin, Paul Rhys, John Thaw, Moira Kelly, Anthony Hopkins, Dan Aykroyd.
Rated PG-13
Available April 4
---


Chitty Chitty Bang Bang (1968)
Eccentric inventor Caractacus Potts creates an extraordinary car. It not only drives but flies and floats as it leads him, his two children and his lady friend, Truly Scrumptious, into a magical world of pirates, castles and endless adventure. Set in the 1910s in the Edwardian era.
Based on Ian Fleming's children's book, and featuring the Academy Award-nominated title song, the movie is a high-flying, fun-filled adventure for the entire family.
Starring Dick Van Dyke, Sally Ann Howes, Lionel Jeffries, Anna Quayle.
Rated G
Available April 1
---

Gabi: Russian Coffee (2012)
A King's personal barista is caught in a plot to have him killed in this historical drama. Sadako, the royal barista, must choose between her lover, a Russian assassin, or the powerful King Gosung. Set towards the end of the 19th century, when coffee was first introduced to Korea.
Starring Kim So-yeon, Joo Jin-mo, Park Hee-soon.
Rated 13+
Available April 4
---

Interview with the Vampire: The Vampire Chronicles (1994)
A vampire tells his epic life story: love, betrayal, loneliness, and hunger. Born as an 18th-century lord, Louis is now a bicentennial vampire, telling his story to an eager biographer. The narrative is framed by a present-day interview, and focuses on Lestat and Louis, beginning with Louis's transformation into a vampire by Lestat in 1791.
The Oscar-nominated American gothic romantic horror film directed by Neil Jordan is based on Anne Rice's 1976 novel of the same name.
Starring Brad Pitt, Tom Cruise, Antonio Banderas, Kirsten Dunst.
Rated R for vampire violence and gore, and for sexuality
Available April 1

---

Racing with the Moon (1984)
In their last weeks before deployment to World War II as Marines, teenage friends Henry Nash and Nicky try to make the best of the time they have left in their small California town. When Nash spots Caddie Winger, a new girl in town he mistakenly believes to be wealthy, he sets about winning her over. But the good times are ruined when Nicky finds himself trying to solve a serious predicament, and implicating Nash and Caddie in the process. Set in 1942 California.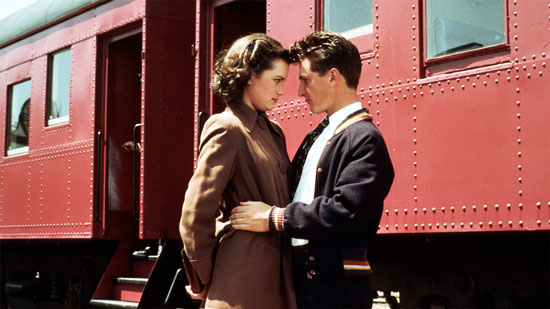 Starring Sean Penn, Elizabeth McGovern, Nicolas Cage, John Karlen.
Rated PG
Available April 1

---

The Shawshank Redemption (1994)
Currently the top-rated movie of all-time by IMDb voters, The Shawshank Redemption is a film that invites multiple viewings. Morgan Freeman and Tim Robbins play prisoners who find their own forms of redemption through acts of common decency.
Andy Dufresne is sentenced to two consecutive life terms in prison for the murders of his wife and her lover and is sentenced to a tough prison. However, only Andy knows he didn't commit the crimes. While there, he forms a friendship with Red, experiences brutality of prison life, adapts, helps the warden, and more, over the course of 19 years.
Starring Tim Robbins, Morgan Freeman, Bob Gunton, William Sadler.
Rated R for language and prison violence
Available April 1

---

Sophie and the Rising Sun (2016)
Set in the autumn of 1941 in Salty Creek, a willowy fishing village in South Carolina, the film tells the compelling story of two interracial lovers, Sophie, an artist who also fishes and sells crabs to the townfolk, the other an Asian gentleman, swept up in the tides of history. As World War II rages in Europe, Mr. Ohta, appears in the town badly beaten and under mysterious circumstances. Sophie, a native of Salty Creek, quickly becomes transfixed by Mr. Ohta and a friendship born of their mutual love of art blossoms into a delicate and forbidden courtship. As their secret relationship evolves the war escalates tragically. And when Pearl Harbor is bombed, a surge of misguided patriotism, bigotry and violence sweeps through the town, threatening Mr. Ohta s life. A trio of women, each with her own secrets – Sophie, along with the town matriarch and her housekeeper – rejects law and propriety, risking their lives with their actions. Based on the novel by Augusta Trobaugh.
Starring Julianne Nicholson, Takashi Yamaguchi,  Margo Martindale, Diane Ladd.
Rated R for some sexuality and nudity
---

Vikings (Season 5)
The age of the Norse explorers and conquerors is brought to life in this series. Vikings is equal parts brainy and bloody, as the warriors plunder much of northern Europe but also adopt Christianity and interact with foreign cultures. The fifth season is the first without Travis Fimmel as Ragnar Lothbrok, and the series shifts its focus to the exploits of his sons.
Starring Gustaf Skarsgård, Katheryn Winnick, Alexander Ludwig, Jordan Patrick Smith.
Rated TV-MA
Available April 30
---

1492: Conquest of Paradise (1992)
Determined to find a new sailing route to India, Christopher Columbus convinces Spanish Queen Isabella to finance an expedition. Setting sail with three ships, Columbus quells potential mutinies until the men arrive in North America. After his triumphant return home, Columbus is appointed governor of the new territory, but his dream of a peaceful new world does not fit with nobleman Don Adrian de Moxica's visions of conquest.
Starring Gérard Depardieu, Armand Assante, Sigourney Weaver, Loren Dean.
Rated PG-13
Available April 1
---
Also see the list of period dramas added to Amazon in March.
---
---
Period Dramas Newly Available to Rent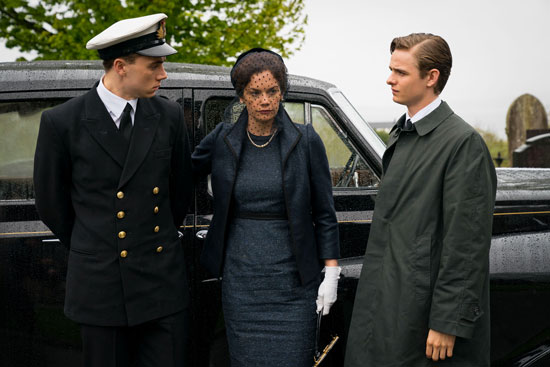 This section contains historical, costume and period dramas (movies and TV series) that are newly available to rent on Amazon this month. In addition to the following titles, Pascali's Island (1988), BBC's North & South (1975), Alex Haley's Queen (1993), Holmes and Watson (2018), Conagher (1991), Saving Mr. Banks (2013), Ladyhawke 91985), Wyatt Earp (1994), Troy (1994), The Charge of the Light Brigade (1936), The Nun's Story (1959), Anna Karenina (1935), Pleasantville (1998), Gangs Of New York (2003), Death in Venice (1971), How the West Was Won (1978), Troy, Fall of a City (2018), and new episodes of Knightfall have been added.
And Season 6 of A Place to Call Home has also been added!

---

Bletchley Circle: San Francisco (2018)
Years after secretly serving during WWII as code-breakers, four remarkable women gifted with extraordinary intelligence use their skills to solve murders overlooked by police.
Starring Crystal Balint, Rachael Stirling, Julie Graham, Chanelle Peloso.
Rated TV-14
Also available with the BritBox Channel.
Available April 2

---

Goodbye, Mr. Chips (1969)
Stuffy young Latin instructor Arthur Chipping is widely disliked by his young charges at a small public school in Great Britain in the 1920s, until he finds his life turned around by charming music hall singer and comedienne Katherine Bridges. Though her lower-class past impedes Chipping's longed-for rise to headmaster, the students become devoted to her good-hearted warmth, which also helps transform the once-despised "Chips" into a beloved school figure.
Starring Peter O'toole, Petula Clark, Michael Redgrave.
Rated G
Available April 6 
---

Lincoln (2012)
With the nation embroiled in still another year with the high death count of Civil War, President Abraham Lincoln brings the full measure of his passion, humanity and political skill to what would become his defining legacy: to end the war and permanently abolish slavery through the 13th Amendment. Having great courage, acumen and moral fortitude, Lincoln pushes forward to compel the nation, and those in government who oppose him, to aim toward a greater good for all mankind.
Starring Daniel Day-Lewis, Sally Field, Hal Holbrook.
Rated PG-13
Available April 6
---

Mrs. Wilson (2019)
Alison Wilson's husband Alec is dead, when a woman arrives claiming to be Alec's 'real wife.' Alison must try and find out who her husband really was; but it soon becomes clear that Alec died holding his secrets close to his chest.
Starring Ruth Wilson, Iain Glen, Calam Lynch, Fiona Shaw.
Rated TV-14
Also available with the PBS Masterpiece Channel.
Available April 1

---

On the Basis of Sex (2018)
Felicity Jones stars as a young Ruth Bader Ginsburg, who brings a groundbreaking case to the U.S. Court of Appeals that overturns a century of gender discrimination.
Starring Felicity Jones, Armie Hammer, Justin Theroux, Sam Waterston, Kathy Bates.
Rated PG-13
Available April 9
---

Ryan's Daughter (1970)
Set in coastal western Ireland, Ryan's Daughter is an epic love story about a young girl, married to a simple schoolteacher, who has an affair with a British soldier stationed in town.
Starring Sarah Miles, Robert Mitchum, Trevor Howard, Christopher Jones.
Rated R
Available April 6
---

Secretariat (2010)
Despite her lack of experience, housewife and mother Penny Chenery agrees to take over management of the family Thoroughbred farm after her father becomes ill. Successfully navigating her way through the male-dominated world of horse racing, Chenery, together with veteran trainer Lucien Laurin, fosters a gifted colt that ultimately crosses the finish line into history as the Triple Crown winner in 1973.
Starring  Diane Lane, John Malkovich, Dylan Walsh,Scott Glenn.
Rated PG
Available April 6
---

The Thorn Birds (1983)
Winner of six Emmys, four Golden Globes and countless nominations, "The Thorn Birds" is the second-highest-rated miniseries ever. With an all-star cast, this epic drama set against the sweeping backdrop of the Australian outback tells of the taboo desires between a beautiful woman and an ambitious priest. Set beginning in the early 1900s on a sheep station, and spanning five decades, the seductive saga is based on Colleen McCullough's bestselling novel.
Starring Richard Chamberlain, Rachel Ward, Jean Simmons.
Rated 13+
Available April 20
---

Widows' Peak (1994)
When the elegant Edwina Broome moves to Kilshannon, a small town in Ireland in the 1920s, she must contend with the local matriarchs, particularly the feisty Mrs. Doyle-Counihan and the guarded Miss Katherine O'Hare who immediately clash with the new arrival. As the three women verbally spar and scheme, certain secrets eventually come to light, revealing that their quaint village may not be so proper after all.
Starring Joan Plowright, Mia Farrow, Natasha Richardson.
Rated PG
Available April 5
---

The Wind (2018)
An unseen evil haunts the homestead in this chilling, folkloric tale of madness, paranoia, and otherworldly terror. Lizzy is a tough, resourceful frontierswoman settling a remote stretch of land on the 19th-century American frontier. Isolated from civilization in a desolate wilderness where the wind never stops howling, she begins to sense a sinister presence that seems to be borne of the land itself, an overwhelming dread that her husband dismisses as superstition. When a newlywed couple arrives on a nearby homestead, their presence amplifies Lizzy's fears, setting into motion a shocking chain of events. Adapted by Teresa Sutherland from Dorothy Scarborough's 1925 novel of the same name.
"A frontier ghost story with very human stakes. And maybe a very human explanation… this pioneer chiller shines a gender-specific spotlight on the ways isolation and hardship can ravage a woman's mind." – New York Times
Starring Miles Anderson, Caitlin Gerard, Julia Goldani Telles, Dylan McTee, Martin C Patterson.
Rated R
Available April 5
---

The Woodlanders (1998)
The story is set in late 19th century rural corner of South England. The daughter of timber merchant Melbury, Grace, returns to the town after finishing school. Her father now believes she can find a better husband than her childhood sweetheart, woodsman Giles. She marries handsome young doctor Fitzpiers, but soon finds out he's not the man of her dreams and she still loves Giles.
Starring Emily Woolf, Rufus Sewel, Cal Macaninch.
Rated PG
Available April 1
---

Zandy's Bride (1974)
In the late 19th century, Zandy, a hard-boiled California rancher, takes a mail-order bride. But Zandy isn't especially interested in love; instead, he wants a woman who can aid him in the daily struggles of country living. Hanna, the bride, arrives by stagecoach from Minnesota, and immediately angers Zandy by being older than she had stated in her letters. She's also more stubborn than expected — but this toughness might be just what Zandy needs in a wife.
Starring Gene Hackman, Liv Ullmann, Eileen Heckart.
Rated PG
Available April 5
---
---
New Period Drama DVD Releases in April 2019
This section contains historical, costume, and period dramas that are being released this month to DVD and Blu-ray.
---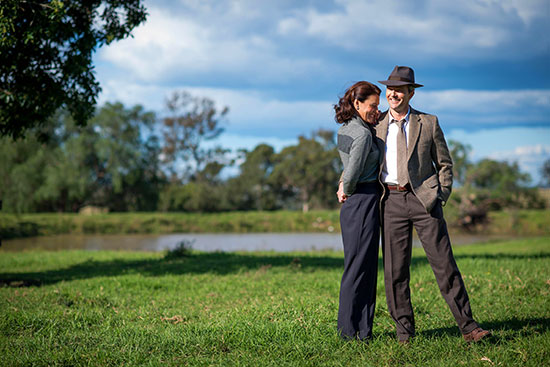 A Place to Call Home: Season 6: In the final season of this "instantly irresistible saga" (The Wall Street Journal), nurse Sarah Nordmann and the wealthy Bligh clan return for more romance, intrigue, and family drama in this satisfying send-off to the beloved Australian series. Available HERE April 23, 2019.
A Place to Call Home: The Complete Collection: Tackling weighty themes of social class, sexuality, and prejudice with insight and intelligence, this award-winning series has earned rapturous praise from critics and fans alike. Through six captivating seasons, A Place to Call Home explores the ties that hold families together and the betrayals that can tear them apart. Available HERE April 23, 2019.
The Aspern Papers: Set in Venice in the late 19th century and based on Henry James' eponymous novella,The Aspern Papers is a story of obsession, grandeur lost, and dreams of Byronic adventures. Ambitious editor Morton Vint is fascinated by the Romantic poet Jeffrey Aspern and by his icon's short and wildly romantic life. Having travelled from America to Venice, he is determined to get his hands on the letters Aspern wrote to his beautiful lover and muse, Juliana Bordereau. Available HERE April 9, 2019
Bletchley Circle: San Francisco: Four women of high intelligence, a capacity for pattern recognition and a knack for decryption, use their skills to solve murders overlooked by police. Available HERE April 2, 2019
Holmes and Watson: Detective Sherlock Holmes and Dr. John Watson join forces to investigate a mysterious murder at Buckingham Palace. It seems like an open-and-shut case as all signs point to Professor James Moriarty, the criminal mastermind and longtime nemesis of the crime-solving duo. When new twists and clues begin to emerge, the world's greatest sleuth and his trusted assistant must now use their legendary wits and ingenious methods to catch the killer before the queen becomes the next victim. Available HERE April 9, 2019
Masterpiece: Mrs. Wilson: It's 1963, and Alison Wilson returns home to find husband Alexander dead. Soon afterwards, a woman arrives at the door, claiming to be Alec's 'real wife.' Alison embarks on a mission of discovery to try to find out who her husband really was; but from their wartime romance to a mysterious period in India — it soon becomes clear that Alec died holding his secrets close to his chest. Available HERE April 9, 2019.
Masterpiece: Victoria (Season 3): Created and written by Daisy Goodwin, Victoria is a landmark account of the life of one of history's greatest monarchs. With an ensemble cast of award-winning talent, Victoria draws on real-life events and the Queen's own exhaustive diaries to paint a vivid portrait of her transformation from an impulsive 18-year-old to her early years as wife, mother, and head of a global empire. Available HERE April 16, 2019.
Margaret: The Rebel Princess: Princess Margaret's life and loves reflected the social and sexual revolution that transformed the Western world during the 20th century. With sumptuous archival materials and revealing interviews, the series follows Margaret's life as she redefined our image of the modern princess, showing how her character combined the rebellious force of modernity with a respect for tradition. Available HERE April 23, 2019.
Mission Of Honor: The story of Squadron 303, a group of heroic pilots who fought in the skies over England in the Battle of Britain during WWII. These brave men were not just fighting to keep Great Britain free from the Nazis, but also to keep alive the memories of their own countries, which had been caught in the cross fire as Germany tore across Eastern Europe. Equipped with nothing more than obsolete RAF planes and secondhand uniforms, they flew for all of those who had become casualties in one tyrant's quest for power. Available HERE April 30, 2019.
My Brilliant Career – The Criterion Collection: For her award-winning breakthrough film, director Gillian Armstrong drew on teenage author Miles Franklin's novel, a celebrated turn-of-the-twentieth-century Australian coming-of-age story, to brashly upend the conventions of period romance. Headstrong young Sybylla Melvyn bemoans her stifling life in the backcountry, where her writerly ambitions receive little encouragement, and craves independence above all else. When a handsome landowner disarmed by her unruly charms, begins to court her, Sybylla must decide whether she can reconcile the prospect of marriage with the illustrious life's work she has imagined for herself. Suffused with generous humor and a youthful appetite for experience, My Brilliant Career is a luminous portrait of an ardently free spirit. Available HERE April 30, 2019.
My Brilliant Friend: When the most important friend in her life seems to have disappeared without a trace, Elena Greco, a now elderly woman immersed in a house full of books, turns on her computer and starts writing the story of their friendship. She met Raffaella Cerullo, whom she has always called Lila, in the first year of primary school in 1950. Set in a dangerous and fascinating Naples, their story begins and goes on to cover over 60 years of their lives as she tries to describe the mystery of Lila, Elena's brilliant friend and – in a way – her best friend, and her worst enemy. Read our REVIEW. Available HERE April 2, 2019.
On the Basis of Sex: Inspired by the powerful true story of a young Ruth Bader Ginsburg, On the Basis of Sex depicts a then-struggling attorney and new mother facing adversity in her fight for equal rights. When Ruth takes on a ground-breaking case, she knows the outcome could alter the courts' view of gender discrimination. Stronger together, Ruth teams up with her husband, Martin Ginsburg, to fight the case that catapults her into one of the most important public figures of our time. Available HERE April 9, 2019.
---
---
Other Movies You May Also Like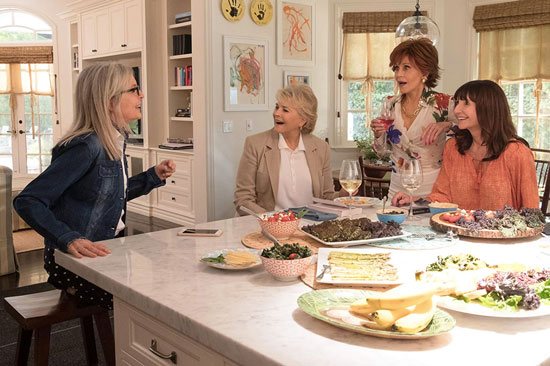 This section contains a curated list of movies and TV series new and are included on Prime, that are NOT period dramas. We think fans of historical and costume dramas will enjoy them just the same.
---

An Everlasting Piece (2000)
Against the turbulent backdrop of Belfast in the 1980's, fellow barbers, Colm, a Catholic, and George, a Protestant, form an unlikely partnership to corner the toupee market in Northern Ireland, in this comedy.
Starring Barry McEvoy, Brían F. O'Byrne, Anna Friel.
Rated R for language
Available April 1

---

Book Club (2018)
Four lifelong friends have their lives forever changed after reading 50 Shades of Grey in their monthly book club.
Starring Diane Keaton, Jane Fonda, Candice Bergen.
Rated PG-13
Available April 21

---

The Da Vinci Code (2006)
A murder in Paris' Louvre Museum and cryptic clues in some of Leonardo da Vinci's most famous paintings lead to the discovery of a religious mystery. For 2,000 years a secret society closely guards information that — should it come to light — could rock the very foundations of Christianity.
Starring Tom Hanks, Audrey Tautou, Ian McKellen, Alfred Molina, Jürgen Prochnow, Paul Bettany.
Rated PG-13
Available April 1

---

Finding Your Feet (2017)
On the eve of retirement a middle class, judgmental snob discovers her husband has been having an affair with her best friend and is forced into exile with her bohemian sister who lives on an impoverished inner-city council estate.
Starring Imelda Staunton, Celia Imrie, Timothy Spall, Eva Longoria.
Rated PG-13
Available April 8
---

In a World… (2013)
An underachieving voice coach finds herself competing in the movie trailer voice-over profession against her arrogant father and his protégé.
Starring Lake Bell, Fred Melamed, Michaela Watkins.
Rated R for language including some sexual references
Available April 1
---

Murder, She Wrote (Seasons 1-5)
Professional writer and amateur sleuth Jessica Fletcher uses her intellect, charm, and persistence to get to the bottom of every crime she encounters.
Starring Angela Lansbury, William Windom, Ron Masak.
Rated TV-PG
Available April 1
---

Patch Adams (1998)
Robin Williams is Patch Adams, a doctor who will do anything to make his patients laugh — even if it means risking his own career — in this inspiring comedy based on a true story.
Starring Robin Williams, Philip Seymour Hoffman, Daniel London, Monica Potter.
Rated PG-13
Available April 1
---

Six Degrees of Separation (1993)
An affluent New York City couple finds their lives touched, intruded upon, and compelled by a mysterious young black man who is never quite who he says he is.
Starring Will Smith, Stockard Channing, Donald Sutherland.
Rated R for language and some sexuality
Available April 1
---

Willow and Thatch exists because of you: You can shop our Jane Austen Period Drama Adaptations merchandise, click on our links (like these that take you to Etsy and Amazon) and make purchases on those sites, and buy period-inspired products from the Lovely Things Shop. You can also continue to share our articles, or make a financial contribution. All these things allow us to write feature articles, update The Period Films List, mail out our newsletter, maintain the website and much more. Thank you!
If you enjoyed this post, be sure to see The Period Films List,with the best British, historical and costume dramas sorted by era. Also see the list of BBC Period Dramas added to Prime in 2018.