Last Updated on October 29, 2018
Period Dramas 2016 Georgian & Regency Eras is the third in a series of posts featuring the new costume dramas and period films to be released in 2016.
We'll look at the upcoming films for the year by era (Dark and Middle Ages, Tudor and Stuart Eras, Georgian and Regency Eras, Victorian Era, Edwardian Era, First World War, Interwar, Second World War, Postwar), as well as select films and television mini-series that were released at the close of 2015. We will also see which period dramas are returning for an additional season, or are currently in development and production.
Included here are films, television miniseries, made for television movies, etc. set during the Georgian era (1714 to 1837) and the sub-period Regency era (1811 to 1820).

NEW – War and Peace (BBC)
In the UK the first episode of War and Peace premiered on BBC One on January 3,  2016. Six 60 minute episodes will air in the UK.
In the US War and Peace will premiere January 18, 2016 at 9pm; this mini-series will be shown over a four week period, with 2 hour long episodes simulcast on A&E, the HISTORY Channel and Lifetime.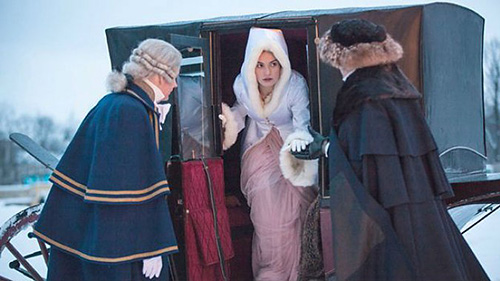 In a new adaptation of Leo Tolstoy's timeless novel War and Peace, three young people experience GEORGIAN era 19th century life, love and loss against the epic backdrop of Russia's wars with Napoleon.
Russia, 1805. Napoleon Bonaparte's French army has invaded Austria, drawing Russia into the war against him. Everyone in aristocratic Russian society is rattled – except hot-headed Pierre Bezukhov, who admires the French emperor's politics. Pierre is an outcast in society, and the illegitimate son of one of Russia's wealthiest men. But now his father is close to death and his scheming relatives are vying for the old man's fortune – though they expect Pierre to be left with nothing.

Pierre's dearest friend Prince Andrei Bolkonsky is excited for war with Napoleon. For him it offers a chance to find purpose in life by fighting on the front line. Unhappily married to a beautiful socialite, Lise, he plans to leave her behind at his fierce father's remote country estate and seek military glory for himself. The army under Andrei's wise mentor General Kutuzov expects a swift victory. But when the French unexpectedly prove their military might, Andrei is thrust into a dangerous battle.

Pierre's other great friend is Natasha Rostova – a beautiful, lively young woman growing up fast and desperate to experience more of the world. When she sees love blossom between her brother Nikolai and his childhood sweetheart Sonya, she is inspired for the first time with romantic thoughts of her own. As the men ride off to war, Natasha and Sonya are left behind to wait and wonder if they will ever return.
Over eight years we meet a vast cast of unforgettable characters but again and again, through marriages and affairs, battlefields and ballrooms, births and deaths, we will keep returning to the hot-headed Pierre (Paul Dano), cynical prince Andrei (James Norton) and kind-hearted Natasha (Lily James) as they confront life's great questions of love and destiny. The television period drama also stars Gillian Anderson, Rebecca Front and Stephen Rea, who were also praised for their performances.
This is proper, proper costume drama at its most lavish and its most dreamily, romantically Russian. This is how you do it, people. This is how you do it. Stop all period dramas being made now because nothing is going to match up to this. Sunday-night TV has been rescued. It's hard to imagine how the BBC could have done a better job. It makes Downton Abbey look like am dram. It's tonally perfect, striking exactly the right balance between drama and wit, action and emotion, passion and humour. In fact, perhaps that's the most surprising and exciting thing about this production: it's actually (and intentionally) funny. – The Guardian

NEW – Love & Friendship
Love & Friendship will have its world premiere at Sundance in January 23, 2016. Theatrical release is set for April 27, 2016 in France. Amazon has acquired the North American rights to the film, which will be released online in 2016. The film will debut in theaters before being available on Amazon's streaming platform – in NY & LA theaters on May 13 and select cities on May 20.
Love & Friendship is a period romantic comedy from Whit Stillman and Protagonist Pictures, adapted from the 1871 Jane Austen short story Lady Susan that was published posthumously. Talking about Austen and Love & Friendship, the film's director said:
This is something she'd left in its first or second draft. It's very funny, but she would have done more to complete it. And that's why we felt that if we changed things, if we amplified things, if we added characters that we needed to make it a film, we were part of her process of finishing it rather than taking one of her masterpieces and reducing it to a 90-minute film. I mean, we're adding a new volume to the Jane Austen library. – Whit Stillman
Set in the 1790s in the GEORGIAN era, Love & Friendship centers on beautiful widow Lady Susan Vernon, who has come to the estate of her in-laws to wait out colorful rumors about her dalliances circulating through polite society. Whilst there, she decides to secure a husband for herself and her rather reluctant debutante daughter, Frederica.
Kate Beckinsale excels in her role as the deliciously devious Lady Vernon and delivers each line with relish. With exquisite period detail and a script teeming with bon mots and witty dialogue, Love & Friendship is a rare—and rarified—treat.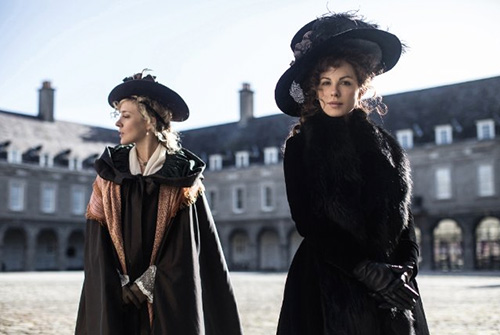 Set in the opulent drawing rooms of eighteenth-century English society, Love & Friendship focuses on the machinations of a beautiful widow, Lady Susan Vernon (Kate Beckinsale), who, while waiting for social chatter about a personal indiscretion to pass, takes up temporary residence at her in-laws' estate. While there, the intelligent, flirtatious, and amusingly egotistical Lady Vernon is determined to be a matchmaker for her daughter Frederica—and herself too, naturally. She enlists the assistance of her old friend Alicia (Chloë Sevigny), but two particularly handsome suitors (Xavier Samuel and Tom Bennett) complicate her orchestrations.

Filming took place in Dublin in the coastal town of Donabate, Ireland including on-location at the 18th-century Georgian estate and mansion, Newbridge House. Built by Archbishop Charles Cobbe in 1736 and set within 400 acres of partially wooded park, Newbridge House is one of the finest surviving examples of Georgian architecture. Starring Kate Beckinsale as Lady Susan Vernon, Chloë Sevigny as Alicia, Stephen Fry as Mr. Johnson, Xavier Samuel as Reginald, Emma Greenwell as Catherine Vernon and Tom Bennett as Sir James Martin. Kate Beckinsale and Chloë Sevigny also co-starred in The Last Days Of Disco (1998). 
It's really rich in Austen dialogue. The problem was that she was still writing in the 18th-century epistolary form—letters between characters. And we were trying to change the letters into scenes and dialogue. And that's one reason why it was very helpful to me that I didn't have any deal with this project—it was just on my own. I didn't tell anyone about it and just worked on it when I didn't have to work on other things. To make it playable took years and years. – Whit Stillman
Here's the trailer:
You can read an interview here about the film with Whit Stillman, Love & Friendship's director.
UPDATE: Our friends over at Austenblog were fortunate enough to attend the Sundance premiere, and had this to say about Love & Friendship:
It is quite faithful to the original, though there are some added characters and scenes, and we think only the nittiest of nitpickers will find fault with it from the standpoint of fidelity to Austen's original. However, L&F is not the kind of film that most people would think of when they think of a "Jane Austen movie." The setting is Georgian (roughly late 1780s from what we could tell), so no high-waisted Regency gowns, and more to the point, there is no grand romantic story. Many critics of "Jane Austen movies" have pointed out that nearly all the film adaptations focus on the romantic story–the marriage plot, if you will–to the exclusion of much of Austen's sharp humor and social commentary. There is a romance, and it's slightly more romantic than the novel, but as in the original, most of the characters look upon marriage less as the result of romantic love than as a business contract. However, that's the book that Jane Austen wrote, and we are absolutely thrilled that Stillman presented it that way. 

RETURNING – Outlander Season 2
Outlander Season 2 is expected to air in March / April 2016. Outlander Season 1 premiered on Starz in the US in August, 2014.
UPDATE: Starz announced the Season 2 premiere date for Outlander, which will return Saturday, April 9th, 2016 for American audiences. 
Amazon announced the UK launch date for season two of Golden Globe nominated Outlander as April 10th. Amazon Prime members in the UK will have exclusive access to the new episodes as they are released weekly, a day after they air in the US on Starz.
Outlander follows the story of Claire Randall, a married combat nurse from 1945 who is mysteriously swept back in time to 1743 in the GEORGIAN era, where she is immediately thrown into an unknown world where her life is threatened. When she is forced to marry Jamie Fraser, a chivalrous and romantic young Scottish warrior, a passionate relationship is ignited that tears Claire's heart between two vastly different men in two irreconcilable lives. Season 2 is based on Dragonfly in Amber, the second novel in the series by Diana Gabaldon.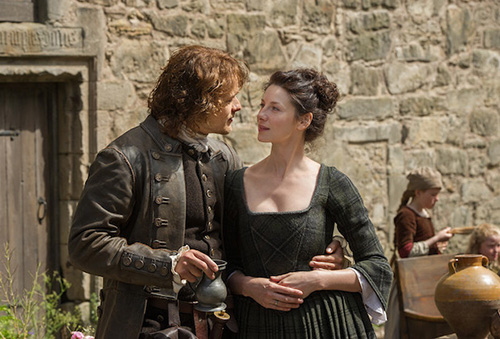 Season two of Outlander begins as Claire (Caitriona Balfe) and Jamie (Sam Heughan) arrive in France, hell-bent on infiltrating the Jacobite rebellion led by Prince Charles Stuart, and stopping the battle of Culloden. With the help of his cousin Jared (Robert Cavanah), a local wine merchant, Jamie and Claire are thrown into the lavish world of French society, where intrigue and parties are abundant, but political gain proves far less fruitful. Altering the course of history presents challenges that begin to weigh on the very fabric of their relationship. However, armed with the knowledge of what lies ahead, Claire and Jamie must race to prevent a doomed Highland uprising, and the extinction of Scottish life as they know it.
When Ronald D. Moore, executive producer and writer of Outlander was asked when in 2016 Season Two may premiere, he replied in a tweet "Hasn't been set officially. Look for March/April." Starz has publicly committed to "at least" 13 episodes for the second season.
It's a massive season. We figured out recently that we've made over 10,000 items for season 2 and acquired another 5,000 shoes. Knowing that was in front of us…it was a monumental task. We started thinking about it halfway through season 1. It's a completely different kind of clothing. In Scotland, there is not a ton of research out there about what they wore. It was a rough place. But France [in the 18th century] was one of the most well-documented periods of fashion in the world, so you better get it right. There is no wiggle room. Everything has to be sumptuous and lavish and every inch is beaded and embroidered. This is why I came back into the business to do this show. Getting to do 18th century French court is a designer's dream. It's fabulous. – Terry Dresbach, costume designer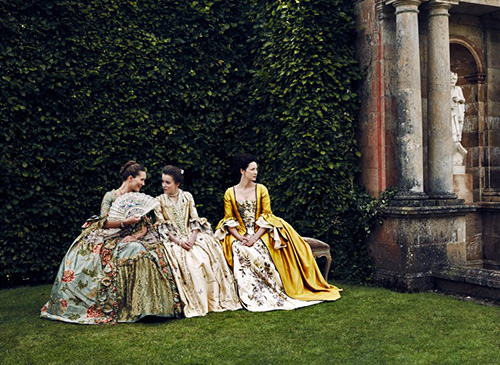 Be sure to check out Season Two Outlander Gaelic Glossary and this video teaser or Outlander Season 2.
UPDATE: British newcomer Sophie Skelton will play Brianna Randall Fraser, the daughter of Jamie and Claire in the Starz drama in Season 2.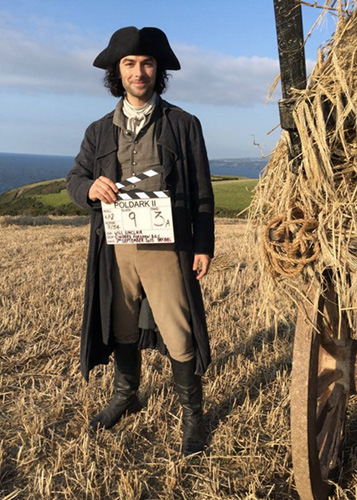 RETURNING – Poldark Season 2 (BBC): Poldark Season 2 will air in the UK on BBC One in Autumn 2016. No word yet on when it will air in the US on PBS Masterpiece; fingers crossed for a simultaneous release.  Season 1 of Poldark premiered on BBC One in the UK on March 8, 2015.
10 episodes are planned for Season 2 (that's two more than in Season 1). Filming is expected to go through April 2016.
Aidan Turner returns as Poldark as does Eleanor Tomlinson as Demelza. Poldark is set in Cornwall in the GEORGIAN era.
In series two, several exciting new key characters will appear, and there will continue to be turmoil and strife in Ross' business ventures and plenty of challenges to his and Demelza's domestic and family harmony. Across the series there will be catastrophic losses, significant triumphs, and some major shocks.

Since series two is based on his books Jeremy Poldark and Warleggan, the key narrative incidents and characters will be similar to those covered in these works. So those of you who want to be surprised can just tune in for episode one of series two when it returns, and those who can't wait just need to read the beginning of the third book, Jeremy Poldark, and all will be revealed! – Debbie Horsfield, writer and executive producer of Poldark for BBC One

Also NEW – The Birth of a Nation: Release date in 2016. Set against the antebellum South, this story follows Nat Turner, a literate slave and preacher, whose financially strained owner, Samuel Turner, accepts an offer to use Nat's preaching to subdue unruly slaves. After witnessing countless atrocities against fellow slaves, Nat devises a plan to lead his people to freedom. The GEORGIAN era biopic stars Armie Hammer, Nate Parker,  Aja Naomi King, Penelope Ann Miller, Colman Domingo, Roger Guenveur Smith, Dwight Henry, Mark Boone Jr., Jackie Earle Haley, Aunjanue Ellis, Esther Scott, and Gabrielle Union.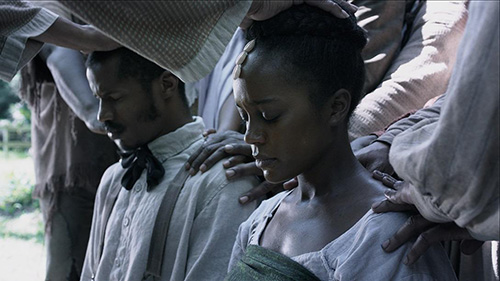 Also NEW – The Frankenstein Chronicles: Premiered on ITV Encore in November 2015. The US network A&E has acquired the period mystery crime drama mini-series that is a "thrilling and terrifying" re-imagining of the Frankenstein story set in the underbelly of 19th-century GEORGIAN era London. US air date unknown.
"This gory drama was rather like a Frankenstein's monster itself, constructed from stitched-together elements of Sharpe, Sherlock, Oliver Twist, Ripper Street and Penny Dreadful. However, it was bold, eerily effective and chillingly atmospheric." – The Telegraph
The six-part television mini-series was filmed in Northern Ireland. Set in 1827, the series is filled with "gas lamps, horses, and opium" and stars Sean Bean, Anna Maxwell Martin, Charlie Creed-Miles, Samuel West, Vanessa Kirby, Ed Stoppard, Tom Ward.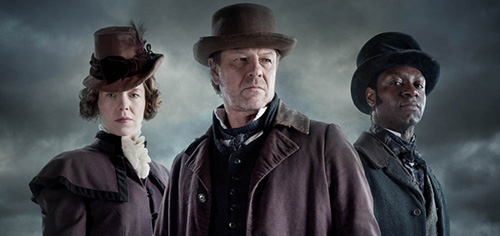 Also NEW – The Revenant: Theatrical release is January 8, 2016 in the US and January 15, 2016 in the UK. Inspired by true events, The Revenant is an immersive and visceral cinematic experience capturing one man's epic adventure of survival and the extraordinary power of the human spirit. In an expedition of the uncharted American wilderness, legendary explorer Hugh Glass (Leonardo DiCaprio) is brutally attacked by a bear and left for dead by members of his own hunting team. In a quest to survive, Glass endures unimaginable grief as well as the betrayal of his confidant John Fitzgerald (Tom Hardy). Guided by sheer will and the love of his family, Glass must navigate a vicious winter in a relentless pursuit to live and find redemption.
The historical drama (a la Wild West) is set in the 1820s during the GEORGIAN era. Starring Leonardo DiCaprio (Titanic), Tom Hardy (Marie Antoinette), Domhnall Gleeson (Anna Karenina), and Will Poulter (The Chronicles of Narnia: The Voyage of the Dawn Treader). The trailer is here.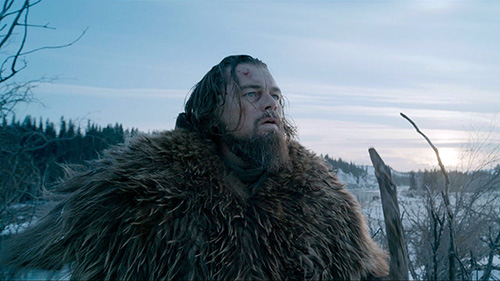 Also NEW – Pride and Prejudice and Zombies: The theatrical release in the US on February 5, 2016 and in the UK on February 12, 2016. Jane Austen's classic tale of the tangled relationships between lovers from different social classes in 19th century GEORGIAN / REGENCY era England is faced with a new challenge — an army of undead zombies. Based on Pride and Prejudice and Zombies, a 2009 parody novel by Seth Grahame-Smith. It is a mashup combining Jane Austen's classic 1813 novel Pride and Prejudice with elements of modern zombie fiction, crediting Austen as co-author.
Starring Lily James as Elizabeth Bennet, master of martial arts and weaponry, and zombie killer Sam Riley as Mr. Darcy. OH MY. Also starring Jack Huston, Bella Heathcote, Douglas Booth, Matt Smith, Charles Dance, Lena Headey. Filming locations included West Wycombe House, West Wycombe Park, West Wycombe, Buckinghamshire, England, UK, so that's something even Austen purists can look forward to if they brave the film.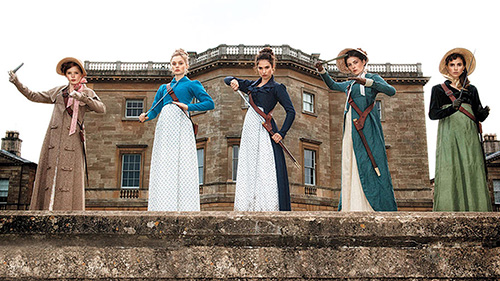 Also RETURNING – Black Sails Season 3 premieres on January 23rd, 2016. Season 4 is already confirmed for 2017: Black Sails is a GEORGIAN era (1715) prequel to the classic Robert Louis Stevenson novel Treasure Island. Brought to us by Starz, Black Sails is a pirate adventure that centers on the tales of Captain Flint, who has a reputation throughout the West Indies as being the most brilliant, most feared of all the Golden Age pirates. Starring Thomas Marshall Sharp, Zach McGowan, Toby Stevens, Luke Arnold, Hannah New.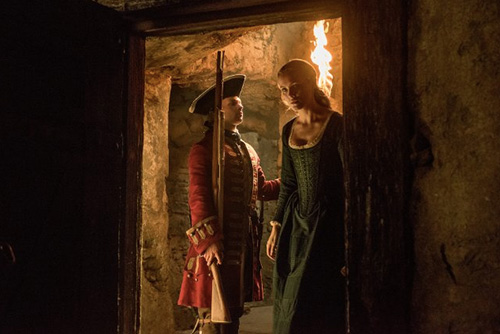 IN DEVELOPMENT – A Place of Greater Safety (BBC): Set in the GEORGIAN era during the French Revolution (1789 until 1799). "Hoping to build on the success of Wolf Hall, the BBC has revealed that it is to adapt another novel by Hilary Mantel. A screen adaptation of her book A Place of Greater Safety is in the early stages of development. Covering the French Revolution, Mantel's 1992 novel follows the dramatic ebb and flow of power and prestige in the era, and similarly interweaves history with fiction." – Independent

IN DEVELOPMENT – Dangerous Liaisons (BBC): Set in the GEORGIAN era during the French Revolution (1789 until 1799). The project is expected to be brought to US networks. "The series will be based not only on characters from Les Liaisons Dangereuses but also from other novels from the 18th century French libertine literary movement it belonged to. The pulp fiction genre, which came to an end with the French Revolution, chronicled the antics of the country's rich aristocracy." – Deadline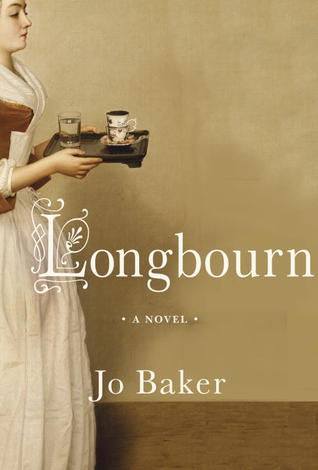 IN DEVELOPMENT – Longbourn: The lives of the servants of Longbourn House, home to the Bennet family of Jane Austen's Pride & Prejudice. Set in the REGENCY era. Based on the novel Longbourn by Jo Baker, the film rights were snapped up by Random House Studio and Focus Features, and translation rights have already been sold in Spain, Italy, Norway, Denmark, Germany, Brazil, France, and Sweden.
The servants take center stage in this irresistibly imagined belowstairs answer to Pride and Prejudice. While Elizabeth Bennet and her sisters fuss over balls and husbands, Sarah, their orphaned housemaid, is beginning to chafe against the boundaries of her class. When a new footman arrives at Longbourn under mysterious circumstances, the carefully choreographed world she has known all her life threatens to be completely, perhaps irrevocably, upended. Mentioned only fleetingly in Jane Austen's classic, here Jo Baker dares to take us beyond the drawing rooms of Regency England and, in doing so, uncovers the real world of the novel that has captivated readers' hearts around the world for generations.
LONGBOURN will reveal what Jane Austen did not: the constant chaos swirling downstairs, the preparation for lavish balls, the housekeeper's real thoughts about the family patriarch. But it will also reveal the tragic consequences of the Napoleonic Wars and focus on a romance between a newly arrived footman and a housemaid, the novel's main characters.
Random House Studio President Peter Gethers said, "This is one of the most exciting projects that has come along since we began our partnership with Focus.  It's rare to see a wonderful novel that screams out to us – in a genteel, Austen-like way, of course – that it needs to be made into an equally wonderful film. We were thrilled to be able to move so quickly and delighted to partner with various Random House companies here and around the world as we bring LONGBOURN to the screen." Longbourn is anticipated to to premiere in 2017.

IN DEVELOPMENT – Vanity Fair: ITV and Mammoth Screen (who brought us Poldark), have paired up to create a 6-part adaptation of William Makepeace Thackeray's classic novel. With a $15 million budget, "Like 'Poldark', 'Vanity Fair' will have high end production values, lavish costumes and opulent set designs." The story is set roughly between 1810-1820. The script is being written by Gwyneth Hughes, who previously penned the period dramas Dark Angel, The Mystery of Edwin Drood, and Miss Austen Regrets.

IN DEVELOPMENT – Interlude in Prague: Starring Aneurin Barnard (The White Queen, War & Peace), James Purefoy (Vanity Fair, The Hollow Crown) and Samantha Barks (Les Miserables), Interlude in Prague takes place over several months in the life of Wolfgang Amadeus Mozart. The costume drama was shooting as of June, 2016 in Prague.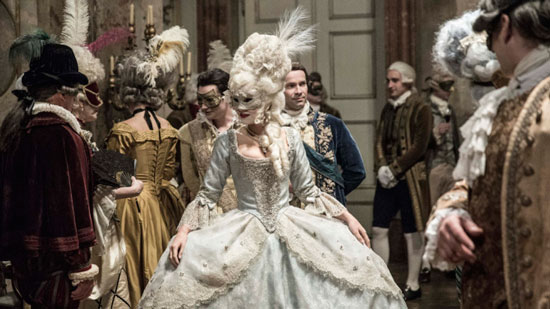 Of the period film, director John Stephenson said: "A love story and a tragedy of epic proportions, the characters, the passions, heartbreak and awful outcome could just as easily exist in a contemporary story. I intend to shoot this with fast-moving camera and use modern post-production techniques to capture the energy and atmosphere of a modern thriller. The result will be a glorious heart-in-mouth solar plexus knockout."

And I just read in a February 2104 article in The Telegraph that Call the Midwife writer Heidi Thomas was working on a TV drama about a Regency surgeon set in 1815. She said "It's 'Mr Darcy Amputates'." I don't know if that is really the title or was Thomas making a joke about the name of the show, but if anyone knows more about this, please share. That would be one more Regency era period drama IN DEVELOPMENT.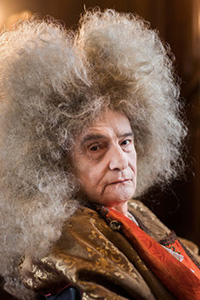 There is a French film named La Mort de Louis XIV that reportedly is having its theatrical premiere in France on February 1, 2016. It is a recount of Louis XIV's last three days of life. He passed away on September 1, 1715. Directed by Albert Serra, starring Jean-Pierre Léaud, Patrick d'Assumçao, Bernard Belin, Marc Susini, Irène Silvagni:
"On his return from hunting, Louis XIV felt a sharp pain in the leg … A fortnight later he was in bed in Versailles. This is the beginning of the slow agony of the greatest king of France, surrounded by his followers. After receiving the Golden Leopard in 2013 for Story of My Death, Albert Serra brings us The Death of Louis XIV, an adaptation of the memoirs of St. Simon Jean-Pierre Léaud. The Sun King is surrounded by his trusted doctor Fagon (Patrick Assumçao), Madame de Maintenon (Irene Silvagni), his surgeon Mareschal (Bernard Belin, ex -pensionnaire of the Comédie-French) and his first valet Blouin (Marc Susini)."
Also reportedly due for a September, 2016 release date is a NEW UK eight-part television miniseries called Taboo: "James Keziah Delaney returns to 1813 – 14 London after 10 years in Africa to discover that he has been left a mysterious legacy by his father. Driven to wage war on those who have wronged him, Delaney finds himself in a face-off against the East India Company, whilst playing a dangerous game between two warring nations, Britain and America." The period drama takes place during the early 1800's, when Britain was at war with both the United States and France. Starring Tom Hardy, Leo Bill, Oona Chaplin,Jessie Buckley, Richard Dixon, Michael Kelly and Jonathan Pryce. To be aired on BBC One in the UK and on FX in the US. It looks well done, but dark!
Turn: Washington Spies Season 3 premieres Monday, April 25, 2016: Set in 1778. in the United States. Based on Alexander Rose's book Washington's Spies, AMC's TURN tells the untold story of America's first spy ring. A historical thriller set during the Revolutionary War, TURN centers on Abe Woodhull, a farmer living in British-occupied Long Island who bands together with his childhood friends to form The Culper Ring — an unlikely team of secret agents who not only went on to help George Washington turn the tide of the war but also gave birth to modern spy craft. Starring Jamie Bell, Seth Numrich, Daniel Henshall, Heather Lind, Meegan Warner, Kevin McNally, Burn Gorman, Angus Macfadyen.
The Wrap reports that Keira Knightley is in talks to play the leading role in a Catherine the Great biopic, which is directed by Barbra Streisand. Based on a 2014 Black List screenplay by Kristina Lauren Anderson, the film will focus on the life of young Catherine and her unfortunate marriage with Emperor Peter III. Speaking of the film, the Daily Mail said "Caught in a campaign of abuse, the powerful woman must use her cunning to rise above the confines of her matrimony and eventually rise to power." Catherine the Great ruled from 1762 to 1796 after the assassination of her husband, making this one more Georgian era film IN DEVELOPMENT. This will be Streisand's fourth time directing; she previously directed Yentl, The Prince of Tides and The Mirror Has Two Faces.
TV and Hulu are co-producing an eight-part series set in 1760s London, called Harlots. The period drama is filming in June, 2016 in London, and will star Downton Abbey's Jessica Brown Findlay, Samantha Morton and Lesley Manville. Written by Moira Buffini (Jane Eyre), the series "follows Margaret Wells (Morton) and her daughters, as she struggles to reconcile her roles as mother and brothel owner. When her business comes under attack from Lydia Quigley (Manville), a rival madam with a ruthless streak, Margaret will fight back, even if it means putting her family at risk. Brown Findlay will star as Charlotte, Margaret's eldest daughter and the city's most coveted courtesan who begins to grapple with her position in both society and her immediate family." In the US, Harlots will stream exclusively on Hulu.
NETFLIX will be releasing The Frontier at some point in 2016, an 18th century period drama about the North American fur trade, "a world where business negotiations might be resolved with close-quarter hatchet fights, and where delicate relations between Native tribes and Europeans can spark bloody conflicts."
And be sure sure to read all about the development of Jane Austen's Sanditon in 2016.

IN DEVELOPMENT – A Storm In The Stars: Starring Maisie Williams, Elle Fanning, and Douglas Booth, A Storm in the Stars tells the story of the love affair between poet Percy Shelley and 18 years old Mary Wollstonecraft, which resulted in Mary Shelley writing Frankenstein.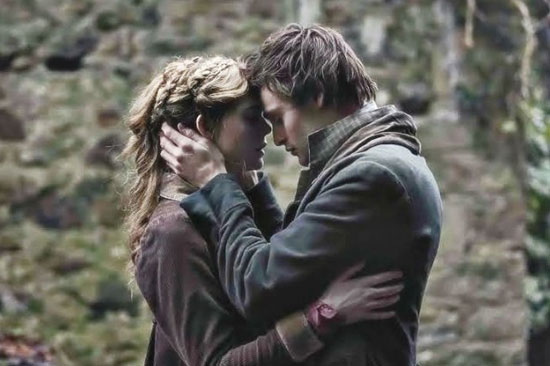 Mary is a rebellious and outspoken teenager. When she meets the poet Percy Shelley, there's a spark of attraction between the two outsiders who feel trapped within polite society. Percy is contrary and selfish, talking of sexual freedom and progressive ideas that are beyond the boundaries of their age. For sheltered Mary, it's love at first sight.

When Mary's family discover that Percy is married with a child, they forbid any further contact. Mary and Percy elope, taking Mary's half-sister Claire along for the ride. It's a scandal, and with Percy's philandering ways, rumours of a ménage à trois are whispered everywhere they go. Claire wilfully flirts her way into Lord Byron's affections and Mary is relieved when they are asked to join the decadent poet at his house in Lake Geneva. It's a chance to escape the gossip-mongering and restrictions of England.

During one stormy summer night, to distract Mary from Percy's infidelities, Lord Byron suggests they all write a ghost story. All the pain and guilt that Mary feels about Percy, Claire and the child she lost, is poured into giving birth to Frankenstein's Monster. The story is incredible, a classic that even Percy must acknowledge. But women don't write books, and publishers certainly won't print them. The rebel rises, and Mary fights for her creature and her identity, all at the age of eighteen.

Please feel free to leave a note if Willow and Thatch has overlooked any upcoming period drama in the Georgian and Regency eras or if you learn about changes or additions as to when the costume drama will air in the United States Canada, in the UK or elsewhere.
If you enjoyed this post, you'll want to wander over to The Period Films List where you'll find the best period and costume dramas, curated and sorted by era, and you may be particularly interested in the Best Period Films: Georgian and Regency Eras List: A list of films set during the Georgian era (1714 to 1837) and the sub-period Regency era (1811 to 1820). Jane Austen adaptations. The Georgian era of British history is a period which takes its name from, and is normally defined as spanning the reigns of the first four Hanoverian kings of Great Britain who were all named George: George I, George II, George III and George IV. The era covers the period from 1714 to 1830, with the sub-period of the Regency defined by the Regency of George IV as Prince of Wales during the illness of his father George III. The definition of the Georgian era is often extended to include the short reign of William IV, which ended with his death in 1837.