Last Updated on October 29, 2018
Period Dramas 2016 Edwardian Era is the fifth in a series of posts featuring the new costume dramas and period films to be released in 2016.
We'll look at the upcoming films for the year by era (Dark and Middle Ages, Tudor and Stuart Eras, Georgian and Regency Eras, Victorian Era, Edwardian Era, First World War, Interwar, Second World War, Postwar), as well as select films and television mini-series that were released at the close of 2015. We will also see which period dramas are returning for an additional season, or are currently in development and production.
Included here are films, television miniseries, made for television movies, etc. set during the reign of King Edward VII, 1901 to 1910, and beyond Edward's death to include the four years leading up to World War I: Edwardian era (1901 to 1914).

NEW – Queen of the Desert
Theatrical premiere in March, 2016 in the US. In Europe in September 2016.
Directed by Werner Herzog, Queen of the Desert follows Gertrude Bell's life as an explorer, cartographer, and archaeologist for the British Empire. Bell, played by Nicole Kidman, "turned her back on Victorian society to study at Oxford and travel the world, and became the chief architect of British policy in the Middle East after World War I. Mountaineer, archaeologist, Arabist, writer, poet, linguist, and spy, she dedicated her life to championing the Arab cause and was instrumental in drawing the borders that define today's Middle East."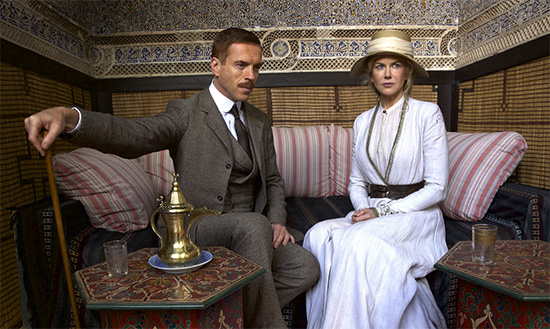 The epic biographical period drama spans a number of years; Bell would have been 33 by 1901 at the start of the EDWARDIAN era. The film also shows her in her late twenties and into her 50s, and as such it includes the VICTORIAN era and the period of the FIRST WORLD WAR. 
The Hollywood Reporter says "This is the story of a woman penetrating the boundaries of nature as a refuge from the constricting conventions of society, the rigidity of colonialism and the cruelties of the human heart." Ultimately, they give the film a lukewarm review; "Queen of the Desert is a pedestrian retelling of an extraordinary life, more often starchy than stirring." Still, this biopic about the pioneering life of Gertrude Bell could be worth the viewing:
In Kidman, we see how fearless and resourceful Bell must have been in her travels — a noblewoman uncowed by her male peers. For modern audiences, Kidman's embodiment of Bell may serve to represent an early symbol for equality of the sexes, but in Herzog's more Germanic way, it actually stands to represent a kind of superiority: Here was a woman whose thirst for life left her towering over the petty ambitions of bureaucrats, civil servants and other small men. The movie celebrates that spirit in every aspect, from its valorizing widescreen cinematography to its even more hagiographic score. – Variety
Starring Nicole Kidman, Damian Lewis, James Franco, Robert Pattinson, a major portion of the filming took place in Morocco, with additional scenes in Jordan.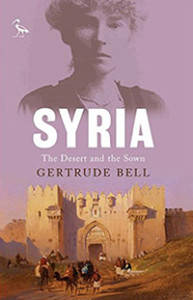 Gertrude Bell published her observations in the book Syria: The Desert and the Sown (1907): "Gertrude Bell – traveller, scholar, archaeologist, spy – was one of the most powerful figures in the Middle East in the 20th century. With T.E. Lawrence, she was a significant force behind the Arab Revolt and was responsible for creating the boundaries of the modern state of Iraq, as well as installing the Hashemite dynasty, with Faisal I as king, in Iraq and Transjordan. Her knowledge of the Arab world was forged through decades of travel and the relationships she built across Arabia with tribal leaders and kings, who referred to her as Umm al Mu'mineen, or Mother of the Faithful. In the winter of 1906, she undertook an often dangerous journey through Greater Syria – Damascus, Jerusalem, Beirut, Antioch and Alexandretta – and her portrait of the landscapes, people and customs of a part of the world that very few had explored at the time is now a classic of travel writing. Bell's Syria illuminates a region that continues to preoccupy us today as well as portraying the unique life of a remarkable, still-controversial and ultimately tragic woman."
You may also be interested in A Woman in Arabi, a collection of Gertrude's writing extensively contextualized and edited by Georgina Howell.
Given the sheer amount of material her life provides to the camera, it's not surprising Gertrude Bell's life has been made into a biopic by Werner Herzog, titled Queen of the Desert — a distinction that encapsulates why Gertrude's determinism has sometimes come under scrutiny. As often happens given the ways history repeats, Gertrude's legacy makes easy parallels to the present, from world powers trying to determine the political shape of the Middle East to women's struggles to be taken seriously by male colleagues. In A Woman in Arabia, she faces it all with humor, passion, and candor; even a century on, she's a woman worth knowing. – NPR Books

NEW – Houdini & Doyle
Sony Pictures TV has sold the 10-episode series to Fox, the UK's ITV Encore and Canada's Shaw Media. The series will air on all three networks in the spring.
Houdini and Doyle is an upcoming American-British-Canadian drama television series based on the friendship of master magician Harry Houdini, played by Michael Weston, and renowned Sherlock Holmes author Arthur Conan Doyle (Stephen Mangan). The period drama follows Houdini and Doyle as they join forces with New Scotland Yard to investigate unsolved and inexplicable and possibly supernatural crimes. Set in London in 1901, the series is inspired by true events.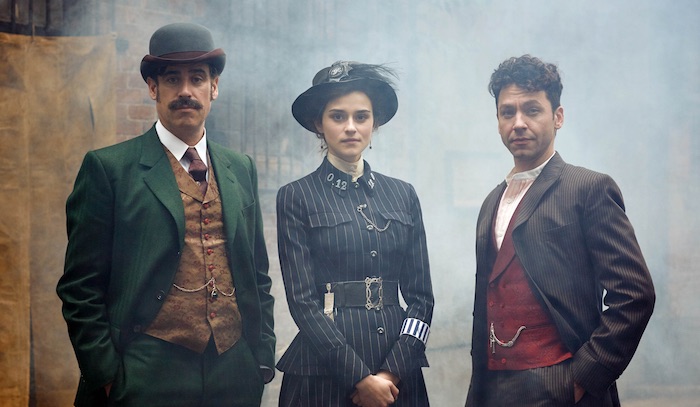 Harry Houdini: master magician, escape artist, born penniless and now the highest paid performer in the world and he wants everyone to know it. He refuses to believe in the paranormal. As a professional magician and master of illusion he knows there's nothing supernatural about magic. To him, everything unexplained is a trick, a gimmick, or a fraud.
Sir Arthur Conan Doyle is the creator of the greatest detective of all time – Sherlock Holmes – but is also a passionate believer in the paranormal. Because, having lost someone very close to him, he desperately wants to find a way of communicating with them.
This fundamental difference between the two men leads to conflict… and humour… and competition. High-minded competition in the pursuit of the truth and ridiculous petty competition because they're… guys. But despite all this, they need each other. Doyle needs Houdini because he is gullible. Houdini needs Doyle because he is wrong.
Houdini & Doyle will draw heavily on the rich history of the period. At the turn of the 20th century the Metropolitan Police, mired in the ways of the 19th century, were overwhelmed with bizarre and often inexplicable cases so they turned to outsiders including, believe it or not, Houdini and Doyle, who collaborated with New Scotland Yard on some unsolved and inexplicable crimes. Here's the trailer – it looks like a fun EDWARDIAN era period mini-series.
Joining the international cast of new and established talent are exciting new Canadian actress Rebecca Liddiard as Constable Adelaide Stratton, whose character in the series is the first female PC ever to work for the London Metropolitan Police Force, Tim McInnerny as Inspector Horace Merring, fast rising star Adam Nagaitis as Sergeant George Gudgett.

NEW – El Hotel de los Secretos/ The Hotel of Secrets
Premieres in the US on January 25, 2016 on Univision, the American Spanish language broadcast television network. The series has the option of closed caption (CC3) in English for non-Spanish speakers.
Set in 1908 in the EDWARDIAN era, El Hotel de los Secretos (The Hotel of Secrets), a series that combines mystery, danger and romance with the splendor of early 20th century Mexico as backdrop. The series was adapted by María René Prudencio from the hit series Gran Hotel, which aired in Spain from 2011-2013 and subsequently became an international hit, wowing audiences from France to Russia and beyond. (All three seasons of Gran Hotel / Grand Hotel are available to stream on Netflix, subtitled in English.)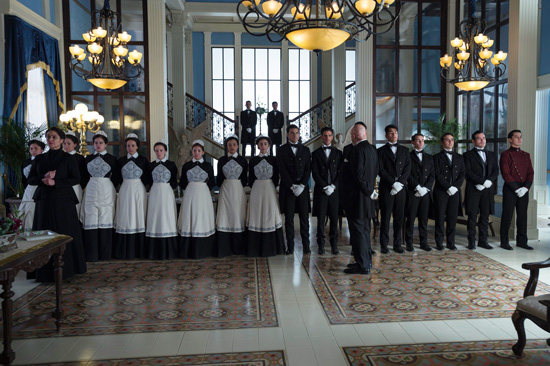 The new series will take viewers to such spectacular locations in Mexico as picturesque San Miguel de Allende, and back to an exciting time when technological advances were opening up new worlds of possibilities, but social class differences and political ardor threatened the future of  everything, including love. All the drama comes to a head at the Hotel de Los Secretos in a remote provincial town.
The series opens with the chance meeting of two strangers on a train. Even though Alicia Alarcón (Irene Azuela) comes from old money and Julio Olmedo (Erick Elías) lacks even a hat to call his own, much less the money to buy a ticket, the sparks fly from the beginning. As the world seems to fall apart around them, Julio and Alicia must overcome class differences, social mores, family loyalties and their own pasts as they struggle toward the realization of a great love.
Hotel de Los Secretos is a story of a family's dark secrets; deceit, family intrigue, ghosts from the past, betrayal and even murder, are all centered on the eminently respectable and elegant hotel.
Watch the trailer for Hotel de los Secretos with English subtitles:

RETURNING – When Calls the Heart – Season 3
Returns to the Hallmark Channel on February 21, 2016. Available to stream on Amazon Video.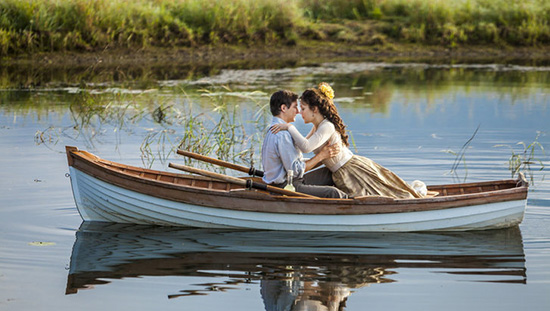 Elizabeth and Jack's romance in Hope Valley continues to develop as we follow the adventures of other townspeople. In particular, two newcomers arrive, changing the lives of both Frank and Abigail and challenging their relationship; Lee and Rosemary's bond deepens as they reconcile their strong personalities; and Bill Avery's future remains uncertain.
This western-style television series is based on and inspired by the Canadian West book series by Janette Oke. Starring Erin Krakow as Elizabeth Thatcher, Daniel Lissing as Jack Thornton, Lori Loughlin as Abigail Stanton, Jack Wagner as Bill Avery, and Martin Cummins as Henry Gowen.
The 2-hour holiday movie special, New Year's Wish premiered in December, 2016: Elizabeth and Jack are reeling from Charles' shocking proposal. As Elizabeth assures Jack her heart remains with him, Jack takes some time apart, while dealing with his disappointment in his mentor Bill, who remains in the Hope Valley jail awaiting trial.

RETURNING – Miss Friman's War / Fröken Frimans krig – Series 3
The third season has been commissioned and will air in Sweden on SVT by the end of 2016. No word on when or if Season 1 will air in the US, but hopefully soon!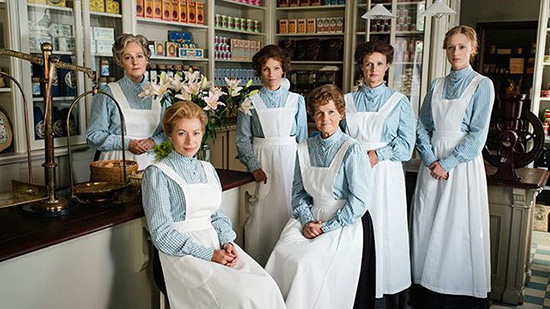 Not all battles are violent. Meet a courageous group of women who takes on both the male rulers of the day and a corrupt grocery industry. Savvy is their strategy and cans of healthy food are their weapons. The three hour drama series "Miss Friman's War" is a humorous and poignant story about friendship and fighting for your dreams. It addresses topics that are as relevant today as they were then: the demand for good, unspoiled food and the struggle for equal rights. Although "Miss Friman's War" is a work of fiction, the story is partly based on actual events around the all-female food co-op "Svenska Hem", which was founded long before women even had the right to vote.
Season 1: It is 1905 in Stockholm, Sweden and people's lives are changing rapidly due to the introduction of new technologies. At the same time, food poisoning epidemics are common among low income families and the line between different social groups remains clearly defined. The role of women however is supposed to be nothing more than smiling housewives and devoted mothers.
This is the situation Dagmar Friman finds herself in when she returns to Sweden after several years in London. She is more than a little headstrong and believes firmly in equal rights for women. Miss Friman and her friends resolve to open a co-op grocery store for women, run by women, called Swedish Homes. It will be a store that sells unspoiled food at prices even workers can afford – a revolutionary idea at the time.
Season 2: Set in 1906, the Swedish Homes grocery store has now become the secret meeting place for a group fighting for women's suffrage in Sweden. But it's still very much a man's world, and new obstacles arise as the women battle for their rights. Season 2 of Miss Friman's War premiered on SVT at 9pm on Christmas Day.
Season 3: It is 1907 and Miss Friman and her friends are at war again. Now they are battling Sweden's out-of-date prostitution laws, which protects sex buyers while victimizing women on the streets. They are also challenging the traditional male role, as they fight for Jon's right to be a single father.
Miss Friman's War, the Swedish TV mini-series, is based on the bestselling book 'Swedish Home: A Passionate Affair' by Monika Björk and Eva Kaijser. Starring Sissela Kyle, Sofia Ledarp, Frida Hallgren, Maria Kulle, Lena T. Hansson, Gustaf Hammarsten.
This comedy-drama, based on a true story, was a huge success when aired in Sweden, with over 1.6 million viewers tuning in. It looks terrific; you can watch the official trailer, subtitled in English.

IN DEVELOPMENT: Tutankhamun (ITV)
ITV Studios Global Entertainment will distribute Tutankhamun internationally.
The four-part drama from ITV starts in the EDWARDIAN era, and moves into the periods of the First World War and Interwar. Filming began in South Africa during the winter of 2015 and continues in the early part of 2016. Max Irons (Woman In Gold, The White Queen) plays Howard Carter, who discovered of the tomb of one of Ancient Egypt's forgotten pharaohs, the boy-king Tutankhamun. Sam Neill (Peaky Blinders, The Tudors) takes the role of the dashing and eccentric Lord Carnarvon who keeps faith with Carter and continues to back his expeditions when no one else will.
The mini-series written by leading screenwriter Guy Burt (
Jekyll and Hyde
,
The Bletchley Circle
,
The Borgias
) will focus on the legendary personal story of Carter, a solitary man on the edge of society who became an iconic figure and an unlikely hero.
Set against the great sweep of ochre sands, looming cliffs and baking heat of Egypt's Valley of the Kings, the story unfolds from 1905 when Carter, an eminent British archaeologist who we meet in his early 20's, is fervently leading an expedition. Amidst the chaos scattered across the Valley floor, Carter's grim determination to find lost antiquities is only too apparent. He has an easy manner with the Egyptian men who work alongside him, but when tempers fray Carter is hotheaded and puts the dig and his career in jeopardy.
Against the backdrop of World War One, conflict, murder, corruption, romance and the unlikeliest of friendships, Tutankhamun sees Howard Carter's determination pay off in spectacular style when he discovers one of the greatest archaeological treasures of the modern world. – ITV Director of Drama Steve November
With his license to dig revoked by Cairo's Antiquities Service, Carter spends years ostracised, dishevelled and living rough and resorting to selling previously discovered archaeological relics to buy food.
A chance meeting with British aristocrat, the very dashing, suave and eccentric Lord Carnarvon, brings a change of fortunes as the enthusiastic amateur needs an experienced archaeologist to help him with a series of random excavations.  Carter and Carnarvon begin the most unlikely friendship, in spite of their differences of background and character.  Privileged and fast living, Carnarvon keeps faith with Carter and continues to back him when no one else will.  After years of searching for the tomb, Carter and Carnarvon successfully discover the last resting place of the boy-king in 1921 against all odds and at great personal expense.

 MAYBE IN DEVELOPMENT: Black Diamonds: The Rise and Fall of an English Dynasty
In August 2015, the Evening Standard reported that the BBC were working on an adaptation of Catherine Bailey's Black Diamonds: The Rise and Fall of an English Dynasty, which tells the true story of the Fitzwilliam family and their coalmining empire in the 19th Century. Around the same time, The Telegraph said "A spokesperson for the BBC said that there was no official comment on the series, which is in very early development stages."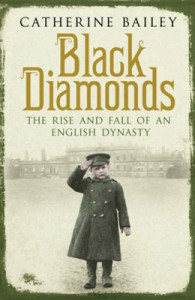 Catherine Bailey's book Black Diamonds is an "extraordinary tale of family feuds, forbidden love, civil unrest and the downfall of a mining dynasty. Wentworth in Yorkshire was surrounded by 70 collieries employing tens of thousands of men. It is the finest and largest Georgian house in Britain andbelonged to the Fitzwilliam family. It is England's forgotten palace which belonged to Britain's richest aristocrats. Black Diamonds tells the story of its demise: family feuds, forbidden love, class war, and a tragic and violent death played their part. But coal, one of the most emotive issues in twentieth century British politics, lies at its heart. This is the extraordinary story of how the fabric of English society shifted beyond recognition in fifty turbulent years in the twentieth century."
According to The Sunday Times, BBC drama producer David Aukin acquired the screen rights to Bailey's book and commissioned a script for the opening episode. Neil McKay, who adapted Wuthering Heights (1998) for MASTERPIECE is reportedly penning Black Diamonds.
There was talk that the period drama could even be filmed at Wentworth Woodhouse: but Wentworth is in disrepair and the race to save it has been a difficult one.
"The 18th Century house and its grounds have featured in a number of film and TV productions, including Mr Turner, the 2014 biographical drama about the life of painter J M W Turner, last year's BBC mini-series Jonathan Strange & Mr Norrell." – BBC 
UPDATE 2/4/16: There is good news! Wentworth Woodhouse has been sold to the Wentworth Woodhouse Preservation Trust and will remain open to the public. The BBC reports that it is hoped completion of the sale will take place within two to three months. The long term strategy is for the public to visit and enjoy all the most interesting parts of the property while restoring the others for revenue-earning uses such as events and holiday lets with business units in the stables. Events? Like the filming of Black Diamonds? We will just have to wait and see!

Wentworth Woodhouse is an unsung marvel of English architecture, one of the largest and most impressive of all 18th-century country houses, the seat of a great political dynasty and the home of a Prime Minister. In size and splendour it matches Stowe, with an even more magnificent parade of state apartments and a landscape studded with temples, monuments and follies.
The magnificent Baroque and Palladian mansion, which in many European countries would be called a palace, and the 83 acres which run with it, is the former seat of the Fitzwilliam Family, who employed 100 servants and staff. Wentworth Woodhouse is thought to have inspired Pride and Prejudice's Pemberley, the fictional home of Jane Austen's Mr Darcy.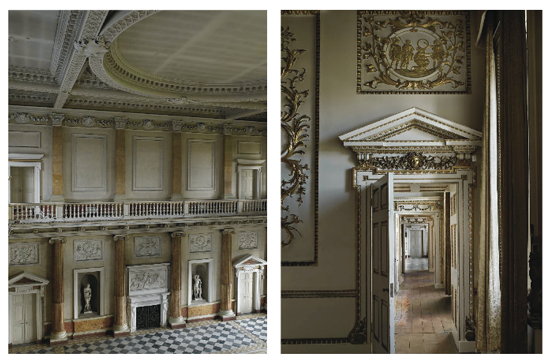 In 1912 King George V and Queen Mary stayed at Wentworth. A total of 76 bedrooms were required for the Royal Visit.

Please feel free to leave a note if Willow and Thatch has overlooked any upcoming period drama in the Edwardian era or if you learn about changes or additions as to when the costume drama will air in the United States Canada, in the UK or elsewhere.
If you enjoyed this post, you'll want to wander over to the Period Films List; in particular, you may like the Best Period Dramas: Edwardian Era List: A list of movies, television miniseries and films set during the reign of King Edward VII, 1901 to 1910, and beyond Edward's death to include the four years leading up to World War I: Edwardian era (1901 to 1914).