Last Updated on April 27, 2019
If you've been watching season one of Outlander, you probably have picked up on some of the Scottish – Gaelic words that are frequently used, while others remain a mystery. When writing the first novels of the series, Diana Gabaldon had access to a Gaelic-English dictionary and to Scottish literature and film, but not much more in the way of language resources. It was when she was writing the third novel, Voyager, that a helpful reader, while praising her inclusion of the language, pointed out several grammatical errors and offered to help with future use of Gaelic in the books. Willow and Thatch thought you may also want to study up on your Gaelic a little, before season two airs.
And just when will Outlander return for season two?
When Ronald D. Moore, executive producer and writer of Outlander was asked when in 2016 season two may premiere, he replied in a tweet "Hasn't been set officially. Look for March/April." That's exciting news, but not soon enough for many, including fans who created the #Droughtlander tag to help stave off the displeasure of waiting for more Outlander. Such angst is completely understandable, though it may be somewhat relieved by the recent DVD release of Outlander Season One, Volume Two.
Here's what else we know about season two in 2016 (there are some very minor spoilers ahead), along with our Gaelic tutorial:
Starz has publicly committing to "at least" 13 episodes and the official Outlander season two synopsis has been released:
Season two of Outlander begins as Claire and Jamie arrive in France, hell-bent on infiltrating the Jacobite rebellion led by Prince Charles Stuart, and stopping the battle of Culloden. With the help of his cousin Jared (Robert Cavanah), a local wine merchant, Jamie and Claire are thrown into the lavish world of French society, where intrigue and parties are abundant, but political gain proves far less fruitful.

Altering the course of history presents challenges that begin to weigh on the very fabric of their relationship. However, armed with the knowledge of what lies ahead, Claire and Jamie must race to prevent a doomed Highland uprising, and the extinction of Scottish life as they know it.
When Moore was interviewed about Outlander season two, he said
We had to build an entire apartment for Jamie and Claire to live in. There are carriages, there are servants with livery, there are props and furniture. It's completely different. It's a whole new show. It will look completely different than season 1. Overall, I'm just excited to see the streets of Paris and Versailles. There's an interesting "wow factor" I'm looking forward to see us realizing and putting them in a very different urban environment than last season.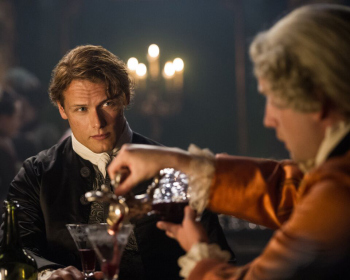 Hopefully Moore just means different in the stunning visuals department, and in the new terrain that the characters navigate; not in any way that changes our affection for Claire and Jamie. The wow factor sounds terrific.
About the production of Outlander's second season, Sam Heughan (Jamie Fraser) said
We were shooting up on the East Coast of Scotland, which doubled for the French sea court, and it's pretty much the opening of the show in Season 2. There's some incredible location work, we had lots of boats there and the French harbor…We've got some terrific French cast, lots of French actors, some quite famous, are in the show. It just feels very different. It feels like an epic sort of journey that we're on, on the show. It's such an interesting time period too. The end of 1744, 1745, so it's a really interesting time, we're so close to revolution. Yeah, it's been great.
Photos from the set show more colorful, luxurious costumes for the scenes that are set in France, and reportedly some of the locations in England will be stand-ins for Versailles. About outfitting the actors for season two, Outlander costume designer Terry Dresbach said that the costumes for season two are "…so elaborate. It's a dream. I think every costume designer wants to do the 18th century." She told Variety
So we just finished building 900 extras' costumes from scratch. It's madness, it's even crazier than last year, and we are starting all over from scratch with our principals again. So we are repeating the exact same process except that we have greater numbers, and a costume that would've taken a week to build takes two weeks; two weeks takes four weeks.

It's funny because in Scotland, there's not a lot of research to support what people were wearing other than some paintings by Victorians. That's not true of 18th century Paris. It's meticulously researched. There's every single detail about what the button was made out of on the left cuff versus the right cuff. It gets pretty intense. There's not a lot of wiggle room, there's not a lot of room for error — you need to get it right.
Regarding the costumes, Moore said
Everything about Paris is so completely different, especially the costumes because you're dealing with a world—the aristocratic world is the circle Jamie and Claire basically operate in while they're in that part of the story. It's the most stylish city in the world during this time. A lot more money. A lot of finery. Scotland is featuring a lot of heavy wools and more organic colors. In Paris everyone wants to be a peacock. You've got a much wider palette of textiles and colors and styles than you did in Scotland. It's a completely different world.
Not that Claire's wedding dress in season one wasn't amazing; it was.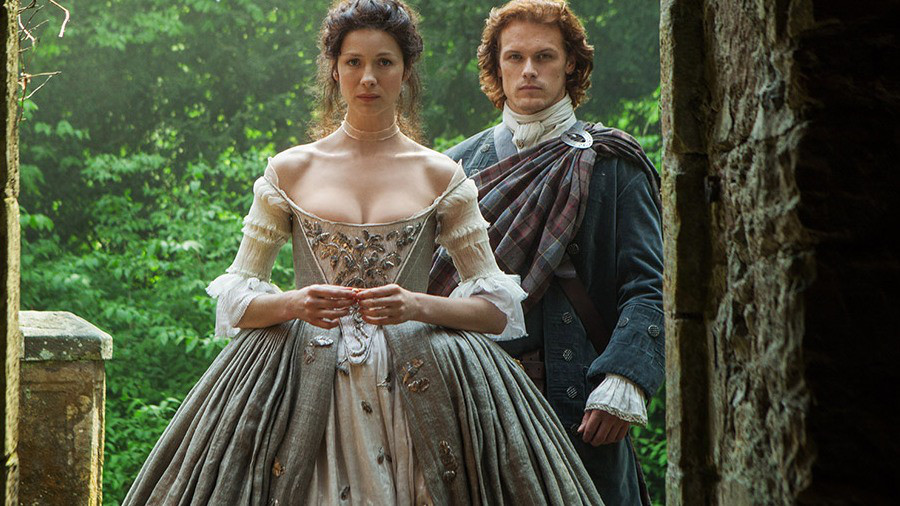 About the wedding dress, Dresbach said
I wanted a dress that would be incredible in candlelight. And in the 18th century, metallic fabrics were made with actual metal woven into the fabrics. When you put them in a room filled with candles, they just glow. They're quite remarkable…that dress took us — we calculated it out at about, I think if one person had done it, it would have been about 3,000 hours worth of work. We did a technique of embroidery that was done hundreds of years and is no longer used. The embroidery is done with metal.
The series' executive producer and writer has spoken more on the changes that a Georgian era Outlander season two, partially set in Paris would bring:
Paris is sort of a combination of three basic places: Scotland, where we're building interiors on our sound stages and going out to find houses or exteriors that might work for someone's Parisian apartment or palace or garden. Then we're going to go to Prague, and in Prague we're going to shoot street scenes for Paris. Like, when you see our characters going through the streets of Paris it will be the streets of Prague, primarily. There will also be some locations in Prague that would serve as, like, the Palace of Versailles. Likewise, there are some locations in the south of England, some of the English palaces that have some French rooms. There's some French architecture to them that we will also play as part of Versailles, some gardens, some other houses around Paris. So it's really those three… How we're going to build our Parisian story.
But reports are that the majority of the action will still be in Scotland. (Dysart Harbour, in Fife, was transformed into a 1700s-themed set and Sam Heughan and Tobias Menzies, were also spotted shooting a crucial duel in Glasgow's Pollok Park.) So let's get to our Gaelic lessons in preparation for season two.
You probably already know that sassenach /sass-un-nakh/ means outlander, or foreigner; more specifically an English person and the usage is generally derogatory, though Jamie's usage of Sassenach is clearly playful in regard to Claire (Caitriona Balfe). You may not know that it is also the name given by the Gaelic inhabitants of Great Britain and Ireland to their 'Saxon' or English neighbors, though it is sometimes attributed to Welsh speakers (the corresponding Welsh form is Seisnig.) The term sassenach is also used by Highlanders to refer to Lowland Scots.
You may also have figured out that bairn/wean is baby/child, ken (kent, kenna) is to know, braw means brave but also implies fine, splendid, or excellent, and besom is a woman, generally an ill-tempered one.
Some trickier ones: clot-heid or clot-head is an idiot or imbecile, dinna fash means don't worry; don't be troubled or bothered, gomeral is a fool, and greet is to weep or grieve.
You dinna kent that? Dinna fash.
Kent can also be used as an adjective meaning known or familiar. You might say "The church was full of kent faces" and you can add an adverb to the kent for emphasis, as in "There were a few weel-kent faces in the court to support her" – you can bet Claire would have liked to have used either of these phrases during the witch trial episode! Kenna was once the common negative form of ken. Now it is usually dinnae ken or dinna ken, translated into English as don't know. In spoken Scots this often becomes dinny ken or d'ken. For the very curious, there is more on the usage of ken here.
Some phrases and greetings you might catch being used in Outlander season two are:
Ciamar a tha thu /Kia-mar a haa u/ is How are you?
Tha mi gle mhath /Ha Mi flay vah/ is I am very well.
Nach tu tha briagh! /nach tu ha bría/ is Aren't you lovely.
Oidhche mhath leat fhéin /hayn/ m'eudail /maydal/ is Goodnight to you(rself) m' darling!
That sin ceart /ha sheen kyarst/ is That's right.
Seall sin! /showl sheen/ lit is Look (at) that! (How 'bout that.)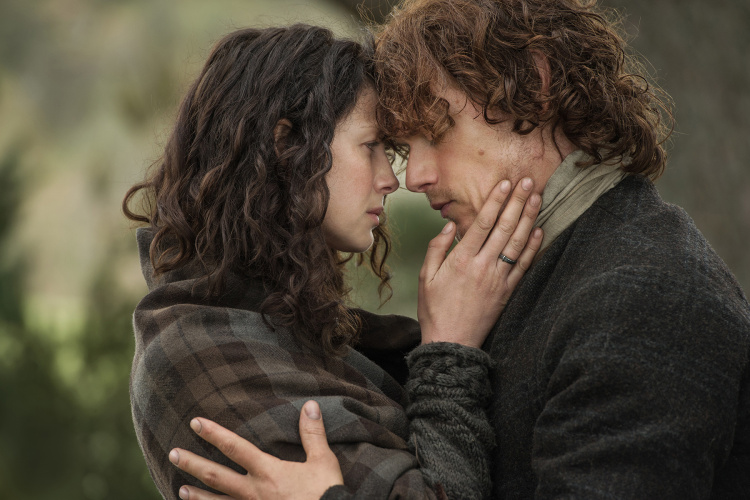 Outlander Lists is a great reference companion to Diana Gabaldon's Outlander series of books, and has included some of sweet things Jamie calls Claire, like mo airgeadach – my silver one (Jamie says this to Claire one night when she is bathed in moonlight in chapter 24), mo chride / mo chridhe – my heart, mo luaidh – my darling, my dear, and mo maise – my beauty. Yes, Outlander is definitely a period romance, and in 2016, it sounds as if we will also be treated at times to a lavish costume drama.
STARZ has released a series of videos teaching the pronunciation of various Gaelic words and phrases, as well as other unfamiliar words. Go ahead, have a wee bit of fun, but just so you know, The Speak Outlander series features fictional placenames from Diana Gabaldon's Outlander novels as well as some Lowland Scots terms and therefore not all videos contain traditional Scottish Gaelic words and phrases. In the last video, Sam Heughan (Jamie) says that he loves you, so if you wish to play that one twice, Willow and Thatch will understand.
Àdhamh Ó Broin is the Gaelic (Gàidhlig!) expert who advised the Starz Outlander Production, and you'll find him in the the Speak Outlander Lessons; he has also assembled the Outlandish Gàidhlig Glossary, which is part of the Great Scot! Cultural Musings of An Outlandish Nature blog, intended to help promote the understanding of Gàidhlig and share Ó Broin's tweets. Ready for a few Speak Outlander lessons? Here are Willow and Thatch's favorites.
Speak Outlander Lesson 1: Sassenach
Speak Outlander Lesson 9: Tùlach Àrd
Speak Outlander Lesson 12: Tha Gaol Agam Ort
And lastly, Carol Ann Crawford, the dialect coach on the Outlander set introduces you to the many accents of Scotland.
If that's not enough for you, here's an online Gaelic dictionary. It's MacFarlane's Scottish-Gaelic-English dictionary, that was verified at Sabhal Mór Ostaig, the Gaelic college on the Island of Skye, by Caoimhín P. Ó Donnaíle and Ruth Melton.
Gaelic learned or not, it seems that the second season of Outlander in 2016 promises to be well worth following.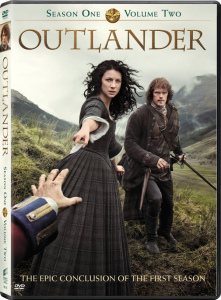 About Outlander, the television mini-series:
Season One – British combat nurse Claire Randall is reunited with her husband after returning from the battlefields of World War II. While on their second honeymoon, she walks through one of the ancient stone circles that dot the British Isles and is suddenly transported to 1743 Scotland, torn by war and rogue Highland clans. Hurled back in time by forces she cannot understand, Claire is catapulted into intrigue and danger when she is accused of being a spy. Forced by circumstance to marry an outlawed Highlander, she finds herself falling in love and torn by her loyalties to two men in vastly different times, all of which may threaten her life and shatter her heart. Diana Gabaldon's best-selling book series is stunningly realized by Executive Producer Ronald D. Moore in Season One's first eight episodes.
As OUTLANDER continues, Claire and Jamie's relationship is tested by ruthless Redcoats, volatile clan politics, and a brutal witch trial, which force Jamie and Claire to escape to a new home. Just when their life as a married couple begins to take shape, Jamie is once again drawn into Captain Randall's darkness. Ultimately, Claire discovers there is a fate worse than death as she struggles to save Jamie's heart, as well as his soul.
Starring Caitriona Balfe, Sam Heughan, Tobias Menzies, Graham McTavish.
If you enjoyed this post, you'll want to see the video teaser for Outlander Season Two and also wander over to the full (growing!) list of recommended best period films and romantic and historical costume dramas, all sorted by era and theme, in The Period Films List.