Last Updated on October 29, 2018
Period Dramas 2016 Victorian Era is the fourth in a series of posts featuring the new costume dramas and period films to be released in 2016. Part 2 of this post features the Victorian era films that are in development.
We'll look at the upcoming films for the year by era (Dark and Middle Ages, Tudor and Stuart Eras, Georgian and Regency Eras, Victorian Era, Edwardian Era, First World War, Interwar, Second World War, Postwar), as well as select films and television mini-series that were released at the close of 2015. We will also see which period dramas are returning for an additional season, or are currently in development and production.
Included here are films, television miniseries, made for television movies, etc. set during the reign of Queen Victoria: Victorian era (1837 to 1901).

NEW – Mercy Street (PBS)
Premieres January 17, 2016 in the US.
Based on real events, Mercy Street takes viewers beyond the battlefield and into the lives of Americans on the Civil War home front as they face the unprecedented challenges of one of the most turbulent times in our nation's history. Filmed on location around Richmond and Petersburg, Virginia, the six-part series is the first American drama to air on PBS in more than a decade.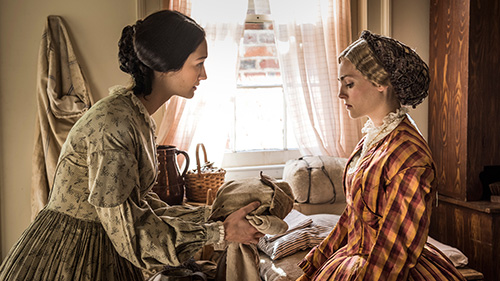 Set in Virginia in the spring of 1862, Mercy Street follows the lives of two volunteer nurses on opposite sides of the conflict: Nurse Mary Phinney (Mary Elizabeth Winstead), a staunch New England abolitionist, and Emma Green (Hannah James), a naive young Confederate belle. The two collide at Mansion House, the Green family's luxury hotel that has been taken over and transformed into a Union Army hospital in Alexandria, a border town between North and South and the longest Union occupied city of the war. Ruled under martial law, Alexandria served as the melting pot of the region: with soldiers, civilians, female volunteers, doctors, wounded fighting men from both sides, runaway slaves, prostitutes, speculators and spies.

The intersection of North and South within the confines of a small occupied town creates a rich world that is chaotic, conflicted, corrupt, dynamic and even hopeful — a cauldron within which these characters strive, fight, love, laugh, betray, sacrifice and, at times, act like scoundrels. This series is not about battles and glory; it's about the drama and unexpected humor of everyday life behind the front lines of war. It's a fresh twist on an iconic story, one that resonates with larger themes we still struggle with today.
You can take a look here at the show's VICTORIAN era costumes, designed by Amy Andrews Harrell and her team. Below is a sketch for a dress worn by character Jane Green (Donna Murphy); wife, mother to three, and the quintessential Southern belle.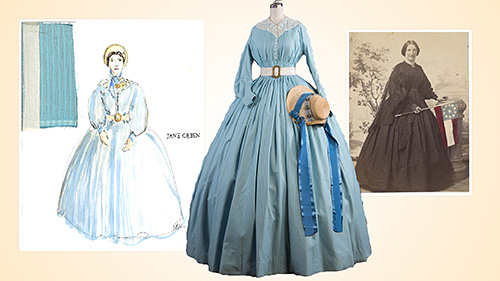 It's an honor to be able to tell the exciting stories of real experiences and struggles of the war. I know this talented and diverse cast and crew will be able to bring MERCYSTREET to life on screen. We will tell the story of what it was like in Alexandria, Virginia — the crossroads of the Civil War — by delving into the multifaceted lives of those in the hospital wards. – Beth Hoppe, PBS
Mercy Street stars Josh Radnor as Dr. Jedediah Foster; Mary Elizabeth Winstead as Mary Phinney; Gary Cole as James Green, Sr.; Hannah James as Emma Green; Brad Koed as James Green, Jr.; Norbert Leo Butz as Dr. Byron Hale; Tara Summers as Anne Hastings; McKinley Belcher III as Samuel Diggs; Shalita Grant as Aurelia Johnson; Peter Gerety as Chief Surgeon Alfred Summers; Jack Falahee as Frank Stringfellow; Anna Sophia Robb as Alice Green; Cameron Monaghan as Tom Fairfax; Donna Murphy as Jane Green; L. Scott Caldwell as Belinda; Suzanne Bertish as Hospital Matron Brannan; Wade Williams as Sillas Bullen; and Luke Macfarlane as Chaplain Hopkins.
The television mini-series will also be available to stream and on DVD.

NEW – Doctor Thorne (ITV)
Streaming on Amazon. Weinstein Television has acquired the North American rights for Doctor Thorne.
Tom Hollander, Rebecca Front and Ian McShane have been cast in Doctor Thorne, a three-part drama adapted for ITV by Academy award winning Downton Abbey creator Julian Fellowes, from one of his favorite novels by Anthony Trollope.
Dr. Thomas Thorne lives in the village of Greshamsbury in Barsetshire, with his young niece, Mary (Stefanie Martini), a girl blessed with every gift except money. Mary Thorne has grown up alongside the Gresham family, whose house, Greshamsbury Park, and status dominate the county. However Francis Gresham Senior (Richard McCabe) has frittered away the family fortune and now his wife, Lady Arabella Gresham, played by Rebecca Front, their daughters Augusta (Gwyneth Keyworth) and Beatrice (Nell Barlow), and their handsome brother Frank (Harry Richardson) face losing their home. 

When the terrifying Lady Arabella Gresham discovers that her darling son, Frank, has fallen in love with Dr Thorne's penniless niece, she is horrified. Her husband Gresham is only being kept afloat by very favourable loans that Dr Thorne has secured from a railway millionaire, Sir Roger Scatcherd, played by Ian McShane. However, Sir Roger is drinking himself into an early grave and the family's financial future lies with his unreliable son Louis Scatcherd (Edward Franklin). 

Lady Arabella believes it is her son's duty to make a rich marriage to save the family estate and launches a campaign to secure her son an heiress for a bride, aided by her scheming sister in law, the very grand Countess De Courcy (Phoebe Nicholls) and her conniving niece Alexandrina De Courcy (Kate O'Flynn). Their target is wealthy American heiress Miss Martha Dunstable (Alison Brie).

Courtesy of ITV

You'll recognize Olivier and Tony award winner Richard McCabe from other period dramas (Masterpiece: Indian Summers, The Great Fire, Peaky Blinders), as well as Phoebe Nicholls (Jonathan Strange & Mr Norrell, Downton Abbey), and Gwyneth Keyworth (Game of Thrones). Cressida Bonas (Tulip Fever) is cast as Mary's friend and confidante and Janine Duvitski (Little Dorrit) plays Lady Scatcherd.

 As a lifetime devotee of Trollope, my own favorite among the great 19th-century English novelists and certainly the strongest influence over my work that I am conscious of, it is tremendously exciting and satisfying to know that my adaptation of one of his best-loved novels is coming to ITV. I could not be more delighted.– Julian Fellowes

 Doctor Thorne was filmed in the Cotswolds around Castle Combe, Wiltshire, which has been called 'The Prettiest Village in England." The stately homes and gardens of Bowood House, Longleat and Stourhead are in Castle Combe, which is approximately 12 miles from the Georgian city of Bath. The village houses are all of typical Cotswold type, constructed in stone with thick walls and roofs made from split natural stone tiles. Doctor Thorne should be a feast for the eyes!

NEW – Alice Through the Looking Glass

Theatrical release is May 27, 2016.

Courtesy of Disney

In Disney's Alice Through the Looking Glass, an all-new spectacular adventure featuring the unforgettable characters from Lewis Carroll's beloved stories, Alice returns to the whimsical world of Underland and travels back in time to save the Mad Hatter. Adapted from Through the Looking-Glass, Lewis Carroll's 1872 sequel to Alice in Wonderland, the movie takes us on Alice's second journey into Wonderland / Underland. In the live-action VICTORIAN era period film, our Alice is a 19-year old young lady "who doesn't quite fit into Victorian society and structure."

Alice returns to Underland and discovers that things are going very wrong, the Mad Hatter is "growing darker" and in order to prevent the loss of her friend, she turns to Time himself. Despite his warnings about not being able win a race against time, and not being able to change the past, Alice winds up going on going a time travel adventure. During this special trip, she encounters the younger versions of the "characters that we know and love", in this epic adventure.

Starring Johnny Depp, Anne Hathaway, Mia Wasikowska, Rhys Ifans, Helena Bonham Carter, Sacha Baron Cohen, Alan Rickman, Stephen Fry, Michael Sheen, Timothy Spall. Directed by Tim Burton.

Alice in Wonderland (the prequel to Alice Through the Looking Glass) won two Academy Awards in 2011 for Best Art Direction and Best Costume Design; it was also nominated for Best Visual Effects.

NEW – Free State of Jones

The theatrical premiere for Free State of Jones is May 13, 2016 in the US. A May 27, 2016 UK release date is also set.

Set during the Civil War and Reconstruction, Free State of Jones tells the true story of defiant Southern farmer Newt Knight, and his extraordinary armed rebellion against the Confederacy. Banding together with other small farmers, and with the assistance of local slaves, Knight launched an uprising that led Jones County, Mississippi to secede from the Confederacy, creating a Free State of Jones. His marriage to a former slave, Rachel, and his subsequent establishment of a mixed race community was unique in the post-war South. Knight continued his struggle into Reconstruction, which distinguished him as a compelling, if controversial, figure of defiance long beyond the War.

Courtesy of STX Entertainment

Between late 1863 and mid-1864, an armed band of Confederate deserters battled Confederate cavalry in the Piney Woods region of Jones County, Mississippi. Calling themselves the Knight Company after their captain, Newton Knight, they set up headquarters in the swamps of the Leaf River, where they declared their loyalty to the U.S. government. 

The story of the Jones County rebellion is well known among Mississippians, and debate over whether the county actually seceded from the state during the war has smoldered for more than a century. Adding further controversy to the legend is the story of Newt Knight's interracial romance with his wartime accomplice, Rachel, a slave. From their relationship there developed a mixed-race community that endured long after the Civil War had ended, and the ambiguous racial identity of their descendants confounded the rules of segregated Mississippi well into the twentieth century.

You may also be interested in reading The Free State of Jones, Movie Edition: Mississippi's Longest Civil War: "Victoria Bynum traces the origins and legacy of the Jones County uprising from the American Revolution to the modern civil rights movement. In bridging the gap between the legendary and the real Free State of Jones, she shows how the legend–what was told, what was embellished, and what was left out–reveals a great deal about the South's transition from slavery to segregation; the racial, gender, and class politics of the period; and the contingent nature of history and memory. In a new afterword, Victoria Bynum updates readers on recent scholarship, current issues of race and Southern heritage, and the coming movie that make this Civil War story essential reading."

The VICTORIAN era period drama filmed in New Orleans, Louisiana. One of the filming locations was the Buckner Mansion, an 1856 home built by cotton king Henry S. Buckner that features 48 monumental Ionic and Corinthian fluted cypress columns, floor-to-ceiling windows, a honeysuckle motif cast iron fence and a triple ballroom. Buckner Mansion is considered to be one of the finest examples of Southern ante-bellum architecture, having a scale of elegance from the 19th Century that is rarely found.

Starring Matthew McConaughey, Gugu Mbatha-Raw, and Keri Russell.

NEW – Victoria (ITV)

Expected to air in 2016 in the UK. Victoria will air on MASTERPIECE on PBS in 2017 in the Sunday night time slot which Downton Abbey has occupied for six years (presumably that means January 1, or January 8, 2017). The series will be distributed internationally by ITV Studios Global Entertainment. The series will open with a 90-minute episode, followed by 7 one-hour episodes.

Victoria is a major new drama series focusing on the life of Queen Victoria. The 8-hour series of this ambitious landmark drama follows the early life of England's second longest reigning monarch, who leaves childhood behind when she ascends the throne at the tender age of 18. (Queen Victoria ruled for 63 years; Queen Elizabeth II surpassed the reign of her great-great-grandmother Queen Victoria in September 2015.)

Courtesy of ITV

This epic series is a chance to see the Victorian age through the eyes of the Queen herself for the first time. She's a vibrant, fascinating character whose legacy lives on today. Her life story is one that is by turns genuinely dramatic, romantic and surprising.– ITV

Appearing in the drama from episode 3, Prince Albert immediately makes an impression on the young queen, his first cousin. Although Victoria resisted attempts to rush her into marriage initially, her partnership with Albert was a success and they would ultimately produce nine children.

The TV series is created and written by acclaimed novelist Daisy Goodwin, in her screenwriting debut. She has written two novels set in the VICTORIAN era, My Last Duchess ("a clash of cultures set in late 19th-century England, embellished with the glittering lavishness that the period implies. Anyone suffering Downton Abbey withdrawal symptoms will find an instant tonic") and The Fortune Hunter ("a lush, irresistible story of the public lives and private longings of grand historical figures"). Both books are bestsellers in the UK and America.

Victoria is being made by Mammoth Screen, producers of Poldark (BBC One), filming from Fall 2015 in locations around the UK. Starring Jenna Coleman (Death Comes to Pemberley, Doctor Who) as young Queen Victoria and Tom Hughes (The Hollow Crown, The Lady Vanishes) as Prince Albert. Rufus Sewell plays Lord Melbourne, Victoria's first Prime Minister.

Nichola McAuliffe is the ruthless Duchess of Cumberland, Daniela Holtz is Victoria's governess and confidante Baroness Lehzen, and Nell Hudson (

Outlander

,

Call the Midwife

) plays the mysterious new member of the household, Miss Skerrett. Tommy-Lawrence Knight  also joins the royal household as the hall boy, Brodie.

Nigel Lindsay is Sir Robert Peel, the leader of the Tory party, Peter Firth is Victoria's conniving uncle Lord Cumberland, Eve Myles is her senior dresser Mrs. Jenkins, Paul Rhys (Borgia) is Sir John Conroy, ambitious controller of Victoria's childhood household, and Adrian Schiller (Suffragette) is Penge, the Household Steward.

Catherine Flemming plays Queen Victoria's mother, the Duchess of Kent in the upcoming historical costume drama, and Alice Orr-Ewing (The Theory of Everything) is cast as Lady Flora Hastings, her lady-in-waiting. Alex Jennings also stars as Leopold I, King of Belgium and uncle to both Victoria and Albert, who was responsible for arranging their marriage.

NEW – The Hateful Eight

Theatrical release in December 2015 US & Canada. Release is January 8, 2016 in the UK.

Courtesy of The Weinstein Company

Six or eight or twelve years after the Civil War, a stagecoach hurtles through the wintry Wyoming landscape. The passengers, bounty hunter John Ruth and his fugitive Daisy Domergue, race towards the town of Red Rock where Ruth, known in these parts as "The Hangman," will bring Domergue to justice. Along the road, they encounter two strangers: Major Marquis Warren, a black former union soldier turned infamous bounty hunter, and Chris Mannix, a southern renegade who claims to be the town's new Sheriff. Losing their lead on the blizzard, Ruth, Domergue, Warren and Mannix seek refuge at Minnie's Haberdashery, a stagecoach stopover on a mountain pass. When they arrive at Minnie's, they are greeted not by the proprietor but by four unfamiliar faces. Bob, who's taking care of Minnie's while she's visiting her mother, is holed up with Oswaldo Mobray, the hangman of Red Rock, cow-puncher Joe Gage, and Confederate General Sanford Smithers. As the storm overtakes the mountainside stopover, our eight travelers come to learn they may not make it to Red Rock after all…

Be aware that like many films directed by Quentin Tarantino, there is a fair amount of violence in the movie. Tarantino said "The violence is meant to send shockwaves through the audience, to create sympathy with Daisy, but also I have trapped all my characters in a cabin during a blizzard. It's a pressure cooker in terms of storyline and you know the way I go; that any piece of outrageous violence can happen."

Starring Jennifer Jason Leigh, Kurt Russell, Samuel L. Jackson, Walton Goggins, Tim Roth, Demian Bichir, Michael Madsen, Bruce Dern, James Parks, Dana Gourrier, Zoë Bell, Gene Jones, Channing Tatum, Keith Jefferson, Lee Horsley, Craig Stark, and Belinda Owino.

NEW – Jericho (ITV)

Premieres January 7th, 2016 in the UK. ITV Studios Global Entertainment will distribute Jericho internationally; no US release date known. Word is that if it is successful, Jericho could run for five years.

Set in the Yorkshire Dales in the 1870s, the eight-part VICTORIAN era period drama will focus upon the shantytown of Jericho, home to a community that will live, thrive and die in the shadow of the viaduct they've been brought together to build. Rough, rustic and remote, yet with a wild west, carnival atmosphere, Jericho is a community of pioneers, settlers and outcasts, people with secrets to hide and those looking to start again.

Courtesy of ITV

Jericho isn't your typical period drama. Forget the lavish grounds of Downton – this has more in common with the Western genre than anything. Think Deadwood, but without all the swearing and nudity. Jericho, with its shanty town setting and industrial development in the rolling countryside offers something that few other UK series have attempted before. – ES

One of the central characters is Annie Quaintain, played by Jessica Raine (Wolf Hall, Call the Midwife), a woman who refuses to let tragedy define her. Shattered by her husband's death and penniless as he has gambled away everything they owned, Annie is turfed out of her home and shunned by former friends and neighbors. Together with her two teenage children, Annie leaves for Jericho in the hopes of re-building their lives.

In time, Annie opens a boarding house for the navvy laborers. She and her children will be sharing a home with rough-handed, dirt ingrained men, with a deservedly formidable reputation, who toil to construct the viaduct. One of Annie's first tenants is Johnny Jackson, played by Hans Matheson (

Tess of the D'Urbervilles

,

Doctor Zhivago

,

The Tudors

); a dark and handsome navvy who, despite only just arriving in Jericho, has already got himself into a fight. In the aftermath of an accident on the line, events will bind Annie and Johnny together. Events they will both wish to try and forget, but that will haunt them forever.

It is I suppose like a British western. The western is a very broad church because we have seen some very violent westerns like those by Sam Peckinpah but also Little House on the Prairie is a western too. So that is quite a wide spectrum. – Steve Thompson, Jericho's creator

The Wild West frontier town of Jericho is based on the real community created by the building of the Ribblehead Viaduct in Yorkshire in the 19th century. Jericho capitalizes on the gorgeous landscapes of England, but also was filmed in and around Huddersfield, West Yorkshire, England, a town with an abundance of Victorian architecture that may come in handy as the town of Jericho develops. The most conspicuous landmark is the Victoria Tower on Castle Hill. Overlooking the town, the tower was constructed to mark Queen Victoria's 60th Jubilee Year. Huddersfield railway station is a Grade I listed building described by John Betjeman as 'the most splendid station façade in England' second only to St Pancras, London.

Beaumont Park (about 2 miles to the south of the town center) was bequeathed to the town in the 1880s, by the Henry Ralph Beaumont ('Beaumont's of Whitley' estate) and was opened on 13 October 1883, by Prince Leopold, fourth son of Queen Victoria, and his wife Princess Helena of Waldeck and Pyrmont (The Duke and Duchess of Albany). It is a fine example of a Victorian era public park with water cascades, bandstand and woodland.

One Huddersfield filming location was The Colne Valley Museum, which consists of three converted 19th century weavers' cottages and includes a clog maker's workshop, a handloom chamber, a spinning room, a cropping room, kitchen and living rooms.

Starring Jessica Raine, Hans Matheson and Clarke Peters.

NEW – The Abominable Bride (Sherlock Season 3 Special) BBC

Premieres on January 1, 2016 on BBC in the UK and on PBS Masterpiece Mystery! on PBS in the US. Encore airing on January 10, 2016. Available to stream in the US and on DVD. US theatrical release January 5, 2016.

Benedict Cumberbatch and Martin Freeman return as Sherlock Holmes and Dr. Watson in the acclaimed modern retelling of Arthur Conan Doyle's classic stories. But now, our heroes find themselves in 1890s London investigating a mysterious ghostly bride who appears to have committed murder from beyond the grave. "Dr John Watson, meet Mr Sherlock Holmes."

We've been here before – but what if this wasn't the modern day but the late Victorian period? What if the world's most famous consulting detective and his best friend lived in a Baker Street of steam trains, hansom cabs, top hats and frock coats? Welcome to Sherlock in 1895! Some things, though, remain reassuringly the same. Friendship, adventure and especially, murder…Why is Thomas Ricoletti a little surprised to see his wife dressed in her old wedding gown? Because, just a few hours before, she took her own life…Mrs Ricoletti's ghost now appears to be prowling the streets with an unslakable thirst for revenge. From fog-shrouded Limehouse to the bowels of a ruined church, Holmes, Watson and their friends must use all their cunning to combat an enemy seemingly from beyond the grave, and the final, shocking truth about… the Abominable Bride!

The iconic details from Conan Doyle's original books remain – they live at the same address of 221b Baker Street, have the same names and, somewhere out there, Moriarty is waiting for them.

Sherlock was back – and as compellingly eccentric as we remembered. There was a new (old) setting, with Victorian London seemingly replacing the 21st century backdrop of the original series, and a spooky storyline owing more to classic gothic literature than to Arthur Conan Doyle's stories. Yet the chemistry between Holmes and Martin Freeman's Dr John Watson fizzled as thrillingly as ever, the script by Steven Moffat and Mark Gatiss brimming with wry exchanges and comedic misunderstandings. – The Telegraph

NEW – Heidi

Theatrical premiere in Germany in December 2015. Release dates for an English version have not been announced yet. Walt Disney distributed the movie in Switzerland – hopefully they will do the same for the US.

Heidi is based on the novel of the same name by Johanna Spyri which tells the story of a young girl living in the Swiss Alps in the 1880s with her goat herding Grandfather. The family-friendly film is an "authentic, yet contemporary" version of Heidi and was shot on location in the Alps, mainly in the region of Grisons, including Bergün and Rheinwald. The goal was to remain faithful to the original novels, and not to produce another "sugarcoated home movie in the style of the 1950s."

You can learn more about the new "heartwarming, cinematic treat" that was directed by Alain Gsponer in this video.

Courtesy of StudioCanal

Staring Anuk Steffen in the title role, alongside Bruno Ganz, Katharina Schüttler, Quirin Agrippi, Isabelle Ottmann and Anna Schinz.

NEW – Dickensian (BBC)

Dickensian premiered in the UK on December 26, 2016 with the first episodes and continued in 2016. Each of the 20 episodes in the series runs 30 minutes, with two episodes kicking off the first night. No known US release date yet – perhaps it will be shown or Christmas 2016?

Dickensian brings together iconic characters created by Charles Dickens in one Victorian London neighbourhood as Inspector Bucket investigates the murder of Ebenezer Scrooge's partner Jacob Marley. With a wealth of back stories inspired by the novels, Dickensian delivers fast-paced storylines with surprising twists and turns. About the new period drama, Richard Ridings, who plays Mr. Bumble said "It is wonderful good British drama that has everything: compelling, heart-rending stories, murder mystery and great comedy! It's in lovely half hour chunks that I think people will become addicted to."

Read the post by Willow and Thatch about the VICTORIAN era costume drama here.

Courtesy of BBC

NEW – Underground: Premieres March 9, 2016 in the Us on WGN America with 10-episodes. Underground dramatizes the underground railroad used by escaping slaves during the VICTORIAN era pre-Civil War period. From executive producer John Legend, the thriller series follows a group of slaves who plan a daring escape from a Georgia plantation to cross 600 miles to freedom. Along the way, they are aided by a secret abolitionist couple running a station on the Underground Railroad as they attempt to evade the people charged with bringing them back, dead or alive.

Courtesy WGN America

In 1857, a courageous 25-year-old slave named Noah organizes a small group of fellow slaves on Macon Plantation, with the goal of escaping to the Underground Railroad and thence to freedom. The odds of success are slim; the plantation's terrain is unforgiving, and their politically ambitious owner, Tom Macon, will surely kill anyone attempting to run. For those who make it off the plantation, the risks and uncertainties only multiply. Pursued by professional slave hunters, they will have to decide which way to turn and whether or not they can trust the strangers who offer them help.

Starring Christopher Meloni, Jurnee Smollett-Bell, Aldis Hodge and Jessica De Gouw.

NEW – The Living and the Dead: The original six part series for BBC One. No word yet on the premiere date, but expected for 2016 in the UK.

A brilliant young couple inherit the farm and are determined to start a new life together. But their presence in this isolated corner of England starts to unleash strange, unsettling and dangerous supernatural phenomena that will start to threaten their marriage.

Courtesy of Robert Viglasky

Set in Somerset in 1894 and filmed in the West Country, this is a drama steeped in the eeriness of the rural world at the moment when the industrial revolution came crashing in to disrupt all the old certainties. Uncanny, intriguing, disturbing. At the series' heart is the love story of Nathan and Charlotte Appleby: deeply in love with each other but put under extraordinary pressure, they will have to fight to save their marriage and their home.

In the new original drama, this complex and compelling man will investigate hauntings, paranormal happenings, and ghostly visitations, encouraged by the Society for Psychical Research. But as these terrifying investigations become ever more frequent and ever more scary, Nathan starts to see and hear disturbing things that he simply cannot have imagined.

It is a land and a community on the edge of monumental change, on the great hinge between ancient traditional ways and an industrial, scientific future. A land of ghosts and myths, poltergeists and demons – if there was ever a time for those ghosts to rise out of the ground, this would be that time. At the heart of this small community is Nathan Appleby, a reluctant gentleman farmer who is obsessed with proving the existence of the afterlife.

Starring Colin Morgan, Amber Fernée, Charlotte Spencer.

NEW / RETURNING – A Merry Murdoch Christmas  & Murdoch Mysteries Season 9 

A Merry Murdoch Christmas premiered December 21, 2016 in Canada. In the US, the series has been renamed The Artful Detective and airs on Ovation; Season 9 is RETURNING January 23, 2016. Alibi will premiere Season 9 on January 25 in the UK (they showed the Christmas special as a stand alone TV movie in December.)

A Merry Murdoch Christmas is the first-ever holiday special episode of the VICTORIAN era TV mystery series Murdoch Mysteries. Brendan Coyle, Downton Abbey's Mr. Bates guest stars in the two-hour holiday special, as do Kelly Rowan and film and Ed Asner.

Murdoch Mysteries is set in Toronto in the early 1900s and is based on the popular series of novels by Maureen Jennings. The series, which premiered in 2008, is currently in its ninth season. Season nine will uphold the series' tradition of bringing historical figures to Toronto, including the likes of Mark Twain (special guest star William Shatner), Lucy Maud Montgomery and Prime Minister Wilfred Laurier.

Courtesy of Shaftesbury Films

Rich with invention, humour and drama, Murdoch Mysteries is set in the intriguing world of the methodical and dashing detective William Murdoch. Pioneering innovative forensic techniques to solve Toronto's most gruesome murders at the dawn of the 20th century, the maverick detective and his team continue to push the boundaries of science as they solve the unsolvable, referencing key issues of the time and weaving real-life historical figures into each investigation. In this brand new Christmas special, the team are quickly on the case when a philanthropist is found dead before the holidays and the presents he distributes to Toronto's orphans go missing. It is up to Murdoch, Ogden and the team at Station No. 4 to solve the mystery and save Christmas.

RETURNING – Ripper Street Season 4 (BBC)

Ripper Street returns for a 4th Season on January 15, 2016 on Amazon Prime. A new episode will be added to the streaming service every Friday for a total of eight episodes.

Courtesy of Amazon

BBC America's compelling crime drama Ripper Street is set in the seething backstreets of Victorian London. Haunted by the failure to catch London's most evil killer, Jack the Ripper, Inspector Edmund Reid now heads up the notorious H Division – the toughest police district in the East End. Charged with keeping order in the blood-stained streets of Whitechapel, Reid and his men find themselves fighting to uphold justice and the rule of law; but always in the background lurks the fear of the Ripper – is he back for another reign of terror? Rich episodic storylines meld with the intrigue of a criminal underworld festering on the hard streets of Victorian London, following the battle of the men whose job it is to bring the law to the lawless.

Season 4 begins in the summer of 1897 with Queen Victoria celebrating her diamond jubilee. Edmund Reid (Matthew Macfadyen) has left the force which gave him his career and left the neighbourhood which shaped his life. He finds himself drawn back to Whitechapel when he discovers that his old friend Isaac Bloom (Justin Avoth, Merlin) is set to hang for a brutal murder; a murder of which Reid believes him incapable…

Starring  Matthew Macfadyen, Jerome Flynn, Adam Rothenberg, Amanda Hale, MyAnna Buring.

NOT A DRAMA BUT ALSO NEW – Victorian Bakers (BBC)

Premiered January 5, 2016 in the UK. No US release date known.

In this brand-new factual television period television series, four 21st century bakers bake their way through the era that gave us modern baking as we know it – the reign of Queen Victoria. Experts Alex Langlands and Annie Gray join them to tell the incredible story of our daily bread.

Courtesy of BBC

In the three-part series, the team of modern bakers will recreate the lives of their Victorian predecessors, and will explore the social and economic change that took place. Using authentic methods and using recipes from three distinct eras of the 19th century, they will bake their way through a turbulent period of huge change for Britain – one which forever changed our relationship with 'our daily bread'.

Leaving behind their modern tools, our bakers will experience three very different worlds of Victorian baking – a rural bakery with close ties to local agriculture; the sweat and toil of an urban bakery in the midst of the industrial revolution; and the luxurious world of a high-class city baker-confectioner. Working in locations and using the engineering and technology of the day, the bakers will use only historic tools and ingredients.

The Victorians effectively invented baking as we know it today; but in doing so, they shattered centuries-old traditions. At the start of Queen Victoria's reign, bread was the most important foodstuff in Britain, and the average loaf was usually healthier and tastier than today's. However, as Britain transformed into an industrial superpower, baking changed too. This series will find out how and why those changes took place, and what did we lose and gain as a result? – Cate Hall, Executive Producer

Experts will be on hand to explore the wider context of baking, such as the changes in technology which saw watermills and windmills replaced by vast steam-driven processing plants, and how a few Victorian bakers went from small family businesses to brands still familiar today.

IN DEVELOPMENT – Willow and Thatch saved these for another post…there is just so much happening in the sphere of costumes dramas in the VICTORIAN era! You can read about the VICTORIAN era films and television mini-series here in Part 2.  You can learn all about Dark Angel, starring Joanne Froggatt (Anna Bates from Downton Abbey).

ALSO NEW in 2016 is A Quiet Passion: A Quiet Passion is the story of American poet Emily Dickinson from her early days as a young schoolgirl to her later years as a reclusive, unrecognized artist, starring Cynthia Nixon as Emily Dickinson, Jennifer Ehle as Emily's sister Vinnie Dickinson, and Duncan Duff as Austin Dickinson. Terrence Davies brings us this biopic about which The Guardian said "it is Davies' ability to invest even the most apparently-humdrum moments with some form of intense radiance that sustains his film. Every shot is beautifully composed and lit – as we have come to expect – and the actors deliver every line with absolute conviction. Dropping key poems on to the soundtrack may be a conventional move, but Davies' selection is unerring and reinforces the emotion at every point."

UPDATE: It was just announced that Dark Angel is coming to PBS Masterpiece in 2016 – so that's one more for the NEW Victorian Era Period Dramas in 2016 List!

Courtesy of PBS

Please feel free to leave a note if Willow and Thatch has overlooked any upcoming period drama in the Victorian era or if you learn about changes or additions as to when the costume drama will air in the United States Canada, in the UK or elsewhere.

If you enjoyed this post, you'll want to wander over to The Period Films List where you'll find the best period and costume dramas, curated and sorted by era, and you may be particularly interested in the Best Period Dramas: Victorian Era List: A list of the best period films available on DVD and to stream that take place during the reign of Queen Victoria: Victorian era (1837 to 1901). Costume period dramas filmed in England, UK and other countries set in that time period. Television mini-series, PBS, BBC, Masterpiece Theatre productions, historical dramas, heritage films, and Civil War era films. You may also like 10 Family Victorian Christmas Movies.