Last Updated on October 29, 2018
Period Dramas 2016: Tudor and Stuart Eras is the second in a series of posts featuring the new costume dramas and period films to be released in 2016.
We'll look at the upcoming films for the year by era (Dark and Middle Ages, Tudor and Stuart Eras, Georgian and Regency Eras, Victorian Era, Edwardian Era, First World War, Interwar, Second World War, Postwar), as well as select films and television mini-series that were released at the close of 2015. We will also see which period dramas are returning for an additional season, or are currently in development and production.
Included here are films, television miniseries, made for television movies, etc. set during the Tudor era (1485 – 1603) and the Stuart era (1603 to 1714). Includes the Elizabethan, Jacobean, Caroline, (Interregnum) and Restoration periods.

NEW – Tulip Fever 
Theatrical premiere in 2016 in the US (to be released on July 15) and UK. UPDATE: The release date has been pushed to Feb. 24, 2017 despite the film having been finished for over a year.
Set in the Netherlands in early the 17th-century (STUART era), during the period of the Tulip mania, an artist (Dane DeHaan) falls for a married young woman (Alicia Vikander) while he's commissioned to paint her portrait by her husband (Christoph Waltz). The two invest in the risky tulip market in hopes to build a future together.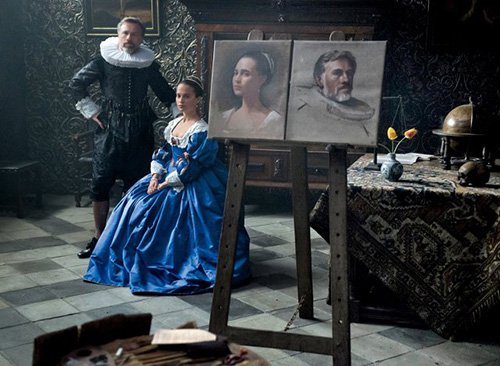 The movie is adapted from Deborah Moggach's romance novel of the same name: "A tale of art, beauty, lust, greed, deception and retribution — set in a refined society ablaze with tulip fever. In 1630s Amsterdam, tulipomania has seized the populace. Everywhere men are seduced by the fantastic exotic flower. But for wealthy merchant Cornelis Sandvoort, it is his young and beautiful wife, Sophia, who stirs his soul. She is the prize he desires, the woman he hopes will bring him the joy that not even his considerable fortune can buy."
Filming took place at Cobham Hall in Cobham, Kent, Norwich Cathedral, Holkham (in Norfolk), Tilbury, (in Essex), Kentwell Hall (in Suffolk) and at Pinewood Studios. Dane DeHaan, Alicia Vikander and Christoph Waltz were cast in the lead roles of Jan Van Loos, Sophia and Cornelis Sandvoort. Dame Judi Dench plays the 'Abbess of St Ursula's', who takes in orphaned children. Other cast members include Holliday Grainger, Jack O'Connell, Cara Delevingne, Matthew Morrison, Tom Hollander, Cressida Bonas and David Harewood.

RETURNING – Versailles Season 2
Versailles Season 1 premiered in November 2015 on Canal+ in France with 10 episodes. The English-language show was picked up by BBC2 which will air Season 1 in the UK in early 2016. Channels in Germany, Canada and Australia have already purchased the series and Canal+ hopes that Versailles will air in the US, date unknown. Season 2 is confirmed.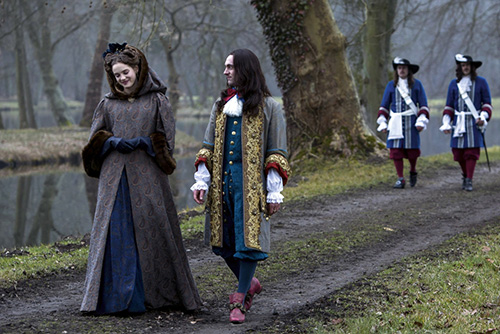 In 1667 in the STUART era, 28-year-old all-powerful king of France, Louis XIV, decides to build the greatest palace in the world – Versailles. But drained budget, affairs and political intrigues complicate things. Versailles is a Franco-Canadian historical television series.
"This new season, that we aim to develop with renewed originality, will be a full-blown immersion into the absolute power of Louis XIV." – Fabrice de la Patellière, Head of French Drama and Co-productions at Canal Plus
Filming for the second season will begin in January 2016 and its story will take place four years after that of the first season, as Louis XIV deals with machinations of power inside the court. 10 episodes are expected for Season 2.
King Louis XIV ruled France for 72 years, so there are still many stories to be told, in the same style and with the same contemporary approach that we established in Season 1. So it is with great relish that for the second season, we are going to take the series into the realm of women, love potions and poisons. – Claude Chelli, Director of Capa Drama
Starring Georges Blagden (Les Misérables, Vikings) in the role of Louis XIV and Alexander Vlahos in the role of Monsieur, the Sun King's brother. Written by written by Simon Mirren and David Wolstencroft.

NEW – The Witch: A New England Folktale
Witch has a theatrical release date of February 22, 2016 in the US, and March 11th in the UK. (Premiered at the 2015 Sundance Film Festival where the film won the Directing Award in the U.S. Dramatic category.)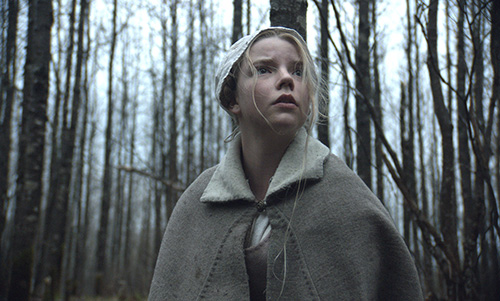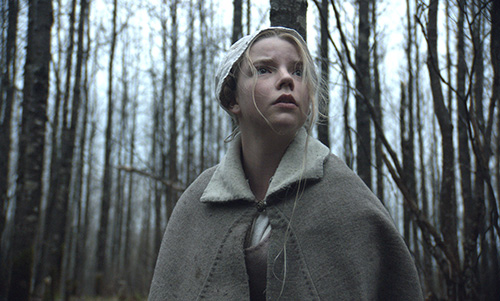 Set in the STUART era in New England circa 1630, The Witch follows a farmer who is cast out of his colonial plantation and is forced to move his family to a remote plot of land on the edge of an ominous forest rumored to be controlled by witches. Almost immediately, strange and unsettling things begin to happen-the animals turn violent, the crops fail, and one of the children disappears, only to return seemingly possessed by an evil spirit. As suspicion and paranoia mount, everyone begins to point the finger at teenage daughter Thomasin. They accuse her of witchcraft, which she adamantly denies…but as circumstances become more and more treacherous, each family member's faith, loyalty, and love will be tested in shocking and unforgettable ways.
This is being billed as a horror film, but a very intelligent one with accurate period elements.
Much of the hype surrounding The Witch has centered around Eggers' remarkable attention to period detail, with everything from the production design to the actors' dialogue feeling as if it were transported through a time machine and onto the big screen. – Tribeca
Starring Anya Taylor-Joy, Ralph Ineson, Kate Dickie, Harvey Scrimshaw, Ellie Grainger, and Lucas Dawson.

IN DEVELOPMENT – Will TNT has ordered 10 episodes of the series Will, which is to air in 2017 and promises to put a fresh, bold spin on the story of Shakespeare. Young William Shakespeare's rise to prominence, in a 16th century London that is filled with violence and seduction, will be portrayed by actor Laurie Davidson. "Shakespeare was a 16th century rock star, and Will perfectly captures in contemporary terms what that must have felt like for the young writer and his fans."

IN DEVELOPMENT – Mary Queen of Scots Irish actress Saoirse Ronan is to appear as the queen in the new film that is set in the TUDOR era. BBC reported that the film was expected to be released in 2014…and IMDB reports it as in development, but Willow and Thatch has seen suggestions that it will finally be released by Working Title Films in 2016. Does anyone here know anything more?
Forthcoming film by Eric Fellner and Tim Bevan, the team behind hits including Notting Hill. The production will be directed by Oscar-winning Danish film-maker Susanne Bier. The co-scriptwriter, Michael Hirst, collaborated on the Oscar-winning Elizabeth, starring Cate Blanchett as the Virgin Queen. – The Guardian
Crowned the queen of Scotland before she was a year old, Mary added to that pedigree when her first husband became France's king and she became queen consort in 1559. Despite that auspicious start, things didn't go well from there. She later married her first cousin, a bad match that ended with his murder. When she quickly married the man suspected of orchestrating the killing, an uprising against the couple resulted in her imprisoned in Loch Leven Castle. Forced to abdicate her throne to her year-old son, she failed in an attempt to wrest back the throne and fled for the protection of her cousin, England's Queen Elizabeth 1.

IN DEVELOPMENT – The White Princess
STARZ sequel to BBC's The White Queen, based on the novel by Philippa Gregory of the same name. The TUDOR era plot focuses on Elizabeth of York and Henry VI.  According to the Radio Times, the sequel is "definitely in the works". Gregory's novel The White Princess (Cousins' War) 
…tells the story of the remarkable Elizabeth of York, daughter of the White Queen, and mother to the House of Tudor. When Henry Tudor picks up the crown of England from the mud of Bosworth field, he knows he must marry the princess of the enemy house—Elizabeth of York—to unify a country divided by war for nearly two decades. But his bride is still in love with his slain enemy, Richard III—and her mother and half of England dream of a missing heir, sent into the unknown by the White Queen. While the new monarchy can win power, it cannot win hearts in an England that plots for the triumphant return of the House of York. Henry's greatest fear is that somewhere a prince is waiting to invade and reclaim the throne. When a young man who would be king leads his army and invades England, Elizabeth has to choose between the new husband she is coming to love and the boy who claims to be her beloved lost brother: the rose of York come home at last.
"I'm waiting for scripts. They are writing them now and they are going to send them to me shortly. A lot of the actors will return to reprise their roles. Hopefully we'll have Rebecca Ferguson back as a little-bit-older queen." – Philippa Gregory in August, 2015

IN DEVELOPMENT – The Serpent and the Moon 
Julian Fellowes has agreed to write the screenplay for a TV adaptation of Princess Michael of Kent's TUDOR era novel The Serpent and The Moon, a true story of love and betrayal in a royal family. Reports are that Fellowes started work on the script but had to stop because of his schedule with Downton Abbey, so perhaps now, he can begin in earnest?
Set against the stunning backdrop of Renaissance France, The Serpent and the Moon is a true story of love, war, intrigue, betrayal, and persecution. At its heart is one of the world's greatest love stories: the lifelong devotion of King Henri II of France to Diane de Poitiers, a beautiful aristocrat who was nineteen years older than her lover. At age fourteen, Henri was married to fourteen-year-old Catherine de' Medici, an unattractive but extremely wealthy heiress who was to bring half of Italy to France as her dowry. When Catherine met Henri on her wedding day, she fell instantly in love, but Henri could see no one but the beautiful Diane. When Henri eventually became king, he and Diane ruled France as one. Meanwhile, Catherine took as her secret motto the words "Hate and Wait" and lived for the day Diane would die and she could win Henri's love and rule by his side. Fate had another plan.
It is too early to talk about casting for Fellowes's adapation, but Scarlett Johansson may well be in with a chance. When Marie-Christine was asked whether the actress would be a suitable candidate to play Catherine de Medici, she replied that she was "ugly" enough. She had added: "I imagine Cate Blanchett for Diane and Jude Law as Henri – very broody and handsome." – The Telegraph

The TUDOR era Carlos, Rey Emperador is also RETURNING in 2016: Carlos, rey emperador is a Spanish historical fiction television series, directed by Oriol Ferrer and produced by Diagonal TV for national broadcaster Televisión Española. Carlos, Rey Emperador is a historical series about Charles V (1500 – 1558). Also known as Charles I of Spain, he was Duke of Burgundy and ruler of the Netherlands from 1506, ruler of the Spanish Empire from 1516 and Holy Roman Emperor from 1519. This is a Spanish television mini-series, available to stream. Season 1 was released in 2015, with 18 episodes.
The STUART era Aguila Roja (The Red Eagle) is also RETURNING in 2016  Season 9. This is a Spanish television mini-series first released in 2009, available to stream with English subtitles: Action, adventure, and intrigue collide in this impressive drama of a masked hero who fights against injustice in 17th century Spain, and is determined to find out who killed his wife. By day, Gonzalo de Montalvo is a teacher and a father. By night, he is Aguila Roja, or 'The Red Eagle', who fights against injustice in 17th century Spain.
NEWS on when Wolf Hall Season 2 will premiere: PBS Masterpiece Wolf Hall fans will have to wait at least two years before seeing the second instalment of the hit historical drama starring Mark Rylance and Damian Lewis, according to Radio Times in a January, 2016 article.
"A historical drama for a modern audience, Wolf Hall, 2016 Golden Globe winner for Best Television Limited Series or Motion Picture Made for Television, tells the story of Thomas Cromwell, played by Mark Rylance (Twelfth Night)—a blacksmith's son who rises from the ashes of personal disaster, and deftly picks his way through a court where 'man is wolf to man.' Damian Lewis (Homeland) is King Henry VIII, haunted by his brother's premature death and obsessed with protecting the Tudor dynasty by securing his succession with a male heir to the throne. The cast also includes Claire Foy (Little Dorrit) as the future queen Anne Boleyn.
Told from Cromwell's perspective, Wolf Hall follows the complex machinations and back room dealings of this accomplished power broker who must serve king and country while dealing with deadly political intrigue, Henry VIII's tempestuous relationship with Anne Boleyn, and the religious upheavals of the Protestant reformation. The miniseries is adapted from Hilary Mantel's best-selling Booker Prize-winning novels: Wolf Hall and its sequel, Bring Up the Bodies."
The Age of Prosperity, which is planned for 12 episodes, is IN DEVELOPMENT and should air in early 2018. The Russian television mini-series will tell the history of the House of Romanov, the royal dynasty that ruled Russia for over 300 years. The first episode will be set in the Tudor and Stuart eras and will span the years of 1598–1613. The series will follow the family until their murder by the Bolsheviks in 1918, following the 1917 Revolution. The treatment for the Georgian, Victorian, Edwardian and First World War era episodes will be unique from the Tudor and Stuart eras, with several directors and cinematography directors in charge of their 'own' family and characters, in a Game of Thrones style.

Please feel free to leave a note if Willow and Thatch has overlooked any upcoming period drama in the Tudor and Stuart eras or if you learn about changes or additions as to when the costume drama will air in the United States Canada, in the UK or elsewhere.
If you enjoyed this post, you'll want to wander over to The Period Films List where you'll find the best period and costume dramas, curated and sorted by era, and you may be particularly interested in the Best Period Dramas: Tudor and Stuart Eras List: A list of films that take place during the Tudor era (1485 – 1603) and the Stuart era (1603 to 1714). Includes the Elizabethan, Jacobean, Caroline, (Interregnum) and Restoration periods. Covers the reigns of Queen Elizabeth I (The Virgin Queen), King Henry VII who succeeded in ending the Wars of the Roses between the houses of Lancaster and York to found the highly successful Tudor house, King Henry VIII, King Edward VI, Queen Mary I. The Stuarts were the first kings of the United Kingdom. King James I of England who began the period was also King James VI of Scotland, thus combining the two thrones for the first time. Also includes the era of King Charles I, King Charles II, King James II, Queen Mary II, King William III, Queen Anne.