During Jane Austen's day, taking a holiday by the sea was no uncommon thing. The popularity of towns such as Brighton inspired Jane to write her last, unfinished novel, Sanditon, about a small town with big city aspirations. Sea bathing itself, would prove to be an interesting experience for any young lady bold enough or ill enough to be encouraged to attempt it. – The Jane Austen Centre
Janeites rejoice! Goldcrest Films has concluded a deal to sell, finance and distribute a film adaptation of Jane Austen's final novel draft Sanditon – a quick witted, delightful comedy, from the most acclaimed British novelist of all time.
In Sanditon we find a new heroine, Charlotte Heywood, whose clear-sighted common sense is often at war with romance. At the age of twenty-two, Charlotte is about halfway between Pride and Prejudice's Elizabeth Bennet, and the closer-to-spinsterhood Anne Elliot, who, in Persuasion, finds herself in the difficult position of having been persuaded, years prior, to break off an engagement to a promising young lieutenant.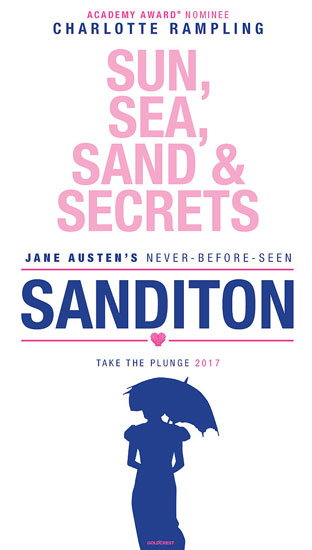 Sanditon is a brand new, never before seen Jane Austen; this will mark the first time that her last novel (or draft, or fragment) has been adapted into a period film. Called equal parts sparkling satire and romantic comedy, the new costume drama will be directed by Jim O'Hanlon, who also directed the much acclaimed BBC series of Jane Austen's Emma (2009), starring Romola Garai.
When Charlotte Heywood is invited to spend the summer season at Sanditon she accepts immediately, intrigued to see (not-so) polite society at play in the newly fashionable sea bathing resort. Here she meets a host of classic Austen characters from the imperious nouveau-riche Lady Denham (Rampling) to her impoverished ward Clara, and from the lecherous Sir Edward, to the dashing, feckless Sidney Parker and his hypochondriac sisters. Like all Austen heroines, Charlotte watches the comings and goings of this self-indulgent world with increasing incredulity; but can she herself resist the attractions of the heart?
Originally titled "The Brothers," the unfinished novel was written in 1817, the last year of Jane Austen's life. When she passed away in July of that year, she left two unfinished would-be novels, including the first eleven chapters of Sanditon. The manuscript was bequeathed to her niece, and in the 1970s it was completed by "Another Lady" who, though a previously published author herself, chose to follow Jane's own example of anonymity. Author Marie Dobbs was living in Moscow as a diplomat's wife. Looking for a subject unlikely to attract the KGB, she turned her attention to the completion of a classic novel and Sanditon was published in 1975.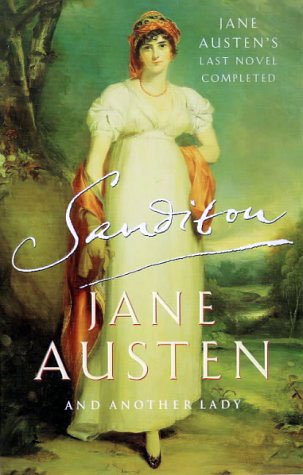 What was there left to worry about in completing Jane Austen's last manuscript? Only the way she wrote it. Her language, her integrity and her painstaking methods of work– that terrifyingly accurate and meticulous technique– combine to give us the same sense of serenity and assurance in the six novels in which she brought her world to life and made it real for us. None of these things can be faithfully copied. And for their deficiencies in this seventh novel, I do apologize. – Marie Dobbs
Oscar-nominee Charlotte Rampling (Lady Spencer in The Duchess, Aunt Maude in The Wings of the Dove, Lady Sylvia in My Uncle Silas, Anne Boleyn in the BBC's Henry VIII and His Six Wives) is to star as Lady Denham, a twice-widowed woman who received a fortune from her first husband and a title from her second, who has set her sights on turning Sanditon into a fashionable seaside resort.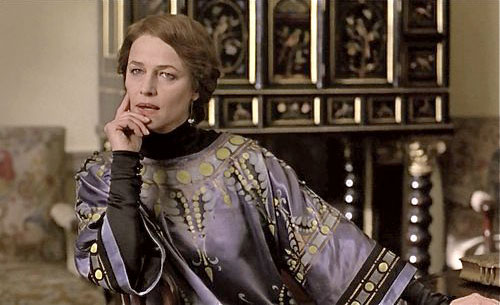 Pascal Degove, Managing Director Goldcrest Films said "Charlotte Rampling is responsible for so many indelible performances, she is perfect for the crucial role of the scheming Lady Denham. This is a genuinely fresh take on a well-loved genre – we expect enormous excitement from cinemagoers and distributors alike." Sanditon is expected to have its theatrical premiere in 2017.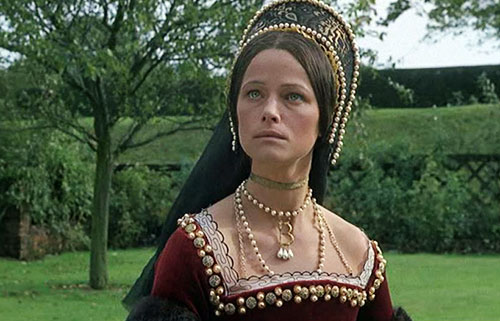 Every neighbourhood should have a great lady. The great lady of Sanditon was Lady Denham; and in their journey from Willingden to the coast, Mr. Parker gave Charlotte a more detailed account of her than had been called for before. Sanditon itself could not be talked of long without the introduction of Lady Denham. That she was a very rich old lady, who had buried two husbands, who knew the value of money, and was very much looked up to and had a poor cousin living with her, were facts already known; but some further particulars of her history and her character served to lighten the tediousness of a long hill, or a heavy bit of road, and to give the visiting young lady a suitable knowledge of the person with whom she might now expect to be daily associating. -Sanditon
Along with satire and the romance, Willow and Thatch hopes that the new period drama will give us a glimpse into what it would have been like to have used the Georgian era seaside bathing machines, those "four-wheeled carriages, covered with canvas, having at one end of them an umbrella of the same materials which is let down to the surface of the water, so that the bather descending from the machine by a few steps is concealed from the public view, whereby the most refined female is enabled to enjoy the advantages of the sea with the strictest delicacy."
Production is anticipated to begin in the summer of 2016 in the UK and additional casting is underway. Does anyone here have thoughts on who should be cast in the role of Charlotte Heywood, or who you would like to see as the costume designer for Sandition?
UPDATE 4/2016: Holliday Grainger (Cinderella) and Max Irons (Woman In Gold) are to join Charlotte Rampling in the Jane Austen adaptation.
Written for the screen by leading British playwright Simon Reade, Sanditon is produced by Reade and Guy de Beaujeu for Fluidity Films; "Her legions of fans worldwide will be thrilled with Sanditon's romance, comedy, sardonic wit and its clever take on the modern obsessions of health and wealth that is quintessentially Jane Austen. We're very excited to be working with Goldcrest on a project that sits perfectly in the company's pantheon of British classics." Goldcrest's Nick Quested and Pascal Degove will serve as Executive Producers.
Below is the rather detailed synopsis from Fluidity Films, with the last bit of SPOILERS left out. Even still, the synopsis is rather detailed and has SPOILERS so skip down to the next image of a feather if you want to avoid them altogether.
"Tom Parker has a dream – to transform the sleepy South Coast village of Sanditon into a fashionable, bustling seaside health resort, whatever the weather. One of life's eternal optimists, he puts his faith into his fellow man's incurable hypochondria, cheerfully hoping to cash in on their misery. But even when his coach and horses crash into a farmland ditch, he doesn't stop to ask if he was going too far, too fast. It's likely his venture, too, will take a tumble.
Undaunted, Tom Parker repays the hospitality of the gentleman farmer on whose land he crashed, by inviting the farmer's daughter, Charlotte, to spend the summer season at Sanditon. Thus the old world and the new, the natural and the artificially constructed, collide in a coruscating satire on a (not so) polite society on the make.
Sanditon is a hive of activity – property speculation, tea-room development, seafront opportunists and medical quackery. Or it would be if it had any visitors.
Not one to suffer fools, twice-widowed entrepreneur Lady Denham believes she is being fleeced by most of her family and by Tom Parker. She also suspects the motivations of her impoverished ward, the captivating Clara, who seems oddly content to endure the lascivious attentions of the lecherous Sir Edward, Lady Denham's nephew.
Tom Parker's family is a collection of meddling hypochondriacs who finally agree to visit for the summer, but not for their health as they don't believe in sea air (more in the comfort of toast and hot chocolate). Instead they visit to help make Sanditon look busy for their brother.
Through a series of comic misunderstandings they have also invited a Mrs Griffiths down from London with her three charges – the silly, fashion-obsessed twins, the Miss Beauforts; and the beautiful, but (genuinely) sickly Miss Lambe, a very wealthy West Indian heiress. Lady Denham quickly identifies the rich but ailing Miss Lambe as the perfect wife for Sir Edward, putting aside her prejudice for financial expediency.
Like all Austen heroines, Charlotte watches the comings-and-goings of this crazy self-indulgent world with increasing incredulity; her common sense and strong notions of morality seemingly at odds with those around her. But, like Emma Woodhouse, Elizabeth Bennett, Catherine Morland and Eleanor Dashwood before her, Charlotte is not as worldly as she might think and things are not always as they appear.
Into this heady seaside mix comes young Sidney Parker, Tom's dashing 21 year old brother, who brings a London insouciance and social daring to Sanditon. He mocks all those around him, including Charlotte, for their country simplicity.
To her great surprise, Charlotte finds herself falling in love with Sidney, but is he all that he seems? He brings two friends to Sanditon – the feckless Reginald and Henry, the jilted lover, en route to self-imposed exile in the East Indies. Soon Charlotte begins to wonder if she is simply an unwitting pawn in one of Sidney's elaborate games, particularly as he seems overly solicitous of the beautiful Clara. Moreover, he is being chased by Sir Edward's vampish sister, Miss Denham.
To release her heart from Sidney's hot and cold affections, Charlotte announces she will shortly return home to her father's farm. But not before Sanditon's first ball, to be held at the new assembly rooms. Sanditon's story strands unravel during the ball and its aftermath…"
© Fluidity Films 2015


If you enjoyed this post, you'll also want to see Period Dramas 2016: Georgian and Regency Eras and also Streaming on NETFLIX: Georgian Era. And of course you'll want to wander over to The Period Films List. You'll be especially interested in the Best Period Drams: Georgian and Regency Eras List.
You may also enjoy By the Seaside with Sanditon: on Regency-era Seaside Fashions, over at Austenprose, as well as more information on Sanditon:
"Austen has taken a new and fresh direction from her usual 3 or 4 families in a country village and sets her novel not about an individual's struggle but an entire community. Money is still the fuel that powers the plot, but her physical descriptions of the landscape and town are entirely new in her cannon foreshadowing what may have been an evolution in her style."
There is also this article about the seaside in the Regency era from Jane Austen's London:
"Although the seaside holiday is often thought of as a Victorian invention they were very much a feature of the Georgian scene for those who had money and leisure. By 1800 every English county with a coastline had at least one seaside resort. Brighton is perhaps the most famous example, but it was by no means the first – Scarborough probably has best claim to the title, although Margate and Brighton were close behind and all three were flourishing in the 1730s, long before the Prince Regent made Brighton notorious."


Jane Austen was an English novelist whose works of romantic fiction, set among the landed gentry, earned her a place as one of the most widely read writers in English literature, including Northanger Abbey, Sense and Sensibility, Pride and Prejudice, Mansfield Park, Emma, Persuasion, Sanditon, and juvenilia. In Sanditon Austen explored "her interest in the verbal construction of a society by means of a town – and a set of families – that is still in the process of being formed."