Last Updated on June 8, 2023
In 2020 PBS celebrates its 50th anniversary; in 2021 Masterpiece joins the party. We thought it a perfect time to look back on the period dramas that have aired on Masterpiece, season by season, one post at a time.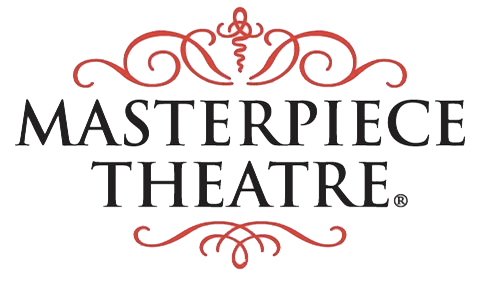 Masterpiece Theatre logo 1971 – 2007 TM and © PBS, Inc., all rights reserved
---
To help keep this site running: Willow and Thatch may receive a commission when you click on any of the links on our site and make a purchase after doing so. 
---
Below, we list the period drama line-up for the second season of Masterpiece Theatre, which aired in 1972 – 1973. 
Some of the earliest PBS Masterpiece programming is still available to stream or own, and in the following descriptions, we will let you know when it is (and we'll also link to the books that inspired the adaptations).
Let's take a stroll down memory lane, and see how the choice of British costume dramas and historical series on Masterpiece has evolved over the years. Titles are listed in order of their air date.
For some history of PBS Masterpiece, and the programming in other seasons, see this page.
---
---
Period Dramas on PBS Masterpiece Season 2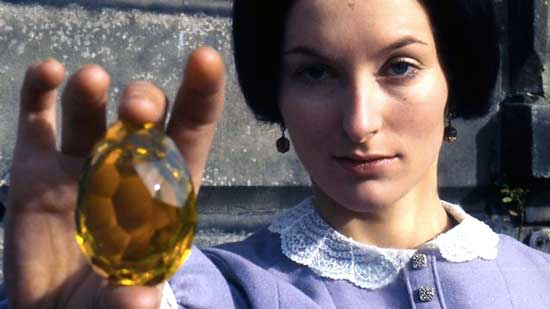 ---
---

Vanity Fair (1967)
Becky Sharp, orphaned by her alcoholic father, is about to start her duties as governess to the two daughters of Sir Pitt Crawley. She is invited to the home of her wealthy schoolmate Amelia Sedley, where she attempts to escape her fate as a servant by charming Amelia's foolish brother Jos into marriage.
The plot fails and Becky joins the household of the lecherous, miserly Sir Pitt, who promptly gives her the extra duties of caring for his accounts. The Sedleys, meanwhile, lose their fortune and Becky meets Sir Pitt's rapscallion son Rawdon. The story of a world in which everybody knows what they want but nobody wants what they get.
A BBC adaptation of the novel by William Makepeace Thackeray.
5 episodes
Starring Susan Hampshire, Roy Marsden, Richard Caldicott, Marilyn Taylerson, Dyson Lovell, Bryan Marshall, John Moffatt.
First aired on Masterpiece in 1972.
---

Cousin Bette (1971)
A poor and homely spinster, who feels she's been walked on all her life, teams up with a scheming courtesan to wreak elaborate revenge on her rich and handsome relatives.
A harsh spinster who masks her frustration and bitterness behind a facade of good will, Bette is compelled by fierce jealousy to destroy the romance between her niece Hortense and a Polish sculptor. Her efforts help destroy the family of her cousin Adeline Hulot (wife of Hector of the French War office) who has patronized her because she is a poor relation. Bette makes a meager living as an embroiderer of gold work and had been supporting the sculptor Count Wenceslas Steinbock for three years.
A BBC adaptation of the story by Honoré de Balzac.
5 episodes
Starring Margaret Tyzack, Colin Baker, Thorley Walters, Helen Mirren.
First aired on Masterpiece in 1972.
---

The Moonstone (1972)
Set in Victorian England, a suspense story of a fabulous diamond looted from a temple in India and the misfortunes it brings those associated with it — especially the young heroine Rachel Verinder who receives the gem as an inheritance on her 18th birthday. Warned the diamond resembles one stolen from a Hindu statue, the diamond disappears. Suspicion falls over the household, threatening to destroy someone close to Rachel's heart.
As the story unfolds, a series of mysterious events occur: a suicide, sleeping drugs, and the activities of an unsavory money lender, three sinister Indian conjurers and a murderer. Rachel's two cousins and rivals for her hand are prime suspects.
A BBC adaptation of the 19th-century British epistolary novel by Wilkie Collins, often thought of as the first detective novel.
5 episodes
Starring Colin Baker, Vivien Heilbron, Robin Ellis, Basil Dignam, Martin Jarvis, Anna Cropper, Kathleen Byron.
First aired on Masterpiece in 1972.
---

Tom Brown's School Days (1971)
Tom Brown, as a new boy at Rugby Public School in 1835, has to contend with the school's harsh discipline and accepted bullying from the older boys.
In this BBC adaptation of Thomas Hughes' novel set in Victorian England, every day, Brown is forced to endure the taunting of Harry Flashman, a bully who's chosen him as his new target. Life becomes a trial by fire for Tom, who must find a way to cope with Harry's insults. But with the help of a kindly headmaster, he just may prevail.
5 episodes
Starring Iain Cuthbertson, Anthony Murphy, Simon Fisher-Turner, Richard Morant, Richard Gibson, Barry Stokes.
First aired on Masterpiece in 1973.
---

Point Counter Point (1968)
Based on the novel by Aldous Huxley, this BBC TV mini-series is a satire about the London upper class in the 1920's and the foibles of a generation. The story changes perspectives of characters, all of whom are connected by being acquaintances of Philip Quarles, who is writing a novel about the people who are attending a house party hosted by Lady Tantamount.
Guest Walter Bidlake pursues the seductive Lucy Tantamount despite qualms about ignoring his pregnant mistress Marjorie. His father John Bidlake is resentfully facing old age. Lord Tantamount's assistant Illidge is snubbed by the founder of a Fascist organization Everard Webley. Illidge is invited to a man-shooting party by Maurice Spandrell while Burlap is discreetly wooing Beatrice Gilray.
5 episodes
Starring Sheila Grant, Lyndon Brook, Patricia English, Max Adrian, David Collings, David Graham, Matthew Jacobs. 
Currently unavailable.
First aired on Masterpiece in 1973.
---

The Golden Bowl (1972)
BBC's adaptation of Henry James's highly charged study of adultery, jealousy and possession. The lives of three Americans interwine in London as a widower, his daughter, and her friend are matched with others by Bob Assingham.
Henry James last full length novel is the story of two rich Americans — a father and a daughter — who are devoted to each other. The daughter marries an impoverished Italian aristocrat, and the father marries the daughter's best friend. Neither father nor daughter knows that their spouses had formerly been passionately in love with each other. The story is seen through the eyes of Bob Assingham.
6 episodes
Starring Cyril Cusack, Barry Morse, Jill Townsend, Daniel Massey, Gayle Hunnicutt, Kathleen Byron.
First aired on Masterpiece in 1973.
---

If you enjoyed this post, wander over to The Period Films List. You'll also want to see our list of Masterpiece Classics Streaming on Prime Video.