Last Updated on June 8, 2023
In 2020 PBS celebrates its 50th anniversary; in 2021 Masterpiece joins the party. We thought it a perfect time to look back on the period dramas that have aired on Masterpiece, season by season, one post at a time.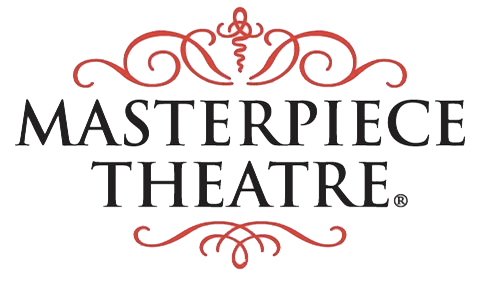 Masterpiece Theatre logo 1971 – 2007 TM and © PBS, Inc., all rights reserved
---
To help keep this site running: Willow and Thatch may receive a commission when you click on any of the links on our site and make a purchase after doing so. 
---
Below, we list the period drama line-up for the third season of Masterpiece Theatre, which aired in 1973 – 1974. 
Some of the earliest PBS Masterpiece programming is still available to stream or own, and in the following descriptions, we will let you know when it is (and we'll also link to the books that inspired the adaptations).
Let's take a stroll down memory lane, and see how the choice of British costume dramas and historical series on Masterpiece has evolved over the years. Titles are listed in order of their air date.
For some history of PBS Masterpiece, and the programming in other seasons, see this page.
---
---
Period Dramas on PBS Masterpiece Season 3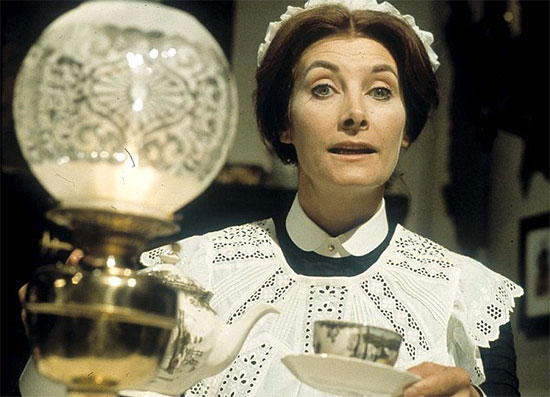 ---
---

Clouds of Witness (1972)
Captain Denis Cathcart, fiance of Lady Mary Wimsey and house guest of the Duke and Duchess of Denver is found dead at 3 a.m. on the morning of October 13, 1928. Unraveling the murder falls to Lord Peter Wimsey – amateur sleuth. The man has been murdered on the eve of his marriage to Wimsey's sister; the man charged with the crime is Wimsey's brother.
A period drama from BBC based on the book Clouds of Witness: The Lord Peter Wimsey Mysteries by Dorothy L. Sayers.
5 episodes
Starring Ian Carmichael, Rachel Herbert, Glyn Houston, Mark Eden, David Langton, Isabel Jeans.
First aired on Masterpiece in 1973.
---

The Man Who Was Hunting Himself (1972)
In this BBC TV series, David Foster is returning from a business trip when he is stopped at the border of East and West Germany. He is suspected to be an enemy agent. Soon a mysterious double begins wreaking havoc and killing people, and Foster believes he is out to kill him.
3 episodes
Starring Donald Burton, Carol Austin, Garfield Morgan, David Savile, Robin Hawdon, Conrad Phillips.
Currently unavailable.
First aired on Masterpiece in 1973.
Note: It is unclear when this series was set, but likely it takes place in the 1950s. By 1949, Germany had become two separate countries – the Federal Republic of Germany (West Germany), and the German Democratic Republic (East Germany). The inner border was closed in 1952. However, the wall that was built in 1961 to stop East Germans defecting was still in place at the time the series was made, so the action could take place after the 1950s. Drop us a line if you remember! 
---

The Unpleasantness at the Bellona Club (1972)
General Fentiman has died at the Bellona Club. Lord Peter Wimsey is brought in to determine the time of death for testamentary purposes, and the postmortem reveals that he died of digitalis poisoning. The general spent the night in the Bellona Club's telephone box, with an out-of-order sign.
A period drama from BBC based on the book The Unpleasantness at the Bellona Club: A Lord Peter Wimsey Mystery by Dorothy L. Sayers.
4 episodes
Starring Ian Carmichael, John Quentin, Terence Alexander, Anna Cropper.
First aired on Masterpiece in 1973.
---

The Little Farm (1973)
Tom Richards, an illiterate farmer who works his farm with the help of Jack. Tom believes he may have found happiness in the form of a girl who answers his ad in the paper. Edna Johnson is hardworking and attractive, and the pair develop a mutual respect that leads to love.
Edna soon realizes however that Jack has been taking advantage of Tom's good nature and sets out to rectify the situation. But Jack learns Edna's secret, and has his own ideas. Set in the 1930s, the deceptively simple story shows how expectations can be cruelly destructive.
A faithful adaptation of the story of the same name in Colonel Julian and Other Stories by H.E. Bates (The Darling Buds of May).
1 episode
Starring Bryan Marshall, Barbara Ewing, Michael Elphick, Diane Keen.
Available on DVD as part of Country Matters
First aired on Masterpiece in 1973.
---

Upstairs, Downstairs (Seasons 1 & 2)
The trials of the British aristocratic Bellamy family and their household staff.
Upstairs: the wealthy, aristocratic Bellamys. Downstairs: their loyal and lively servants. For nearly 30 years, they share a fashionable townhouse at 165 Eaton Place in London's posh Belgravia neighborhood, surviving social change, political upheaval, scandals, and the horrors of the First World War.
Set between 1903 and 1909, season one introduces Sir Richard Bellamy and his elegant wife, Marjorie, who reside upstairs with their dissolute son, James, and headstrong daughter, Elizabeth. Living and working downstairs are Hudson, the proper butler; Mrs. Bridges, the garrulous cook; the calm and watchful maid Rose; and many more. In this Emmy® winner for outstanding drama series, love blooms, tragedy strikes, scandals are avoided, and wedding bells sound.
In season 2 more drama comes to Eaton Place. Elizabeth's marriage to Lawrence is on the rocks, while below stairs Sarah and Hudson face upheavals in their personal lives. When King Edward VII comes to dinner, the house is abuzz. Things take a turn for the worst when it looks as if the Bellamy family could lose their home.
13 episodes per season
Starring Gordon Jackson, David Langton, Jean Marsh, Angela Baddeley, Christopher Beeny, Jenny Tomasin.
First aired on Masterpiece in 1974.
---

The Edwardians (1972)
This BBC series based on the 1930 instant bestseller book by Vita Sackville-West, "The Edwardians" covers the turning points in different figures during the Edwardian era of the United Kingdom including Henry Royce and Charles Rolls – of Rolls Royce fame; Sir Arthur Conan Doyle author of Sherlock Holmes; Lloyd George – a politician and a philanderer.
Lloyd George: George is a fiery liberal politician who dominated England prior to WWI, whose personal escapades kept him on the brink of political disaster.
The Reluctant Juggler: Tales of the Edwardian music hall and its entertainers, and the story of actors struggling to organize a performer's union.
Mr. Rolls and Mr. Royce: 1902 in Manchester, England when two men combined to make the car that still remains a legend.
Conan Doyle: Sir Arthur Conan Doyle, creator of Sherlock Holmes, has his own mystery to solve. When his wife dies, the author becomes depressed and only the interest of an intriguing investigation revives him–trying to prove the innocence of a young Eurasian imprisoned for a crime he did not commit.
4 episodes
Starring Georgia Brown, Jack Douglas, Fulton Mackay, Michael Jayston, Robert Powell, Barrie Cookson, Nigel Davenport, Maria Aitken, John Nettleton, Anthony Hopkins, Annette Crosbie, Thorley Walters.
First aired on Masterpiece in 1974.
---

If you enjoyed this post, wander over to The Period Films List. You'll also want to see The Ups and Downs of Upstairs, Downstairs and check out our list of Masterpiece Classics Streaming on Prime Video.