We've gathered up the period dramas that are newly included with your US Amazon Prime Video membership in the Fall of 2019. 
Then, we share the historical / costume / period dramas that are coming to Prime Video Channels, are available to rent, and movies and TV series in the genre that are being released to DVD, all for the months of September, October, and November.
Finally, we list some newly added non-period movies and series like British shows and romances that you may also like, that are included with your Prime Video membership.
Check this list throughout the fall; we'll update all the sections (alphabetically) as more titles become available.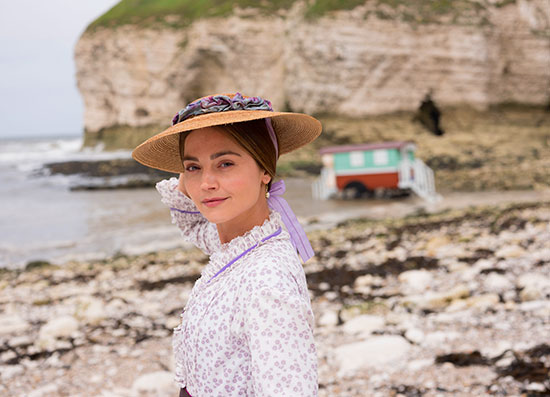 ---
To help keep this site running: Willow and Thatch may receive a commission when you click on any of the links on our site and make a purchase after doing so.
---
It's easy to watch the trailers for the films on this list, or add the movies and TV series to your watchlist: just click.
From British costume dramas to sweeping romantic epics, there's a lot here by the end of the season, so to help you keep track: the blue TVs next to the title mean the film is included with your membership, the orange TVs mean it is available to rent or is available with a Prime Video Channel subscription. 

Period Dramas Added in September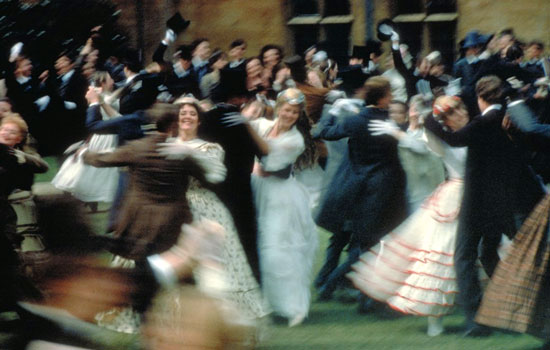 This section contains newly available historical, costume and period dramas (movies and TV series) that are included with your Prime Video membership.
---
---

A Girl Named Jo (2018)
A teen mystery series period drama set in 1963, a decade after a factory fire had ruined a small town of Attaway. Two girls from opposite sides of the tracks become unlikely friends and uncover the community's complex history. 8 episodes.
Starring Annie LeBlanc, Addison Riecke, Bella Shepard.
Rated 7+
Available September 16
---

Bolden (2019)
New Orleans cornet player Buddy Bolden becomes a key figure in the birth of jazz, influencing countless musicians for decades to come.
"Bolden" imagines the compelling, powerful and tragic journey of Buddy Bolden, the unsung American hero who invented Jazz. With little biographical information known and no found recordings of his music, the film's narrative composes fragmented memories of his past, against the political and social context in which his revolutionary music was conceived.
Starring Gary Carr, Erik LaRay Harvey, Ian McShane.
Rated R
Available September 5
---

The Cotton Club (1984)
An homage to 1930s gangster films and musicals. "The Cotton Club" is set in 1928 New York. Spirits are high and sultry jazz lively dancing and ruthless gangsters rule supreme. In the center of it all is Harlem s Cotton Club.
Playing on stage is cornet player Dixie Dwyer who dreams of the big time but he s too mixed up with the club s owner — and his sexy moll — to get anywhere fast. Add the frustration of tap sensation Sandman Williams who can t touch his girl the lovely lounge singer Lea Rose Oliver and you've got a short fuse ready to go. As tensions rise so do tempers and the legendary nightclub becomes a pressure cooker of jilted loves and mob jobs that blows the lid off one of the most shocking showdowns ever staged.
Starring Richard Gere, Gregory Hines, Diane Lane, Lonette McKee, Bob Hoskins.
Rated R
Available September 30
---

Enemies (2007)
In the summer of 1942, the occupying German authorities of a small town and Russian locals have learned to live in harmony. The war has moved on, far off to the east. The Germans study Russian, flirt with the local girls, the women wash their clothes and feed them. When the German Commander is ordered to execute the son of the Russian woman he loves, the tenuous harmony between the Germans and Russians is threatened.
Starring Julia Aug, Elena Yatsko, Aksel Shrik.
Rated 13+
In Russian and German with English subtitles. 
Available September 16
---

Gallipoli (1981)
Archy and Frank are two young Australian sprinters who want to join the army to fulfill their sense of duty. Turned down because they are too young, the pair hop a freight train to Perth, where they are allowed to join up. They board a troop ship headed to Cairo and, after training in the shadows of the Great Pyramids, the boys are finally sent to the front line, where their speed makes them candidates for messengers in one of World War I's bloodiest battles.
"A moving film about war, friendship and the tragic loss of innocence." – Telegraph
Starring Mel Gibson, Mark Lee, Bill Kerr.
Rated PG
Available September 2
---

Heaven's Gate (1981)
A dramatization of the real-life Johnson County War in 1890 Wyoming, in which a Sheriff born into wealth, attempts to protect immigrant farmers from rich cattle interests.
A touching tale of love, loss, landscape and the hardscrabble existence of America's working poor. Set against the bloody backdrop of the Johnson County War at the end of the 19th Century, this is a fraught love story between rogue Federal Marshal Averill, local madam Ella and association mercenary Nate. With Vilmos Zsigmond's spectacular cinematography of dust-filled, snow-peaked landscapes, director Cimino brings together all the ingredients for a Western epic.
One of the most controversial films in Hollywood history, it divided critics and the public alike on its initial release in 1981. Over the last decade "Heaven's Gate" has been broadly reassessed, with many citing it as one of the key films of its period. 
Note: This is a complicated period drama – at times touching and eloquent, at others violent and thick. Give it a try – and at minimum watch up until the outdoor Harvard graduation dance scene; it's sweepingly beautiful.
Starring Kris Kristofferson, Christopher Walken, Jeff Bridges, John Hurt, Sam Waterston.
Rated R
Available September 2
---

On Valentine's Day (1986)
Christmas unites a small-town family divided by a couple's elopement in 1917 Texas.
Elizabeth defies her wealthy parents by running off and marrying a young man of humble prospects, and her parents have not spoken to her since – even though the couple lives in a rooming house nearby, they are struggling financially, and she is pregnant. The story of unselfish love between a man and a woman and the abiding love within a family, this American classic explores the enduring themes of human existence.
"On Valentine's Day" is the central film in Horton Foote's semi-autobiographical trilogy that also includes Courtship and 1918.
Starring Hallie Foote, William Converse-Roberts, Michael Higgins, Richard Jenkins.
Rated PG
Available September 16
---

The Talented Mr. Ripley (1999)
To be young and carefree amid the blue waters and idyllic landscape of sun-drenched Italy in the late 1950s; that's la dolce vita Tom Ripley craves- and Dickie Greenleaf leads. When Dickie's father asks Tom to bring his errant playboy son back home to America, Dickie and his beautiful expatriate girlfriend, Marge Sherwood, never suspect the dangerous extremes to which Ripley will go to make their lifestyle his own.
Starring Matt Damon, Gwyneth Paltrow, Jude Law, Cate Blanchett, John Bell.
Rated R
Available September 30
---

Victoria (Season 3) PBS
In Victoria Season 3, it is 1848, and revolution is breaking out across Europe. In Britain, one woman stands between order and chaos: Queen Victoria. With monarchies tumbling in Europe, Victoria and Albert must confront what it means to rule in this new era. Constitutional crises, scandals, and a decade of marriage mean Victoria is tested like never before; as mother, wife, and Queen.
Victoria Season 3 introduces fascinating new historical characters, including Laurence Fox (Inspector Lewis) as the vainglorious Lord Palmerston. Also vexing the queen this season is Kate Fleetwood (Harlots) as Victoria's devoted but troubled half-sister.
Returning are Tom Hughes as Victoria's devoted, obsessive husband, Prince Albert; Nell Hudson as the queen's chief dresser, Nancy Skerrett; Ferdinand Kingsley as Charles Francatelli, the royal chef and cookbook king; plus a host of others.
Starring Jenna Coleman, Tom Hughes, Laurence Fox, Kate Fleetwood, Nell Hudson.
Rated TV-PG
Available September 3
---

The following period dramas are also newly available and included with your Prime membership this September. Click on the titles for more information, to watch trailers where available, and to start streaming full movies or episodes:
Available September 2: The Return of a Man Called Horse (1976), The Kentuckian (1955), Gothic (1987). Available September 4: Song for a Raggy Boy (2003), The Lady and the Highwayman (1989), The Deadly Companions (1961), True Grit (2010). Available September 5: The Displaced Person (1977). Available September 30: Harlem Nights (1989), High Noon (1952).
---

Period Dramas Added in October
Stay tuned…
---

Period Dramas Added in November
Stay tuned…
---
---

Period Dramas New to Prime Video Channels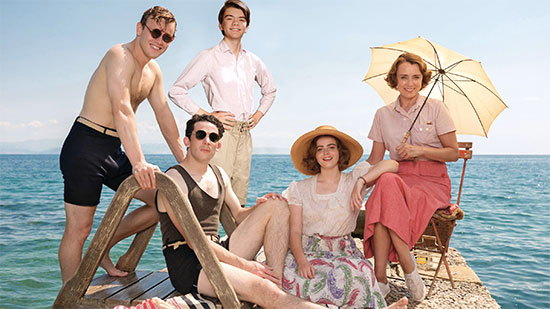 This section contains period dramas added in September, October and November (movies and TV series) that are included with add-on Prime Video Channels. If you don't already subscribe to the channel, follow the link below the film description that says "Available …" to sign up for a free trial.
And ICYMI: The family friendly frontier period drama "When Hope Calls" premiered August 30th, 2019, exclusively on Hallmark Movies Now, with new episodes premiering every Friday through October 25. Start watching with a free trial here. 
---
---

Catherine the Great (2019)
Set against the politically tumultuous and sexually charged court of Russian empress Catherine the Great who wielded supreme power throughout Russia for nearly half of the 18th century. The HBO/Sky production follows Catherine towards the end of her reign during her passionate affair with Grigory Potemkin.
Amid scandal, intrigue and immense conflict, they develop a unique and devoted relationship, overcoming their adversaries and together serving as the architects of modern-day Russia through a series of liberalizing reforms.
A four-part limited drama series.
Starring Helen Mirren, Jason Clarke, Georgina Beedle, Thomas Doherty, Andrew Rothney. 
Rated TV-MA
Available October 21 with HBO Channel. 
---

The Durrells in Corfu (Season 4)
In Season 4 of the beloved British period drama adaptation of Gerald Durrell's "My Family and Other Animals" and its sequels, the future is looking bright for the eccentric Durrells, as viewers catch up with what has been happening in their lives on the beautiful island of Corfu in Greece.
Louisa is keeping busy by opening the doors of the family villa as a guest house. But with cousin Basil her only paying guest, business isn't exactly booming. Larry's struggling to get his risqué Black Book published and enjoying love with two ballet dancers, while Leslie is throwing himself back into his job (and shooting). Animal-mad Gerry now has ambitions to open his own zoo, and Margo's up for another new challenge as she decides to start her own beauty salon.
Starring Keeley Hawes, Josh O'Connor, Milo Parker.
Rated TV-PG
Available September 30 with PBS Masterpiece Channel.
---
---

Period Dramas Newly Available to Rent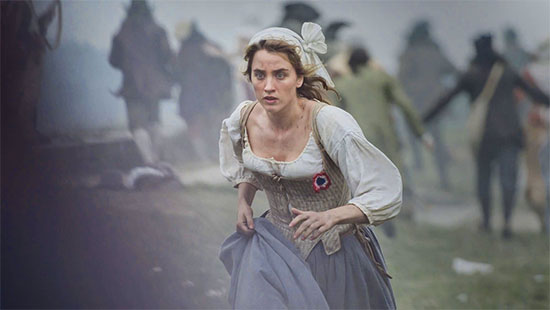 This section contains historical, costume and period dramas (movies and TV series) that are newly available to rent on Amazon this month.
---
---

One Nation, One King (2018)
Working men and women fight for change during the early years of the French Revolution.
The period drama follows the intertwining fates of the historical figures, the men and the women of the 1789 French revolution, as they meet at the newly established Assemblée Nationale. Also known as "Un peuple et son roi."
Starring Gaspard Ulliel, Adèle Haenel, Olivier Gourmet, Louis Garrel, Izia Higelin, Laurent Lafitte.
In French with English subtitles.
Rated PG-13
Available September 3
---
---

New Period Drama DVD Releases in Fall 2019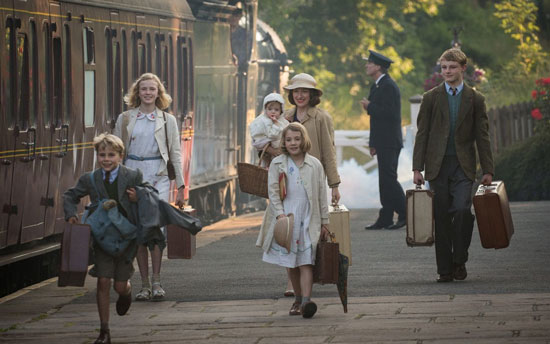 This section contains historical, costume, and period dramas that are being released this season to DVD and Blu-ray.
The Alienist (DVD & Blu-ray): A psychological thriller set in 1896 about the hunt for a serial killer responsible for the gruesome murders of boy prostitutes that have gripped New York City. Based on the novel by Caleb Carr. Available HERE September 10, 2019.
The Cloud Capped Star (The Criterion Collection): The story of a family that has been uprooted by the Partition of India and come to depend on its eldest daughter, the self-sacrificing Neeta (Supriya Choudhury). She watches helplessly as her own hopes and desires are pushed aside time and again by those of her siblings and parents, until all her chances for happiness evaporate, leaving her crushed and ailing. Available HERE September 10, 2019.
The Great Waldo Pepper (Blu-ray): Waldo Pepper (Robert Redford) is a former WWI biplane pilot who feels he missed out on his chance to earn glory during the war and dreams of being the first man to perform the risky "outside loop." Desperate for cash, he resorts to "barnstorming" with his unique style of aerial showmanship, but soon lands in Hollywood as a stunt pilot. When German ace fighter pilot Ernst Kessler (Bo Brundin) is cast to recreate his famous dogfight in a Hollywood blockbuster, Waldo sees an opportunity to redeem his war record in a dramatic and death-defying airborne fight… that proves to be a little too real. Available HERE September 24, 2019.
Holocaust (Blu-ray): An original TV dramatization of one of the most monstrous crimes in world history–the slaughter of 6 million Jews by the Nazis. Dramatically and definitively, the story covers an entire decade, the eventful years from 1935 to 1945. Holocaust focuses on the tragedy and triumph of a single family–the Weiss family. Their story is told in counter-poise to that of another fictional family, that of Erik Dorf, who portrays a Nazi aide to Germany's infamous Heydrich. Starring a brilliant international cast and filmed on location in Berlin and Vienna. Available HERE September 24, 2019.
The Juniper Tree (Blu-ray): Set in medieval Iceland, "The Juniper Tree" follows Margit (Björk in a riveting performance) and her older sister Katla (Bryndis Petra Bragadottir) as they flee for safety after their mother is burned to death for witchcraft. Finding shelter and protection with Johan (Valdimar Orn Fygenring), and his resentful young son, Jonas (Geirlaug Sunna Pormar), the sisters help form an impromptu family unit that's soon strained by Katla's burgeoning sorcery. Photographed entirely on location in the stunning landscapes of Iceland in spectacular black-and-white by Randy Sellars. Available HERE September 10, 2019.
Quartet (DVD & Blu-ray): Isabelle Adjani won the 1981 Cannes Film Festival Best Actress Award for her performance as the vulnerable but complicated West-Indian Marya, who, after her shady husband Stefan (Anthony Higgins) is imprisoned, finds shelter in the home of a manipulative and lecherous English art patron (Alan Bates) and his painter wife (Maggie Smith). The twisted dynamic that develops between this trio plays out against a stunning recreation of the Golden Age of 1920s Paris and its café culture and extravagant nightlife. In adapting Jean Rhys's 1928 autobiographical novel, Merchant Ivory achieved an artistic breakthrough that remains one of the team's finest works. The newly restored release includes The Making of Quartet: A Conversation with James Ivory and A New Conversation with James Ivory and Pierre Lhomme. Available HERE September 24, 2019.
Sleepy Hollow (20th Anniversary Edition): Master storyteller Tim Burton (Batman) weaves an eerie, enchanting version of this classic tale of horror. Johnny Depp is Ichabod Crane, an eccentric investigator determined to stop the murderous Headless Horseman. Christina Ricci is Katrina Van Tassel, the beautiful and mysterious girl with secret ties to the supernatural terror. Available HERE September 24, 2019.
Swallows and Amazons (DVD): Four children (The Swallows) go on a sailing adventure to an island where they encounter a rival group of kids (The Amazons). Rivalry quickly turns to camaraderie when pirates threaten all they hold dear. Available HERE September 17, 2019.
The Third Wife (DVD): In 19th century rural Vietnam, 14-year-old May becomes the third wife of wealthy landowner Hung. Soon she learns that she can only gain status by asserting herself as a woman who can give birth to a male child. May's hope to change her status turns into a real and tantalizing possibility when she gets pregnant. Faced with forbidden love and its devastating consequences, May finally comes to an understanding of the brutal truth: the options available to her are few and far between. Available HERE September 10, 2019.
When Calls the Heart: Disputing Hearts (DVD): Despite their initial differences, Elizabeth and the town's new Mountie, Nathan, must work together to help his niece adjust to her new school and make friends. Meanwhile, tension and excitement are rising in the town when they strike oil. However, Gowen may have already been planning for such a day! Available HERE September 3, 2019.
The Wind (DVD & Blu-ray): An unseen evil haunts the homestead in this chilling, folkloric tale of madness, paranoia, and otherworldly terror. Lizzy is a tough, resourceful frontierswoman settling a remote stretch of land on the 19th-century American frontier. Isolated from civilization in a desolate wilderness where the wind never stops howling, she begins to sense a sinister presence that seems to be borne of the land itself, an overwhelming dread that her husband (Ashley Zukerman) dismisses as superstition. Available HERE September 3, 2019.

---
---

Other Shows You May Also Like 
This section contains a curated list of movies and TV series new and are included on Prime, that are NOT period dramas. We think fans of historical and costume dramas will enjoy them just the same. Follow the links to watch the trailers. You may also like:
Available September 10: Aladdin (2019). Available September 30: Ghost World (2001), Legally Blonde (2001), Play It Again, Sam (1972), Saturday Night Fever (1977), Witness (1985), You've Got Mail (1998), and the contemporary-set Much Ado About Nothing (2012). Also see: Legend of Fuyao (Season 1), and Whatever Love Means (2005).
---
---
If you enjoyed this post, be sure to see The Period Films List, with the best British, historical and costume dramas sorted by era.