Last Updated on February 26, 2020
Jack Bannon – Inspector Thursday's son on "Endeavour" – plays Alfred Pennyworth in the "Batman" prequel TV series "Pennyworth." Pennyworth is a British special forces veteran turned butler, and a most loyal servant to the Wayne household.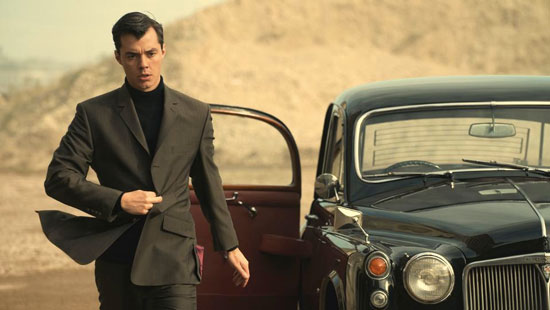 ---
To help keep this site running: Willow and Thatch may receive a commission when you click on any of the links on our site and make a purchase after doing so.
---
Alfred is a second father to Bruce Wayne, and serves as his conscience when the never-ending fight against evil wears on the Caped Crusader. But we aren't there yet, because the TV series "Pennyworth" takes place before Bruce is born.
Pennyworth is AVAILABLE to STREAM

Batman's butler Alfred Pennyworth has been portrayed on screen by noted actors ranging from Michael Caine to Jeremy Irons. Now Jack Bannon (The Imitation Game, Ripper Street) has stepped into the tireless, if youthful, butler's shoes, in "Pennyworth." The 1960s-set series is from executive producer/writer Bruno Heller (Gotham, Rome).
---
---
In this origin story, Pennyworth is a former British SAS soldier in his 20s, who forms a security company and goes to work with a young billionaire Thomas Wayne (played by Ben Aldridge, Laura's love interest Daniel Parish, and editor of the Candleford Gazette in Lark Rise to Candleford).
For those of you who don't follow Batman (or watch the TV series Gotham, which also involves Pennyworth), here's how DC Comics describes Pennyworth:
As a former British intelligence officer, field medic and trained Shakespearean actor, Alfred Pennyworth is uniquely suited to support the lives of masked crime fighters. He's quick with a disguise, a cover story, an alibi; and quicker still with a suture, a cast or an ice bath. He ensures that Wayne Manor is operating at peak performance. Plus, he makes a mean cucumber sandwich, which may not be something he lists on his resume, but is certainly something everyone who sets foot on the manor's grounds will fondly remember.
In addition to Jack Bannon and Ben Aldridge, cast members of the "Batman" prequel "Pennyworth" include Jason Flemyng (Sir George Yeardley in Jamestown), Ryan Fletcher (Corporal MacGregor in Outlander), Emma Paetz (Catherine Rawson in Gentleman Jack), Polly Walker (Delphine Day in Mr Selfridge) and Emma Corrin (Princess Diana in The Crown).
The 10-episode, hour-long drama series is based on DC Comics characters created by Bob Kane with Bill Finger.
Watch the official trailer (below, contains violence). "Pennyworth" premiered in July, 2019 on the premium television network EPIX.
In February 2020, "Pennyworth" started production on season two. Season two introduces new series regulars James Purefoy, Edward Hogg, Jessye Romeo, Ramon Tikaram  and Harriet Slater. The 10-episode sophomore season has an eye towards a summer 2020 premiere on EPIX.
Michael Wright, President of EPIX said "Pennyworth has been a big hit for us, embraced by critics and fans alike. It was the highest-performing original series ever to premiere on EPIX, more than doubling the viewership of the shows that came before it. Bruno Heller, Danny Cannon and WBTV have delivered a brilliant, must watch series. We can't wait to work with this phenomenal cast and creative team on another exciting season." 
If you enjoyed this post, be sure to see The Period Films List, with the best British, historical and costume dramas sorted by era.