Wondering what movies to watch on Halloween if you want to be in the spirit of the night but you prefer moody period films to graphic scare tactics? Here are fifteen films and mini-series ranging from eerie to chilling to downright scary that are perfect for your own Halloween party after the little ghouls are nestled tight in their beds.
Many of the movies in this list are set in the Victorian era; the Victorians loved Gothic fiction and ghost stories – there is more on that at the end of the list. If you get too scared watching one of these movies, just watch a little Pride and Prejudice, without the zombies, and let Colin Firth take care of you! If you want something even scarier, see our list of 20 Chilling Period Dramas for Halloween.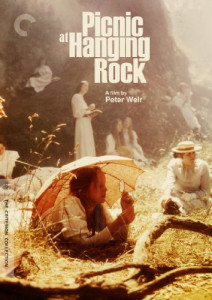 1) Picnic at Hanging Rock (1975) is set in the Victorian era in the year 1900 in Australia. A party of girls from a strict boarding school goes on a day's outing to Hanging Rock, a geological outcropping not far from their school. Three of the girls and one of their teachers disappear into thin air. Roger Ebert called Picnic at Hanging Rock "a film of haunting mystery and buried sexual hysteria. It also employs two of the hallmarks of modern Australian films: beautiful cinematography and stories about the chasm between settlers from Europe and the mysteries of their ancient new home."
Available to stream and on DVD as a Criterion Collection release.
This sensual and striking chronicle of a disappearance and its aftermath put director Peter Weir on the map and helped usher in a new era of Australian cinema. Based on an acclaimed 1967 novel by Joan Lindsay.
Starring Rachel Roberts, Anne Lambert, Jacki Weaver.
You may also want to start the new mini-series version of Picnic at Hanging Rock.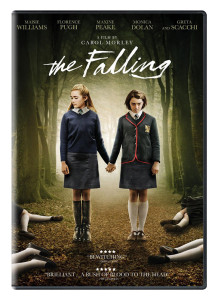 2) The Falling (2014) has been called wonderfully intriguing, unsettling, atmospheric and haunting. Set in an all girls public school in England in 1969 where the teachers adhere to Victorian values and modesty principles.
Available to stream and on DVD.
Lydia (Maisie Williams, Game of Thrones) and Abbie are best friends experiencing a sexual awakening at an English girls school. Following a tragedy, a mysterious fainting epidemic threatens the stability of all involved.
Starring Maisie Williams, Maxine Peake, Monica Dolan, Greta Scacchi, Florence Pugh.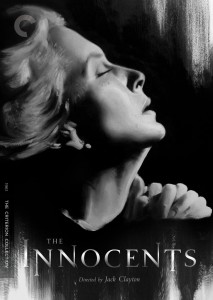 3) The Innocents (1961) Apparitions? Evils? Corruptions? Deborah Kerr stars in this "horrifying Gothic ghost tale" (Newsweek) based on Henry James' "The Turn Of The Screw,' a powerful psychological drama about innocence possessed by evil. Shortly after coming to live with orphans Flora and Miles in their dark, eerie mansion, the new governess (Kerr) mistakes their strange behavior for preciousness. But she soon comes to believe that the charming, beautiful children are possessed by evil, malicious spirits – the souls of their previous governess and estate manager who are now dead. With its shocking conclusion and sinister cinematic effects. The Innocents "catches an eerie, spine-chilling mood right from the start" (Variety) that never lets up.
Available on DVD as a Criterion Collection release.
The Innocents is in black and white and is ever so spooky! It was partly shot on location at the Gothic mansion of Sheffield Park in Sussex.
"The filmmakers have indeed crafted a movie that is irresistible on many levels: as a straightforward ghost story set in a haunted house with spirits appearing at windows and in darkened hallways; as a classic struggle between good and evil over the souls of two innocent children; and as a Freudian take on the repercussions of repressed sexuality in the Victorian era." – Classic Films Reloaded
Starring Deborah Kerr, Peter Wyngarde, Megs Jenkins, Michael Redgrave, Martin Stephens.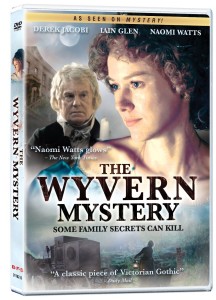 4) Wyvern Mystery (2000) This spine-chilling, Victorian horror classic, starring Naomi Watts (The Impossible), Iain Glen (Game of Thrones, Downton Abbey) and Derek Jacobi (The King's Speech, I, Claudius), pits bone-chilling fear against hot-blooded passion. Produced by the BBC and shown as part of the PBS "Mystery!" series.
Set in the 1820s, the story centres on beautiful young Alice Maybell, played by OSCAR Nominee, British-born actress 'Naomi Watts' (21 Grams, King Kong, Mulholland Drive). Orphaned as a child, Alice is brought up by the local squire, Fairfield 'Derek Jacobi' (The King's Speech, Gladiator). When she comes of age it becomes clear that Squire Fairfield has designs on Alice but is dismayed that Alice and her secret love, the Squire's eldest son Charles 'Iain Glen' (Game of Thrones, Downton Abbey) plan to elope.
Aided and abetted by Charles' younger brother, Harry 'Jack Davenport' (Pirates of the Caribbean) the young couple flee to Carwell Grange, escaping the furious Squire. At the mysterious and gloomy Carwell, Alice begins to realise that the Fairfield men are not all they seem. She then becomes plagued by nightmares about a macabre, amorphous being stalking her. Horror eventually gives way to tragedy and Alice, now a mother, becomes embroiled in the dark secrets of the family's past and the evil ambitions of its present.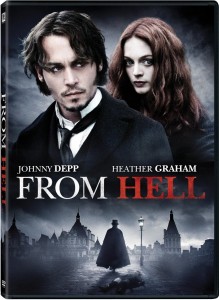 5) From Hell (2001) A clairvoyant police detective must stop the most notorious serial killer in history – Jack the Ripper – before it's too late! Johnny Depp and Heather Graham star in this "engrossing, stylish thriller" (People) that "grips tighter than a chokehold and cut as deep as a knife" (Washington Post)
Available to stream and on DVD.
Despite its gothic look, "From Hell" is not in the Hammer horror genre. Despite its Sherlockian hero, it's not a Holmes and Watson story. Despite its murders, it's not a slasher film. The movie feels dark, clammy and exhilarating–it's like belonging to a secret club where you can have a lot of fun but might get into trouble. You get the notion of the robust physical progress of Victoria's metropolis, and the secret workings of the Establishment. At a time when public morality was strict and unbending, private misbehavior was a boom industry. Many, perhaps most, rich and pious men engaged in private debauchery. – Roger Ebert
Starring Johnny Depp, Heather Graham, Ian Holm, Robbie Coltrane, Ian Richardson.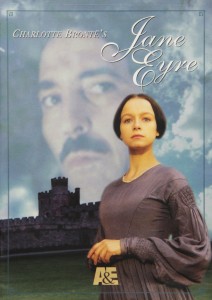 6) Jane Eyre (1997) This version of Jane Eyre is one of the adaptations of the classic by Bronte that is well suited to Halloween viewing, thanks to the haunting musical score and a general darkness and despair that runs through the film, but any version of this classic thriller will do.
Available to stream and on DVD.
The fascinating British actress Samantha Morton stars as the titular heroine in this provocative version of Jane Eyre, based on Charlotte Bronte's oft-filmed, 1847 novel. The familiar contours of Bronte's story are all here: Jane, the unhappy orphan, grows up to become governess at Thornfield, a gloomy estate owned by the imperious and worldly, but curiously desperate, Mr. Rochester (Ciarán Hinds). While the latter's grasping attentions stir the inexperienced young woman, the gothic goings-on at Thornfield suggest layers of unwholesome secrecy in Rochester's life. Most productions of Jane Eyre carefully reflect Bronte's absorbing balance between romance, horror, and Jane's psychological passage to adulthood. But this 1997 television movie is interesting for its near-reckless emphasis on Jane and Rochester's mutual obsession and galloping jealousies.
Starring Samantha Morton, Ciaran Hinds, Gemma Jones, Timia Berthome, Deborah Findlay.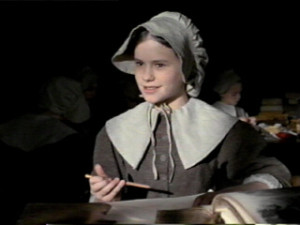 Young Jane Eyre's Lowood School uniform would make for a great child's Halloween costume, with or without the sign (Liar, Rebellious) hung on her in punishment. It would be interesting to see how many adults could guess the costume. Here is Anna Paquin as the young Jane in the 1996 version, which is available to stream.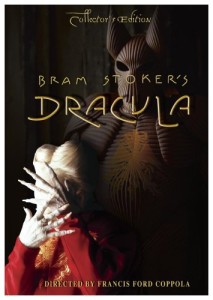 7) Dracula (1992) No list of Halloween films would be complete without Bram Stoker's Dracula, which is largely set in the Victorian era in London. From Francis Ford Coppola, this is a feverish, irresistible, watch filled with lavish and baroque, operatic set design, costumes, and cinematography.
Available to stream and on DVD.
Gary Oldman, Winona Ryder and Anthony Hopkins star in director Francis Ford Coppola's visually stunning, passionately seductive version of the classic Dracula legend. In Bram Stoker's Dracula, Coppola returns to the original source of the Dracula myth, and from that gothic romance, he creates a modern masterpiece. Gary Oldman's metamorphosis as Dracula who grows from old to young, from man to beast is nothing short of amazing. Winona Ryder brings equal intensity to the role of a young beauty who becomes the object of Dracula's devastating desire. Anthony Hopkins co-stars as the famed doctor who dares to believe in Dracula, and then dares to confront him. Opulent, dazzling and utterly irresistible, this is Dracula as you've never seen him. And once you've seen Bram Stoker's Dracula, you'll never forget it.
The sets are grand opera run riot – Gothic extravaganza intercut with the Victorian London of gaslights and fogbound streets, rogues in top hats and bad girls in bustiers. The characters travel back and forth from London to Transylvania, and rendezvous in bedrooms and graveyards. But Coppola seems more concerned with spectacle and set-pieces than with storytelling; the movie is particularly operatic in the way it prefers climaxes to continuity. I enjoyed the movie simply for the way it looked and felt. Production designers Dante Ferreti and Thomas Sanders have outdone themselves. – Roger Ebert
Starring Tom Waits, Anthony Hopkins, Gary Oldman, Keanu Reeves, Winona Ryder.
You may also wish to see Interview with the Vampire (1994) starring Tom Cruise, Brad Pitt, Stephen Rea, Antonio Banderas, Christian Slater. Available to stream and on DVD, the film was based on the novel by Anne Rice. Watch the TRAILER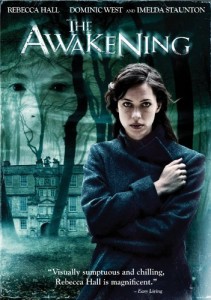 8) The Awakening (2011) In 1921, England is overwhelmed by the loss and grief of World War I. Hoax exposer Florence Cathcart visits a boarding school to explain sightings of a child ghost. Everything she believes unravels as the 'missing' begin to show themselves. A British ghost story that is never cringeworthy that "offers the low-key pleasures of an old-fashioned thriller and a lovely central performance."
Available to stream and on DVD.
They say the boy was scared to death. When the death of a child at a boarding school is blamed on a ghost, hoax exposer Florence Cathcart is certain that science and reason can explain it. But the truth she discovers is more terrifying than she could ever imagine, and soon the ghost hunter becomes the hunted. "The Awakening" is a terrifying mystery filled with haunting twists that will keep you on the edge of your seat.
Starring Rebecca Hall, Dominic West, Imelda Staunton, Isaac Hempstead-Wright, Shaun Dooley.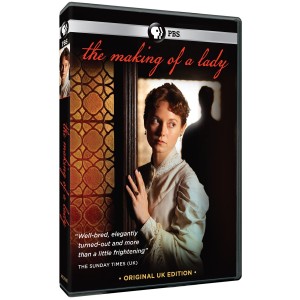 9) Making of a Lady (2012) If you aren't sure what to watch, and want something that feels like a classic English period drama, but is also will keep you on the edge of your seat, this is your film, straight from PBS. "The Making of a Lady" starts in such a pleasant way and then events turn dark. This is just about as much of a psychological thriller that Willow and Thatch can endure, while really enjoying herself. And this is a romance, with a staggering 42 costume changes for 100 minutes of drama. Still, if you are quite prone to nightmares, you may want to avoid it. The Victorian era ended on January 22, 1901, and this story spans a length of time in 1901, so it is included in the Best Period Dramas List as both Victorian and Edwardian.
Read our review here. 
Available to stream and on DVD.
Based on the novel by celebrated writer Frances Hodgson Burnett (The Secret Garden), this is the story of the educated but penniless Emily (Lydia Wilson, South Riding). During her duties as a lady's companion for Lady Maria (Joanna Lumley, Absolutely Fabulous), she meets her employer's wealthy widower nephew, Lord James Walderhurst (Linus Roache, The Wings of the Dove). Accepting his practical if unromantic marriage proposal, Emily finds solace in the company of Walderhurst's nephew Alec Osborn (James D'Arcy) and his glamorous wife, Hester (Hasina Haque), after Lord James leaves to rejoin his regiment. Emily, alone with the Osborns in an isolated country estate, increasingly comes under their control. She begins to fear for her life. Will Walderhurst return in time to save her?
If you like a bit of Gothic darkness, may be for you. Think Jane Eyre with a dark, Dickensian flavor. "Well-bred, elegantly turned out and more than a little frightening." – The Sunday Times
"For about half of this 90-minute movie, you might think you're watching just another variation on the mild, costume-heavy, drawing-room dramas that Britain seems to export by the boatload. But the story — based on a 1901 novel by Frances Hodgson Burnett, who wrote "The Secret Garden" — grows gradually darker. That slow reveal of the tale's sinister side makes this a simultaneously relaxing yet goosebumpy post-"Downton" treat." – NYT
Starring Lydia Wilson, Linus Roache, Hasina Haque, James D'Arcy, and Maggie Fox.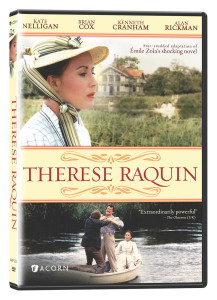 10) Therese Raquin (1981) The Masterpiece Theatre and BBC production Thérèse Raquin is based on the classic 1867 novel and play by French writer Émile Zola and unfolds a tale of forbidden love against the backdrop of idyllic French countryside and gritty Parisian streets. A classic Victorian era ghost story, this is sufficiently creepy for Halloween. Released in October of 2015 (which coincides with a new, star-studded Broadway adaptation starring Keira Knightley and Judith Light).
Available to stream and on DVD.
this BAFTA award-winning miniseries tells the story of a young woman, Thérèse  (Kate Nelligan, The Prince of Tides, The Cider House Rules), unhappily married to her first cousin, Camille (Kenneth Cranham, Rome, Valkyrie, Maleficent). She begins a passionate affair with one of Camille's friends, Laurent (Brian Cox, Braveheart, RED, The Bourne Supremacy). Thérèse and Laurent will go to any lengths to be together, but their actions may haunt them forever. The 1981 Masterpiece Theatre and BBC miniseries also stars Alan Rickman (Harry Potter series, Die Hard, Sense and Sensibility), Mona Washbourne (My Fair Lady), and Jenny Galloway (About a Boy).
Starring Kate Nelligan, Brian Cox, Alan Rickman, Mona Washbourne.
You may also be interested in seeing In Secret (2013), another more recent rendition of the tale starring Elizabeth Olsen, Tom Felton and Jessica Lange. It is available to stream and on DVD. Watch the TRAILER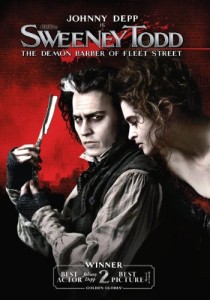 11) Sweeney Todd: The Demon Barber Of Fleet Street (2007) You'll need to be pretty tough stomached for this one, but here goes: In Victorian London, the barber Benjamin Barker is married to the gorgeous Lucy and they have a lovely child, Johanna. The beauty of Lucy attracts the attention of the corrupt Judge Turpin, who falsely accuses the barber of a crime that he did not commit and abuses Lucy later after gaining custody of her. After fifteen years in exile, Benjamin returns to London under the new identity of Sweeney Todd, seeking revenge against Turpin. He meets the widow Mrs. Lovett who is the owner of a meat pie shop who tells him that Lucy swallowed arsenic many years ago, and Turpin assigned himself tutor of Johanna. He opens a barber shop above her store, initiating a crime rampage against those who made him suffer and lose his beloved family.
Available to stream and on DVD.
The bloodiest musical in stage history, it now becomes the bloodiest in film history, and it isn't a jolly romp, either, but a dark revenge tragedy with heartbreak, mayhem. It combines some of Tim Burton's favorite elements: The fantastic, the ghoulish, the bizarre, the unspeakable, the romantic and in Johnny Depp, he has an actor he has worked with since "Edward Scissorhands" and finds a perfect instrument. – Roger Ebert
Starring Johnny Depp, Helena Bonham Carter, Alan Rickman, Timothy Spall, Jamie Campbell.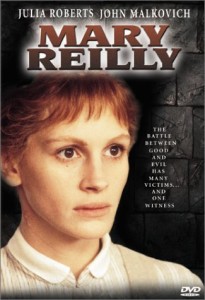 12) Mary Reilly (1996) The classic horror story of Dr. Jekyll and Mr. Hyde gets a chilling new twist when seen through the eyes of Dr. Jekyll's devoted maid, MARY REILLY. Julia Roberts (Erin Brockovich) and John Malkovich (Being John Malkovich), along with writer Christopher Hampton and director Stephen Frears of Dangerous Liaisons, take terror to a new level as the immortal conflict between good and evil is played out in the soul of one man. Equally attracted to her kind employer Dr. Jekyll and his mysterious assistant Mr. Hyde, Mary Reilly must confront her own dangerous desires if she is to survive humanity's greatest evil.
Available to stream and on DVD.
Stephen Frears reunites with the production talents who made the tempting Dangerous Liaisons for this new look at the infamous Dr. Jekyll (a deft John Malkovich). Instead of being in the laboratory where the good doctor unlocks his evil twin, we stay in the mansion overlooking the lab. An inquisitive, proper maid, Mary Reilly (Julia Roberts) slowly becomes Dr. Jekyll's confidant. Rather than a horror story, the film is a spooky mystery that keeps us in the dark, and what a wonderful dark Frears and his designers have fashioned.
Starring Linda Bassett, Glenn Close, John Malkovich, Julia Roberts.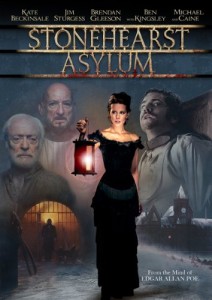 13) Stonehearst Asylum (2014) Not everyone like this film, but it may be just what you are looking for on Halloween. When young doctor Edward Newgate (Jim Sturgess) arrives at Stonehearst Asylum in search of an apprenticeship, he is warmly welcomed by superintendent Dr. Lamb (Ben Kingsley) and a mesmerizing woman by the name of Eliza Graves (Kate Beckinsale). Edward is intrigued by Lamb s modern methods of treating the insane until a series of unusual events leads him to make a horrifying discovery, exposing Lamb's utopia and pushing Edward to the limits of his conscience. Inspired by a short story from Edgar Allan Poe, Stonehearst Asylum is a tale in which nobody is who or what they appear to be.
Available on DVD.
The Scottish Highlands "fin-de-siècle tale reveals the nastinesses of Victorian pseudo-sciences and psychiatry, devilishly dwelling on the distinctions between safehouse and jail, cure and torment. It also unveils the era's jittery repression of women and their sexuality."
Based very loosely on Edgar Allan Poe's short story, 'The System of Dr Tarr and Professor Fether', Stonehearst Asylum proved to this skeptical viewer its worth as a darkly humorous gem of cinema, replete with twists and turns that will certainly send shivers down the spine of the most seasoned of horror aficionados. Blood and gore need not apply here, however. The atmosphere which set the stage for the psychological mind-twists that occured throughout, along with a supremely proficient cast of actors who were nothing less than mesmerizing in their believability, are the ingredients that qualify this as the consummate gothic horror film – and whilst it deviated considerably from 'Tarr and Fether', was a fitting tribute to the author and his work. – London Fog
Starring Kate Beckinsale, Michael Caine, Ben Kingsley, Jim Sturgess, Brendan Gleeson.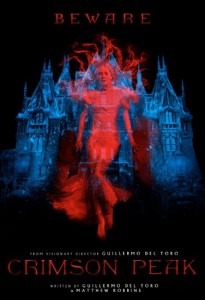 14) Crimson Peak (2015) From director Guillermo del Toro comes a supernatural mystery. Between desire and darkness, between mystery and madness, lies the truth behind Crimson Peak.
Available to stream and on DVD.
Edith (Mia Wasikowska) is an aspiring novelist in early-20th-century America, the sheltered only child of a wealthy industrialist and widower (Jim Beaver). She falls under the spell of Sir Thomas Sharpe (Tom Hiddleston), a charming, but nearly destitute baronet visiting this side of the Atlantic to secure financing for a prospective mining operation on his land in North West England. After a tragedy and much to surprise of polite society, Edith and Thomas wed, and she journeys to live with him in his ancestral home. It is an opulent, but decayed manor slowly descending into the expanse of scarlet clay upon which it is constructed, and the newlyweds share it with his icily guarded sister, Lucille (Jessica Chastain), and, it turns out, a host of perturbed spirits. To survive what she discovers to be a hostile environment, a frightened, yet determined Edith must unravel the mysterious history of the Sharpe family.
"Crimson Peak" is a hypnotic geyser of a film: a cavernous, richly imagined Edwardian spectacle of high fashion, the grotesque, and the sensual. Highly respected genre specialist Guillermo del Toro directs it with the contagious and unbridled enthusiasm of a child unleashed in a toy store. His influences are not hard to spot—he draws from the headstrong heroines and windswept country estates of Henry James and the Brontë sisters, as well as the suspense films Gaslight and Notorious, both of which feature Ingrid Bergman as an imperiled wife in a duplicitous household—but his reverence is productive, powering a vigorous homage to an antique and profoundly romantic idea of the macabre.
Starring Mia Wasikowska, Jessica Chastain, Tom Hiddleston, Charlie Hunnam, Jim Beaver.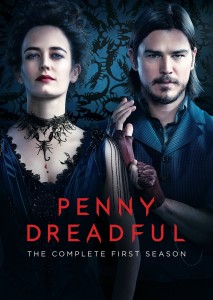 15) Penny Dreadful (2014) Some of literature's most terrifying characters, including Dr. Frankenstein, Dorian Gray, and iconic figures from the novel Dracula are lurking in the darkest corners of Victorian London. Penny Dreadful is a frightening psychological thriller that weaves together these classic horror origin stories into a new adult drama.
Available to stream and on DVD.
Many people are familiar with classic literary characters like Dr. Frankenstein and Dorian Gray. "Penny Dreadful" brings those and other characters into a new light by exploring their origin stories in this psychological thriller that takes place in the dark corners of Victorian London. Sir Malcolm is an explorer who has lost his daughter to the city's creatures, and he will do whatever is needed to get her back and to right past wrongs. His accomplice, seductive clairvoyant Vanessa Ives, recruits charming American Ethan Chandler to help locate Sir Malcolm's daughter and slay some monsters. Oscar-winner Sam Mendes ("American Beauty") is one of the series' executive producers.
A tale told with such cinematic grandeur its meticulousness alone would entrance any film fan even if the judiciously rationed scares and tasteful gore somehow did not. – indieWIRE
Starring Reeve Carney, Timothy Dalton, Eva Green, Rory Kinnear, Billie Piper, Danny Sapani, Harry Treadaway, Josh Hartnett, Simon Russell Beale, Alex Price, Olivia Llewellyn.
---
And of course there is Pride and Prejudice and Zombies starring Lily James, Sam Riley, Jack Huston, Bella Heathcote, Douglas Booth, Matt Smith, Charles Dance, Lena Headey.
Available to stream and on DVD.
A zombie outbreak has fallen upon the land in Jane Austen's classic tale of the tangled relationships between lovers from different social classes in 19th century England. Feisty heroine Elizabeth Bennet (Lily James) is a master of martial arts and weaponry and the handsome Mr. Darcy (Sam Reilly) is a fierce zombie killer, yet the epitome of upper class prejudice. As the zombie outbreak intensifies, they must swallow their pride and join forces on the blood-soaked battlefield.
What do you think? Will you see Pride and Prejudice and Zombies or is it too far afield from the kinds of period dramas you enjoy?
This list ought to take care of your scary – classic – eerie – frightening – moody period drama needs on Halloween night, but keep reading for more on the Victorian era and their love of Gothic fiction and a bit on their Halloween traditions.
Need more? Have a look at this list of 20 Chilling Period Dramas for Halloween.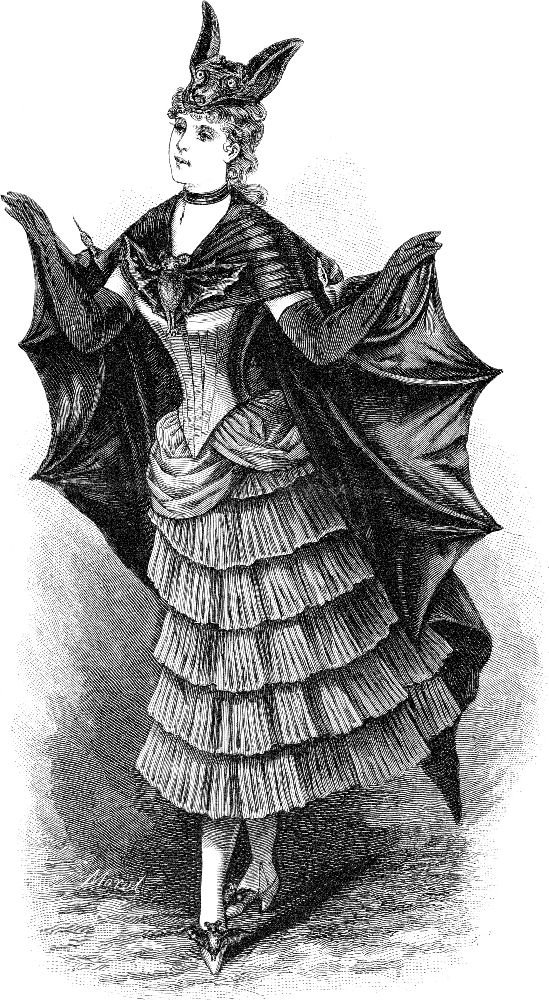 Interestingly, the Victorians usually told their ghost stories on Christmas Eve, and not on Halloween, which was more focused on the harvest, and gathering with friends for dancing and parlor games. This Victorian lady looks simply lovely in her bat costume.
But their celebrations were not entirely uncreepy
"Another game that had a few variations, was one where single women would go alone into a darkened room with a mirror and a candle. They would take an apple with them and try to peel it all in one piece, or slice the apple. It was believed your true love's face would appear in the mirror. If you were going to die that year, a skull would appear."
If you want to know more about the Georgian and Victorian era fascination with Gothic fiction and romance, here are some articles from The British Library that explore the origins and major themes of the genre:
Gothic motifs: What does it mean to say a text is Gothic? Professor John Bowen considers some of the best-known Gothic novels of the late 18th and 19th centuries, exploring the features they have in common, including marginal places, transitional time periods and the use of fear and manipulation.
The Gothic in Great Expectations: Professor John Bowen considers how Dickens uses the characters of Magwitch and Miss Havisham to incorporate elements of the Gothic in Great Expectations.
The Imperial Gothic: Mysticism, degeneracy, irrationality, barbarism: these are the qualities that came to define the non-western 'other' in 19th-century Britain. Here Professor Suzanne Daly explores the 'Imperial Gothic', examining the ways in which 'otherness' and Empire were depicted in Gothic novels such as Jane Eyre, The Moonstone, Dracula and Heart of Darkness.
The Victorian supernatural: Roger Luckhurst challenges the idea of the 19th century as one of secularisation, exploring the popularity of mesmerism, spiritualism and 'true' ghost stories in the period.
An Introduction to The Hound of the Baskervilles: The Hound of the Baskervilles merges two popular genres, the detective story and the Gothic tale. Here curator Greg Buzwell examines the novel's depiction of scientific deduction, eerie landscapes and violent ancestry.
Dracula: vampires, perversity, and Victorian anxieties: The vampire is a complicated creature: caught between life and death, at once alluring and horrifying. Greg Buzwell considers the way the novel reflects the fears that haunted late 19th-century society – fears of immigration, sexual promiscuity and moral degeneration.
Charles Dickens, Victorian Gothic and Bleak House: Focusing on Bleak House, Charles Dickens' ninth and longest novel, Greg Buzwell explores how the novelist incorporates and evolves Gothic imagery, settings and plot devices.
And here is a quick introduction to the Gothic element in novels by authors like the Brontes and Charles Dickens, but also Elizabeth Gaskell and Louisa May Alcott:
Emily Brontë's Wuthering Heights transports the Gothic to the forbidding Yorkshire Moors and features ghostly apparitions and a Byronic hero in the person of the demonic Heathcliff. The Brontës' fiction is seen by some feminist critics as prime examples of Female Gothic, exploring woman's entrapment within domestic space and subjection to patriarchal authority and the transgressive and dangerous attempts to subvert and escape such restriction. Emily's Cathy and Charlotte Brontë's Jane Eyre are both examples of female protagonists in such a role. Louisa May Alcott's Gothic potboiler, A Long Fatal Love Chase (written in 1866, but published in 1995) is also an interesting specimen of this subgenre.

Elizabeth Gaskell's tales "The Doom of the Griffiths" (1858) "Lois the Witch", and "The Grey Woman" all employ one of the most common themes of Gothic fiction, the power of ancestral sins to curse future generations, or the fear that they will.

The genre was also a heavy influence on more mainstream writers, such as Charles Dickens, who read Gothic novels as a teenager and incorporated their gloomy atmosphere and melodrama into his own works, shifting them to a more modern period and an urban setting, including Oliver Twist (1837–8), Bleak House (1854) (Mighall 2003) and Great Expectations (1860–61). These pointed to the juxtaposition of wealthy, ordered and affluent civilisation next to the disorder and barbarity of the poor within the same metropolis. Bleak House in particular is credited with seeing the introduction of urban fog to the novel, which would become a frequent characteristic of urban Gothic literature and film (Mighall 2007). His most explicitly Gothic work is his last novel, The Mystery of Edwin Drood, which he did not live to complete and which was published in unfinished state upon his death in 1870. The mood and themes of the Gothic novel held a particular fascination for the Victorians, with their morbid obsession with mourning rituals, mementos, and mortality in general. 
If you enjoyed this post, you'll want to wander over to the full (growing!) list of recommended best period films and romantic and historical costume dramas, all sorted by era and theme, in The Period Films List.