Last Updated on October 29, 2018
The first peek at Season 3 of Victoria is here, and it looks fabulous! Watch the trailer, read about the period drama's new characters and the plot of the upcoming season in 2019, below.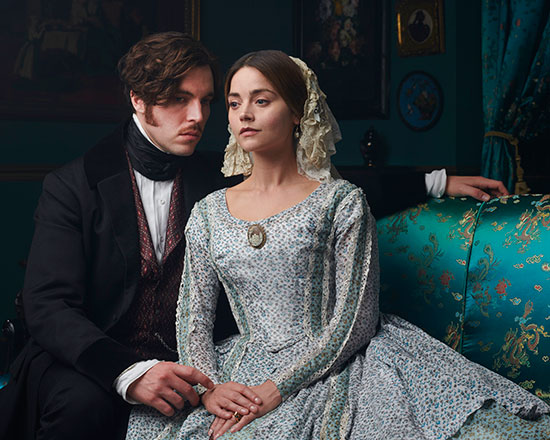 ---
To help keep this site running: Willow and Thatch may receive a commission when you click on any of the links on our site and make a purchase after doing so.
---
Created by Daisy Goodwin, this ambitious drama presents the early years of one of history's greatest monarchs. In Season 3: will revolution in Europe threaten Victoria's reign?
In January 2019, Jenna Coleman and Tom Hughes will be back for the most dramatic season yet. It is 1848, and revolution is breaking out across Europe. In Britain, one woman stands between order and chaos: Queen Victoria. This season, the feisty young monarch faces a crisis that threatens to end her reign, and contends with complicated relationships — with the foreign secretary, her long-absent sister, and most of all, with her beloved husband, Albert.
---
---
Continuing the story of Victoria's rule over the largest empire the world has ever known, Victoria, Season 3 introduces fascinating new historical characters, including Laurence Fox (Inspector Lewis) as the vainglorious Lord Palmerston, who crosses swords with the queen over British foreign policy. Also vexing the queen this season is Kate Fleetwood (Harlots) as Victoria's devoted but troubled half-sister, Princess Feodora, who seeks refuge at Buckingham Palace due to political unrest back home in Germany.
Other new characters include John Sessions (Outlander) as reformist Prime Minister John Russell, and Lily Travers (Kingsman) as the beguiling Duchess of Monmouth.
Returning are Tom Hughes (Dancing on the Edge) as Victoria's devoted, obsessive husband, Prince Albert; Nell Hudson (Outlander) as the queen's chief dresser, Nancy Skerrett; Ferdinand Kingsley (Borgia) as Charles Francatelli, the royal chef and cookbook king; plus a host of others.
As Season 3 gets underway, Victoria is pregnant with her sixth child. But she has much else on her mind, chiefly the Revolutions of 1848, when the downtrodden throughout Europe begin agitating for the overthrow of aristocratic rule.
In England, this discontent leads to Chartism, a set of demands for universal male suffrage, the secret ballot, equal representation for voters and other reforms that were considered radical by leading political figures during Victoria's reign. As with many crusades, passions are aroused on both sides—sometimes violently. At the time, who knew if events might turn out like the French Revolution, which resorted to widespread use of the guillotine?
Passion is also an issue in the bedroom at Buckingham Palace, where Victoria is reluctant to risk more pregnancies. Parents now of six, Victoria and Albert find themselves at odds about their offspring, especially the troubled Bertie, the role of the monarchy, and increasingly with each other.
When will Victoria return?
Victoria, Season 3 premieres Sunday, January 13, 2019, 9/8c on MASTERPIECE on PBS.
Rated TV-PG
Catch up on the first two seasons HERE

If you enjoyed this post, you'll want to wander over to The Period Films List. You'll particularly like the Best Period Dramas: Victorian Era list. Also see The Making of a Lady: A Victorian Fairytale and 5 Reasons to Watch The Woman in White.