Last Updated on April 6, 2023
Jane Austen's final and incomplete novel, written only months before her death in 1817, Sanditon tells the story of the joyously impulsive, spirited and unconventional Charlotte Heywood and her romantic journey.

---
To help keep this site running: Willow and Thatch may receive a commission when you click on any of the links on our site and make a purchase after doing so. 
---
The British period drama adaptation of the novel concludes with the third season. Wondering what can we expect when "Sanditon" (Season 3) premieres on PBS MASTERPIECE in 2023? Let's look at the photos and watch the trailers, to find out.
Recently aired episodes of "Sanditon" (Season 3) will be available to stream for free for a limited time, here. 
---
---
The third and final season of "Sanditon" premieres on PBS MASTERPIECE Sunday, March 19, 2023 at 9/8c, with new episodes through April 23. 
The sneak-peek photos of the third season of the romantic Regency era television series "Sanditon" show us some familiar faces, and some new. They feature Rose Williams as Charlotte Heywood, Cai Brigden as Ralph Starling, Ben Lloyd-Hughes as Alexander Colbourne, Crystal Clarke as Georgiana Lambe, and the new character Lord Montrose, played by Edward Davis.
Between Alison's wedding to Captain Fraser, and Georgiana's discovery that her mother is alive, Season 2 (filmed back-to-back with Season 3) closed with some delights and surprises. And then there was the jaw-dropping announcement by Charlotte of her engagement to Ralph, the farmer from her hometown.
Let's look at the first photos, along with some comments made by the cast, to see what clues they offer about Season 3, the final season. Then, watch the first teaser trailer for period dramas coming to PBS MASTERPIECE in 2023, including the new season of "Sanditon," alongside the trailer for "Sanditon" (Season 3).
---
---
Crystal Clarke, who plays the rebellious and independent Georgiana Lambe, is seen in one of the new images from Season 3 with a rather dapper man. The new photo reveals the Sanditon newcomer Lord Henry Montrose, escorting Georgiana at an event. In real life, he is Edward Davis, who period drama fans will recognize as Charles from "Emma." (2020).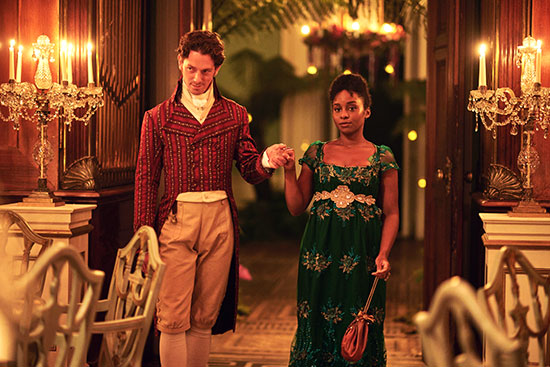 His mother, Lady Montrose (Emma Fielding) is the quintessential Austen mother – she arrives in Sanditon with one objective: matches for her children, Lydia and Henry. Lydia (Alice Orr-Ewing) is an independent young woman who is not as eager for a match as her mother, and charismatic and confident Lord Henry Montrose holds a secret.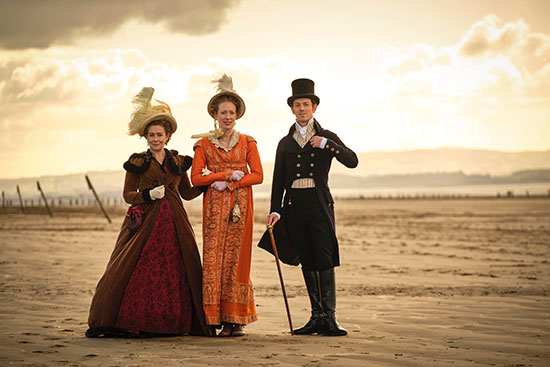 Clarke calls the third season "a highly caffeinated Sanditon." It seems possible that Georgiana and Lord Montrose have more in mind than sharing a strong brew of tea. But doesn't Georgiana need to discover more about who she is before she gets too cozy with anyone else, especially as she now has control over her fortune, and future? After all, this is 1820s England, so let's keep her on a path questing for her identity, and self-discovery. If that plot includes love, great. She certainly deserves a break in matters of the heart. 
Ben Lloyd-Hughes returns in Season 3 as Alexander Colbourne, Charlotte's reclusive, widowed former employer and love interest. Colbourne's feelings for Charlotte came to a head at the end of Season 2, but didn't resolve quite the way either of them hoped for. He should have proposed but things went terribly wrong. 
He says "We actually re-shot that last scene of Season 2, to really make sure we got it right, because it is such a pivotal moment of what is happening for Colbourne and Charlotte. You've got what he's saying, being one thing, and then what he is feeling, being another, and then all the layers before that of his fear, and insecurity, and ego, and pride. And then his love for Charlotte, and how the words are coming out, but not the necessarily in the right order."
Actress Rose Williams says her character always has "an open heart, for adventure, for experience," and viewers thought she would soon be forever in the arms of Colbourne. Instead, in the finale of season 2, she makes the unexpected pivot by accepting Ralph's proposal.
Lloyd-Hughes reveals that Season 3 will bring "even more excitement, romance, fun, and tears in both forms." So we can expect tears of both pain and joy, but whose tears? His? Charlotte's? Ours? Are we to think Colbourne's chance at a happily ever after with Charlotte officially gone?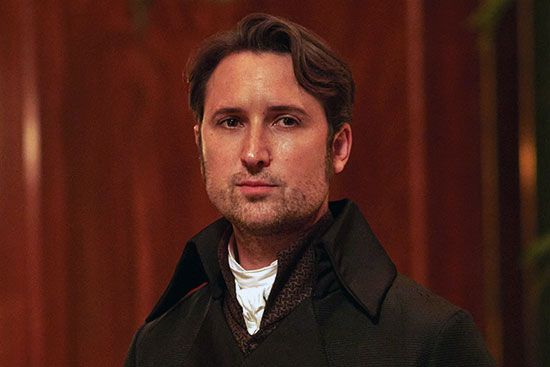 Probably not. He assures us that "one thing for sure is that this is not the end of the story. We know that, 100%, and that is really exciting." Okay, good.
And Williams agrees that her character shouldn't marry Ralph. She says "I think what's going on for Charlotte is that she knows it's not right for her, and that her friends are going to think and react in a negative way, because it's not right for her. That's why she hasn't told anyone. I think she feels deeply awkward, and she's left it to the absolute last minute, and she just wants a hole to appear in the ground and for it to swallow her up."
Still, in another of the just-released photos, our headstrong heroine has returned to Sanditon with her hometown fiancé Ralph in tow. And well, they look pretty happy.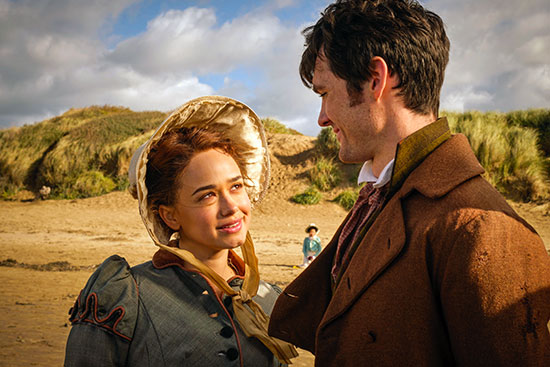 Williams says "In Season 3, we see characters meeting with their own unique challenges and really having to dig into deep parts of themselves to find resolve," and we can assume she includes Charlotte in that list.
She continues, "I hope they come together at the end and maybe even they get their happily ever after, like we always wanted them to—an Austen ending, like it's tied in a bow." They? Charlotte and Colbourne? We hope so too!
Also joining the new season: Rowleigh Pryce (James Bolam) is a wealthy, curmudgeonly investor who is interested in teaming up with Tom Parker on the seaside resort's expansion. Their plans become complicated when Rowleigh runs into Lady Denham.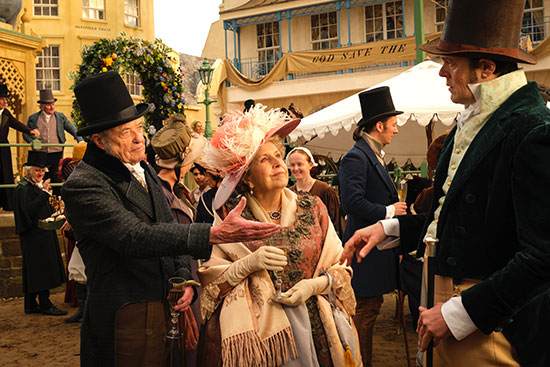 And look for Alexander's brother, Samuel Colbourne (Liam Garrigan) – a lawyer, and a charming bachelor. In the new trailer below, speaking of Charlotte, Alexander sadly tells Samuel that "She is to be married." Samuel reminds – and encourages his brother – "She is not married yet." Get fighting, Alexander!
Follow all the romances, friendships and struggles of the residents and newcomers to the seaside resort town: the third and final season of "Sanditon" premieres on PBS MASTERPIECE Sunday, March 19, 2023 at 9/8c. The series will also be available to stream beginning the same day. Catch up with Seasons 1 and 2, here. Stream recently aired episodes for free for a limited time, here. 
Watch the "Sanditon" (Season 3) trailer and preview below, and then catch the teaser for the new seasons of "All Creatures Great and Small," "Sanditon," and "Miss Scarlet and The Duke," plus the premiere of the all-new series "Tom Jones." 
---
---
---
If you enjoyed this post, be sure to see The Period Films List, with the best British, historical and costume dramas sorted by era. You'll especially like the Best Period Dramas: Georgian and Regency Eras List. Also see Behind the Scenes of Persuasion (2022).