Last Updated on July 5, 2022
From questions of faithfulness to the source, to the importance of historical accuracy, the 2022 adaptation of Jane Austen's Persuasion is already — based on its trailer — raising discussion among Janeites.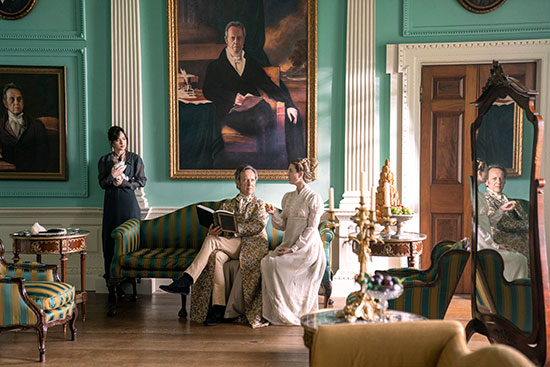 ---
To help keep this site running: Willow and Thatch may receive a commission when you click on any of the links on our site and make a purchase after doing so.
---
With "Persuasion," acclaimed British theater director Carrie Cracknell makes her feature directorial debut with a modern, subversive take on Jane Austen's story of second chances and the pressures women faced in Regency-era England.
---
---
In discussing her approach to creating an adaptation that honors the roots of Austen's novel while bridging the gap with today's audiences, Cracknell shared:
We wanted to adapt this story with a version of Anne who's incredibly contemporary, strident, and funny. Someone who messes up, gets herself into awkward situations, and gets things wrong. We wanted to take the spirit of the original character and drag her into the current day. What excited me most was the idea of a younger generation coming to the material and finding themselves represented in more aspects of the story than ever before. We wanted to honor the tropes and traditions of Jane Austen while making the characters more diverse, current, and emotionally available, where people could really see themselves in the characters.
When she was a teenager, Cracknell watched the 1995 tv series "Pride and Prejudice" somewhere around 7 times in a row, but was also a heavy reader of Jane Austen. Her favorite: Persuasion. It was important to Cracknell that through Netflix's "Persuasion," Jane Austen be brought "bang up-to-date," and connect with a broad audience.
When creatives are tasked with telling a 200 year old story to a contemporary audience, how do they find the sweet spot that will convey the author's intent, while being resonate today and making it their own? And how should a film's casting, costumes, music, and set design reflect these decisions, and be true to period, or not? 
One such small practical consideration: In the new British period drama, Richard E. Grant plays Sir Walter Elliot, father to our protagonist, Anne. In keeping with Grant's description of his character ("Possibly the vainest man in literature and therefore hilarious to me. Narcissistic, entitled, deluded, and pompous — a gift of a role."), there are six portraits of Sir Walter Elliot hanging in his own living room. "Persuasion" Production Designer JP Kelly had Grant come in for a photo shoot to capture the various poses and angles needed for the portraits, and then large photographs were printed out and painted over by fine artists to make them look like portraits from the era.
Should these enhanced photographs have been original oil paintings, instead? It probably wouldn't make a difference to even the most observant viewer. But what about the decisions that purposefully aren't period-correct, made to appeal to a modern sensibility? According to dialect coach Helen Simmons, when deciding on Anne Elliot's accent, Cracknell deliberately opted for a slightly more modern accent than what you'd hear in a typical heightened period piece, keeping with the film's subtly iconoclastic tone.
Will the shift register with viewers? Or will it be like the countless things and moments that happen quietly behind the scenes that aren't really decisions, and which the viewer never sees or hears, but somehow shape the feeling of the film?
"Persuasion" Producer Christina Weiss Lurie grew up in England, and like Cracknell was an avid reader of Austen's works, which, she says despite being written 200 years ago, carry an emotional intelligence which "couldn't be more apt for today's world," so it's not surprising that in another behind-the-scenes discussion, she and her team "explored a myriad of options — we even considered setting it in the present day! — and in that exploration we all agreed it was a fantastic comedy of errors and ultimately decided we wanted to keep it in the period and make it different by adding a contemporary tone."
To help achieve that tone, approach the storytelling in a novel way, and convey Anne's self-awareness, they decided that she would break the fourth wall, and speak directly to the audience. Reader, might Austen approve?  Cracknell hopes that Janeites will watch the film — not just the trailer — before deciding if it "holds the grown-up longing and heartache and complexity of Anne's journey" that Austen portrayed.
Below are 12 more behind-the-scenes facts about the making of "Persuasion" (2022), some of which are decisions that may give pause to purists, and some that are just fun — and perfectly charming — things to know about the new production.
---
---
12 Behind-the-Scenes Facts About The Making of "Persuasion"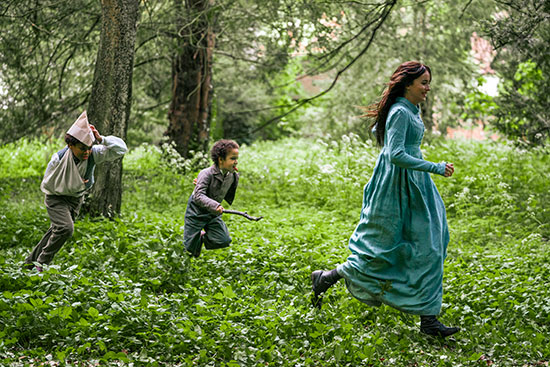 ● Director Carrie Cracknell wanted the film to have a minimalist aesthetic, especially in the way her cast was costumed. In order to make the costumes and hair aesthetically connected to modern times, the women don't often wear bonnets or hats, and have their hair in natural styles.
● Costume Designer Marianne Agertoft kept the colors monochromatic for Anne, "leaning ever so slightly on the feel of punk, making sure that in her world she would stand out quite differently from her family and peers. We do go into a slightly softer mode where she comes out of the black and white as the film progresses, though."
● Agertoft also lowered waistlines from the more traditional empire line of the period.
● She also broke rules around uniforms. "We deliberately kept both Wentworth and Admiral Croft in what they would call 'undress.' Normally a uniform would be worn when they are at dinners, concerts, and out and about and this is called 'full dress,' which consists of breeches, shoes, and stockings, but it just didn't feel right so we broke this rule and had them in undress."
● Production Designer JP Kelly deliberately looked for houses that were privately owned, so he could redecorate them and completely reimagine the color schemes, curtains, and wallpapers. There was an unofficial "Persuasion" code of conduct according to Kelly: "The rule was, if you like it now then it should be in the film. All of the items are still period-correct, but if it appeals to modern taste it went in!"
● The wallpaper in Anne Elliot's bedroom is over 300 years old and had an earthiness to it that felt right for the character. In real life, however, the bedroom belongs to the son of the home's owner and came plastered with Lion King stickers all over it from when the child was small.
● The film's color palette feels deliberately contemporary. There are teals and softer blues, and greens. The filmmakers also made a choice not to have any red in the film.
● Filming took place in the summer of 2021 where temperatures often reached 28°C (82 °F). The weather was especially challenging in the scenes that filmed in the countryside of Lyme Cobb, where there was little shelter from the sun… which the cast — fully covered in long sleeves, dresses, petticoats, and waistcoats — was specifically instructed to avoid so they weren't tanned or sunburnt for continuity reasons.
● Louisa's fall at Lyme Cobb takes place in the exact spot that Jane Austen had written the moment.
● Roughly 7,400 cups of tea were consumed during production.
● There were two live bunnies on set, yet only one appears on screen. Panda, a seven-month-old Rex/Netherland Dwarf mix is the one who appears in the film. She's closely bonded to her companion Alan, however, and must travel with him at all times.
● Aside from proximity to her emotional support bunny, Panda had few demands. Fresh dandelion stems, the green tops of carrots, and biscuits were all it took to incentivize her to perform.
---
"Persuasion" releases globally on Netflix July 15, 2022. Watch the trailer below. 
---
---
Starring: Dakota Johnson (Anne Elliot), Cosmo Jarvis (Wentworth), Nikki Amuka-Bird (Lady Russell), Mia McKenna-Bruce (Mary Musgrove), with Richard E. Grant (Sir Walter Elliot), and Henry Golding (Mr. Elliot), Ben Bailey-Smith (Charles Musgrove), Yolanda Kettle (Elizabeth Elliot), Nia Towle (Louisa Musgrove), Izuka Hoyle (Henrietta Musgrove)
---
If you enjoyed this post, wander over to The Period Films List. You'll especially like the Best Period Dramas: Georgian and Regency Era list. Also see 5 Reasons to Watch Mr. Malcolm's List, and Miss Alcott Goes to the Movies and It's Time You Watched Bridgerton.