"Christmas at Pemberley Manor" and "Pride, Prejudice, and Mistletoe" on The Hallmark Channel? It's true! As part of the 2018 "Countdown to Christmas" line-up of originals, Hallmark Channel is airing two television movies that are modern-day takes on Jane Austen's Pride and Prejudice. If you want some lighthearted romance Hallmark-style, and you're okay with very loose adaptations of the classic, you'll be getting a very cute present this year.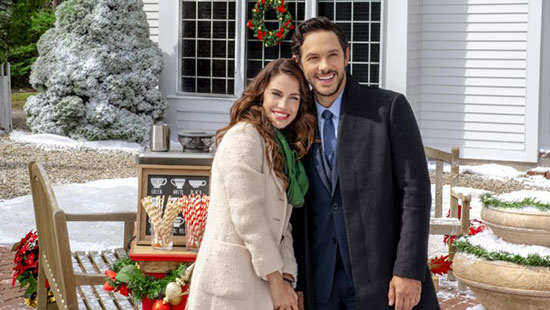 ---
To help keep this site running: Willow and Thatch may receive a commission when you click on any of the links on our site and make a purchase after doing so.
---
In the upbeat and playful Christmas at Pemberley Manor, Darcy (Michael Rady) falls in love with Christmas again – and falls in love with Elizabeth as well. From the cast to the on-screen chemistry, Jessica Lowndes (Elizabeth Bennett) says she loved the whole experience of making this movie, which was shot on location in Essex, Connecticut over a 15 day period. "This is a perfect Christmas movie because it's based on two characters that are very famous in literature, which I love."
Talking about the Colin Firth and Jennifer Ehle adaptation, she said "I was a huge fan (of the period drama), growing up. My mom made me watch the six-hour special, and I loved it." Us too, Jessica, us too. But Christmas at Pemberley has one magical addition that never made it into Pride and Prejudice: Santa. When Pemberley opens, we learn that Elizabeth has mailed off her letter to the jolly man, asking that he help her meet her true love. And like Elizabeth says, "Nothing is impossible at Christmas."
The second Austen-inspired Hallmark special, Pride, Prejudice, and Mistletoe, is based on the book of the same title by New York Times bestselling author, Melissa de la Cruz. The book is a "sweet, sexy and hilarious gender-swapping, genre-satisfying re-telling, set in contemporary America and featuring one snooty Miss Darcy." Sounds like our female Darcy (Lacey Chabert) may need a little help from her leading man if she's going to come down to earth and find happiness.

Read on for premiere dates and details about each movie (with spoilers, but can you really spoil a Hallmark movie?). In case October is too early for you to start watching Christmas movies, we've also listed the additional times when each movie will be on the Hallmark Channel. The full "Countdown to Christmas" schedule is at the bottom of the page. 
FYI: While Hallmark Movies Now does have Christmas movies, they are not the same ones included in the Hallmark Channel's "Countdown to Christmas." Hallmark's new Christmas content is only available on the Hallmark networks. Starting October 29th Christmas movies will be added to the MOVIES & MISTLETOE section of Hallmark Movies Now.

Christmas at Pemberley Manor (2018)
Premieres Saturday, October 27 at 8 PM / 7 central
---
---
As in Pride and Prejudice, Elizabeth and Mr. Darcy get off to a rocky start. Event planner Elizabeth Bennett (Jessica Lowndes) just landed her first break organizing the holiday festival for Lambton, Connecticut, where Pemberley Manor resides. She has a sunny disposition, is strong-minded (and just a bit judgy), and she gets things done. Wealthy New York business tycoon William Darcy (Michael Rady) is lacking in Christmas spirit, and has just arrived in the small town by helicopter. It's been years since he's been back, and he's there to sell Pemberley to someone who's going to tear it down and build condos in its place. Gasp!
At the local cafe, Darcy's nervous assistant cuts the line to get his boss' coffee, and Elizabeth marches over to the car and takes Darcy to task for being hard to work for. Elizabeth won't find out for a while that she has misread him, but right away Darcy has a sense that there's something special about this woman.
---
---
George Wickham (Cole Gleason) is Lambton's mayor. Elizabeth and Wickham have history – he asked her out in college by writing a dinner invitation inside a copy of Jane Eyre, because they shared a love of British authors. It was only one date, but George still carries a torch for her. Elizabeth is oblivious to his feelings, but they could still get in the way of Elizabeth getting her Christmas wish.
George and Elizabeth work to make the festival the best ever, but a water main breaks and she's forced to find a new venue. Pemberley Manor was once known for its holiday cheer and Elizabeth thinks it would be the prettiest spot for the event.
Mr. Willoughby used to be the caretaker at Pemberley. Now he's retired, and Kristofer, a man who bears a striking resemblance to Santa Claus, is running things at Pemberley. At first Darcy is reluctant to let Elizabeth use Pemberley for the event. But before long, he recalls childhood memories of holidays at the estate and Darcy's all-business demeanor begins to wane and he feels the Christmas spirit — and an attraction to Elizabeth — wash over him. When they spend time together to prepare for the event, Elizabeth finds herself falling for Darcy.
As you might expect, things don't go as planned, and Elizabeth's boss Caroline Bingley shows up to take charge – and get in good with Darcy. On the night before Christmas, Elizabeth wishes for a way to save the festival, stop Pemberley Manor from being sold and revive her holiday romance. With a little help from Kristofer, whose resemblance to Santa might be more than coincidental, the young event planner just might receive the Christmas miracle she's hoping for.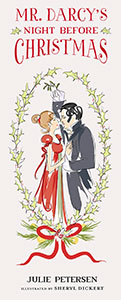 Christmas at Pemberley Manor was inspired by Mr. Darcy's Night Before Christmas by Julie Petersen: Clement Clarke Moore's Christmas classic meets Jane Austen's Pride and Prejudice when Mr. Darcy gets his own visit from St. Nicholas. In this parody of the beloved original poem, Santa teaches Darcy the true meaning of the holiday and helps him get what he's always wanted—a wife!
Starring Jessica Lowndes, Michael Rady, Cole Gleason, Maddie McCormick, Ben Estus, Steve Larkin, Elaine Hendrix.
When you can watch Christmas at Pemberley Manor:
– Saturday October 27 8:00 PM
– Sunday October 28 2:00 PM
– Friday November 2 8:00 PM
– Sunday November 4 6:00 PM
– Wednesday November 7 10:00 PM
– Saturday November 17 4:00 PM
– Thursday November 22 6:00 PM
– Sunday November 25 10:00 AM

Pride, Prejudice, and Mistletoe (2018)
Premieres Friday, November 23, 8 PM / 7 central 
---
---
In case you didn't catch this in our opening sentences above, you should know that the new Hallmark movie is adapted from a Pride and Prejudice variation of the same name, by Melissa de la Cruz. In the book (and in the movie) Darcy is a woman, and the Elizabeth role is filled by a male character named Luke.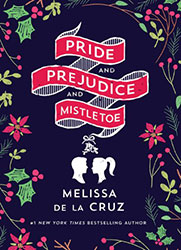 Darcy (Lacey Chabert) has always worked hard to prove herself and be successful on her own terms, even choosing to start her own company, rather than work with her father. Returning to her hometown for Christmas, Darcy reconnects with an old rival, restaurant owner Luke (Brendan Penny), and they are forced to plan a charity event together. As Darcy spends time with her family and Luke, she starts to realize what matters most in life and sets out to mend her relationship with her father, and possibly fall in love.
In the book, Darcy Fitzwilliam is "29, beautiful, successful, and brilliant. Darcy's never fallen in love, never has time for anyone else's drama, and never goes home for Christmas if she can help it." This time she's only off to spend the season with her family in Pemberley, Ohio because her mother is sick.
In the movie, Luke is in the restaurant business, and in the book he's a carpenter. In both he's someone who values the simple things in life, like spending time with family, and his Lizzie-like-prejudice that he'll need to shake centers around preconceived notions of big-city girls. Now if only Darcy can let go of her pride we might get our happy ending.
Starring Lacey Chabert, Brendan Penny, Genevieve Kang, Ali Hassan, Catherine Thomas.
When you can watch Pride, Prejudice, and Mistletoe:
– Friday November 23 8:00 PM
– Sunday November 25 10:00 PM
– Wednesday November 28 6:00 PM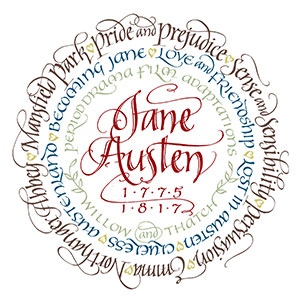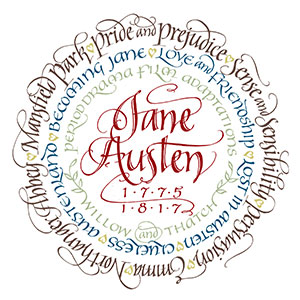 Jane Austen's classic novels have inspired so many wonderful movie and television adaptations, and when you shop our Jane Austen Period Drama Adaptations merchandise, you show your love for them – and us!
When you buy a product featuring our Austen design, or click on these links that take you to Etsy and Amazon, and make purchases on those sites, you allow us to do what we do. You can also buy period-inspired products from the Lovely Things Shop, share our articles, or make a financial contribution. All these things allow us to write feature articles, update The Period Films List, mail out our newsletter, maintain the website and much more. Thank you!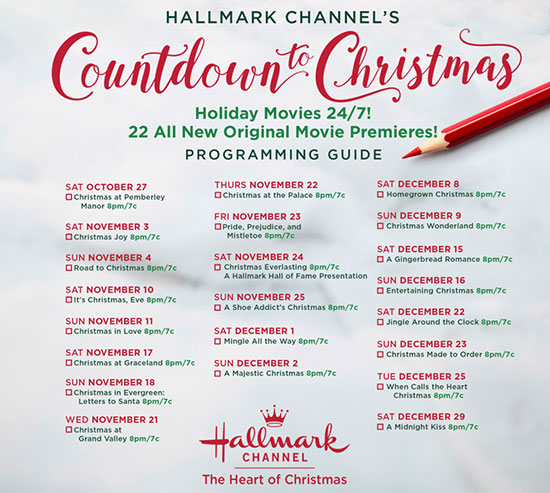 Click on the schedule for a larger version. You can read the official synopsis of each movie and watch trailers here. 
If you enjoyed this post, you'll want to wander over to The Period Films List. You'll especially like the Best Period Films: Christmas Classics and the Georgian and Regency Era lists. You'll also want to see the review of Hallmark's A Christmas Memory, the article about the New Adaptation of Pride and Prejudice, and the piece about the Costumes in the Different Adaptations of the Jane Austen Classic.