Last Updated on January 26, 2022
Nancy West, author of Masterpiece: America's 50-Year-Old Love Affair with British Television Drama, just reread James Herriot's stories, bought a tin of Yorkshire biscuits, and phoned her mother-in-law to turn on PBS at 8:00 p.m. this Sunday, January 9th. Why? Because "All Creatures Great and Small," that cup-of-cocoa drama which warmed our hearts and calmed our nerves last year, premieres on MASTERPIECE for its second season.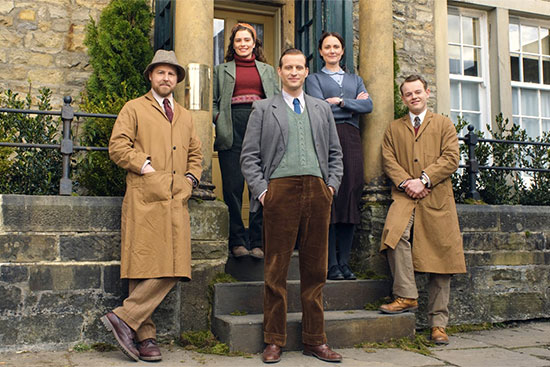 ---
To help keep this site running: Willow and Thatch may receive a commission when you click on any of the links on our site and make a purchase after doing so.
---
West says "Season Two is even better than Season One–more nuanced, more deft, more certain of itself. It is also the latest chapter in a fascinating study of ways to adapt a classic."
And there's more good news… "All Creatures Great and Small" will return for a third and fourth season. See the end of the page for details.
---
---
Using the pseudonym James Herriot, Alf Wight published If Only They Could Talk, his first book about life as a Yorkshire vet in 1970, 25 years into his career. He'd write seven more books after that: It Shouldn't Happen to a Vet (1972), Let Sleeping Vets Lie (1973), Vet in Harnass (1974), Vets Might Fly (1976), Vet in a Spin (1977), The Lord God Made Them All (1981), and Every Living Thing (1992).
These accounts are adaptations themselves. Blending fact and fiction, they embellish Herriot's actual experience (visits to clients; dealings with his nutty employer, Siegfried Farnon, and Farnon's brother, Tristan; courtship and marriage to local farmer, Helen Alderson) with scenes and characters that Herriot revamped, magnified, even invented.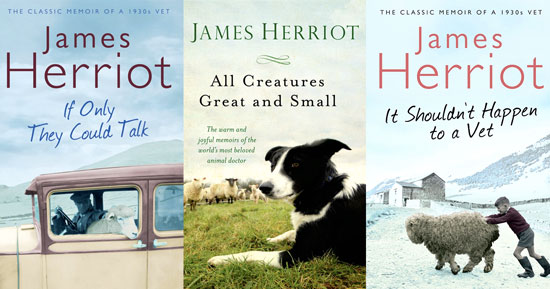 Originally, the books were published in the U.K. as slim volumes, their covers designed to appeal to children. The first two, If Only They Could Talk and It Shouldn't Happen to a Vet, sold marginally well. Herriot's American publisher, St. Martin's, scrapped the kiddie covers, combined them into one volume, and published the new book as All Creatures Great and Small (1972): another adaptational act that made Herriot into an overnight celebrity.
Reading All Creatures, any lover of British literature can see the influence of Charles Dickens, Arthur Conan Doyle, and P.G. Wodehouse. These were Herriot's favorite writers, and coming to authorship late in life (at 50), he consciously adapted their best elements to fit his material. Herriot borrowed Dickens' use of episodic structure and a panoramic cast of characters and locales. He took Doyle's Holmes and Watson and transformed them into Farnon and Herriot, respectively. And from Wodehouse, he learned how to create charm on the page. "I stole from all three writers. Flagrantly!," Herriot admitted with a laugh. "I didn't know what I was doing, so I just went with what I liked."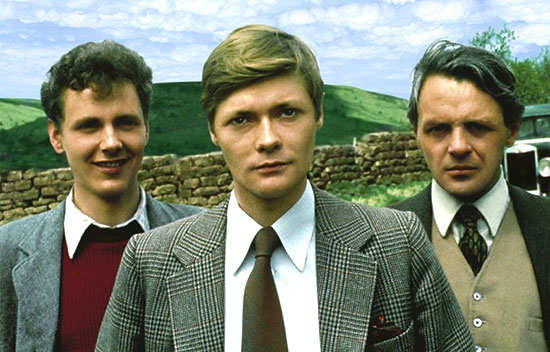 The first film version of the stories, "All Creatures Great and Small," appeared in 1974. It starred Simon Ward as Herriot and Anthony Hopkins as Farnon. A sequel, "All Things Bright and Beautiful," (also known as "It Shouldn't Happen to a Vet") followed in 1976, starring John Alderton as Herriot and the Irish actor Colin Blakely as Farnon. Critics praised the performances and cinematography but considered both films "flimsy."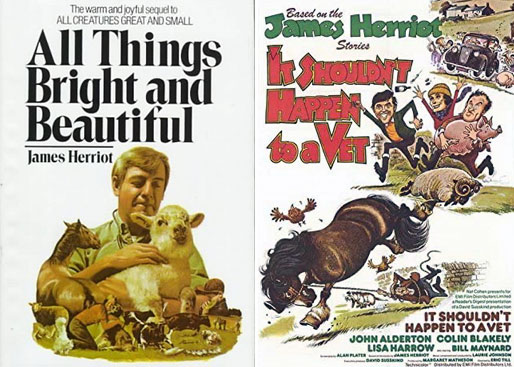 "You can't possibly take such a large cast of characters, and such a wide array of stories, and cram them into a 90-minute movie," one critic grumbled. "Film is horrible for Herriot!" pronounced another critic. Clearly, Herriot's stories—diverse, localized, and blending repetition with surprise–needed the smaller but ongoing medium of television to adapt them.
Enter the BBC in early 1977. Hiring producer Bill Sellars as the series' creator, the BBC decided to adapt Herriot by turning each of his stories into a 50-minute episode and running them on Sunday nights ("the perfect post-dinner, pre-bath time slot," said Sellars). The idea was to present a wide array of Yorkshire characters and locations but ground each episode with a focus on one of the four principal characters: Herriot, Siegfried, Tristan, and Helen.
Wisely, the BBC gave Herriot script approval and hired him as a consultant. Titled "All Creatures Great and Small," the TV series first aired between 1978 and 1980 for a total of three seasons and 41 episodes. In its first year alone, it attracted an audience of 13 million viewers; by 1980, the audience increased to 20 million viewers. Sales of Herriot's books skyrocketed. Vets wrote letters to the BBC, commending the studio on its accuracy. And Christopher Timothy, who played Herriot, became an international icon ("I couldn't get work for years afterward because everyone thought I was a vet," said Timothy).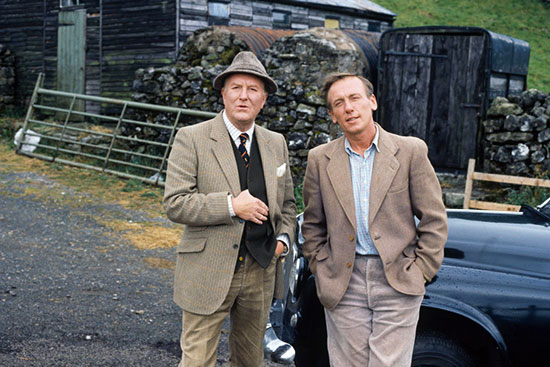 Then, scriptwriters Johnny Byrne and Ted Rhodes ran out of material. In another fascinating adaptational twist, the BBC employed Herriot, who was still practicing veterinary medicine, to write more stories. He did, though by this point he was writing them much more slowly. In 1988, ten years after the series first ended, the BBC aired a reboot of "All Creatures Great and Small" using Herriot's new material. It ran until 1990 for a total of four more seasons and 49 episodes—and Herriot, in turn, adapted that material into his final book, Every Living Thing.
With its twin emphasis on accuracy and fidelity, the BBC's "All Creatures Great and Small" has long enjoyed a reputation as the definitive version of Herriot's work. It used a cast of over 600 actors, most of them from rural Yorkshire and Lancashire, to recreate the panoramic sweep of the books. It capitalized on the rugged beauty of the Yorkshire Dales with on-location shooting, still a new practice in the world of 1970s television. And it trained its principal actors in the basics of veterinary medicine, including how to stick their arm up a cow's arse.
The principal characters, moreover, are very similar to the ones we find on the page. Siegfried Farnon dominates the series, just as he does the books. One of literature's most underrated characters, Farnon is a delightful mess of contradictions—scatter-brained and precise, sweet and overbearing, attractive and oblivious, petulant and wise.
Knowing what a jewel they had in Farnon, the BBC wisely hired Robert Hardy to play him, guessing rightly that the actor would bring his own irrepressible hamminess to the role. Hardy, it turns out, played a major role in adapting Farnon for the screen. "Some writers considered [Siegfried] an explosion, and all they needed to do was light the fuse and—bang—he would lose his temper, which was a great bore," explained Hardy. "So I ended up occasionally writing my own scenes. I did make a nuisance of myself, and I'm afraid I made enemies amongst some of the younger writers," Hardy admits.
The series' principal strength, without doubt, is its honesty. Muck and struggle and hard work permeate the stories. On occasion, animals suffer and die. So do their owners. These realistic, sometimes darker elements counterbalance the series' nostalgia and comedy.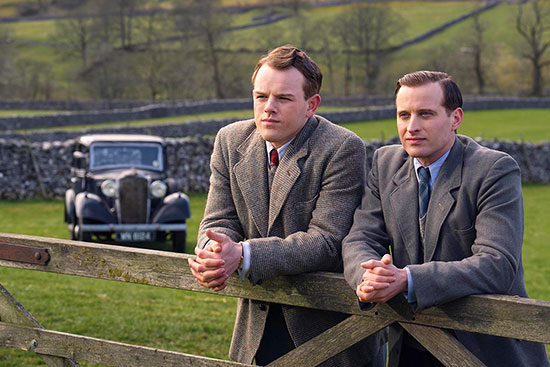 This new adaptation of "All Creatures," produced for Channel Five and MASTERPIECE, may well turn out to be just as popular and beloved as the original series. It keeps its focus on the animals, including, in Season Two, a pet rabbit who gets his ear whacked off and a very angry sow with a giant hematoma. We don't see as many characters as we did in the BBC series, but we still get a sense of the richness and diversity of Yorkshire people.
---
---
Season Two provides a closer look at Helen's father, the taciturn Mr. Alderson. It introduces us to Gerald Hammond, a mild-mannered WWI veteran who adores his dog and fancies Mrs. Hall, the housekeeper, and to Diana Brompton, a flirty woman in her 40s who catches the eye of Siegfried. Another newcomer to the series is Colonel Merrick, a local farmer and former military man who enjoys playing Siegfried off a rival vet. We meet a widow, Mrs. Dalby, bravely struggling to keep her farm, and a cantankerous female vagrant who befriends Tristan.
Once again, Siegfried Farnon is the commanding character in this new version of "All Creatures Great and Small." Played by Samuel West, who cut his teeth in "Howard's End" 30 years ago as the tragic Leonard Bast, Siegfried is just as eccentric, irascible, and warm-hearted as ever. What's more, he matures. In the original series, Siegfried, like Tristan, was a static character, kept in aspic as comedic relief. But here, both brothers change, grow—and learn from one another. Indeed, the chemistry between them—their clear love for and resentment of one another– is one of this new adaptation's best aspects.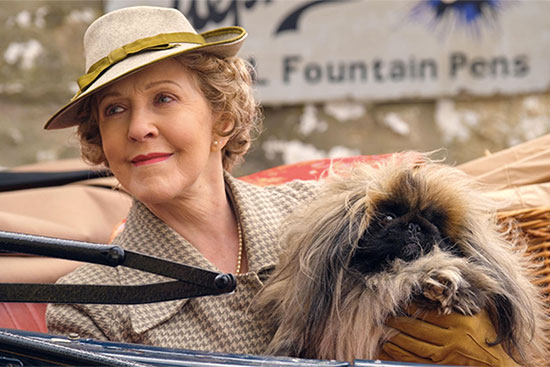 So, too, is its development of female characters. This series gives more screen time than the original one to the delightful Mrs. Pumphrey (played in Season Two by Patricia Hodge, in a performance just as good as Diana Rigg's last year), and it expands the roles of Mrs. Hall and Helen Alderson, giving them more psychological depth than they ever had on page or onscreen. The women here are capable, tough, and independent-minded, each one haunted, to some degree, by loss or loneliness.
Most notably, this new adaptation of "All Creatures Great and Small" strengthens the storylines. Herriot, while a gifted writer, failed at creating strong narrative arcs. So did the BBC series. But this new version provides them. Its stories are about coming of age, romance, hardship, and the deep conflicts and rewards of family life.
And while one can certainly argue that this new adaptation is a bit too pretty, it still retains the honesty of Herriot's stories. Pitch-perfect in execution, it is a small, stoic, and sincere series. Not much happens in any of the episodes. There are no huge swirls of action, no big acts of melodrama.
Instead, we are invited to wonder at the birth of a foal, the recovery of a cat. "Sunday evening television should be an anchor in a turning world," says Samuel West. "All Creatures" is that anchor, reminding us of what a gratifying thing ordinary life can be. Tune in Sundays and discover that for yourself.
---
"All Creatures Great and Small" is AVAILABLE to STREAM
Catch up online for free with recently aired episodes, here.  
Excellent news: "All Creatures Great and Small" has been renewed for Season 3 and Season 4, each of which will consist of six new one-hour episodes, plus Christmas Specials. Season 3 of "All Creatures Great and Small" will begin filming in Spring 2022. Wondering what's in store? 
"Expect more heartwarming tales from Darrowby throughout series three and four. As series three returns, we will rejoin our beloved Skeldale House family in the Spring of 1939 as the prospect of another World War looms large over the Dales. Change is afoot for all our Darrowby residents, especially James and Helen, who are embarking on the next chapter of their lives as the wider world around them heads toward a period of great uncertainty."
"Returning for the third series is Nicholas Ralph as young vet James Herriot, and Samuel West as his mercurial mentor Siegfried Farnon. Anna Madeley returns as the matriarch of Skeldale House, Mrs Hall, whilst Callum Woodhouse is Siegfried's slowly maturing brother Tristan. Rachel Shenton returns as local farmer Helen Alderson. A characterful ensemble of farmers, animals and townsfolk living in the Yorkshire Dales in the 1930s will also return, including Patricia Hodge as the wonderfully sophisticated Mrs Pumphrey, and her adored pampered Pekingese Tricki Woo (portrayed by the loveable Derek).
---
Nancy West is author of Masterpiece: America's 50-Year-Old Love Affair with British Television Drama (Rowman & Littlefield, 2020), in which she provides a fascinating history of the acclaimed program.
West combines excerpts from original interviews, thoughtful commentary, and lush photography to deliver a deep exploration of the television drama. Vibrant stories and anecdotes about Masterpiece's most colorful shows are peppered throughout, such as why Benedict Cumberbatch hates "Downton Abbey" and how screenwriter Daisy Goodwin created a teenage portrait of Queen Victoria after fighting with her daughter about homework.
Featuring an array of color photos from Masterpiece's best-loved dramas, this book offers a penetrating look into the program's influence on television, publishing, fashion, and its millions of fans.
West is professor of English at the University of Missouri and the author of Kodak and the Lens of Nostalgia (2000) and Tabloid, Inc.: Crimes, News, Narratives (2010). Her books have led to appearances on PBS's American Experience and the BBC's Genius of Photography as well as keynote speeches at the National Gallery of Art in Washington, DC, the London School of De- sign, and the Amon Carter Museum. She is a regular contributor to Written by Magazine, the Atlantic, the Chronicle of Higher Education, and the Los Angeles Review of Books. She is currently writing a memoir, set in the 1970s, about movies and childhood trauma. 
---
If you enjoyed this post, wander over to The Period Films List. You'll also like 10 PBS Masterpiece Locations to Visit and Top 3 Masterpiece Performances.