Last Updated on June 7, 2023
Hold on to your bonnet… MASTERPIECE on PBS has announced that "Tom Jones," a new romantic British period drama, is on the way for the spring of 2023! If ever a novel were ready-made for a series, it's this mammoth tale about a foundling taken in by a wealthy country squire.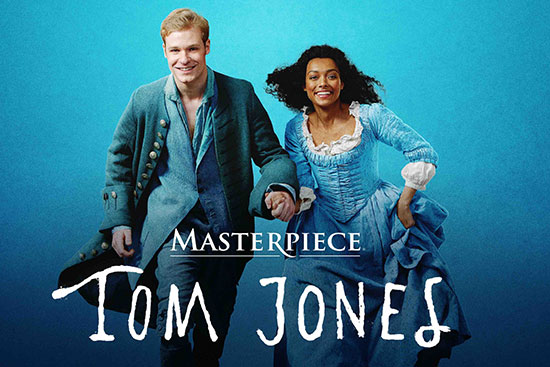 ---
To help keep this site running: Willow and Thatch may receive a commission when you click on any of the links on our site and make a purchase after doing so.
---
The upcoming TV miniseries reimagines Henry Fielding's literary classic, The History of Tom Jones, A Foundling. The story has delighted and scandalized readers since it was first printed in 1749.
Gwyneth Hughes, "Tom Jones" Executive Producer, assures us that the new production is "a classic adaptation with a wise soul and a great big smile on its face." Read on information about the period drama, to watch the trailer, and more.
"Tom Jones" airs in four parts on PBS MASTERPIECE, premiering Sundays, April 30 – May 21, 2023 at 9pm ET on PBS.
"Tom Jones" (2023) is AVAILABLE to STREAM 
---
---
MASTERPIECE, ITV and Mammoth Screen (Victoria, Poldark) have partnered on a four-part television mini-series based on Henry Fielding's classic novel.
The History of Tom Jones, A Foundling is a story of the title character's complicated journey to find real love in Georgian era England. Like many other other novels in the early picaresque genre, it focuses on the adventures of a low-born, but appealing rogue who uses his wits to move through society.
Mammoth Screen Executive Producer James Gandhi calls "Tom Jones" a "joyous 18th century story of identity and romance;" MASTERPIECE Executive Producer Susanne Simpson agrees the narrative is "one of the most joyful, big-hearted romances ever written."
Rising actors Solly McLeod and Sophie Wilde take the lead roles; McLeod stars as the hero Tom, alongside Wilde as his well-born, sweet-tempered love interest Sophia Western.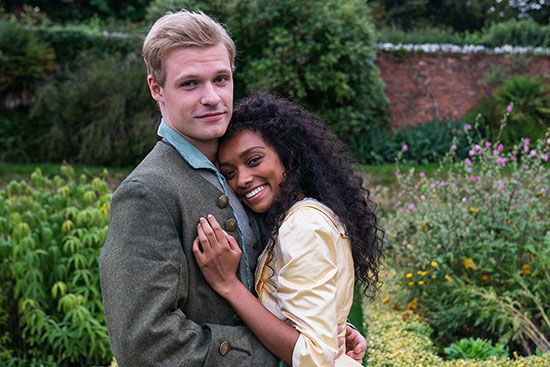 "Tom Jones" writer and Executive Producer Gwyneth Hughes (Vanity Fair, Miss Austen Regrets) commented "Tom Jones is the mother of all rom-coms… It's a story where the sun barely stops shining, where love conquers all, and at its warm heart stand a pair of young sweethearts everyone can root for."
---
---
Hughes, who also penned the adaptations "The Mystery of Edwin Drood" (2012) and "Dark Angel" (2016), added: "Henry Fielding's 18th century novel is sexy and fun; it's also a dramatic roller coaster, addressing so many modern concerns around consent, sexual equality and the pursuit of happiness. Tom and Sophia overcome enormous obstacles before finding their way home and to each other."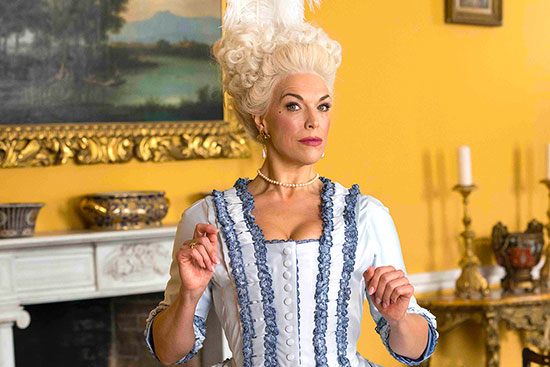 Expect sumptuous settings. With funding from Northern Ireland Screen, the government-backed agency for the film and television industries, "Tom Jones" films entirely on location in and around Belfast.
Who else stars in "Tom Jones"? Primetime Emmy award-winner Hannah Waddingham (Game of Thrones) is the seductive and vengeful Lady Bellaston, and Pearl Mackie (Doctor Who) is Sophia's trusted maid, Honour. Also starring are James Fleet (Bridgerton) as Squire Allworthy, Tom's warm-hearted adoptive father; Alun Armstrong (Frontier) as Squire Western, Sophia's hard drinking but loving grandfather, and Olivier-winner Shirley Henderson (The Crimson Petal and the White) as Sophia's Aunt Western. Tamzin Merchant (Carnival Row) is Sophia's Aunt Harriet, with Julian Rhind-Tutt (Britannia) as her bellicose husband Fitzpatrick. Susannah Fielding (The Great Fire) is Mrs. Waters.
BAFTA-winner Daniel Rigby (Jericho) is the disgraced schoolteacher Partridge, who befriends Tom on his journey; James Wilbraham (In My Skin) is Tom's bitter cousin Blifil; Felicity Montagu (The Durrells in Corfu) plays Blifil's mother Bridget Allworthy, a devoted aunt to Tom, and Janine Duvitski (The Madness of King George) is Mrs. Wilkins, Allworthy's testy housekeeper. Dean Lennox Kelly (Jamestown) is poacher-turned-gamekeeper Black George and NTA-winner Lucy Fallon (Coronation Street) is his daughter Molly, who charms young Tom.
Director Georgia Parris shared that this new production of "Tom Jones" is "an escapist romp into the sights, sounds and textures of 18th century England. It is an intimate story that shows how love and desire drive and confound us all, both women and men."
Watch the preview below.
"Tom Jones" (2023) is AVAILABLE to STREAM 
This isn't the first version of the story to make it to the screen. In 1997, the BBC adapted the story of the foundling child born to a servant, but allowed to grow up in the privileged surroundings of Squire Allworthy's household, into the award-winning mini-series, "The History of Tom Jones, a Foundling," starring Max Beesley and Samantha Morton.
Earlier adaptations include "Tom Jones," a 1963 celebrated feature film version starring Albert Finney as the titular character alongside Susannah York as Sophie Western, and "The Bawdy Adventures of Tom Jones" (1976) starring Nicky Henson as Henry Fielding's amorous hero.
---
If you enjoyed this post, wander over to The Period Films List. You'll especially like the Best Period Dramas: Georgian and Regency Era List.