Last Updated on May 23, 2020
Despite similarities to Louisa May Alcott's Little Women, Susan Coolidge's Victorian era novel What Katy Did has only been adapted for the screen a few times; the most recent release was over twenty years ago.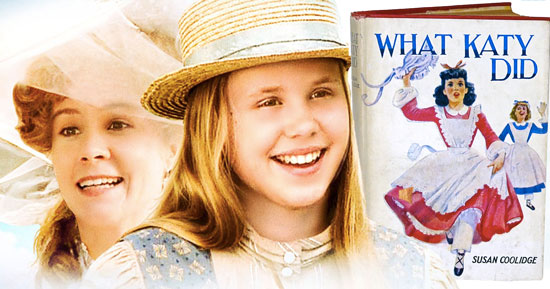 ---
To help keep this site running: Willow and Thatch may receive a commission when you click on any of the links on our site and make a purchase after doing so. 
---
Here's why it's time for another adaptation of the heart-warming American family classic.
---
---
Who: In 1872 Susan Coolidge was a little known author with few publications to her name, but What Katy Did brought her great success.
The title pioneered the American family story, not unlike Louisa May Alcott's Little Women. But despite her book's success and being a prolific writer who reached the age of 70 (an accomplishment in itself during the nineteenth century), Coolidge never received the same level of attention as her contemporary.
Relatively little is known about the author's life, and this may have been deliberate. Sarah Chauncey Woolsey (1835-1905) came from a distinguished New England family, and adopted the pen name Susan Coolidge, likely to protect her identity because she lived at a time when writing children's books could have been damaging to her social status.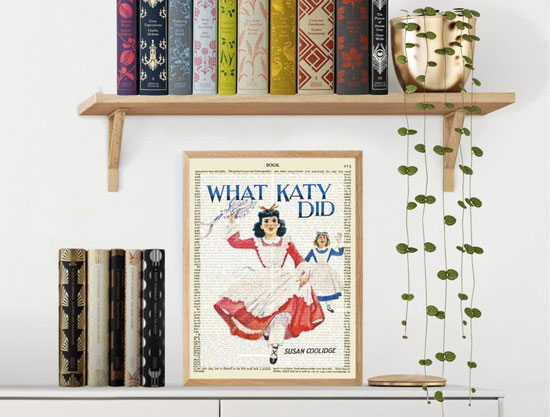 Woolsey's family served as her inspiration for her writing career, which began after she worked as a nurse during the American Civil War 1861-1865. She chose the fictitious name "in joking emulation of her younger sister, Jane, who had already written fiction under the pseudonym of Margaret Coolidge."
---
What: The first book in a series, What Katy Did (1872) is set in 1860s America. With a strong moral and uplifting domestic narrative, Coolidge's five novels follow Katy Carr and her family: her widowed doctor father, her father's sister Aunt Izzie, and her five younger brothers and sisters who live in the idyllic lakeside town of Burnet, Ohio.
What Katy Did introduces us to Katy as a tall, unruly, messy and wild twelve-year-old girl. Like Anne when she arrives at Green Gables, Katy wants to be beautiful and loved by everyone, but is always getting into scrapes that get her into trouble. A tragic accident leads to Katy being bed bound for four years, during which time the "exuberant scapegrace who finds the womanly ideal so troubling" (What Katy Read: Feminist Re-Readings of 'Classic' Stories for Girls) learns to be as good and kind as she has always dreamed.
The harrowing story of a young girl's illness and a young family processing grief, combined with the nineteenth-century American domestic setting, evokes Alcott's Little Women.
And like Little Women, What Katy Did is a multi-faceted tale that stretches beyond a narrow presentation of girlhood turning to womanhood and ultimately motherhood.
The story points towards the germinal flowerings of the women's movements that were beginning to flourish across the Western world. Katy's refusal to conform to Aunt Izzie's idealized view of what a young girl should be is more than just a fictional account of defiance, it speaks to a world where women were increasingly questioning the role that they were expected to fulfill.
What Katy Did was written for children using simple language filled with levity, but the stories of the little Carrs' antics are entertaining and engaging enough to captivate adults, even from a twenty-first century perspective.
---
When: The Katy series begins in 1872, seven years after the conclusion of the American Civil War but there is no mention of war at any point in the novels. The tale focuses tightly on the children's lives, too young to remember the conflict, or born after the war. The adult experience of the Civil War is simply left out, adding to the innocence of Coolidge's story.
---
Where: While the Katy series does "visit" several locations, particularly in What Katy Did Next (1886) when Katy travels to Europe, What Katy Did (1872) is set firmly in the fictional Ohio town Burnet. Lakeside Burnet is shown through the eyes of the Carr children who spend their days playing in the endless sunshine, in and around their home. Burnet is an idyllic place to grow up, filled with safe spaces to play in.
---
Why: There have been three television adaptations of What Katy Did.
In 1962, the BBC made an 8-part TV series "Katy" starring Susan Hampshire in the titular role. Five years later, she was cast as as Fleur in The Forsyte Saga (1967), bringing Hampshire widespread fame and the first of her three Emmy Awards. Hampshire would go on to star in numerous period dramas, including "Vanity Fair," "The Grand," and "The First Churchills."
Almost fifteen years later in 1976, another BBC-made adaptation arrived in the form of a 6-episode series, adapted by Constance Cox (Jane Eyre, Jane Eyre, Bleak House). Also named "Katy," the mini-series starred Clare Walker as "irrepressible Katy, 15 years old, with a genius for getting into scrapes." Walker acted for a handful of years after her role as Katy Carr, and then became a casting director.
Neither of the BBC series is available.
"What Katy Did," the 1999 movie adaptation, stars Alison Pill (The Pillars of the Earth) as Katy Carr, Kevin Whately (The English Patient) as her father Dr. Philip Carr, Megan Follows (Anne of Green Gables) as her cousin Helen, and Martha Burns as Aunt Izzie (Emily of New Moon). A young Michael Cera plays Dorry Carr, and Dean Stockwell shows up as a friendly tramp.
The 1999 movie remains a warm family drama, but despite being adapted by Olivia Hetreed (Girl with a Pearl Earring, Wuthering Heights) and a strong cast, it hasn't aged well, largely due to the sound effects and musical accompaniment.
While many wide-eyed young children will enjoy the movie (available to STREAM for FREE here, or here with Prime), just as many adults will find it mawkish, notwithstanding the naturalism and lightness of touch of Megan Follows.
Katy is still a "headstrong, energetic girl with a feisty, rebellious streak who seems to be more than her father can handle at times, even with the aid of Aunt Izzie," but the story has been moved to the early twentieth-century, creating a departure from the spectral presence of the American Civil War.
What Katy Did deserves a new adaptation – mini-series or movie – that would benefit from the original background of Coolidge's story, and appeal to adults. The gravitas – as written by the author – would contrast with the joy that Katy brings to others, and to her own life after she recovers from her accident.
Katy chooses light, life and happiness and, of course, eventually triumphs over her injury. The world Katy Carr lives in is a good place, one that we'd all enjoy visiting for a while.
---
Amy Holley-Cribbin is a writer for Gloucestershire-based creative agency and production company Nomadic Creatives Ltd. She has a PhD in adaptation theory and Victorian literature. She is a member of NAVSA and has delivered papers at academic conferences in the UK as well as internationally.
---
"Adapt This" is a series on Willow and Thatch where we suggest literary film adaptations. If you have a favorite book that you think should be made into a period drama, contact us and we might feature it!
If you enjoyed this post, you'll want to wander over to The Period Films List; you'll especially like the Best Period Dramas Family Friendly List. Also see Musings on the Choice of Adaptations, our Review of Road to Avonlea, and Little Women in Film and Television.