Last Updated on August 23, 2023
Though the Victorian era films "A Christmas Carol" and "Little Women" are traditional seasonal classics you can stream at home, we found 10 more family-friendly Christmas specials, costume dramas and made-for-television movies that are set in the Victorian period.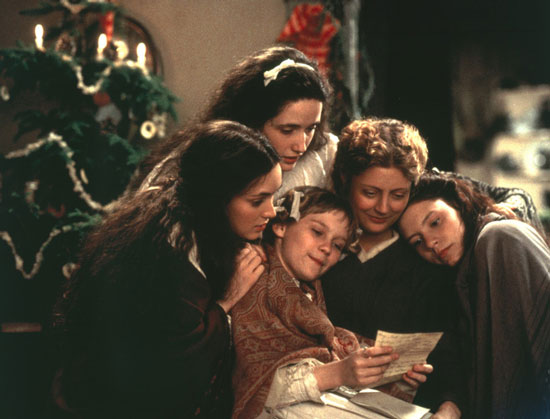 ---
To help keep this site running: Willow and Thatch may receive a commission when you click on any of the links on our site and make a purchase after doing so. 
---
All should be fine to watch with children (some are better suited to older kids), some are Christian faith-based and all are wholesome entertainment set during Queen Victoria's reign between the years 1837 and 1901. Just over half of these period films take place in America, and the rest are set in England or the UK.
To watch these movies and episodes, click on the words "Available to STREAM" under the description of each title. Click on the names of the films to purchase the DVD when streaming isn't available. 
---
---
10 Victorian Family Christmas Movies
---
---

Under the Greenwood Tree (2005)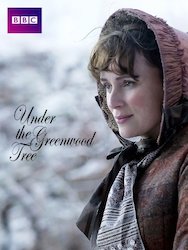 If you are looking for something that you can watch with the teenagers, this BBC period drama may be just the thing. While it's not strictly a Christmas movie, the adaptation of Thomas Hardy's classic novel — his most gentle and pastoral — has some beautiful and heartwarming scenes that take place at Christmas.
"Under the Greenwood Tree" is a delightful romance set amidst the surrounding farms and woodlands of the idyllic village of Mellstock in southern England. This is a chaste love story between local Dick Dewey and beautiful schoolteacher Fancy Day. Penniless, Mr. Dewey finds himself in competition with other more likely suitors. Will true love win or will the social traditions of Victorian England dominate?
Rated 13+
Starring Keeley Hawes, Ben Miles, James Murray, Jane Wheldon, Sian Brooke, Ellie Thackeray, and Steve Pemberton.
---
From bestselling author, Max Lucado, comes "The Christmas Candle" a timeless holiday film for the entire family. Deep in the heart of the English countryside lies the enchanting village of Gladbury. Legend has it every 25 years an angel visits the village candlemaker and touches a single candle. Whoever lights this candle receives a miracle on Christmas Eve. But in Victorian England in 1890, at the dawn of the electric age, this centuries old legend may come to an end.
When David Richmond (Hans Matheson), a progressive young minister, arrives in Gladbury, the villagers discover a new formula for miracles: good deeds and acts of kindness. While David's quest to modernize Gladbury sets him at odds with the old world candlemaker, he finds an unlikely ally in the lovely skeptic, Emily Barstow (Samantha Barks). Now, the fiery candlemaker must fight to preserve the legacy of the Christmas Candle. But when the candle goes missing, the miraculous and human collide in the most astonishing Christmas the village of Gladbury has ever seen.
"This whimsical Christmas tale warms the heart and delights the eyes! We are pleased to award this fabulous movie our Dove 'Family-Approved' Seal for all ages. We encourage everyone to go see "A Christmas Candle" and believe you will want to light one yourself when you're done." – Dove Foundation
Starring Hans Matheson, Sylvester McCoy, James Cosmo. With Susan Boyle.
---
---

The Man Who Invented Christmas (2017)
This PG-rated film does contain some adult concerns, but could be probably be watched with your tweens and certainly with your teens. In 1843 London, author Charles Dickens finds himself in financial trouble after writing three unsuccessful novels in a row. Desperate for a hit, Dickens relies on real-life inspiration and his vivid imagination to bring Ebenezer Scrooge, Tiny Tim and other classic characters to life in "A Christmas Carol," forever changing the holiday season into the celebration known today.
"There's little iffy content aside from a use of "ass" and a few possibly disturbing flashbacks to when Dickens, as a child, is forced to work in a factory after his father is imprisoned, as well as a scene in which a rich man tells Dickens that poor folks should hurry up and die since they don't serve a purpose in society. Ultimately, the film expresses the same sentiments as the classic story — about Christmas being a perfect time to show compassion, empathy, charity, and generosity." – Common Sense Media
Starring Dan Stevens, Christopher Plummer, Jonathan Pryce.
---

Miracle in the Wilderness (1991)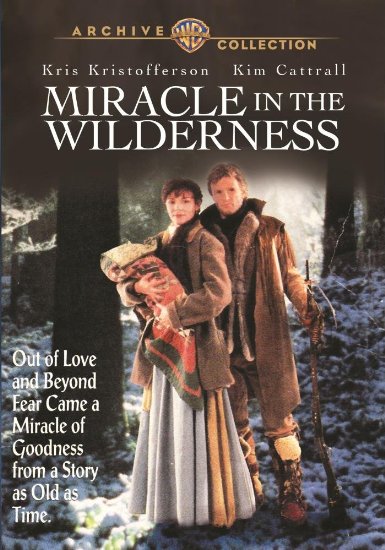 An 1850s couple and their baby are kidnapped at Christmas by a Blackfeet chief (Sheldon Peters Wolfchild) avenging his son.
Derived from Paul Gallico's novella The Snow Goose, this Christmas fable stars Kris Kristofferson as Jericho Adams, a one-time Indian fighter. On Christmas Eve, he, his wife (Kim Cattrall) and their child are kidnapped by a band of revenge-minded Blackfeet warriors being hunted by the U.S. Cavalry. After Jericho's violent escape plans go awry, it's up to his wife to earn their freedom through more peaceful means: by telling the Nativity store to a tribe who has never before heard it.
Kris Kristofferson is Jericho Adams, a tough frontiersman who has left his violent, gun-slinging days behind for the love of his wife Dora and their child. A raiding party of Blackfeet Indians set fire to the Adams' house taking Jericho, his wife and his son hostage. The Blackfeet chief is seeking revenge for his son, killing in self-defense by Jericho many years before – and now the chief aims to take Dora's son in place of his own – after killing Jericho. But Dora's gentle spirit makes the Indians believe that she has magic as she tells them the Christmas story of how God sacrificed his only son to save mankind. The message is clear – but will the chief let the story change his mind so that Jericho and his family may live?
Starring Kris Kristofferson, Kim Cattrall, John Dennis Johnston, Rino Thunder, David Oliver, Sheldon Peters Wolfchild, Steve Reevis.
---

Love's Christmas Journey (2011)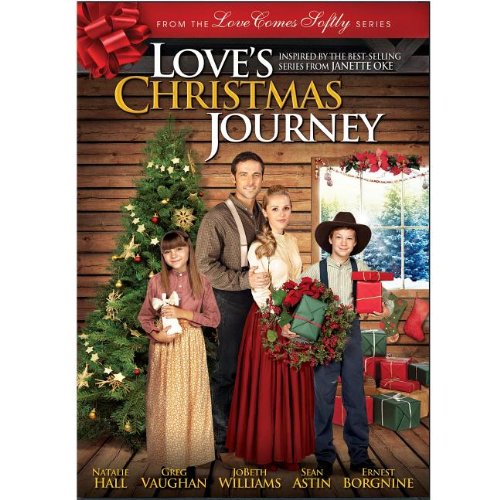 While still mourning the loss of her husband and daughter, recently widowed Ellie King (Natalie Hall) visits her brother Aaron Davis (Greg Vaughan) and his children for Christmas. Ellie does her best to enjoy the holidays, even making new friends with Mrs. Thompson (JoBeth Williams), a local shop keeper, and handsome admirer Deputy Strode (Dylan Bruce). Settling in nicely with her brother's family, Ellie also meets Erik (Bobby Campo), a young man abandoned by his outlaw father whom Aaron has taken in as one of his own. When Aaron travels out of town to purchase adjacent land for farming, Ellie agrees to watch his children, but the season's festivities are threatened when Aaron goes missing. A Hallmark Channel made-for-television movie set in the 1800s in the Victorian era.
This is part of the Love Comes Softly series: In the family-entertainment tradition of his multi-talented father Michael Landon, writer/director Michael Landon Jr. offered this made-for-cable frontier drama, adapted from a novel by Janet Oke. En route to her new home in the West, Marty Claridge (Katherine Heigl) suddenly finds herself a widow, with no roof over her head or means to support herself. At the gentle prodding of her settler friends Ben and Sarah Graham (Corbin Bernsen, Theresa Russell), Marty accepts the marriage proposal of taciturn widower Clark Davis (Dale Midkiff). It is strictly a business arrangement, with no romance or cohabitation involved; Marty will act as housekeeper to Davis and as teacher and surrogate mother for Clark's sullen nine-year-old daughter Missy (Skye McCole Bartusiak), and in return she will receive food and lodging. Pragmatists both, Marty and Clark assume that they will dissolve their marriage of convenience when the spring thaw comes…but that isn't how things turn out. "Love Comes Softly" first aired in 2003, on the Hallmark Channel.
Starring Katherine Heigl, Dale Midkiff, Corbin Bernsen, Natalie Hall.
---
---

An Old Fashioned Christmas (2010)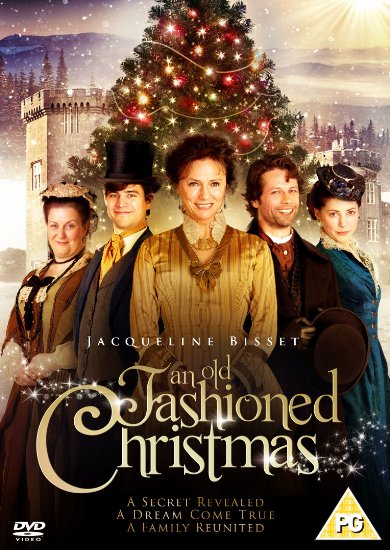 When an English aristocrat and her Granddaughter, Tilly, visit relatives in Ireland for the Christmas holidays, they find that the family has become impoverished and is looking to try and marry their son, Cameron, to Tilly to save their legacy. However, what the Grandmother has failed to relay is that Tilly is engaged already. So, it's up to Irish luck to help Tilly fall in love with Cameron. But what happens when Tilly's fiancé arrives to surprise her for Christmas?
It's December 1870, and we pick up on the adventures of Mathilda "Tilly" Bassett and her rich grandmother Isabella, having toured some of Europe's cultural centers and are now arriving in Dublin for a month-long stay. Tilly's inner struggle is between being a society woman in-the-making and the Yankee farm girl that are her roots. Isabella's mission is to expose Tilly to the world of letters; that's why she's bringing her to Dublin, to meet Ireland's poet laureate, the Earl of Shannon. But there's a saying throughout Ireland: "If you want to make God laugh, try making plans." "An Old-Fashioned Christmas" is the next chronicle in the saga that began with esteemed American novelist Louisa May Alcott's short story, An Old-Fashioned Thanksgiving.
Starring Jacqueline Bisset, Catherine Steadman, Robert O'Mahoney, Marion O'Dwyer, Kristopher Turner.
---

Little House on Prairie: Merry Ingalls Christmas

Celebrate the holidays with two classic "Little House" specials. In "Christmas at Plum Creek," the members of the Ingalls family share a heartwarming first Christmas in their new home, and Laura makes a personal sacrifice that captures the meaning of the holidays. In "A Christmas They Never Forgot," the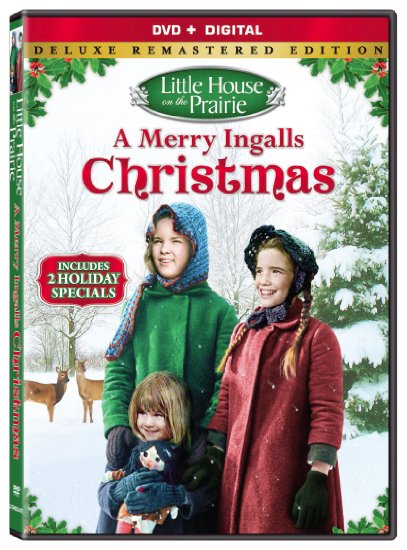 family waits out a snowstorm by remembering favorite Christmases from the past. From the woods of Wisconsin and the plains of Kansas to Minnesota, the Ingalls fight to build and hold onto a new home, facing the danger of an untamed wilderness on the American frontier of the 1870s.
"Christmas at Plum Creek" – In this unforgettable holiday classic, the members of the Ingalls family work to make their very first Christmas at their new home in Plum Creek a memorable one full of joy, tears, and a whole lot of love.
"A Christmas They Never Forgot" – After a sudden, fierce snowstorm traps all the members of the Ingalls family inside the little house on Christmas Eve, they pass the time by exchanging stories about their favorite Christmases of the past.
Starring Michael Landon, Melissa Gilbert, Lindsay Greenbush, Karen Grassle, Melissa Sue Anderson, Scottie MacGregor, Richard Bull.
---
---

Lark Rise to Candleford: Christmas Special (2008) BBC

The first episode of Season Two of "Lark Rise to Candleford" was a 75 minute Christmas special. When Dorcas and Emma each want to give Laura the same gift for Christmas, an old family wound is opened up and Laura finds herself torn between two mothers. As the inhabitants of Lark Rise and Candleford prepare for the festivities, loyalties are tested and, amid the gift-giving and carol singing, tensions are building. However, the arrival of a ragged, bare-footed young woman, who goes by the name of Cinderella Doe, introduces a note of Christmas mystery. The series is set in 1895 in Victorian era England.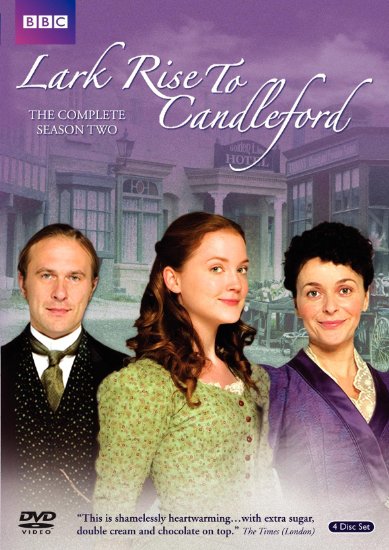 About the BBC series: In this adaptation of Flora Thompson's memoir of her childhood, Laura Timmins leaves the Oxfordshire hamlet of Lark Rise for a job in the market town of Candleford, where her mother's cousin, effervescent Dorcas Lane, is postmistress. Farm workers, craftsmen and gentry make up the community of families, rivals, friends and neighbours. Throughout the series, residents of both places interact at the best and the worst of times, including a measles epidemic that threatens the harvest and the arrival of new Post Office Inspector Mr. Rushton.
Starring Dawn French, Julia Sawalha, Brendan Coyle, Victoria Hamilton.
---

Young Pioneers' Christmas (1976)
Christmas comes to the prairie. It's 1874 on the plains of the Dakotas and young couple Dave and Molly (Linda Purl) have just lost their first born son. Overcome with grief, they seek support from their kind-hearted neighbors—Mr. Peters and his children, Nettie, Flora and Charlie, as well as bachelor Dan Gray.
The friends stick together through thick and thin, standing up for each other when poverty and railroad expansion threaten their livelihoods. As Christmas approaches, they each prepare a special gift and join together for the most memorable of all celebrations.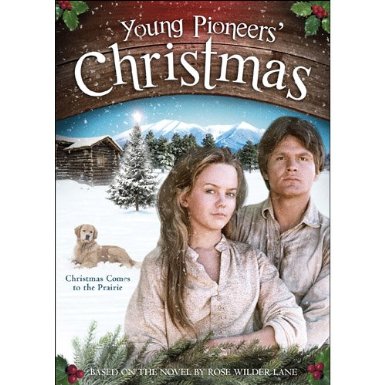 "This story brings a message of friendship, helping others in time of need and how important it is for a couple to work out their grief together. The latter is very important because grief is a hard thing when there is a loss of a child. Couples need to talk together and not bottle it up inside."Young Pioneers Christmas" is a tale of a time in history that we can learn from and the movie is entertaining. It is a timeless story that shows how Christmas is a great time for healing, family and friends. We award this DVD the Dove "Family-Approved" Seal for all ages." – Dove
Despite the all-ages rating from Dove, Willow and Thatch thinks the first half of the movie may be too intense for small or sensitive children.
Starring Roger Kern, Robert Hays, Linda Purl, Robert Donner.
---

The Christmas Miracle of Jonathan Toomey (2007)

A grouchy woodcarver (Tom Berenger) bonds with a boy (Luke Ward-Wilkinson) while constructing a Nativity scene for him. Set in the Victorian era in the late 1800s and based on the best-selling holiday book by Susan Wojciehowski which comes to life in what is sure to be a holiday classic.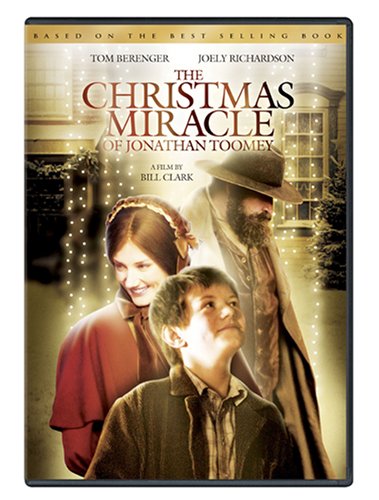 "The Christmas Miracle of Jonathan Toomey" is a story of love, redemption and above all, hope. When a broken hearted boy loses the treasured wooden nativity set that links him to his dead father, his worried mother persuades a reclusive, ill-tempered woodcarver to create a replacement, and to allow her son to watch him carve it. The commission takes their relationship to unexpected places as the young boy makes greater and more difficult demands of the woodcarver's ability, and as Christmas approaches, the three of them struggle to come to terms with each other, their painful memories and the process of putting their unhappiness behind them. Outstanding performances, stunning CGI visuals and a brilliant score make this compelling, funny and ultimately, very moving adaptation of one of America's most loved and award winning children's books a must-see family movie experience.
"The mark of a great Christmas film is when it can be viewed at any time of the year and not feel out of season. This film, recipient of our Dove Seal, accomplishes this beautifully. Based upon the popular children's book, the film chronicles the struggles of Thomas and his mother who are dealing with the recent loss of Thomas' father. They soon find themselves drawn to Jonathon Toomey, played masterfully by Tom Berenger, a man facing his own issues with loss. Each of the characters are very deep and well played, including the mother who makes her own mistakes as she struggles to help her son while dealing with her own hurt." – Dove
Starring Joely Richardson, Tom Berenger, Ronald Pickup, Luke Ward-Wilkinson, Saoirse Ronan.
---
---

Once upon a Starry Night (1978)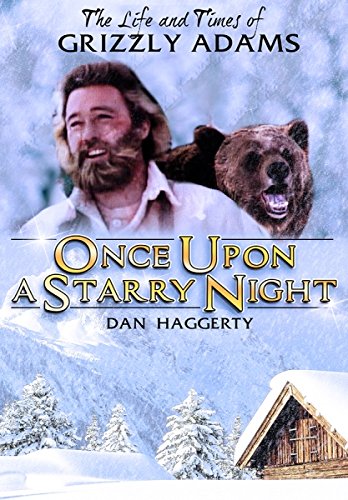 Grizzly Adams and his friends celebrate a very special Christmas in "Once Upon a Starry Night" – a heartwarming tale for the entire family. Frontier woodsman James "Grizzly" Adams happens upon a young boy and girl, traveling to meet their parents. Lost and cold in unfamiliar territory, Adams guides them to the warmth and safety of his cabin, but will he be able to the same for the children's parents? Grizzly must use all of his abilities and instincts in order to save the day and allow them to join in the celebration. Set in the the 1850s in the Victorian era.
Fans of television's The Life and Times of Grizzly Adams are sure to delight in this special holiday-themed adventure. The Life and Times of Grizzly Adams is a 1974 independent feature film and subsequent television series inspired by a 1972 historical fiction novella written by Charles E. Sellier Jr.. The title character, played by Dan Haggerty, was loosely based on California mountain man James "Grizzly" Adams (1812-1860), whose real name was "John Capen Adams," a one-time Boston shoe and boot maker. Dove "Family-Approved.
Starring Dan Haggerty, Denver Pyle, Ken Curtis, Don Galloway and Bozo the Bear as Ben.
---
When Jed and Martha Richards agree to raise young, orphaned Daniel, Jed is delighted. But Martha, still grieving for her two little girls who died on the trek across the American Plains, finds herself swept away each day in a thousand wistful memories. As her golden-haired daughters dance through her aching heart, she can't help comparing them to this awkward, dirty young boy who annoys her at every turn – and needs her so desperately. Jed and Danny both reach out to Martha, yet her anguish isolates her and threatens the marriage relationship. But spring sometimes comes unexpectedly, and for Martha it comes on a snowy Christmas Eve when Danny's innocent heart is finally able to rescue hers. Set in Oregon in 1862.
This is a Christian faith-based film with wide appeal. Dove "Family-Approved" for all ages.
Starring Leigh Lombardi, Sam Hennings, Claude Akins, Logan Hall, Yvonne De Carlo.
---
---

I Heard the Bells (2022)
Sight & Sound Films' first feature for the cinema, "I Heard the Bells," shares the inspiring true story behind the famous Christmas carol and its Victorian author, Henry Wadsworth Longfellow. Known as America's Poet, Longfellow leads an idyllic life – until the day his world is shattered by tragedy.
With a nation divided by Civil War and his family torn apart, Henry puts down his pen, silenced by grief. But it's the sound of Christmas morning that reignites the poet's lost voice as he discovers the resounding hope of rekindled faith.
Set in the 1860s, the faith-based period drama sees one of America's best-loved and recognized poets face a devastating loss, and follows his transformation when he remembers where true hope can be found, finding his faith once again.
Starring Stephen Atherholt (Henry Wadsworth Longfellow), Jonathan Blair (Charley Longfellow), and Rachel Day Hughes (Fanny Longfellow).
Following five decades of producing spectacular family- friendly entertainment experiences on the live stage, Sight & Sound's "I Heard The Bells," premiered in select theaters starting December 1, 2022. Stay tuned for streaming release details.
---

---
When you are done here, you'll also want see the full Best Period Dramas: Christmas Classics List, and the Family Friendly List. If you are missing the Victorian era holiday classics, A Christmas Carol and Little Women are both available to stream. (See a list of all the adaptations of "Little Women" here.) The television series When Calls the Heart and its spin off When Hope Calls also have Christmas specials. While it's not Victorian, you could also try A Christmas Memory, and Christmas Miracle at Sage Creek, which is. There's also a Best Period Dramas: Victorian Era List. Fun for anyone interested in history and suitable for the older kids is the reality / documentary Victorian Farm: Christmas Special.
You may also be interested in the family-friendly A Little Princess (1986) – pivotal scenes take place at Christmastime and emphasize the importance of generosity, and available to stream, Return to Cranford (2009) BBC – the (also family-friendly) two-part Christmas special of the costume drama Cranford, a BBC television adaptation of the book by the same name by Elizabeth Gaskell and broadcast by PBS as part of its Masterpiece Theatre series. There is also Little Lord Fauntleroy (1980) and Little Lord Fauntleroy (1995) BBC which is available to stream – the story ends at Christmastime and is a classic Christmas tale of innocence and good cheer. Each of these period dramas are set in the Victorian era.
While they aren't Victorian, two other period-set Christmas movies suitable for family viewing are "Happy Christmas, Miss King," also known as the "Avonlea Christmas Movie," and "A Wind at My Back Christmas." Both come from Sullivan Entertainment, the folks who brought us "Anne of Green Gables." Watch the trailers and the movies here.
---
If you enjoyed this post, you'll want to wander over to The Period Films List, with the best historical dramas sorted by era and theme. You'll especially like our Christmas List. Also be sure to see A Christmas Memory Review, and the list of Family Friendly Period Dramas.
SaveSave
SaveSave
SaveSave
SaveSave
SaveSave
SaveSave
SaveSave
SaveSave
SaveSave
SaveSave
SaveSave
SaveSave