Last Updated on January 31, 2023
With over fifty screen versions, A Christmas Carol is arguably the best-loved Christmas book – and period drama adaptation – of all time. The latest telling of the classic Victorian tale traces the novel's conception through the life of author Charles Dickens.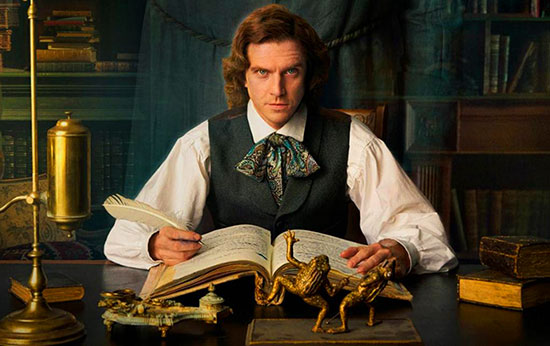 ---
To help keep this site running: Willow and Thatch may receive a commission when you click on any of the links on our site and make a purchase after doing so.
---
"The Man Who Invented Christmas" (2017) offers a fresh taste of the story, connecting Dickens' childhood and adult life in London, with themes from A Christmas Carol. The result: a meaningful message delivered light on historical accuracy, but heavy with Christmas cheer.
---
---
Dan Stevens (Downton Abbey) plays the eccentric author Charles Dickens with enthusiasm and depth. At the start of the film, Dickens has recently returned from his successful book tour in America, and is settling back into everyday life in England. He's trying to get to work on his next novel, but he's plagued by writer's block.
Discontent with city life, he focuses on his misfortunes: his financial troubles, disorderly home life with his ten children, and strained relationship with his needy father.
The Dickensian setting is complete with crowded London streets, eclectic shop fronts, libraries and characters bearing quirky names. Inspired by Dickens' claim that the characters in the novel would visit and "haunt" him to tell him what to write, the movie imagines his characters as spirits who manifest themselves – in his office – as fully formed human beings, and fervently guide the author.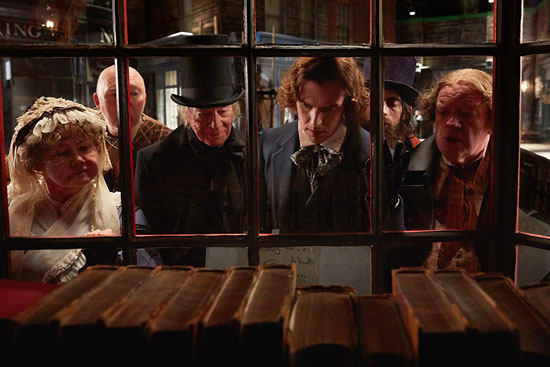 Soon, Scrooge, Marley, the Ghosts of Christmas Past, Present, and Future, Tiny Tim and the lively Fezziwigs all fill up his office, both helping and hindering him write what will become A Christmas Carol.
True to real-life events, the period drama shows Dickens writing in a flustered frenzy, desperate to get the story out before Christmas.
The characters and their problems become just as real to him as his own troubles, and the film moves between sequences of the "Christmas Carol" narrative and Dickens' chaotic life. There are other fun nods to historical details: the books used in the film are accurate replicas of the 1843 first edition printing, and we see Dickens' encounters with Vanity Fair author William Makepeace Thackery.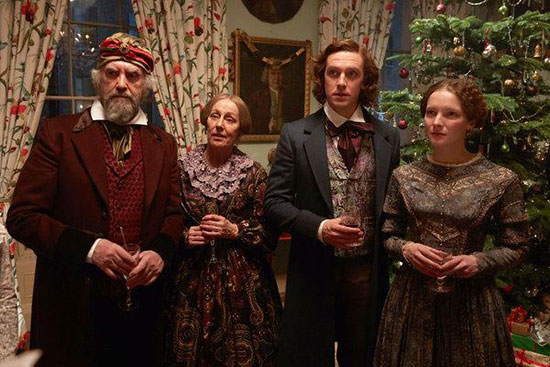 Seasoned historical drama actors Jonathan Pryce (The Age of Innocence) plays Dickens' father, and Miriam Margolyes (Oliver Twist) is cast as the landlady, Mrs. Fisk. As Scrooge, Christopher Plummer is perfectly austere, with echoes of his role of Ralph Nickleby in "Nicholas Nickleby." 
The bright, fanciful costumes add to the movie's enchantment and holiday spirit, but as you'd expect from a Dickens tale, we are also shown the dark side of the Victorian era. We see poverty, the harshness of the industrial revolution on the lower class, and Dickens' father's sentence to a debtor's prison. But – these scenes pave the way for a sweet reward later in the narrative.
In the end, Dickens' revelations about his own way of life are discovered right alongside Ebenezer Scrooge. "The Man Who Invented Christmas" is a charming, whimsical and heartwarming period drama, filled with the spirit of Christmas.

"The Man Who Invented Christmas" is AVAILABLE to STREAM
Starring Dan Stevens, Christopher Plummer, Jonathan Pryce, Simon Callow, Miriam Margolyes.
Rated PG
Adapted from the nonfiction book by Les Standiford.

Kayla Jones is A Regency Girl in a Modern World. Her history-themed travel blog features posts on events, tours, filming and historical fiction locations, exhibits, and period drama inspired settings from across the US and the UK. She has a Master's in Research focused on travel writing and blogging, and a Bachelor's in Creative and Professional Writing. Jones is currently pursuing a PhD in Welsh History.
If you enjoyed this post, be sure to see The Period Films List, with the best British, historical and costume dramas sorted by era. You'll especially like the Best Period Dramas: Christmas Classics List and the Victorian Era List. Also see our post about Dickensian.