Last Updated on December 18, 2022
Cynthia G. Neale, a historical fiction author and longtime fan of A Christmas Memory, shares her impressions of the 1997 adaptation of Truman Capote's short story.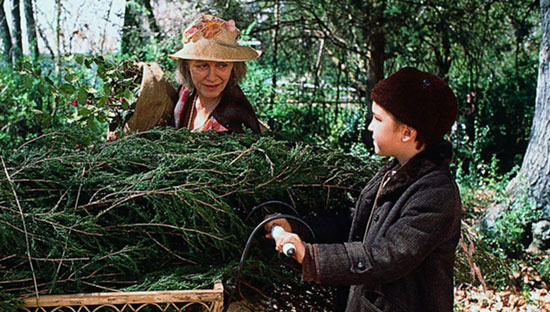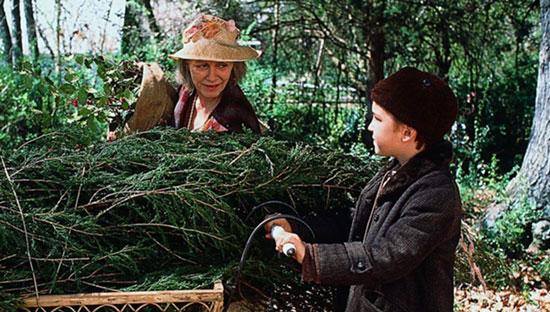 ---
To help keep this site running: Willow and Thatch may receive a commission when you click on the links on our site and make a purchase after doing so.
---
This made-for-television Depression era period drama is suitable for family viewing.
Hallmark's "A Christmas Memory" is AVAILABLE TO STREAM
For a limited time, you can also watch it free with ads, here.
---
---
The 1997 Hallmark production of ""A Christmas Memory is a charming and heart-warming period drama based on the largely autobiographical short story by Truman Capote, originally published in Mademoiselle Magazine in 1956.
The imaginative, lively young boy, Buddy, has been sent to live with his eccentric, aging cousins in a rambling country home in the Depression-era South after his parents have divorced. Buddy finds a best friend in the mentally challenged Sook, an elder cousin, who brims with child-like enthusiasm. Together, they embark on many amusing and delightful escapades until they are separated in the end.
"A Christmas Memory" is a bittersweet tale, but the sweetness tips the scale in its favor by the time the credits are rolling.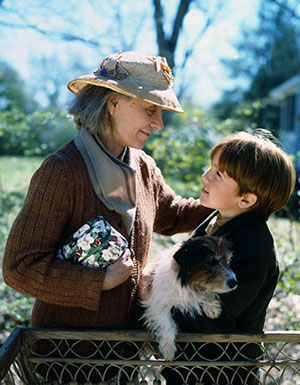 Starring Patty Duke as Sook and Eric Lloyd as Buddy, the Hallmark adaptation of A Christmas Memory is a remake of the classic 1966 ABC Stage 67 production starring Geraldine Page as Sook and Donny Melvin as Buddy. (Truman Capote narrated this production and it won both Emmy and Peabody awards. Despite its age, the original is well worth your time, and unlike the 1997 Patty Duke version it closely reflects Truman Capote's short story.)
Though purists may favor the 1966 film, the updated period drama delightfully embellishes the original story and fleshes out those aging elderly cousins Buddy is sent to live with. And Patty Duke is a consummate actor and believable Sook!
The short story is full of emotional scenes between Buddy and Sook and how they view their world, with Sook giving Buddy many poetic interpretations of life. The text of this holiday classic is perfectly sumptuous; for me, it's a must-read each year. The Hallmark adaptation preserves the integrity of the story's poignant events, but stretches it to give a broader foundation that serves to intensify and clarify the relationship between the two soul mates. 
---
---
Written in first person limited, we read, "Other people inhabit the house, relatives; and though they have power over us, and frequently make us cry, we are not, on the whole, too much aware of them." In the movie, we meet the relatives who indeed make them cry at times and who do not understand the deep friendship between Buddy and Sook. After I read the story for the first time, my imagination about these relatives was piqued and the film wonderfully satisfies this curiosity.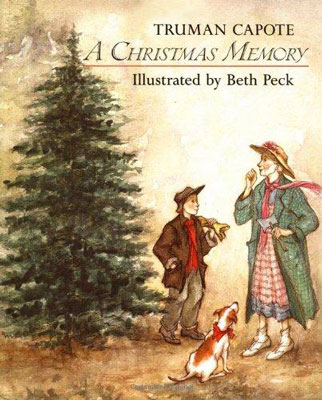 Reflecting on thirty years past, the Capote short story begins with one of the most wonderful lines in fiction that sets the mood for the story, "Imagine a morning in late November." Sook stands at the kitchen window exclaiming, "…it's fruitcake weather!" The film opens with Patty Duke as Sook, looking out the window and announcing fruitcake weather as a grand and important event. She turns away from the window and we see indelible and simple joy etched in her face. Her eyes sparkle, and she is sad and beautiful, Duke's face reflecting Capote's description of Sook's: "Her face is remarkable—not unlike Lincoln's, craggy like that, and tinted by sun and wind; but it is delicate too, finely boned, and her eyes are sherry-colored and timid." 
We see Buddy sitting at the big round table and a fire burning in the fireplace in the kitchen. With excitement, they discuss what must be done so they can make thirty fruitcakes, and who they must give them to, including President Roosevelt and Jean Harlow. In the short story, Buddy remarks about his bond with Sook, "We are each other's best friend." In the film, this is warmly conveyed. And so it is that we are immediately drawn into this nostalgic story between a simple, but wise, old woman and a lonely, curious young boy.
The best friends, Buddy and Sook, embark on collecting pecans in an old baby carriage, roasting them over the fire, counting their pennies from a Fruitcake Fund to buy ingredients. It's the Prohibition Era, and they clandestinely seek out the whiskey they need for the recipe by visiting Haha Jones, an Indian who runs the forbidden speak-easy. In the story, Capote writes about Haha, "…he is a giant; he does have scars; he doesn't smile. No, he glowers at us through Satan-tilted eyes and demands to know: "What you want with Haha?" 
As Haha Jones, Jimmie F. Skaggs fits this image perfectly and when he learns the whiskey is for making fruitcakes and says, "That's no way to waste good whiskey," we see amusement in the corners of his mouth as Buddy and Sook tremble before the hulking, intimidating man. When Sook shakes out all her pennies and doesn't have enough to buy the whiskey, we are touched by the softening of Haha's face when he says while giving back their pennies, "…just send Haha one of them fruitcakes instead." And how happy (and relieved) Sook and Buddy are to experience Haha as a kind person. Sook tells Buddy on their way home, "…there's a lovely man. We'll put an extra cup of raisins in his cake."


Queenie is the dog who follows Buddy and Sook everywhere and after Sook and Buddy bake all the fruitcakes and there's a bit of whiskey left over, even he gets a few drops in his coffee! Buddy and Sook have a few drops, as well, and soon they're dancing and singing around the kitchen. Sook declares, "It's strong…warm going down, like drinking the sun on a summer's day." Queenie lies on her back, pawing the air as if dancing with them. And then enter the relatives who are indeed angry and chastise Sook for leading Buddy astray. Poor Sook goes to bed crying and Buddy tries to comfort her. In one of the story's lyrical quips between best friends, Sook says she is "old and funny," and Buddy replies, "not funny, fun."  
And then there is the trek to the woods for a Christmas tree and Sook delighting in nature's beauty, telling Buddy stories of finding a tree with her father each year in the same woods. It's a magical place and a magical friendship. The story continues with making homemade ornaments for the tree and Buddy and Sook telling one another they wish they had money to buy a box of chocolates for Sook and a bike for Buddy. Sook says to Buddy, "It's bad enough in life to do without something you want; but confound it, what gets my goat is not being able to give somebody something you want them to have." They wake one another Christmas morning and tell each other they've made a kite for one another (like they did the year before). And later in the day, with Queenie, who has been given a wrapped bone from the butcher (same as each year), they fly those kites and the best friends are as happy as they've ever been.
The film is interwoven with people and events that are not included in the original story. One is the character, Rachel (Julia McIlvaine), a neighbor girl who seeks out Buddy to tell him fantastical stories to gain his friendship and escape from her mother. Buddy is slow to allow her into his life and there's even a scuffle between them. Sook encourages Buddy to respond to her friendship because she knows the girl has a difficult home life. A reluctant Buddy brings a fruitcake to her home as a gift, and in the end, the two become friends. The character Anna is purported to represent the author Harper Lee, who was a childhood friend of Capote's growing up in Alabama.
Another character not included in the original story is Anna (Esther Scott) who works as a domestic for the family and occasionally criticizes Sook and the household, despite her fond attachment to them.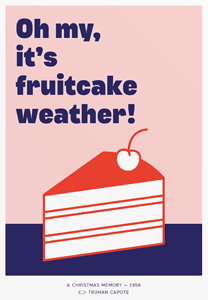 The three cousins who are merely alluded to in the original story, but whom we know to be a force to be reckoned with, are enlarged in the film. Jennie (Piper Laurie) is the eldest spinster cousin who is strict, rigid, and unemotional. She owns a millinery shop and her sister, the timid and sensitive Callie (Anita Gillette) works with her. Their brother Seaborne (Jeffrey De Munn), is sickly and timid, and his love for Sook is depicted warmly in the period drama. 
In the end of the film, Sook and Buddy's relationship changes and the film spares us some of the harsher details in the short story. But what remains is a love that is transcendent and forever.  Sook and Buddy, two odd souls, celebrating fruitcake weather, the woods, making homemade ornaments, and giving one another comfort, took my breath away. The film and story inspired me to honor my own free spirit and to commemorate the holidays with like-spirited friends. And certainly love does not require a pocketful of money! 
"A Christmas Memory" is a holiday must-watch for the entire family! Gather the children and watch this story of old-fashioned kindness come alive. The unlikely friendship between Buddy and Sook is a lesson in love that we can all benefit from, no matter what our age.
Hallmark's "A Christmas Memory" is AVAILABLE TO STREAM
For a limited time, you can also watch it free with ads, here.
The book A Christmas Memory by Truman Capote is AVAILABLE HERE. 
---
Cynthia G. Neale is the author of the new release by Fireship Press, The Irish Milliner (set during the Civil War in New York City), Norah: The Making of an Irish-American Woman in 19th-Century New York and the young adult novels, The Irish Dresser, A Story of Hope during The Great Hunger (An Gorta Mor, 1845-1850) and Hope in New York City, The Continuing Story of The Irish Dresser.
Ms. Neale has also written a dessert and essay book, Pavlova in a Hat Box, Sweet Memories & Desserts. In addition to these works, Ms. Neale writes plays, screenplays, short stories, and essays. She holds a B.A. in Writing and Literature from Vermont College. Ms. Neale enjoys Irish set dancing, reading, painting, hiking, kayaking, creating events for food, dance, and fund raising. A native of the Finger Lakes region of New York, Ms. Neale currently resides in New Hampshire.
You can find her on Facebook, on Twitter, and at her blog. Keep reading for detailed information about some of her works of historical romance and historic fiction.  
---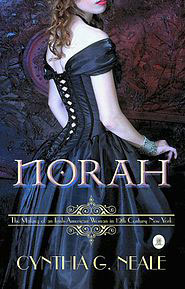 Norah – The Making of an Irish-American Woman in 19th-Century New York
You don't have to be Irish to appreciate Norah McCabe. Hers is an American story of self-creation through sheer grit and imagination. This historical novel paints an authentic and compelling picture of what it means to be young, poor, and female longing for a better life in 1850s New York City.
Scant historical attention has narrowly defined the Irish immigrant woman. And yet the rate of economic and social progress of Irish women far exceeded other immigrant women ethnicities. Norah McCabe heartbreakingly and quixotically stumbles and falls into her real self in this coming-of-age, adventurous, romantic, historical novel.
When she strives to strip herself of her impoverished past through such manifold schemes as buying her own used clothing store, 'A Bee in Your Bonnet' and promenading in Paris finery, she experiences corruption, exploitation, and enchantment in a city that is forever mythic and magical. Norah McCabe joins a rebel Irish organization to free Ireland from British rule, writes for an Irish newspaper, undergoes love's transformation, and suffers a ship wreck.
She seeks to understand the feminist movement, but ultimately is unable to cross the chasm between herself as an Irish immigrant woman and Protestant feminist ideology. The terrors and questions of life strike her down with mental incapacity and loss. Her solitary freedom is the colorful warp and weft in the fabric of who she has become — an Irish-American woman.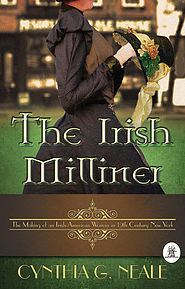 The Irish Milliner – The Making of an Irish-American Woman in 19th Century New York
The Continuing Story of Norah McCabe
It is New York City and the Civil War is brewing. Norah McCabe, an Irish immigrant who escaped the Famine as a child, is now a young widow with a daughter. A milliner, struggling to survive in tumultuous times, Norah meets Abraham Lincoln, befriends the extraordinary African-American woman Elizabeth Jennings, and assists the Underground Railroad creating hats for runaway slaves. She falls headlong in love with Edward M. Knox, son of the famous hat-maker Charles Knox, but he is lace curtain Irish and she is shanty Irish. Edward joins the 69th regiment and leaves for battle. Can their love endure through class differences and war? And then Norah is thrust into the chaos of the Draft Riots. Norah's childhood sweetheart, Sean O'Connolly, leaves New York to avoid conscription and Norah misses both men. She eventually travels to Gettysburg as a journalist for the Irish-American newspaper. And it is on the ghostly, but reverent, fields of Gettysburg Norah McCabe remembers the Famine fields of Ireland and is transformed. But now where will Norah find her home? This is a story of survival, intrigue, romance, as well as exploring the conflict of Irish immigrants thrust into a war that threatened to destroy a nation. Mostly, it is about an Irish-American woman who could be any immigrant today, any woman today, seeking to create beauty and make sense of her life.
If you enjoyed this post, be sure to wander over to The Period Films List, for historical and costumes dramas sorted by era. You'll especially like the Christmas List and the Best Period Dramas: Family Friendly List. 
SaveSave
SaveSave
SaveSave
SaveSave
SaveSave
SaveSave
SaveSave
SaveSave
SaveSave
SaveSave
SaveSave
SaveSave
SaveSave
SaveSave
SaveSave
SaveSave
SaveSave
SaveSave
SaveSave
SaveSave
SaveSave
SaveSave
SaveSave
SaveSave
SaveSave
SaveSave
SaveSave
SaveSave
SaveSave
SaveSave
SaveSave
SaveSave
SaveSave
SaveSaveSaveSave
SaveSave
SaveSave
SaveSave
SaveSave
SaveSave
SaveSave
SaveSave
SaveSave
SaveSave
SaveSave
SaveSave
SaveSave
SaveSave
SaveSave
SaveSave
SaveSave
SaveSave
SaveSave
SaveSave