Some HBO period dramas are now available to stream for free. The reason? HBO has launched "Recommended by Humans," a fan-driven celebration of the network's programming.
---
To help keep this site running: Willow and Thatch may receive a commission when you click on any of the links on our site and make a purchase after doing so.
---
The "Recommended by Humans" tool is designed to help viewers discover their next favorite HBO show, and is meant to illustrate "the power of recommendations from real humans who, simply put, really love television."
Each recommendation features a trailer, and the series premiere episode or full film — available to stream for free. For original series, the first episode of each series will be available to stream for free.
---
---
At the time of this writing, you can watch the first episodes of five period series for free (below, and then keep reading for more information and suggestions). As you might expect from HBO, these are all rated TV-MA, but if that doesn't bother you, you may discover your next watch.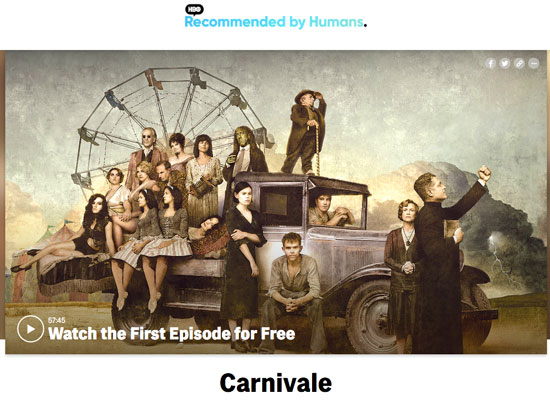 The year is 1934. The Dustbowl. In "Carnivale," the final conflict between good and evil is about to begin, playing out against a pair of unusual backdrops: a traveling carnival and an evangelical ministry in California.
Start watching Carnivale for free now.
---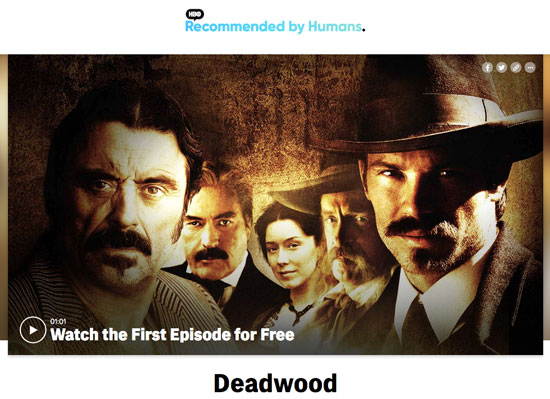 Set in 1876, when the richest gold strike in U.S. history drew a throng of restless misfits to an outlaw settlement in the Black Hills of South Dakota, "Deadwood" features a cast of surly inhabitants led by actors Timothy Olyphant and Ian McShane. The 2019 Deadwood movie is not yet available for free.
Start watching Deadwood for free now.
---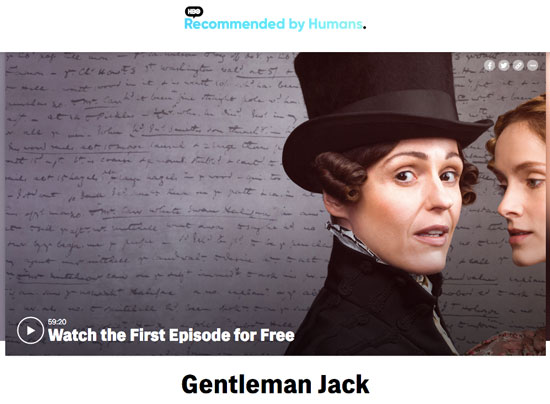 Set in 1832 West Yorkshire, England, "Gentleman Jack" is inspired by the true-story and coded journals of Anne Lister (played by Suranne Jones), and follows her attempt to revitalize her inherited home, Shibden Hall. Most notably for the time period, a part of Lister's plan is to help the fate of her own family by taking a wife.
Start watching Gentleman Jack for free now.
---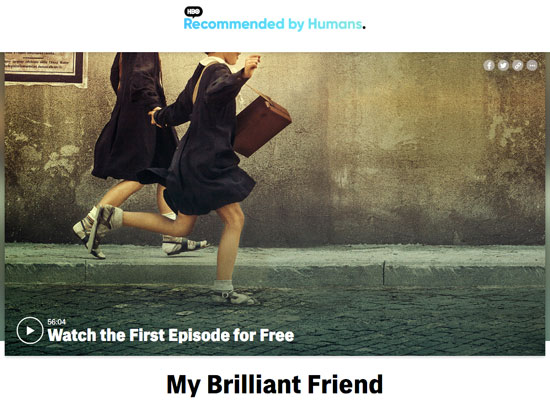 When the most important friend in her life seems to have disappeared without a trace, Elena Greco, a now-elderly woman immersed in a house full of books, turns on her computer and starts writing the story of their friendship. "My Brilliant Friend" is based on the bestselling series by Elena Ferrante.
Start watching My Brilliant Friend for free now.
---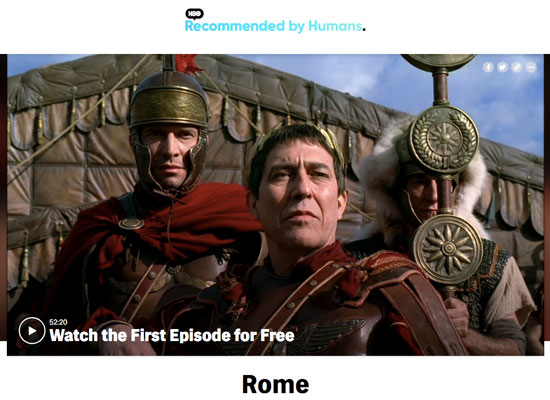 Generals and soldiers, masters and slaves, and husbands and wives all find themselves players in "Rome," and epic series about the death of the republic, and birth of the most powerful empire in history.
Start watching Rome for free now.
---
And while not a historical costume drama, if you've missed out on GOT so far, you can try out the medieval fantasy epic Game of Thrones.
The contemporary-set Years and Years

, a joint production by the BBC and HBO starring "Sense and Sensibility's" Emma Thompson, is also available and possibly of interest to period drama fans.
The tool will be updated regularly with new fan recommendations, so if you have a HBO period drama that isn't already here (such as Parade's End, Midred Pierce, or John Adams) that you'd like to see on the list, tweet your recommendation @HBO with #humanreco.
"The Favourite" just dropped on HBO, so it might be overly optimistic to think it will be added this summer. It's also unlikely that Catherine the Great will be available to stream for free right after its release, but it's worth a tweet about both, a couple of months after you've watched them, if you'd like to see them added to "Recommended by Humans."
Of course, the idea is that you'll love what you see, and will want to watch full seasons and more HBO programming. For that, there's a HBO add-on channel via Prime Video, or you could sign up for HBO at HBO.com.
When you've watched what's on this list, discover new HBO period dramas to watch for free by dragging through the canvas on the Recommended by Humans tool from a desktop or mobile browser, or keep an eye on @HBO on Twitter and Instagram for new content.
---
---
If you enjoyed this post, be sure to see The Period Films List,with the best British, historical and costume dramas sorted by era. Also see Free Period Dramas on Pluto TV and the BBC period dramas available to stream for free with hoopla.