BBC Studios is bringing over 800 episodes of treasured scripted content featuring great British talent such as Benedict Cumberbatch, Judi Dench, David Tennant, and Emma Thompson, to hoopla, a free service to library patrons, provided by your library.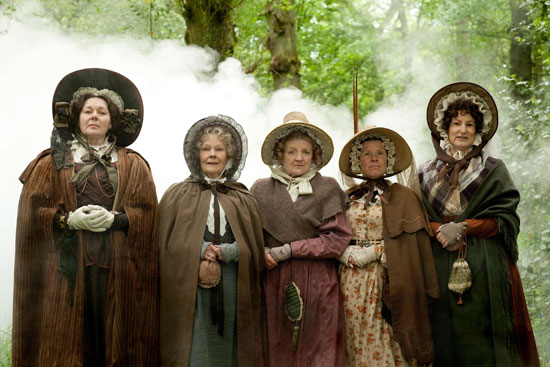 ---
To help keep this site running: Willow and Thatch may receive a commission when you click on any of the links on our site and make a purchase after doing so.
---
The arrangement was announced less than a month ago, and there are already 20 period dramas – movies and TV series – from BBC Studios on hoopla. Some of these have been shown on PBS, or are available on other streaming sites, but some will likely be new to you. 
To sign up, you'll need is a valid US or Canadian library card from a participating library. Then you can borrow and view the BBC period dramas on your smartphone, tablet and computer through hoopla's web site and mobile app. Ad-free. 
Titles are generally available for 3 days after you borrow them, at no cost to you. There are no late fees. Once your item has expired, it will no longer play on your device. (Titles can only be downloaded to mobile devices via the hoopla app.) Every title in its collection is available for check out 24/7, so there's no waiting.
More BBC series will be added, and some BBC content will be exclusively available within the library market on hoopla. Sometimes titles on hoopla will be added for a limited time, so if you see something you like, check it out. Content may be made accessible to you in accordance with limitations established by your library. Hoopla may, from time to time, remove content from the platform without notice.
---
---
The BBC series and movies will join hoopla digital's collection of more than 750,000 eBooks, audiobooks, comics, albums, movies and television shows. The titles on hoopla can be accessed across a range of platforms including Android TV, Apple TV, Roku, Amazon Fire, and Chromecast. See the bottom of this post for how to sign up for hoopla. 

20 BBC Period Dramas on hoopla
---
---

Banished (Series)
A compelling drama from the Emmy award-winning writer Jimmy McGovern. In 1787 Britain banished its unwanted citizens – orphans, petty thieves, prostitutes and highwaymen – to Sydney in Australia. They found it to be so hot, barren and hostile that very few Englishmen wanted to set foot there. Yet these rejects, overseen by a small number of British officers and marines were expected to establish a colony. Somehow, in spite of famine, drought, escapes, hangings and floggings, the colony thrived. This drama shows how a group of misfit characters established a new society, following their friendships and love stories, their struggles and successes.
Starring MyAnna Buring, Russell Tovey, Julian Rhind-Tutt, David Wenham.
Rated TV-MA
---

Call The Midwife – Season 1
Call the Midwife is based on the bestselling memoirs of Jennifer Worth. Set in the 1950s, this six part series is a moving and intimate insight into the colorful world of midwifery and family life in London's East End. We are introduced to the local community through the eyes of young nurse Jenny Lee as she lives and works as a midwife alongside the Nuns of the Order of St. Raymond of Nonnatus.
Starring Jessica Raine, Jenny Agutter, Pam Ferris, Miranda Hart, Judy Parfitt.
Rated TV-PG
---

Castles In The Sky (2015)
Eddie Izzard stars in this inspiring factual drama about Robert Watson-Watt who demonstrated for the first time in 1935 that aircraft could be detected using radio waves. By the time the war began in 1939, radar stations were dotted along the British coast. This drama follows the early years as Robert Watson-Watt and his team of scientists worked tirelessly to see their invention taken seriously.
Starring Eddie Izzard, Alex Jennings, David Hayman, Laura Fraser.
Not Rated
---

Cranford & Return To Cranford (Series)
Dame Judi Dench leads an all-star cast in this witty and poignant story about the small absurdities and major tragedies in the lives of the people of Cranford. A place governed by etiquette, custom and above all, ladies, Cranford in the 1840s is a small English town on the cusp of change.
Starring Judi Dench, Eileen Atkins, Philip Glenister, Francesca Annis.
Rated TV-14
---

Desperate Romantics (Series)
London, 1851. The city is in the throes of the industrial revolution. But amongst the dirty red bricks and smoke stacks are four young, thrill-seeking artists known as the Brotherhood. Their quest for artistic immortality takes them into some of the lewdest, darkest and funniest corners of the city. Joining them is sassy, sexy model Lizzie Siddal. But is she risking it all with this dangerous bunch?
Starring Aidan Turner, Samuel Barnett, Rafe Spall, Sam Crane.
Rated TV-MA
---

Dickensian (Series)
Set within the fictional realms of Charles Dickens' critically acclaimed novels, Dickensian brings together some of literature's most iconic characters, including Scrooge, Fagin and Miss Havisham, as their lives intertwine in 19th century London. The Old Curiosity Shop sits next door to The Three Cripples Pub, while Fagin's Den is hidden down a murky alley off a bustling Victorian street. With a wealth of back stories sourced from the novels, Dickensian delivers fast-paced storylines with surprising twists and turns.
Starring Tuppence Middleton, Tom Weston-Jones, Stephen Rea, Sophie Rundle.
Rated TV-PG
---

Father Brown – Seasons 1 – 3
Based on the stories of G. K. Chesterton, Father Brown follows the crime-solving priest of St. Mary's Catholic Church in the fictional village of Kembleford in the early 1950s. The mild-mannered priest looks unremarkable, but his gentle nature and slightly crumpled look belie a razor-sharp wit and intellect. Father Brown is aided in his crime-solving activities by his parish secretary, Mrs. Bridgette McCarthy, who checks his facts and defends him from the frustration of his congregation and makes sure he eats.
Starring Mark Williams, Sorcha Cusack, Nancy Carroll, Kasia Koleczek.
Rated TV-PG
---

Hawking (2004)
A drama documenting the life and work of the theoretical physicist Professor Stephen Hawking who, despite being diagnosed with motor neuron disease at the age of 21, has galvanized the scientific world with his ground-breaking work on the nature of the universe. Starring Benedict Cumberbatch .
Starring Benedict Cumberbatch, Lisa Dillon, Tom Ward, Michael Brandon, John Sessions.
Not Rated
---

The Lady Vanishes (2013)
Iris Carr is popular, beautiful and fashionable, but also naïve and rather self-absorbed. Travelling on a train by herself after a holiday in Croatia, suffering from sunstroke and rather shaken after a fall down a mountainside, she befriends a kindhearted fellow traveler, Miss Froy. When Miss Froy suddenly disappears without a trace, with all other passengers claiming she never existed, Iris embarks on a potentially deadly mission to find her. Did Iris imagine her? Or are all the other passengers' part of a conspiracy? A brilliant reworking of Hitchcock's classic thriller, telling the story of the emotional journey of a young girl caught up in a dangerous plot of intrigue and espionage.
Starring Tuppence Middleton, Tom Hughes, Selina Cadell, Keeley Hawes, Gemma Jones.
Rated PG
---

The Lost World (Series)
Sir Arthur Conan Doyle's classic tale has been dramatized by the award-winning makers of The Aristocrats and Walking with Dinosaurs. At the dawn of the 20th Century, an expedition leaves foggy London to explore a secluded plateau in the impenetrable jungles of South America. They find a world where time has stopped, and man battles not only with savage dinosaurs, but also with his own primitive ancestors…
Starring Peter Falk, Elaine Cassidy, Bob Hoskins, James Fox.
Rated TV-PG
---

Mrs. Bradley Mysteries (Series)
The irrepressibly inquisitive Adela Bradley is on hand to solve complex cases of blackmail, murder, sacrifice and mistaken identity with characteristic style and grace. Paired with her reliable and devoted chauffeur, George, Mrs. Bradley's powers of psychological sleuthing are challenged to the full.
Starring Amy Marston, David Tennant, Diana Rigg.
Rated TV-14
---

Our Zoo – Season 1
Inspiring drama based on the extraordinary real story of the eccentric Mottershead family who, despite huge opposition and personal sacrifice, established Chester Zoo in the 1930s. With single-mindedness bordering on madness, George Mottershead drove himself and his family to realize his ambition to transform a ramshackle house on the outskirts of Chester into a unique institution that would change forever the way zoos house animals.
Starring Lee Ingleby, Liz White, Ralf Little, Anne Reid, Stephen Campbell Moore.
Rated TV-PG
---

The Passing Bells (Series)
A moving, powerful drama set during World War One and told through the eyes of two ordinary young men, who enlist in a war they expect will be over within months. As the conflict unfolds, so do the boys' incredible stories. Thomas and Michael are two young men for whom the war has little mercy, no matter which side they might be fighting for. Over five years, follow their lives as they grow up, lose friends and find love amid the horrors of the war.
Starring Patrick Gibson, Jack Lowden, Sabrina Bartlett, Eryka Karkuszewska.
Rated TV-14
---

The Rainbow (Series)
An adaptation of DH Lawrence's novel, telling of the passions and fortunes of a Midlands farming family at the turn of the century. Ursula Brangwen, nearing the end of her schooldays, is strongly attracted to the son of a family friend. When he leaves to fight in the Boer War, Ursula forms a close attachment with her teacher, Winifred Inger.
Starring Imogen Stubbs, Clare Holman, Martin Wenner.
Rated TV-14
---

Robin Hood – Seasons 1 – 3
Robin of Locksley returns home from defending King and country in the Holy Land to find a corrupt and changed Nottingham. The ruthless Sheriff of Nottingham is now in charge, crippling the poor with taxes and severe punishments. Robin and his faithful, if slightly unenthusiastic, manservant. Much are determined to fight for the good of these hapless people.
Starring Jonas Armstrong, Lucy Griffiths, Sam Troughton, Gordon Kennedy.
Rated TV-PG
---

Sinbad (Series)
A thrilling, modern, magical reinvention of the famous legend from the Arabian Nights, starring Elliot Knight, Naveen Andrews, Orla Brady, Sophie Okonedo, Timothy Spall and Dougray Scott. On the run from his home town of Basra and under a curse from his grandmother for a killing that led to the death of his much-loved brother, the streetwise Sinbad finds himself cast out to sea.
On board The Providence, an intriguing band of travelers is thrown together, including taciturn Norwegian sailor Gunnar, the lithe and agile jewel-thief Rina, and haughty and aristocratic Nala. Completing the ship's complement is the Cook, an odd-ball and eccentric character and the ship's cerebral doctor Anwar. Surviving a violent storm, both Sinbad and his fellow ship-mates are forced to band together to face their inner demons, hopes, loves and fears. Our flawed hero embarks on an epic and emotional quest to rid himself of the curse and to embrace his destiny.
Starring Elliot Knight, Naveen Andrews, Elliot Cowan, Marama Corlett, Estella Daniels.
Rated TV-14
---

The Suspicions of Mr. Whicher (Series)
Set in the mist of Victorian London and featuring the real-life detective who inspired the first generation of crime writers, including Charles Dickens, Wilkie Collins and Arthur Conan Doyle.
The Suspicions of Mr. Whicher are gripping murder mysteries full of twists and turns and unexpected journeys starring Paddy Considine as Jack Whicher, the most celebrated detective of his day.
Starring Paddy Considine, Peter Capaldi, Emma Fielding, Nancy Carroll.
Not Rated
---

The Talisman (Series)
Walter Scott's exciting tale of chivalry, daring-do and intrigue set in the Holy Land at the time of the Crusades. A brave Scottish knight foils Richard the Lionheart's assassins, winning the gratitude of the king and the hand of the lady he loves.
Starring Stephen Chase, Donald Burton, Damien Thomas.
Rated TV-PG
---

Upstairs Downstairs (Series)
It's 1936, and six years since parlor maid Rose left 165 Eaton Place, fate brings her back as housekeeper to its new owners. Rose soon finds she has her work cut out as she recruits a new 'downstairs' family to help run the elegance and finery of the 'upstairs' world. But in both, it soon becomes apparent there lies a labyrinth of secrets, lies and scandal.
Starring Eileen Atkins, Keeley Hawes, Ed Stoppard.
Rated TV-PG
---

Wodehouse In Exile (2013)
An intimate film featuring an all-star cast about how the author PG Wodehouse came to face a charge of treason during the Second World War and how this quintessential Englishman, creator of Jeeves and Wooster, became an exile from his own country and never set foot on English soil again.
Starring Tim Pigott-Smith, Zoe Wanamaker, Julian Rhind-Tutt, Paul Ritter, Richard Dormer, Conor Mullen.
Not Rated
---
How do I get hoopla?
hoopla digital is in over 6,600 public libraries across the U.S. and Canada including Free Library of Philadelphia, Chicago Public Library, San Francisco Public Library, and Los Angeles Public Library. Visit hoopladigital to find out if your library partners with hoopla. 
To sign up for hoopla, cardholders of participating libraries can download the free hoopla digital mobile app on their Android or iOS device. Patrons of participating libraries need a valid email and password to start accessing content right away.
See all the BBC Studios content available on hoopla, including mysteries, dramas and comedies, here. 
---
If you enjoyed this post, be sure to see The Period Films List, with the best British, historical and costume dramas sorted by era. Also see the article about period dramas on Kanopy, a streaming service for libraries. 
---