There's something new for Hearties: From the beloved world of "When Calls The Heart" comes "When Hope Calls," the first Hallmark Movies Now Original Series.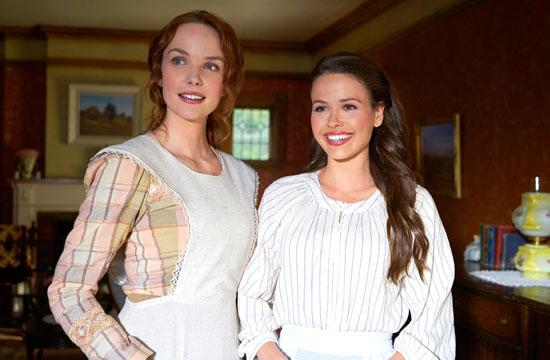 ---
To help keep this site running: Willow and Thatch may receive a commission when you click on any of the links on our site and make a purchase after doing so.
---
"When Hope Calls" tells the story of sisters Lillian (Morgan Kohan) and Grace (Jocelyn Hudon) who, after years apart from each other, open an orphanage in the 1916 Western town of Brookfield. The new TV-G rated series premieres on Hallmark Movies Now this August.
Keep reading for details about the show, the trailer, a look at the sets, and some information about Hallmark's 2019 Christmas line-up.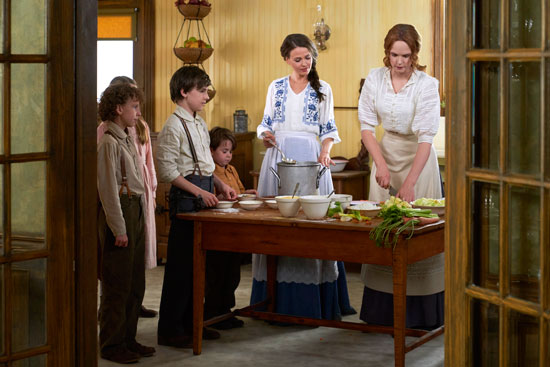 At the turn of the century, sisters Lillian and Grace lost their parents, and they were separated. Lillian was adopted, and Grace was not, and they led very different lives. Years later, they have found each other, and together they start New Hope Orphanage, a community filled with love and family. 
Caught between the traditions of cattle ranchers and the ambitions of a growing town, they strive to find romance and happiness while overcoming the challenges of helping the children in their care. Throughout their journey, they discover community, acceptance and love as they create the family they always longed to have.
---
---
Kohan and Hudon were introduced to Hearties in the 2018 special When Calls the Heart: The Greatest Christmas Blessing. The crossover between the shows will continue, and "When Hope Calls" will feature familiar faces from Hope Valley, including Rosemary and Leland Coulter and Mountie Nathan Grant, throughout the season.
Joining Morgan Kohan and Jocelyn Hudon in this spin-off series will be Gabriel (Ryan-James Hatanka), the Brookfield Mountie who has caught Lillian's attention, and local ranch hand Chuck (Greg Hovanessian), who is vying for Grace's heart. Rounding out the ensemble is Tess (Wendy Crewson), Chuck's mother and until recent events, a long-time family friend of Lillian's.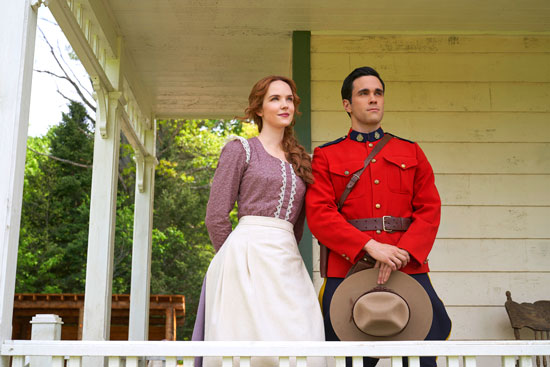 In the US, "When Hope Calls" premieres Friday, August 30th, 2019, exclusively on Hallmark Movies Now (free trial available). The first two episodes will be available Friday, August 30 with new episodes premiering every Friday through October 25.
In Canada, the series will premiere on Super Channel Heart & Home this August.
The network promises that "When Hope Calls" embodies the same heartfelt themes of community, family and faith that have resonated so strongly with "When Calls the Heart" fans over the past six years.
"When Hope Calls" is filmed outside of North Bay Ontario on sets built for the show. Producer David Anselmo said, "We are so excited to be filming this series in Northern Ontario. The beautiful landscape lends itself perfectly to the wonderful world we have created." You can get a look at the sets in this video below. 
"This is another series that viewers are sure to treasure," said Michelle Vicary, Executive Vice President, Programming and Network Publicity, Crown Media Family Networks. A preview of the new period series with sneak peeks airs Saturday, August 17, 11/12c.
A "When Calls the Heart" Christmas 2019 Special, starring Erin Krakow, has been confirmed, but no word yet on a special for the spin-off series. Krakow will also star with "Mercy Street's" Luke Macfarlane in the original movie "Sense, Sensibility & Snowmen," part of Hallmark Channel's 10th anniversary of Countdown to Christmas.
In "Sense, Sensibility & Snowmen," the Austen-inspired tale penned by author Melissa de la Cruz, Christmas enthusiast party planners Ella (Krakow) and her sister, Marianne (Kimberley Sustad), clash with their client, Edward (MacFarlane), a not-so-jolly toy company CEO. The movie is filming now, and is expected to be along the lines of last year's "Pride, Prejudice and Mistletoe," also from author Melissa de la Cruz. Stay tuned for details.
Hallmark Movies Now is available as an add-on channel via Amazon Prime. Hallmark Movies Now is available on iOS, Android, Roku and Amazon Fire, among other devices. The SVOD service is also now available over the Internet on both Comcast's Xfinity X1 and Cox's Contour platforms.
---
If you enjoyed this post, be sure to see The Period Films List, with the best historical and costume dramas sorted by era. You'll especially like the Best Period Dramas: Family Friendly List. Also see True Confessions of a Heartie.