"My Brilliant Friend" begins with the end. Elena Greco is an old woman when she discovers her childhood friend, Lila, has disappeared without a trace. Elena is flummoxed by this event, and so she begins to write the story of their post-World War II era childhood in an effort to discern which experiences led to Lila's sudden and mysterious departure.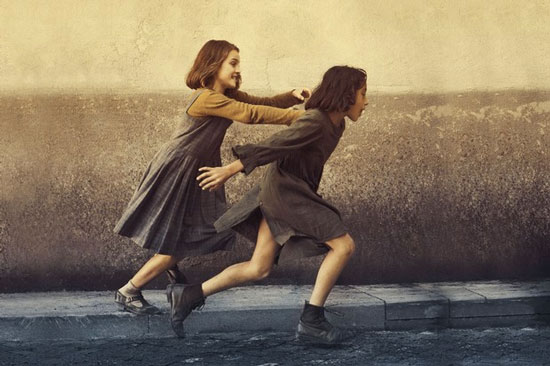 ---
To help keep this site running: Willow and Thatch may receive a commission when you click on any of the links on our site and make a purchase after doing so.
---
Elena's and Lila's friendship has been a complex amalgamation of contention and devotion since their early school days, competing as the two most intelligent girls in class. Despite their conflicting feelings for one another, the defining bond between the two young women is their mutual desire to escape the sexism and violence of Naples, Italy during the early 1950s – and to do so by their own means (their heroine: "Little Women's" Jo March).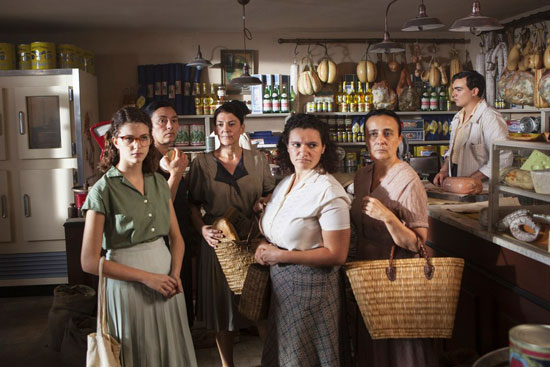 "My Brilliant Friend" offers unfailing entertainment, but also provides an enlightening look into the harsh conditions of the Neapolitan working class. The setting of the series is a deprived area; grey and largely empty. It's a reflection of the disparaged and hungry people that inhabit the towering concrete buildings. At the center of this dismal reality is the sensitive portrait of the life-giving female friendship between Elena and Lila. The two girls seek comfort and encouragement from each other, and succeed from time to time. It's gripping to watch the characters strive for the contentment they so desire, and deserve.
---
---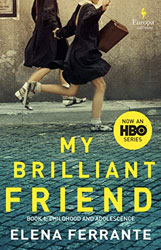 Saverio Costanzo's eight-part adaptation is a dark fairy tale re-telling of Elena Ferrante's first novel from her Neapolitan quartet. Ferrante constructs a story that spans sixty years, with words that keenly express the jealousies and insecurities innate to many female friendships.
"She was struggling to find, from inside the cage in which she was enclosed, a way of being all her own, that was still obscure to her."
Costanzo successfully translates the ethereal power of a literary protagonist's interior monologues to the big screen. Much of Elena's narration in the novels can sometimes be considered stream of consciousness. Costanzo is conservative with voiceover and instead concentrates on the subtlety of facial expressions to convey Elena's inner thoughts and feelings. Ferrante's visceral evocations of absolute desolation manifest on the screen, and the result is a heart-wrenching display of directorial talent and acting genius.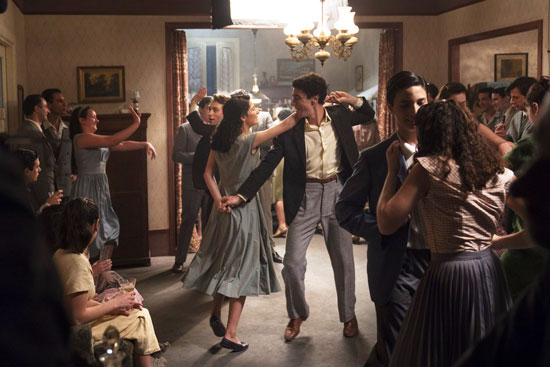 A teenage Elena, played by Margherita Mazzucco, stands against the wall during a neighborhood party. She observes Lila, played by Gaia Girace, dancing with the wealthy Marcello Solara, played by Elvis Esposito, who is infamous for his violence and involvement in the Italian black market. Instead of pulling her friend from his grasp, she continues to watch with a troubled expression. Costanzo's focus on Elena in these moments of hesitation are perfect visual imitations of Ferrante's character descriptions, born from his deep understanding and respect of the source material.
Max Richter's score reflects Ferrante's unsettling story and heightens Costanzo's gorgeous cinematic creation. His compositions have featured in sweeping historical dramas such as Mary Queen of Scots and Sarah's Key. The series theme, entitled "Elena and Lila," is a measured and melancholic piano melody that is slowly interspersed with the resonant draw of a cello.
Given the show's emotional depth and authentic portrayal of post-war Naples, it's no wonder that Costanzo has been given the rights to film a second season of "My Brilliant Friend." In episodes to come, the friendship between Elena and Lila will need to evolve as they endure troubles of the heart, as well as social and political issues of the sixties and seventies. "My Brilliant Friend" is not for the faint-hearted: it is a series that manages to disturb and enchant the viewer in equal measure.
My Brilliant Friend: Season 1 is AVAILABLE to STREAM
8 episodes
In Italian with English subtitles
Rated TV-MA
---
Kailey Rhone writes essays about Regency England and feminism, when she's not watching Downton Abbey or pondering upon history on her blog Lords, Ladies, and Lore. A member of the Jane Austen Society of North America, she can often be found re-reading Persuasion or heating up a cup of tea… again. 
---
Willow and Thatch exists because of you: You can shop our Jane Austen Period Drama Adaptations merchandise, click on our links (like these that take you to Etsy and Amazon) and make purchases on those sites, and buy period-inspired products from the Lovely Things Shop. You can also continue to share our articles, or make a financial contribution. All these things allow us to write feature articles, update The Period Films List, mail out our newsletter, maintain the website and much more. Thank you!
If you enjoyed this post, wander over to The Period Films List. You'll especially like our First World War and Interwar Era Lists.